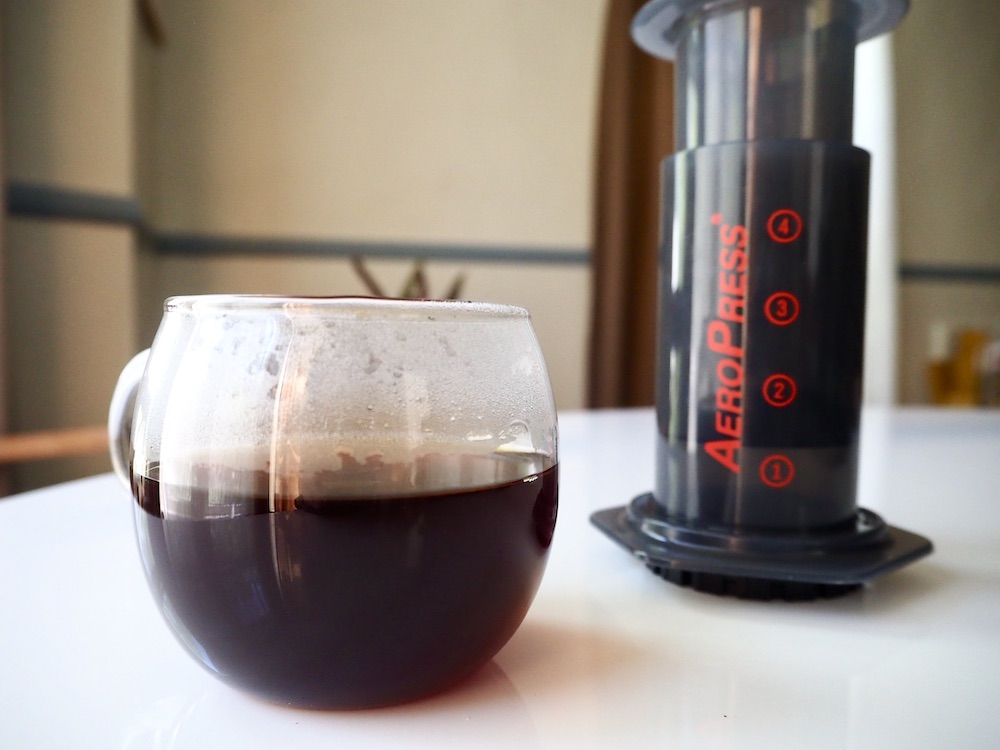 Our Final Verdict
We give the AeroPress a rating of 4.6 out of 5 stars:
Flavor
Durability
Resources
Ease of Use
Price
AeroPress Review Summary
There's no other coffee maker or brewing technique with a cult following like the AeroPress. People have come up with dozens of different brewing techniques, and there's now even a yearly AeroPress world championship. After seeing it grow in popularity, we decided to put it to the test and off you our best AeroPress review.
Our verdict? The AeroPress is one of the most versatile, sturdy coffee brewers on the market. It brews delicious, concentrated shots of coffee that you can add water to, giving you great-tasting black coffee.
This fun little coffee maker is worth considering if you're a minimalist, a traveler, or living on your own, and need to brew a couple of cups of coffee in a hurry. It's fast and easy to clean, though not very stylish. If you're looking for a portable espresso maker, you may want to look elsewhere, but if you just like strong coffee, you may love this light, compact coffee brewer.

Ease of use
Let's get right into our AeroPress review! This total immersion coffee brewer makes one to three cups of coffee in eight steps that take around one to one-and-a-half minutes. You'll need to learn the process, but once you've done it a few times, it'll be second nature. The set up and brewing are impressively fast, and unlike many manual coffee makers, you won't feel like you're getting an arm workout.
One of the best things about the AeroPress is that it's so compact. This makes it perfect if you're traveling a lot or have limited kitchen space. It can be a great camping tool, and it's small enough to throw into your suitcase.
What's really smart is that you can put a hand grinder into your AeroPress without it taking up extra space when you're traveling: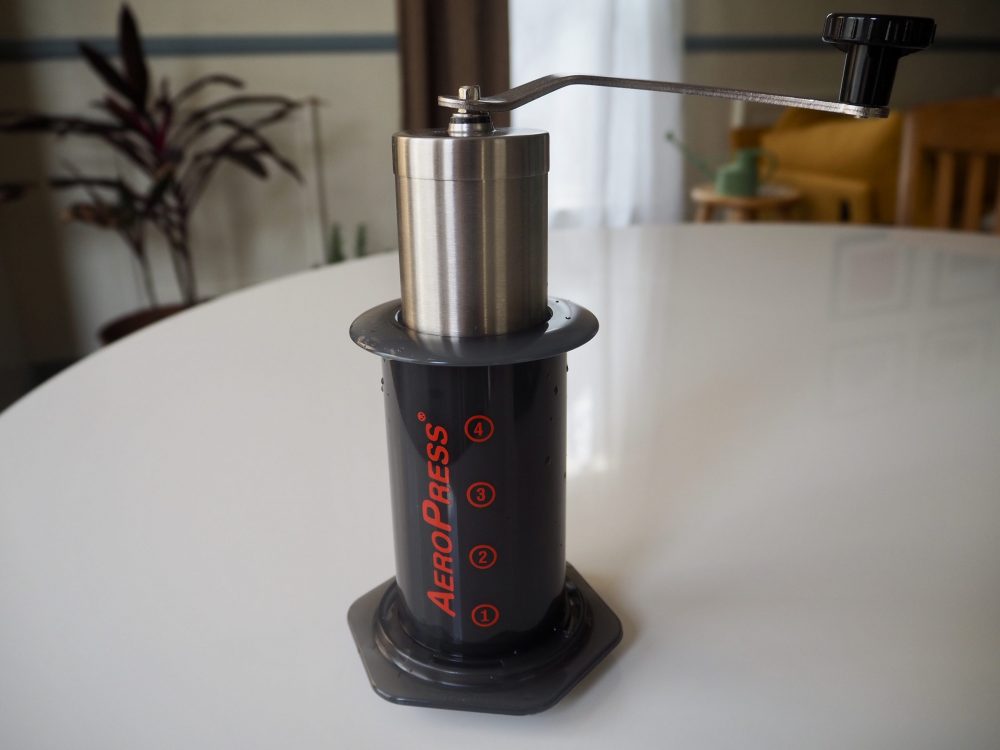 Cleaning
The AeroPress is incredibly simple to clean. When you're finished brewing, simply take off the filter cap and push the plunger. Your coffee grounds will come out all at once — just make sure to aim at your garbage or compost bin! You then rinse the rubber seal, and that's it. All in all, the cleaning time is around 5 to 10 seconds.
Versatility
It's very versatile. The package includes basic instructions, but users have come up with quite a few alternative brewing methods. Some people swear by brewing right-side-up, whereas others swear by brewing upside-down. In this video, you can see the winner of the AeroPress Championship in 2017.
What's interesting to see is that every year, the winner of the AeroPress Championship always uses a different brewing technique and recipe. It's never the same.
Taste
AeroPress used to be marketed as an alternative to espresso, though it doesn't produce any crema. Now it's mostly recognized for its ability to make strong black coffee. When we tested it, we were very impressed with the taste of the coffee. It was flavorful, aromatic, and completely free of grounds. Delicious!
You may want to tinker with your method. If you brew with the right parameters, you will get to taste some of the best coffee you've ever had. Do it wrong, and you could end up with a cup tasting a bit like dirt and gasoline. AeroPress recommends that you use 175° F water, which you can get by letting boiled water sit for a minute or two.
Tired of hot coffee? With the right method, you can make cold brew and iced coffee with your AeroPress. We can also show you how to make a tasty AeroPress latte!
RELATED READ: How to Brew AeroPress Coffee (With Pictures)
Build quality & design
The AeroPress is made of BPA-free, non-toxic plastic that's super durable. It's not stylish and doesn't feel expensive, but it is sturdy, well-engineered, and very effective. It feels like something that will last for many years, and rather than cheap plastic. It's also worth mentioning that it's manufactured in the US.
While the warranty is pretty short (only one year), you're unlikely to need it. If you do need a new AeroPress, it's not the end of the world, as it's a very inexpensive coffee brewer.
Want something even more portable? Read about the new AeroPress Go!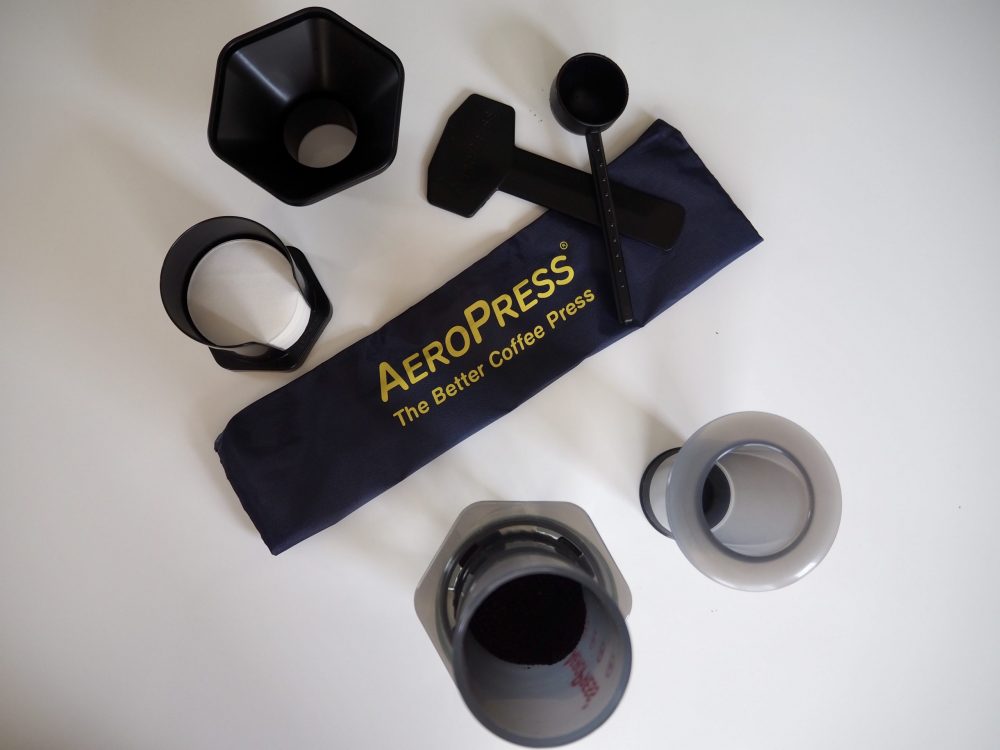 Price
The price is one of the big selling points for this model. The AeroPress is always well-priced, but you may be able to find it at an even lower price on Black Friday or Cyber Monday.
It costs a lot less than what you would usually pay for a high-end drip coffee maker, espresso machine, or Keurig. It's also worth noting that Keurig K-cups are costly in the long run, and are not environmentally-friendly. All you will need for brewing with the AeroPress is ground coffee.
Final Verdict: Who is the AeroPress for?
We hope you enjoyed reading our detailed AeroPress review! We were impressed by this highly portable coffee maker — and you might be, too.
The AeroPress is worth considering if you're on a budget, travel frequently, and want to brew small amounts of concentrated coffee. This brewer is easy to use and even easier to clean. Plus, it's sturdy, lightweight, and incredibly affordable.
This coffee maker won't work as well if you need to brew coffee for a crowd, and it's not stylish or expensive-feeling. If you want to make espresso, this probably isn't the device for you.
Pros
Quickly brews delicious coffee
Super easy to clean
Very affordable
Extremely durable
Very small and portable
Many brewing methods
Cons
Not as hands-off as a Keurig
Not for brewing for more than two people at a time
Doesn't brew espresso with crema
AeroPress Review FAQ
1. What comes in the package?
When you buy an AeroPress, you get:
A plunger
A chamber
A rubber seal
A filter cap
A funnel
A filter holder with some filters
A scoop
A stirrer
A travel bag
All you'll need to supply is freshly-ground coffee and hot water.
You'll need to stock up on new filters every now and then, but those can be bought off Amazon for a low price.
2. Does the AeroPress contain BPA or BPS?
The AeroPress models produced after 2009 do not contain BPA or BPS.
3. What kind of filter does it use?
It uses paper micro-filters. When you buy your AeroPress, it will come bundled with 350 filters. You can then buy replacement packs off Amazon or in your local grocery store. Filters can be reused up to 20 times if rinsed properly after use.
4. Where is this product manufactured?
The AeroPress is manufactured in America.
5. How does the AeroPress compare to a Keurig?
The AeroPress will require more steps from you in order to brew coffee. However, it still brews super-fast (around one minute), and you can use any variety of coffee beans. Plus, the AeroPress is more affordable, and you will save money since you won't have to buy K-cups all the time.
6. Where is the best place to buy an AeroPress?
Amazon offers fast delivery and great prices, but you can also sometimes find the AeroPress in your local grocery store or coffee shop.
7. How many people is this coffee maker suited for?
You can brew two to three cups at a time with the AeroPress. This brewer is not suited for big crowds.
8. What coffee grind size should I use?
AeroPress recommends a fine drip grind, which falls somewhere between medium and fine depending on how long you brew. If a lot of water comes through before you use the plunger, you may need to use a finer grind.
Other interesting reads: