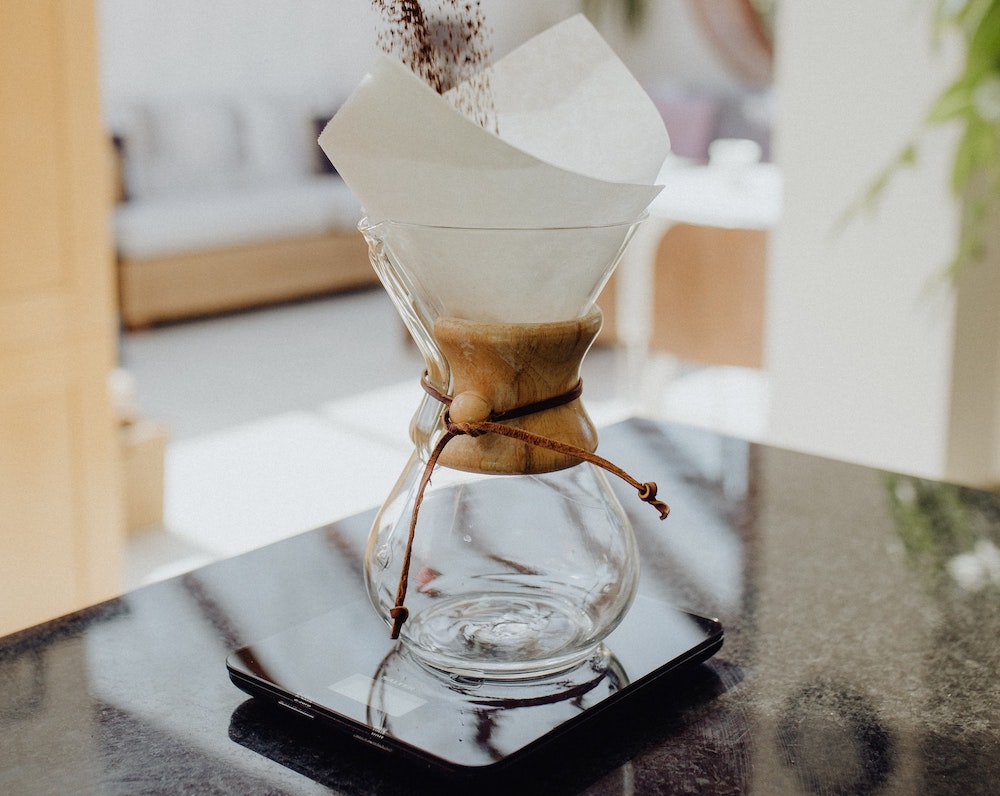 BPA is an industrial chemical that hardens plastic and may be harmful to your health. The good news is that BPA-free appliances are becoming more and more common. The bad news? With so many models on the market, you may have a hard time choosing a new coffee maker!
We have reviewed quite a few BPA-free coffee makers and made a list of eight that we think will interest you. To help you make an informed decision, we've laid out the best and worst attributes of each model, looking carefully at price, design, ease of use and cleaning, and more. Keep reading to find your new BPA-free appliance!
---
Comparison of our Favorite for 2023
Image
Product
Details

Best Overall

OXO BREW

LED-backlit display
Programmable
Water heated and maintained well

Bonavita

One-touch brew operation
1400-watt heater
Parts are dishwasher safe

Best Value

Hamilton Beach BrewStation

Brews 12 cups
Built-in dispenser
Removable water reservoir

Budget Pick

Mr. Coffee

Grab-a-cup auto pause
Cord storage
Removable filter basket

Chemex Pour-Over Glass

Simple to use
Non-porous borosilicate glass
Elegant design
The 8 Best BPA-Free Coffee Makers
1. OXO BREW BPA-Free Coffee Maker – Best Overall
The OXO BREW 9 Cup Coffee Maker has a LED-backlit display that allows you to program the machine for the number of cups you want, and what time you would like it to start brewing.
The rainmaker shower head disperses the water evenly over your coffee grounds. The equal saturation of the coffee grounds extracts the greatest amount of flavor possible from the beans. The water is heated and maintained at a temperature of 197.6° to 204.8°, which is the best temperature for coffee.
This coffee maker has not been updated in a long time. Though this isn't really an issue, one would think that Oxo would want to keep up with technology. It seems that it has the mindset of "if it ain't broke, don't fix it." Well, part of it is "broke." We found that the drip basket leaks and leaves a mess on your countertop.
Pros
LED-backlit display
Programmable
Rainmaker shower head
Water heated and maintained well
Cons
Drip basket leaks
Hasn't been updated in a while
---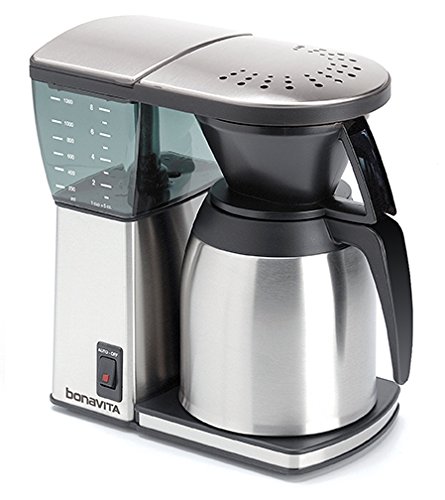 The Bonavita BV1800SS 8-Cup Original is a one-touch coffee brewer with a 1400-watt heater to keep your coffee warm. The shower-type head gives equal saturation to all the coffee grounds for the most flavor. Some parts are also dishwasher safe. One small complaint is that the markings for the appropriate water level are on the reservoir, not the pot you pour into it from. This is by no means a dealbreaker, but it can be an inconvenience.
Once the coffee has brewed, it collects in a stainless steel thermal carafe that's lined with glass. The glass is poor quality and can shatter easily with any drastic change in temperature. Make sure the pot has completely cooled to room temperature before cleaning it.
Another issue is the way this carafe pours. If you try to pour with the lid on, it comes out really slowly. If you decide to pour without the lid on, it dumps really fast and makes a huge mess. Which is better? It may just depend on the day.
Pros
One-touch brew operation
1400-watt heater
Shower-type head
Stainless steel thermal lined carafe
Parts are dishwasher safe
Cons
No water level markings on side of pot
Carafe lined with poor quality glass
Coffee doesn't pour well out of carafe
---
3. Hamilton Beach BrewStation BPA Free Coffee Maker – Best Value
The Hamilton Beach (47950) Coffee Maker is a 12-cup brewer with no carafe. It has a removable water reservoir so you can quickly fill it to brew. The coffee drips into a built-in dispenser that will only dispense your coffee one cup at a time.
We did see a couple of inconveniences with this machine, though. The unit's outside housing is made of pretty flimsy plastic. The real issue is condensation buildup of up to a cup a day. Condensation builds up around the filter lid. This condensation drips down and pools in every nook and cranny it can find, making it a bear to clean. If you don't put a towel under the hinge of the lid, the condensation will drip down the back of the machine directly onto the power cord.
Pros
Brews 12 cups
Built-in dispenser
Removable water reservoir
Cons
Flimsy plastic housing
Condensation pools up (cup a day)
Water drips onto power cord when lid is opened
---
4. Mr. Coffee 12-Cup BPA Free Coffeemaker – Budget Buy
The Mr. Coffee CG13-RB 12-Cup Switch Coffeemaker has several excellent features for the amount of money it costs. It has a grab-a-cup auto pause, so you can fill a cup in the middle of the brew without coffee dripping all over the counter. It has a dual water window, so you can clearly see where your water level is to avoid spillage. There's also a removable filter basket to make cleaning more manageable, and a handy area to store the cord when it isn't being used.
This Mr. Coffee machine isn't programmable to have it automatically start your brew. It also doesn't have an auto-off, so if you forget about it, your coffee will burn and not be drinkable. It also collects condensation under the lid, which warps it and causes it to leak.
The dual-window is nice to see the water levels, but we found that the markings aren't accurate. The four-cup mark actually only gives you two-and-a-half to three cups. There are also some overflow holes on the back of the unit to keep your carafe from getting too full and running over. The problem is that they're too low, so if you aren't paying close attention, water will spill out over the counter behind the machine and onto the power cord.
Note: you can see a full comparison of popular budget coffee makers here.
Pros
Grab-a-cup auto pause
Dual water window
Removable filter basket
Cord storage
Cons
No programmable auto-start
No automatic off
Condensation collects and warps lid
Overflow holes are too low
Measurements not accurate
---
5. Chemex Pour-Over Glass Coffee Brewer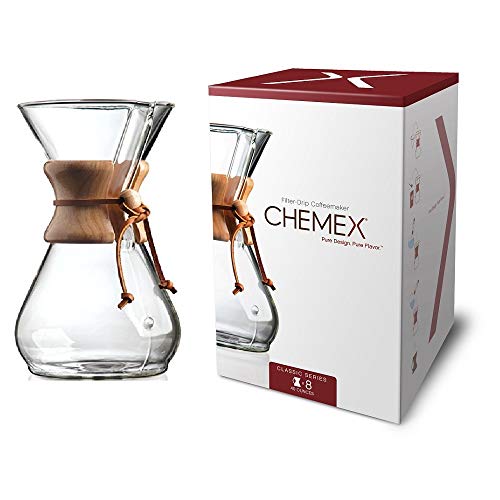 The Chemex Pour-Over Glass Coffeemaker is simple to use. It's made of non-porous borosilicate glass, but it's much thinner and more fragile than previous Chemex models.
The neck of this unit is also very narrow, so it's hard to get the bottom part clean. If you don't get it cleaned out really well, the glass will begin to stain. The neck is also wrapped in wood, which does look neat. However, when it's used on a regular basis, the wood quickly begins to show wear from being washed, even if it's washed by hand and not immersed in water.
Even though the top and bottom sections look about the same size, we had to fill the top part three to four times before the bottom part got completely full. This isn't a game-changer, but it does make the whole process very slow and annoying.
SEE ALSO: our favorite grinder for making Chemex coffee.
Pros
Simple to use
Non-porous borosilicate glass
Cons
Thin glass
Hard to clean
Wood shows wear quickly
Must fill top multiple times to fill bottom
---
6. Cuisinart 14-Cup BPA-Free Coffee Maker
The Cuisinart DCC-3200 is a 14-cup coffee maker with a button that allows you to choose if you want bold or regular coffee. The timer lets you program what time you want your coffee to start brewing, so it will be waiting for you when you're ready for it, and will automatically shut off when it's done brewing. There's even a button you can push to have the machine clean itself.
Pouring water into the reservoir can be challenging because the lid doesn't open completely. You'll have to make multiple trips to get water to fill it because you can't tip the pot enough to empty it. On the plus side, this coffee maker brews coffee hotter than most other machines, but after just a couple of months, the black coating on the heating plate begins flaking off. This leaves bare metal that starts to rust quickly.
We found that we couldn't brew a full 14 cups of coffee. When we tried, it would overflow, leaving a huge mess. It's also messy when you try to pour your coffee because of the carafe lid leaking.
This coffee maker gives off a lot of steam. If you brew your coffee with the unit under your top kitchen cabinets, they will get ruined. Make sure you pull your machine out, so nothing is above it while it's brewing.
Pros
Brew strength control
Programmable
Self-cleaning
Makes hotter coffee
Cons
Reservoir lid doesn't open all the way
Warmer plate coating flakes off
Overflows if you make full pot
Carafe lid leaks when pouring
Gives off a lot of steam
---
7. Presto 12-Cup Stainless-Steel Coffee Maker
The Presto 02811 can brew between two and 12 cups of coffee at a rate of a cup a minute, and keep it hot in the pot until you're ready to drink it. The design of the pour spout makes it a breeze to pour your coffee into your cup without dripping all over the place.
The Presto is made of stainless steel, so it's easy to clean, but the nut at the bottom of the inner assembly is aluminum, which will corrode and deteriorate. When it does, the stem that suctions the water up over your coffee beans doesn't seat correctly, and you will end up with just hot water and no coffee. The stem design is terrible on this unit, which can cause the same problems at times, but it will be consistent when the aluminum gets corroded.
This coffee maker is inconsistent in the way it makes your coffee. If you put six scoops in on day one, it won't be the same strength if you put six scoops in on day two. When the pot is finished brewing, it doesn't have a warming mode to switch into. Therefore, your coffee continues to cook rather than just stay warm. It also leaves a metallic taste in your coffee at times.
Pros
Brews two to 12 cups quickly
Keeps coffee hot
Easy-pour spout
Easy to clean
Cons
Aluminum nut inside corrodes
Poor construction
Inconsistent coffee
No warming mode
Metallic taste
---
8. Bodum Brazil French Press Coffee Maker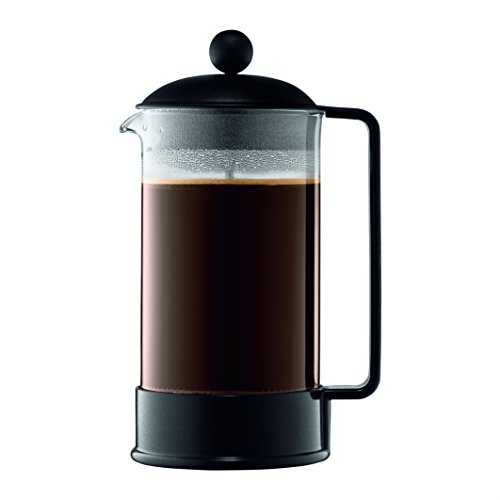 The Bodum Brazil French Press Coffee Maker is a dishwasher-safe unit that only takes four minutes to brew up to 34 ounces of coffee. This machine allows more grounds to get through the filter than any other brewer we have used. There are always some grounds floating around and sediment on the bottom of the pot.
This unit isn't made with quality products. The lid, handle, and base are all made of cheap plastic. The piece that holds the plunging screen to the stick is also made of plastic. This piece breaks quite easily, and then your plunging screen floats rather than presses.
We also found that the coffee pot is made of thin glass that is very fragile and breaks easily. When we did have one break and went looking to replace it, we found that it cost more to replace than it would to just purchase another whole machine.
Pros
Dishwasher safe
Takes four minutes to make a pot
34-ounce capacity
Cons
Grounds get through filter
Fragile glass
Replacement pot costs more than new machine
Cheap plastic handle, lid, and bottom
Piece that attaches plunger to stick is plastic
---
Buyer's Guide: Choosing the Best BPA-Free Coffee Maker
You may have seen a wide range of products advertised as BPA-free, from water bottles to tea kettles. But what exactly is BPA, and why might you want to avoid it?
BPA stands for Bisphenol A, which is a chemical that is used to make plastic harden. It's been used in food packaging since the 1960s, but has recently come under fire for potentially causing health problems, particularly for children. One study found detectable BPA in 93% of participants.
The Food and Drug Administration says that BPA is safe in small doses. However, you may want to avoid it, especially after learning about the potential health effects.
How can BPA affect your health?
Here are a few health issues that may be caused by BPA:
1. Reproductive Issues: Many studies have shown that BPA can cause infertility, especially among males.
2. Heart Problems: Studies have shown that adults who have had exposure to BPA have a higher risk of heart conditions than those who avoid it.
3. Cancer: Studies on BPA causing cancer have only been done on animals so far, but those studies have shown an increase of cancer in animals that were exposed to BPA.
4. Type II Diabetes: BPA has a negative effect on the body's insulin levels, which can cause type II diabetes. However, the jury is still out, as some studies show that current BPA levels aren't harming your health.
---
How to identify BPA in coffee makers
Look for a brewer with no plastic parts. That's the only way that it's guaranteed to be 100% BPA-free.
Carafes are often made of polycarbonate plastic. Look at the bottom of the carafe. If plastic was used on it, you'll find "PC" or the number seven imprinted on the bottom. You really want to find one that's made of glass.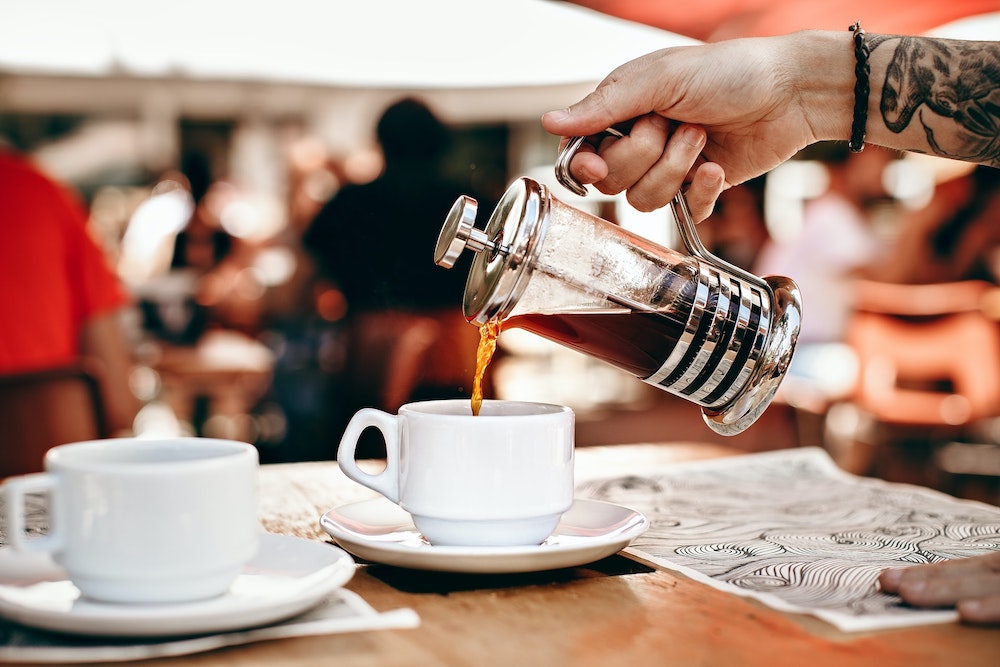 Coffee makers that are known for being BPA-free:
French press
These are generally made of glass or stainless steel, but can come with plastic lids. To get one that is BPA-free, make sure it has a stainless steel or cork lid.
Stovetop espresso makers
Stovetop espresso makers, like Moka pots, are often made of stainless steel, which is both durable and safe for food.
Percolators
Percolators are usually made of stainless steel and are easy to use.

Conclusion
Now that we have explained BPA and the effects that it has on the human body, let's reexamine the eight BPA-free coffee makers we reviewed that may interest you. Our top pick is the OXO BREW 9 Cup Coffee Maker, followed by our runner-up, the Bonavita BV1800SS 8-Cup Original Coffee Brewer (Stainless Steel Version). If you're looking for value, take a look at the Hamilton Beach (47950) Coffee Maker. If your budget is really small, you may like the Mr. Coffee CG13-RB 12-Cup Switch Coffeemaker. And if you'd like to avoid plastic altogether, you may prefer the Chemex Pour-Over Glass Coffeemaker.
Hopefully, you have learned something about BPA that you didn't already know. To avoid this potentially harmful chemical, you can opt for BPA-free plastic or switch to glass or stainless coffee makers. We hope that our detailed reviews and quick buyer's guide help you find a great model. Enjoy that BPA-free cup of coffee!
Here are some other coffee brewers that we've recently reviewed: