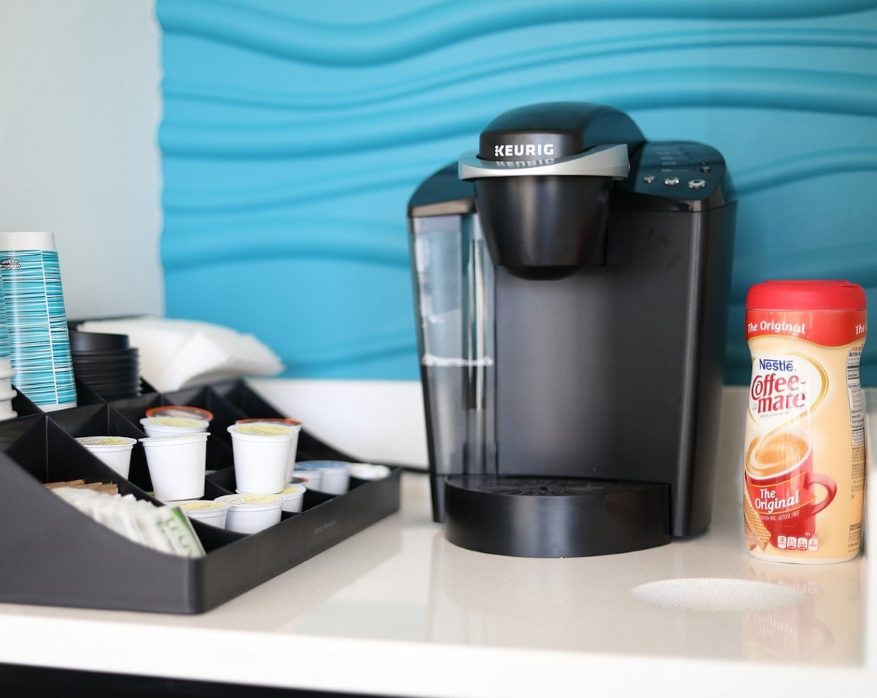 To find the best Keurig coffee makers, we were put in the fortunate position of getting to sample the wide market. During our tasty taste tests, we looked for and found some of the best coffee brewers on the market.
The criteria for the guide found below were several-fold. First and foremost, we searched for quality. All the items in our Keurig coffee maker reviews earned a spot on our list by being very good at what they do.
We also wanted to make sure there was something here for everyone. Whether you're an aficionado who will spend whatever it takes to get a good cup of coffee, or a bargain shopper searching for a good deal, there should be something here for you.
---
A Quick Look at the Winners of 2023:
Image
Product
Details

Best Overall

Keurig K-Elite

Many brewing options
Cleaning reminder
Large water reservoir

Best Value

Keurig K-Classic

Affordable
Quick brew
Automatic shut-off

Best for Offices

Keurig K155 Office Pro

Lightning-fast brewing
Large water reservoir
Temperature control

Keurig K575

Moderate price
Choice of temperatures and sizes
Can brew carafes

Keurig K475

Choice of brew sizes
Five brew temperatures
Large water reservoir
The 8 Best Keurig Coffee Makers:
1. Keurig K-Elite K-Cup Coffee Maker – Best Overall
The Keurig K-Elite is by far the best K-cup coffee machine on our list. Pricey but worth the cost, the K-Elite offers a custom user experience. The system allows you to select from five different sizes ranging from four to 12 ounces.
It also features a massive 75-ounce water reservoir, so you don't need to refill the tank often, and a strong brew feature for buyers who like their coffee bold.
The K-Elite is also easy to clean, with removable parts like the drip tray, which can be easily extracted for a quick rubdown.
To further improve your ability to maintain this Keurig, it also notifies you when calcium has built up to the point that it's affecting the machine's performance. Through regular maintenance, you will be able to extend the K-Elite's life expectancy considerably. Finally, the K-Elite also has a noise-canceling feature for a nice quiet brew.
This isn't the most advanced brew system that Keurig has ever produced, but it succeeds in virtually every important way. It's a good, well-rounded option that will be great for buyers with a little bit of money to spend.
All in all, we think this is the best Keurig coffee maker of the year.
WANT TO KNOW MORE? Read our in-depth review of the Keurig K Elite!
Pros
Reminds you when to clean the machine
Many different size options
Special bold brew option
Sizable water reservoir
Brews quietly
---
2. Keurig K-Classic Coffee Maker – Best Value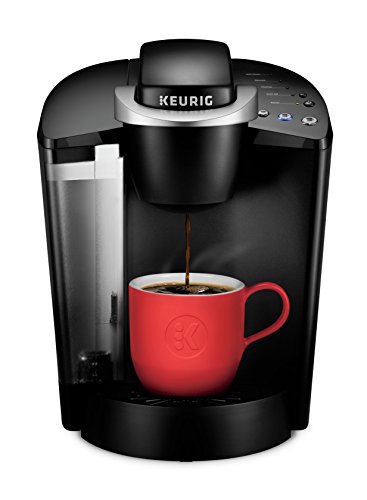 The K-Classic is the best Keurig K-Cup brewer for the money. As an oldie but a goodie, this vintage design concept gives you all the features that launched Keurig as a quick brew icon in the first place: an easy-to-use interface, a fast-working heating element for piping hot coffee whenever you need it, and an affordable price tag.
In less than a minute, you have your coffee. Afterward, the Keurig shuts off automatically to save you money on your power bills.
This is probably one of the least sophisticated Keurigs on our list. The water reservoir is only 48 ounces, which means you'll need to refill it after every four or five cups. It also doesn't have the LCD display that higher-end Keurigs do. Given the limited scope of features, an LCD isn't really needed anyway.
All in all, the K-Classic isn't doing anything wrong; it simply fails to outperform the K-Elite. However, this also what makes it a lot more affordable.
Pros
Affordable
Quick brew
Shuts off automatically
Cons
Small water reservoir
Very basic interface
---
3. Keurig Coffee Maker (Office Pro K155) – Best for Office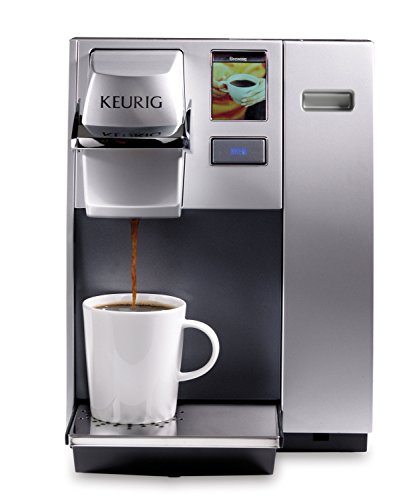 The K155 is everything the K-Classic isn't, and much, much more. It will work for anyone, but it's probably most suitable in an office setting.
The advanced LCD touchscreen interface makes it easy to navigate the many settings and features of the K155. You get four different brewing sizes, a large 90-ounce reservoir that's good for (approximately) 18 cups, and a lightning-fast brew time that allows you to make coffee in under a minute. Coffee enthusiasts can even select their ideal temperature, so that the coffee is exactly the way they want it to be.
These premium features do come at a cost. In this case, it's a rather big one, but you get what you pay for.
Pros
LCD interface
Large 90-ounce water reservoir
Temperature control
Lightning-fast brew times
---
4. Keurig K-Cup Coffee Brewer (K575)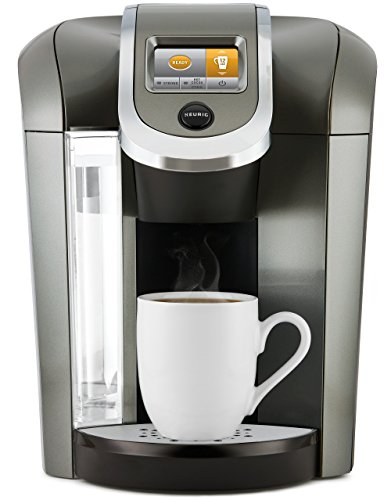 The K575 blends quality with value. Though it's moderately priced, you still get many of the same benefits that we saw with our last selection. A large LCD screen makes navigating the K575 a cinch, and you can even pick from several different colors that will give your kitchen a personalized aesthetic.
The brew size goes from four to 12 ounces, and you can also choose from five different brew temperatures that affect your coffee's overall flavor and strength.
If you ever need to brew larger quantities of coffee all at once, this might also be the right option for you. The K575 can brew carafe-sized batches of coffee, provided that you have the proper pods and a Keurig carafe.
The K575 isn't perfect, though. It's actually somewhat notorious for making a big mess. Due to some manufacturing error, it consistently tears the seals on K-cups, leaving behind wet coffee grounds that get all over the machine. This issue doesn't necessarily happen every time, but it's a common complaint. Otherwise, it's a great coffee maker that just about anyone would be happy with.
Pros
Moderate price tag
Makes cups ranging from four to 12 ounces
Five different brew temperatures
Makes carafe-sized batches
---
5. Keurig Coffee-Maker (K475)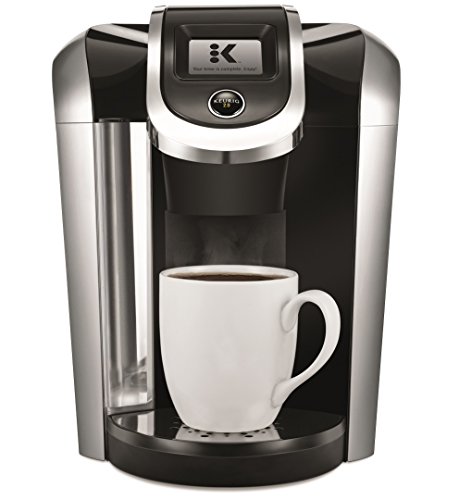 The K475 is feature-rich and has largely the same options you get from many of the other brew systems on our list. You can vary the size of your cups from between four to 12 ounces, thanks to a generous size selection menu.
There are five different brew temperatures that change the flavor profile of your coffee. There's also a large LCD screen, a 70-ounce water reservoir, and six K-cups that are included with your purchase.
There are a few points of concern to be mindful of. For one thing, this is a particularly noisy system. It's not so loud that it would wake anyone up, but it does produce some noise pollution that you might not be up for in the morning. It's also another Keurig that produces a substantial mess with loose coffee grounds.
Pros
Four- to 12-ounce cups
Five different brew temperatures
70-ounce water reservoir
Cons
Noisy brew system
Makes a mess with loose coffee grounds
---
6. Keurig K-Mini K-Cup Coffee Maker Model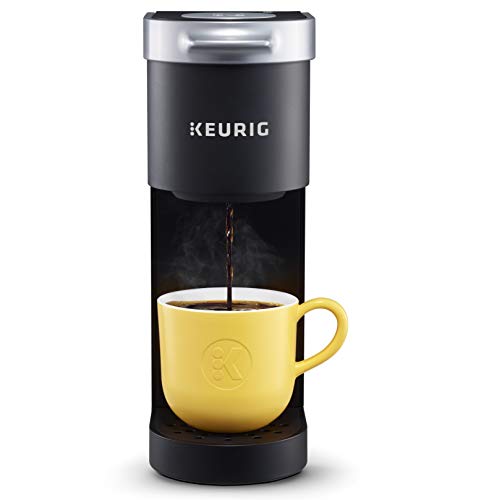 This is the perfect Keurig for dorms, apartments, and small kitchens! The K-Mini is about as compact as you could hope to get, but it still packs a punch.
The features are a little simpler with this Keurig. You can select a brew size of either six or 12 ounces, and you're once again given the option of a bold brew if that's your preference.
These things aside, the features are fairly sparse. This is particularly unfortunate because, for the price of this Keurig, you could get one that does a good deal more.
Value concerns aside, it's also worth noting that this is another noisy coffee maker. This shouldn't necessarily be a dealbreaker—especially not if you need the counter space—but it is something to be mindful of.
Pros
Ultra-compact
Brew size of six or 12 ounces
---
7. Keurig K-Café K-Cup Coffee-Machine Brewer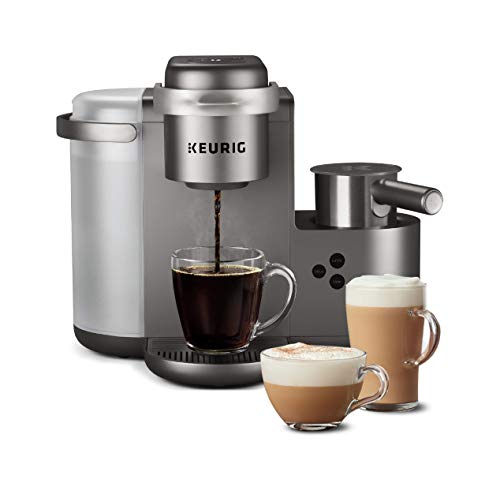 Our penultimate pick is for people who want to turn the kitchen into a full-blown café. The K-Café is a traditional Keurig, but it can also produce hot milk and foam, making it the perfect option for cappuccinos and lattes. Though it's pricey, the multiple modes of use may justify the cost for many shoppers.
Even though it has many features, it manages to be relatively simple to use. With only a few buttons, you're able to control the brewer and the frother.
Fair warning, though: many users report that their frothers do not perform as advertised, simply warming the milk rather than actually frothing it. It's also fairly difficult to clean, thanks to all the parts that it includes.
SEE ALSO: Our Review of the K-Café: Pros, Cons, & Verdict
Pros
Can make lattes and cappuccinos
Easy to use
Cons
Pricey
Difficult to clean
Some reports that frother doesn't work
---
8. Keurig K15 Coffee Maker

Our last pick is probably also the simplest. The K15 is a compact option that will save space while still performing the basic necessary tasks of a Keurig. Essentially, this Keurig just does a smaller version of the things most of the other units on the list do. For instance, you only get two different brew sizes: six or 12 ounces. It also only has a 12-ounce water reservoir, so you'll need to refill often.
Perhaps the biggest limitation of the K15 is the heating element. The coffee that it produces is not nearly as hot as you get with conventional brew systems. Many users also report that their K15s lasted only a few months. While it's hard to say how widespread this defect is, it's certainly safe to say that there are durability concerns. The plastic feels cheap, and it gets banged up fairly easily.
If you have space limitations, it might get the job done, but there are certainly other Keurigs that are more worthy of your money.
Cons
Limited features
Small water reservoir
Lukewarm coffee

Buyer's Guide: How to Find the Best Keurig Coffee Maker
Now that you've read our reviews, it's time to prepare for a final decision. If you're still trying to work some things out, read on for some buying considerations that should clarify the decision. Our goal is that after reading this you should be fully equipped to find the best Keurig coffee brewer for your needs.
Speed
Keurigs are largely appreciated for their speed. In fact, this is the main factor that separates them from the traditional coffee pot. Whereas primitive brew systems might have you waiting for ten minutes (or even more) before you can pour yourself a cup, the Keurig can get the job done in a small fraction of the time.
As you probably noticed, not every Keurig has the exact same brew time. Anything under three minutes is ideal in that it keeps your brew system competitive with other industry-leading options.
SEE ALSO: This Year's Best Coffee Makers: Reviews & Top Picks
Water Reservoir
In many ways, the size of the water reservoir will dictate how convenient the machine is to operate. Units with larger reservoirs won't need to be refilled as often, which can save you time and eliminate the need for tedious extra tasks.
Large reservoirs are also great in settings where more than one person is using the Keurig. For example, if your brew system is destined to be stationed in the office, it's probably going to be used often. The more water the system can store, the more seamless the communal experience will be.
The brew time is, in part, affected by whether the Keurig needs to reheat the water. For the first cup of the day, it may take a few minutes to get everything heated up before the actual brewing begins. Each subsequent cup is then made in a couple of minutes. However, if you need to refill the water reservoir continuously, the system will need to reheat much more often, wasting everyone's time.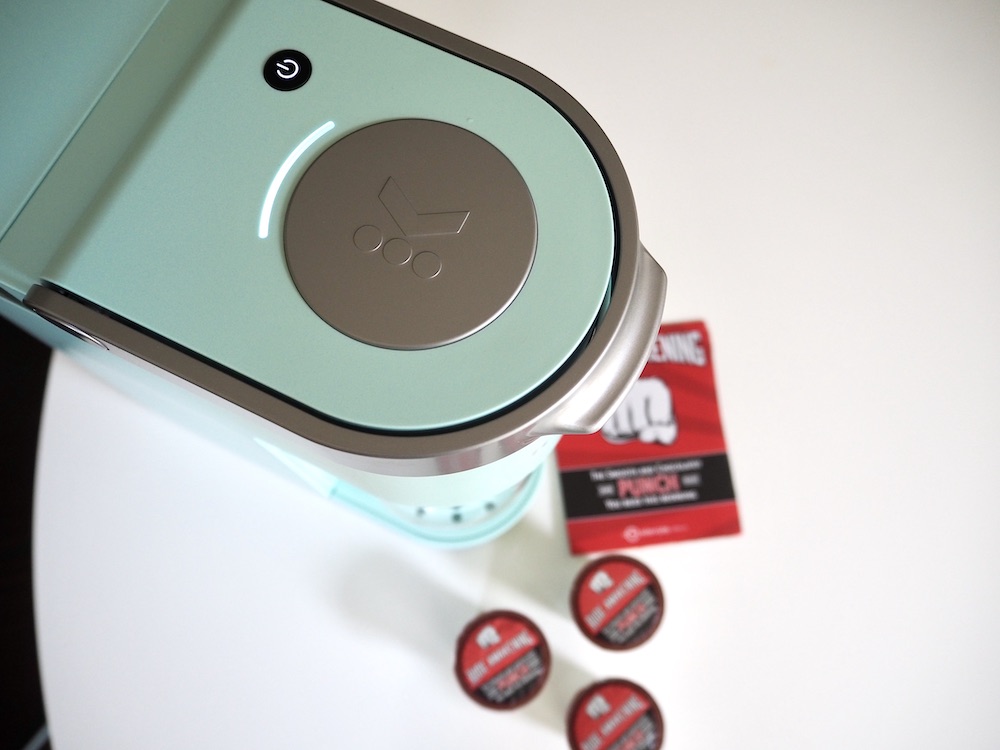 Endless Water Reservoir?
If you're making lots of coffee every single day, you can get Keurigs with unlimited water reservoirs. These units hook into your building's plumbing, so that they're constantly replenished with new water.
Even the biggest coffee addict in the world will not need this feature for themselves alone. Plumbable Keurigs are best for the office, a conference, or any other setting where the brew system will be in constant use for an extended period.
Brew Temperature
Several of the high-end Keurigs on our list allow users to adjust the brew temperature. This gives you the chance to customize what flavors you're bringing out in the beans.
The truth is that the differences in taste that changing the temperature brings out are minimal at best. Unless you're a major coffee aficionado, you probably won't notice the distinction. Still, it can be a nice feature to have.
Cup Size
Most Keurigs also have several different cup sizes. Usually, they feature small (six ounces), regular (eight ounces—roughly the standard size of an average coffee cup), and large (10 ounces).
The extent to which this feature comes in handy is somewhat limited. While it sounds nice to be able to choose your cup size, remember that the amount of coffee grounds being used remains the same no matter what.
The eight-ounce cup generally provides the richest flavor in the world of K-cups. If you prefer a more muted taste, or you just want to meet your day with a little something extra in the thermos, it can be handy to have extra size options at your disposal.
Brew Style
Most Keurigs also have a brew-style feature. This means strength selection. You might find machines that offer regular, strong, and mild. Cup size will ultimately have a bigger effect on the final flavor, but this is an easy way to customize your user experience all the same.
WORTH READING: How to Make Espresso with a Keurig (Simple Steps)
User Interface
Some Keurig machines have LCD screens that allow you to navigate the myriad options and modes of use effortlessly. It's not a necessary feature, but it does make the machine easier to use, while also distinguishing it from lower-end units.
If you're looking in the budget buy category, you're likely to find that most of the brew systems are somewhat cruder in appearance, operated instead by a series of buttons. Of course, the more features and modes a Keurig has, the more useful the screen becomes. Mostly, though, it just looks cool.
Energy Saving Mode
No one is saying that your Keurig will blow the lid off your energy bill. Still, why spend even a penny more than you need to, right? Some Keurigs have an automatic shutoff timer that deactivates the heating element once a certain amount of downtime has passed.
The actual effect of "energy saving mode" will be modest, at least in terms of how it affects your power bill. However, you will save a little money over time, and of course, it's also good for Mother Earth.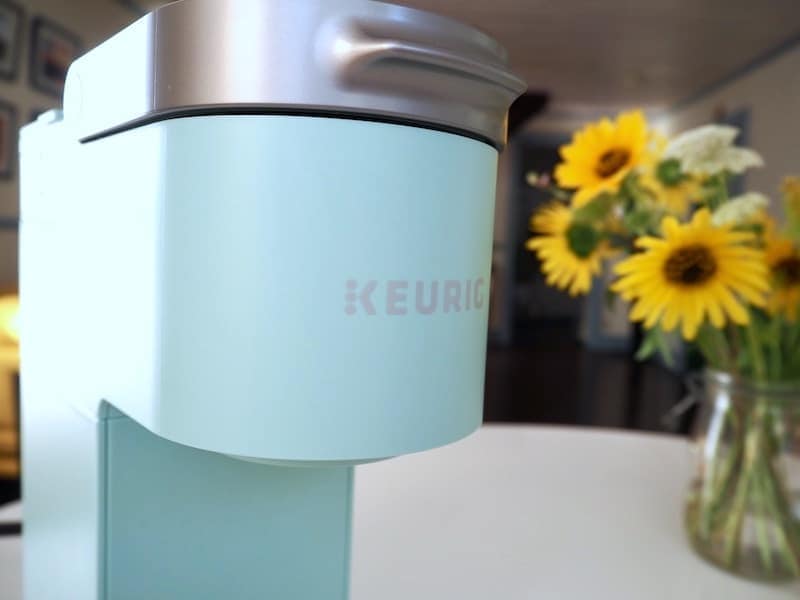 Scheduled Brew
It's really nice to wake up to a freshly brewed cup of coffee. With some Keurigs, it's very easy to make this a reality. Newer models have timer modes (similar to a delay brew on a conventional coffee maker). To take advantage of this feature, just pop in your favorite K-cup, set the timer, put your coffee cup in the correct spot, and let the Keurig do the rest!
Maintenance Reminder
None of us are ever super stoked when it comes time to clean out the coffee maker. However, without regular maintenance, you can't expect your Keurig to last for very long. As calcium deposits and other gunk build up, the end of the brew system draws nigh.
The good news? There is a solution! Some Keurigs will notify you when it is time to give the system a cleaning.
SEE ALSO: How to Clean a Keurig Without Vinegar (You'll Be Amazed!)
Price
Unfortunately, the average Keurig is pretty much always more expensive than your average drip brew coffee maker. However, there is variation in price within the Keurig market. Higher-end options with a robust range of features typically cost more than simpler, beginner options.
The less you pay, the less you get, but no matter what, your Keurig will be able to make delicious coffee quickly. That's what counts the most, right?
Additional Accessories
Some Keurig packages can be bundled so that you get not just the brew system, but also a few accessories that allow you to make good use of it. For example, some Keurigs may come with a K-cup holder, a thermos, or even some pods so you can start brewing right away.
Bundling does increase your coffee maker's upfront cost. However, if you were going to buy these accessories anyway, you'll save a little money through bundling.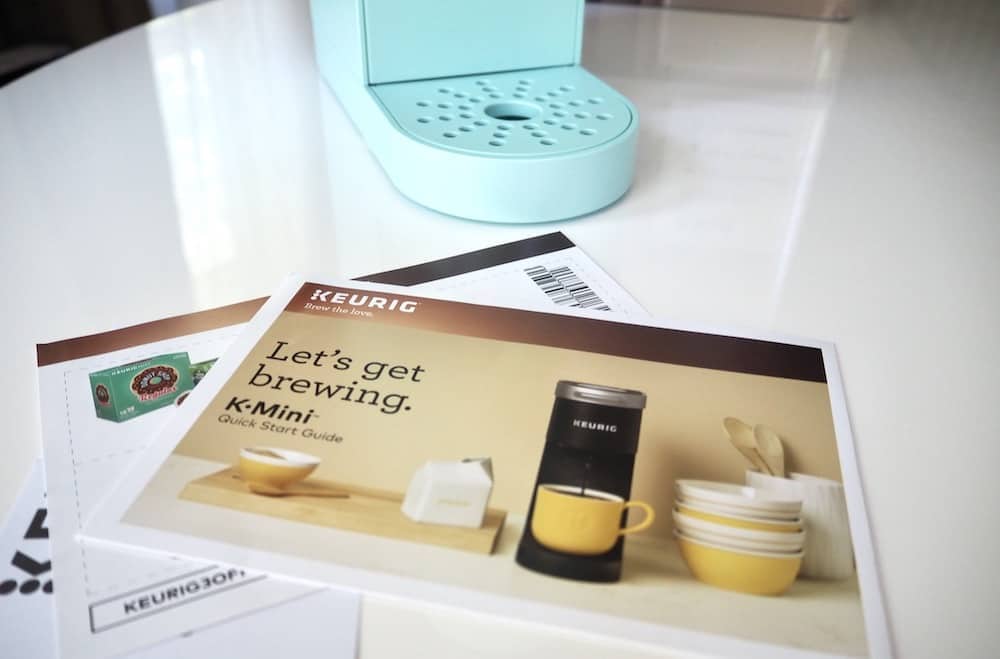 Keurig Warranty
It's always a good idea to be mindful of the warranty. Since we're dealing with one manufacturer here, the warranty is the same across the board. If anything goes wrong within one year of purchase, you can have it fixed or replaced free of charge.
Use With Coffee Grounds
Some Keurigs can be used with coffee grounds. This is a nice feature for people who don't want to be limited strictly to what K-cups have to offer. Coffee grounds can also be much more affordable than certain K-cup packages, which may save you lots of money in the long run.
Not all Keurigs can handle loose grounds. Those that are compatible require a special filter that is usually sold separately.
NOTE: We've also curated a list of our favorite Keurigs for the office – Click here to see the popular list!

Conclusion
Our best Keurig coffee maker reviews are over, but decision time has arrived. It's not easy choosing from eight awesome products. If you do feel overwhelmed, there are a couple of options that might be worth revisiting.
If you're a real java addict who is willing to spend a few dollars to support the habit, our top pick, the Keurig K-Elite Single-Serve K-Cup Coffee Maker, will serve you well.
However, if you do need to stay within a budget, you can get plenty of bang for your buck by going with our best Keurig for the money pick, the Keurig K-Classic Coffee Maker. But, hey, we're talking about luxury coffee makers here. Chances are, no matter what Keurig you choose, you'll be happy with your decision.
Hopefully, we've helped you in your search of finding the best Keurig K-Cup coffee maker model for your needs. If you have any questions you are very welcome to leave them in a comment below.
Note: you can also see our reviews of other single-serve coffee maker brands here. We also have a guide that goes over some of the best Keurig alternatives.
---
Still looking? Try one of our other reviews: