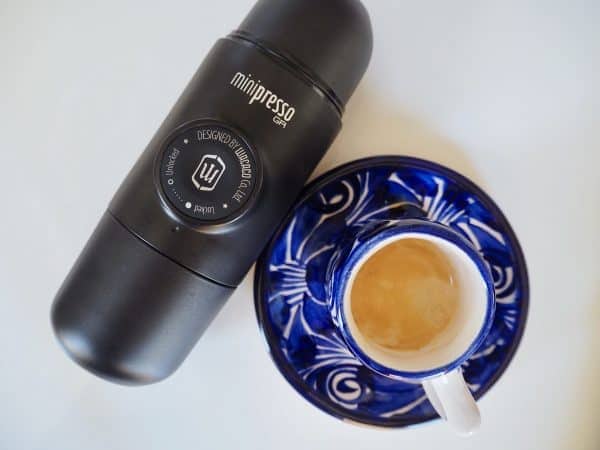 You may think that you can't get a great espresso without building up a lot of pressure, and you'd be right. But did you realize that you can now get great espresso out of a portable device, saving you time and money when you're on the go?
We all know that shopping online can feel like a high-pressure situation. It's not always clear which models are great, and which will break down soon after you buy them.
We want you to be able to shop with confidence, which is why we've compiled these reviews of the best portable espresso machines of the year. We've also included a buyers' guide designed to help you find the model that's right for you, whether you're a novice or looking for the best crema on the market.
NOTE: You can also see our favorite portable COFFEE makers here.
---
A Comparison of our Favorites (updated in 2023):
Image
Product
Details

Best Overall

Flair Manual-Press

Manual press
Detachable brewing head
Aluminum and stainless-steel parts

Best for Travel

Wacaco Minipresso

Compact and lightweight
Easy to use
Easy cleanup

Best Value

Litchi Handheld

Low price
Includes second filter basket
Includes carrying bag

Handpresso Wild Hybrid

Very high PSI
Works with loose grounds or pods
Two colors

Homgeek

Inexpensive
Simple operation
Lightweight
The 5 Best Portable Espresso Makers:
1. Flair Manual-Press Portable Espresso Maker – Best Overall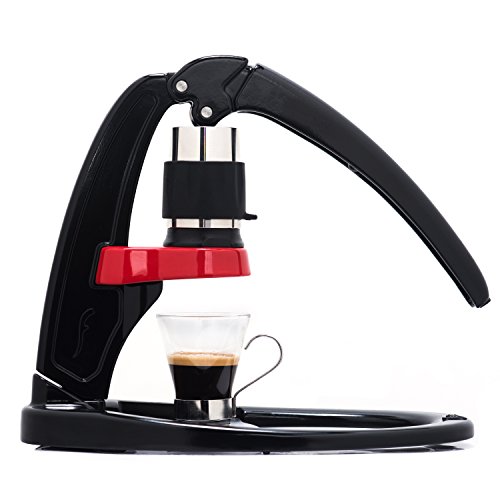 The Flair Espresso Maker combines a portable frame with an elegant design to deliver the best portable espresso experience overall. This is a manual press, which means you provide all the power needed to turn hot water and ground coffee into the perfect shot of espresso. It comes with a detachable brewing head, so it's easy to heat up and to clean. Most parts in this portable espresso maker are made from either stainless steel or aluminum, meaning it's a great mix of lightweight and sturdy materials that should be long-lasting and easy to transport.
It also includes a carrying case, which makes it easy to hit the road with this machine and not have to worry about accidental damage while in transit. The only real downside to this model is that it takes some time to learn. And it's not the quickest model to use even once you understand it. If you're willing to take the time to learn to use this model though, it's easily the best portable espresso maker this year.
Pros
Manual press
Detachable brewing head
Aluminum and stainless-steel parts
Includes carrying case
Cons
Requires time to learn and use
---
2. Wacaco Minipresso Espresso Maker – Best for Travel
The Wacaco Minipresso MPGR100 is the best travel espresso maker for anyone who needs a simple, easy-to-use companion. This model is ideal for a camping trip or any other situation where you might find yourself far from the nearest coffee shop. It's one of the most compact and lightest portable espresso makers you'll find on the market. You can add it to any trip without it adding too much weight or taking up an inconvenient amount of space. It's also really easy to learn how to use this model. Add coffee grounds and hot water, pump a few times, and you're done. Since it's so easy to use, it's also one of the quicker models on the market, getting you from start to finish in a very short amount of time.
It's also easy to clean up after use since it disassembles into multiple pieces, all of which are safe to clean. The only real gripe we have with this model is that it seems designed to drive you toward upgrades. It only produces one shot of espresso at a time, so if you want more, you'll have to upgrade the water tank, which ultimately keeps this model out of first place.
SEE ALSO: our 10 favorite camping coffee makers of the year.
Pros
Compact and lightweight
Easy to use
Easy cleanup
Fast
Cons
Small capacity without upgrades
---
3. Litchi Handheld Portable Espresso Maker – Best Value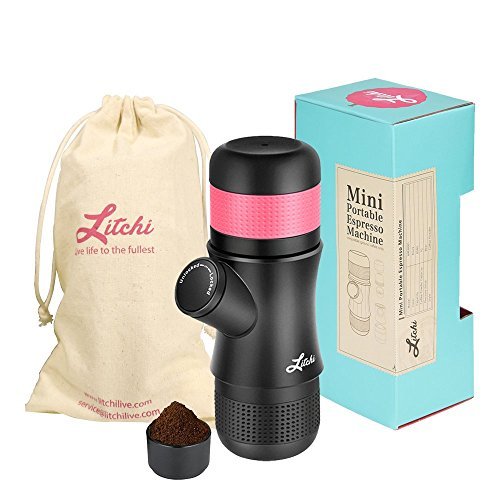 The Litchi Portable Hand Held Espresso Maker is the "best portable espresso maker for the money" on our list. You can get it for less than half of what you'd pay for the first two models, which means you're getting incredible value for your money. And, unlike the first two models on our list, it includes a second filter basket, making it an even better value. It also includes a carrying bag, which isn't as protective as the cases that come with other models, but it gives you a way to keep all the parts together while you travel.
It does have a few negatives that you should be aware of before you buy. It's oddly-shaped, which makes it a bit difficult to travel with. While it's not easy to damage, you'll want to be careful where you leave it inside a bag or backpack. It also works best if you tamp down the grounds, which isn't always easy to do when you're on the go. Without those issues, this model would be even higher on our list. Despite these flaws, it still provides the best value for the money.
Pros
Low price
Includes second filter basket
Includes carrying bag
Cons
Odd shape
Requires grounds tamping
---
4. Handpresso Wild Hybrid Portable Espresso Maker
The Handpresso Wild Hybrid gives you the ability to avoid working with loose espresso grounds, which can be a lifesaver if you're far from home, and cleaning up a spill would be a logistical disaster. While you can use loose espresso grounds with this model, you also have the option of using E.S.E pods, which are reminiscent of K-cups but designed for the express purpose of making espresso. That means you can throw pods in your bag for a trip and not have to worry about grinding or spilling espresso. It also produces up to 232 PSI, which is far more than needed for making espresso. So you can make a great cup every time.
It's available in both black and silver, so you can opt for a more elegant or more scratch-resistant design. Unfortunately, this model is a bit on the expensive side, and while it's not outrageous, it doesn't compete well in that area with other models on our list. The E.S.E. pods are also hard to find offline, which can be a pain. Unfortunately, the value doesn't justify the price, even though this is a good overall portable espresso maker.
Pros
Very high PSI
Works with loose grounds or pods
Two colors
Cons
Expensive
Pods not widely available offline
---
5. Homgeek Mini & Portable Espresso Makers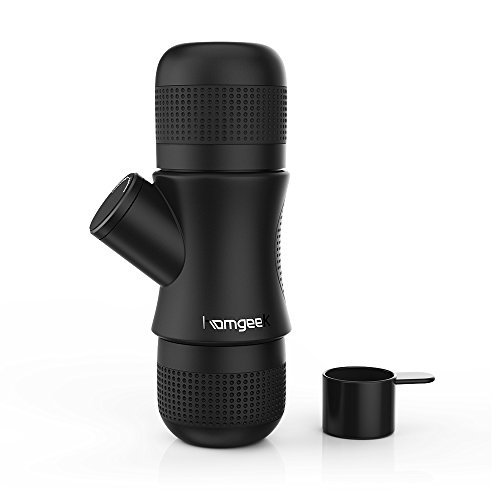 The Homgeek Mini Espresso Maker is a decent choice for someone looking for a portable espresso maker. Since it's doesn't cost a lot, you can always replace it when it breaks. But in most cases, it will be better to choose a different model. The best thing this espresso maker has going for it is that it's very cheap. If it breaks, or you lose it while out on an adventure, it's not going to be a big deal. It also operates very simply, which means you won't have to spend a lot of time learning how to use it.
It is, however, oddly-shaped, so packing can become problematic. It also doesn't last as long as other models on this list, and it often develops leaks after a few months of use. It's not that you can't get good espresso out of this machine, but you might want to buy something that lasts a bit longer. In most circumstances, it makes sense to spend a bit more money to get a model that comes with better features and that will last longer.
Pros
Inexpensive
Simple operation
Cons
Oddly shaped
Tends to develop leaks
---
Buyer's Guide – Choosing the Best Portable Espresso Maker
Hopefully, our reviews already have you thinking about a model that will serve you well on the go. But if you're not yet sure which model is right for you, you've come to the right place. This buyer's guide is designed to walk you through every feature you'll need to know about before you buy. Whether you're as green as fresh coffee beans or drink multiple espressos every day, this guide is a good resource to consult to make sure that you get the best portable espresso maker for your money.
Portability
How portable your portable espresso maker is can make a big difference, and as you might expect, not all models are made equally in this area. The best thing to look for—if you're going to be traveling with your espresso maker a lot—is a case. A case will keep it safe while you travel. It will also prevent you from losing any of your machine's small, but vital parts.
You'll also want to look for models that disassemble easily or have smooth, regular surfaces. Hard knobs or angles are known for catching on things, and that could lead to damaging your espresso maker or something else that you're carrying. Finally, weight is an important consideration. The heavier your portable espresso maker, the less you're going to want to carry it around, so it's good to invest in a light model. You'll also want a model that can use espresso pods if you don't want to deal with espresso grounds on the go.
Ease of use
Not every portable espresso maker is equally easy to use, but some things make certain models easier to use than others. Something to keep in mind is that none of the models on our list provide their own hot water. That's something you'll have to do yourself.
Models with a large water capacity can make more shots per go, though most models only have a tank that can produce one shot at a time. With some brands, you'll be able to purchase a larger water tank, but that's not a universal add-on. Usually, you can also purchase additional filter baskets. This will allow you to make more than one shot at once, without having to reload the same filter basket.
Different models require different amounts of pumping to produce enough pressure to make a cup of espresso. Reading user reviews is a great way to get a feel for how many pumps are required before you buy.
Espresso quality
Getting good espresso on the go is possible—you just have to know which portable espresso makers do the best job. Remember that the espresso that you get on the backend is only as good as the espresso grounds that you put into the espresso maker. The good news is that you can typically use your favorite brands with these models, though you may have to grind the espresso yourself.
Many portable models like an extra-fine grind, so there's a chance you'll either need a new grinder, or you'll have to go to a coffee shop to get things done to your satisfaction. Many people like using espresso pods, but many people also feel the quality isn't as high as when you select and grind the beans yourself.
You'll also want to make sure that you use water that is close to boiling when you make the espresso.  Anything cooler loses flavor and results in less crema. You should also get a portable model that uses plenty of pressure, as inadequate pressure results in weak espresso.
So which portable espresso maker is right for you?
Different people have different coffee needs, and different models excel in different areas, so the right model is going to vary from person to person. If you want to get great value out of your buy, you'll need to approach this problem strategically.
The first thing you should do is figure out what all of your needs are. Where do you envision yourself drinking espresso? Will it be easy to work with loose espresso grounds or not? Will you need something durable that can stand up to abuse, or is your espresso maker unlikely to leave the hotel room?
Once you have the answers to those questions, it's a good idea to make a list of the travel espresso makers that best fit those criteria. Once you've done that, it's safe to choose the cheapest model on that list. And since it's the cheapest remaining model, it provides great value for your money.
SEE ALSO: Our in-depth review of the Wacaco Nanopresso

Final Verdict:
The Flair Espresso Maker is the best portable espresso maker overall, and it comes with a detachable brewing head, parts made from aluminum and stainless steel, and it includes a carrying case that makes travel a cinch. The Wacaco Minipresso MPGR100 comes in second with its great speed, ease of cleaning, and ease of use, though its small capacity keeps it out of first. The Litchi Portable Hand Held Espresso Maker includes a second filter basket and a carrying bag, and its low price is enough to catapult it to third place, where it earns the title of "best portable espresso maker for the money." The Handpresso Wild Hybrid can produce very high pressure and can use disposable pods instead of loose grounds, though its high price and the lack of offline availability for those pods keep it out of the top three. The Homgeek Mini Espresso Maker is inexpensive and simple to use, but its odd shape and proclivity for developing leaks drop it to the last place.
We hope that our reviews and buyer's guide have helped you learn everything you need to know about portable espresso makers. You should now be able to find a model you'll love using.
–> You could also see our favorite office espresso machines, or our favorite burr grinder when on a tight budget.
New posts from the blog: