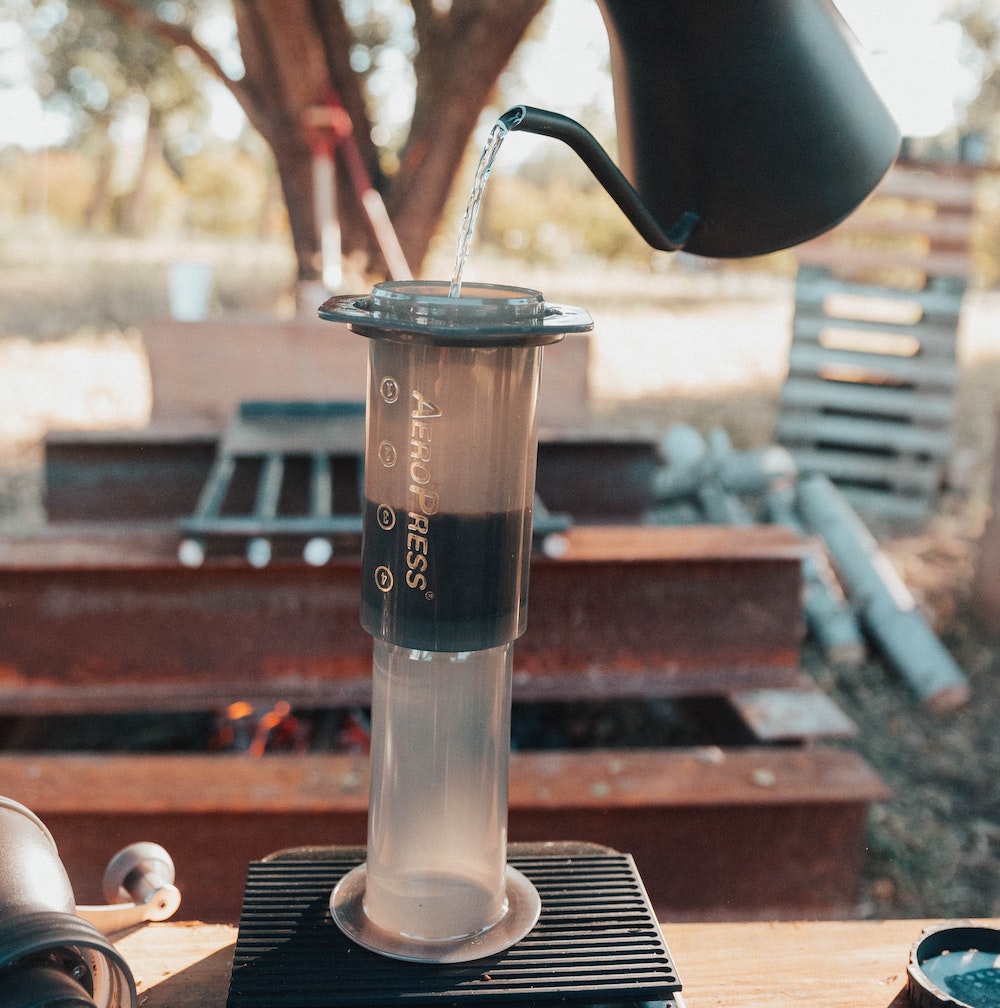 The crackling of the fire, the warm breeze, the bear going through your cooler of food — there's nothing that beats camping. Here at Coffee Affection, we are here to help those of you who love the great outdoors but also appreciate the comforts of home, like hot coffee in the morning.
There's so much to consider when deciding on the kind of coffee maker to bring camping. What's your heat source? How much coffee do you need? Will you be in the mood to share with friends? The questions are endless, as is the market for camping coffee makers. Fortunately, we did some testing for you. We hope these reviews help you on your quest for the perfect camping coffee maker.
---
A Quick Glance at our Favorites in 2023:
Image
Product
Details

Top Pick

Coleman QuikPot Propane

Full pot in 20 minutes
Durable
PerfectFlow technology

Best for the Money

GSI Outdoors JavaPress French Press

Small
Easy to clean
Self contained

Best for Backpacking

AeroPress Coffee and Espresso Maker

Brilliant design
Great espresso
For use at home and camping

Best Budget Buy

GSI Outdoors Ultralight Java Drip

Lightweight
Budget buy
Easy to clean

Coletti "Bozeman" Percolator

Feels old timey
Makes nine cups of great coffee
The 10 Best Camping Coffee Makers
1. Coleman QuikPot Propane Coffee Maker — Top Pick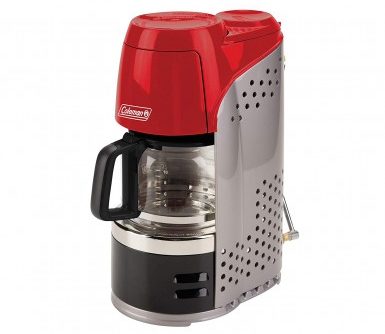 Coleman is known for its camping gear, so no surprise that it's our top pick. This camping coffee maker will make you feel right at home even while you're out there roughing it. There's a big reservoir for water, it brews a pot in a good amount of time, and if you leave the propane feed on low, it will keep your coffee warm for hours.
Nothing beats watching a sunrise while camping, aided by a fine cup of coffee. With the Coleman QuikPot Propane Coffee Maker, you can have a 12-cup pot of coffee ready in 20 minutes from start to finish. With its PerfectFlow technology, you can brew coffee in any condition. There is a bit of a quirk in the design, as the water reservoir only holds eight cups of water, but no worries! Just add the extra four during the process, and this maker will keep on brewing! It should also be noted that the QuikPot gets very hot.
Pros
Full pot in 20 minutes
Light
Durable
PerfectFlow technology
---
2. GSI Outdoors — 30 Fl Oz JavaPress, French Press Coffee Mug — Best for the Money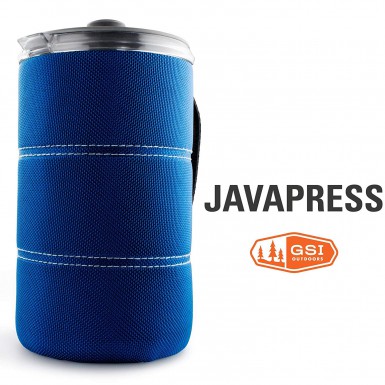 GSI knows how to do the outdoors, and they nailed it with their camping coffee maker. This JavaPress is made out of copolyesters, which means that it's shatter-proof and BPA free. It's wrapped with an insulated fabric to keep you from burning yourself but also to keep your coffee hot. There have been complaints about the insulation not being good enough, however. Able to hold 30 ounces, this maker will serve more than your normal breakfast cup, which we assume you'll need when you're out there fighting bears and cutting down large logs.
There's also something to be said about the fact that the French press just feels like the right brewing method for camping. It's just so self-contained and easy to clean. And it's the best option for the price. It's not quite number one because it can't yield a whole pot, but if your buddies just don't care for coffee, this is the way to go.
Pros
Small
Easy to clean
Self contained
---
3. AeroPress Coffee and Espresso Maker — Best for Backpacking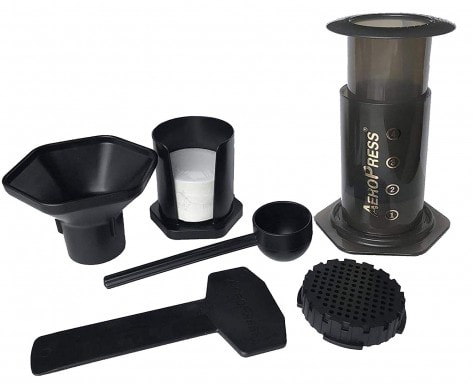 The AeroPress is unique because it is great for home use, as well as camping. It made quite an impression on the specialty coffee community some years back and remains a solid product. In fact, given that there are so many fads that disappear quickly in the world of coffee, that the AeroPress has stuck around and made such a name for itself is truly impressive.
Since this is a press, it produces an espresso drink. The amount you brew is up to you, as the AeroPress can provide anywhere from a small-shot espresso to three cups of coffee. The filtration system makes sure your cup stays clean. The design is brilliant and versatile. Clever users have found out that if you use the AeroPress upside down, you can make a cup of drip coffee. This machine is BPA free and easy to clean.
So, what's the downside? Durability. The good news is that it doesn't cost much to replace. Overall, we think the AeroPress is the best backpacking coffee maker on the market.
Pros
Brilliant design
Great espresso
For use at home and camping
BPA free
---
4. GSI Outdoors Ultralight Java Drip — Best Budget Buy
This maker has a simple design. Well, it's a filter, really. But it works amazingly well and produces exactly what it is made to produce.
To use this, clip the legs onto your favorite camping coffee mug, place your coffee in the filter, and let it do its work. Clean up is easy, as all it requires is a quick rinse and a run through the dishwasher every now and then. The mesh filter does allow some silt to come through, and it makes an oily cup, which is comparable to a French press.
Pros
Lightweight
Budget buy
Easy to clean
---
5. Coletti "Bozeman" Percolator Coffee Pot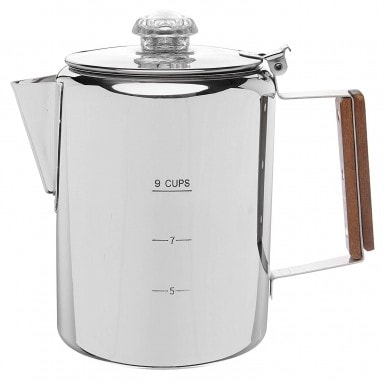 This product was made by people who know something about being out in harsh environments: veterans. In fact, 100% of the profits of this product go toward a charity that champions freedom of religion all around the world.
The manufacturer touts this product as "making coffee the way your grandparents did," which we find charming. As a percolator, you won't have to deal with any filters, but it does come with some if you don't trust the filter inside. It makes up to nine cups, so it's great for group outings, and it has a chic look if you want to be a camper with style.
Users of this product find it generally agreeable, though we have seen complaints of the filter being too big, allowing the grinds to fall through. It's also kind of bulky for a camping item.
Pros
Feels old timey
Makes nine cups of great coffee
Cons
Coffee falls through the filter
Bulky
---
6. Stansport Aluminum Percolator Coffee Pot
The Stansport Aluminum Percolator has its fans and its detractors. Fans say that it does exactly what it is advertised to do, and is wonderful for taking out into the wilderness. Detractors say that it takes too long to brew (as is the case with most percolators) and that the soldering of the product isn't so well done.
We found that the filter is a bit big and can let coffee slip through, giving you a grindy cup. This tends to be the case with many percolators, though, and if you are having this issue, we recommend simply buying filters that will fit properly.
Pros
Makes a good cup of coffee
Cons
Poorly made
Takes a long time
---
7. Stanley Cook + Brew Set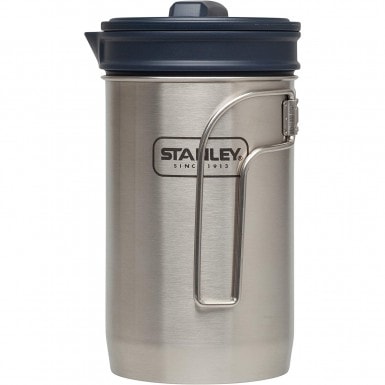 Advertised as a multi-use tool, the Stanley Cook + Brew SetStanley Cook + Brew Set is a French press with decent storage capacity, designed to make it easier to bring along cooking stuff. Hailed as being able to "brew, boil and cook," this device allows you to make 32 ounces of coffee, heat up your soup, use it as a boiler, or even do your dishes. It is quite a nifty camping tool, which may make it more worthwhile to a prospective buyer.
As with most camping gear, it has durability concerns, as well as potential problems of using the press itself, but these seem few and far between.
Pros
Many things in one
Classic French press
---
8. Coleman 2000015167 Coffeemaker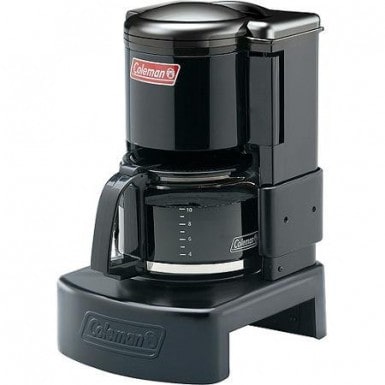 Nothing says camping like a grill — or maybe nothing says camping like coffee being prepared on a grill! That's how this version of the Coleman coffee maker works, and it does so quite well. There is a 10-cup reservoir, so it is great for group outings, and as long as the grill is going, it stays hot! As with anything that uses an open flame, it does take a bit longer to brew.
Pros
10-cup reservoir
Stays hot
Cons
Takes a bit longer to brew
---
9. GSI Outdoors Java Drip Collapsible Pour Over Coffee Maker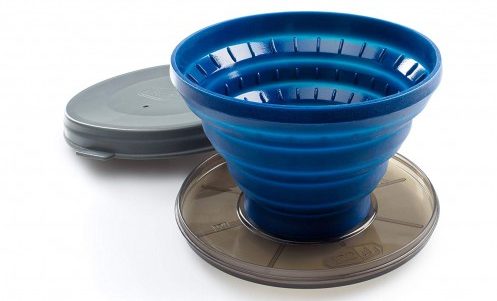 This is a classic design that you might have seen before: Collapsed, it just looks like a little disc. Popped up, it's a nice little pour over device that fits snugly over your mug. It does take a while to brew, and if you like piping hot coffee, the brew time may affect that.
---
10. Wacaco Nanopresso Portable Espresso Maker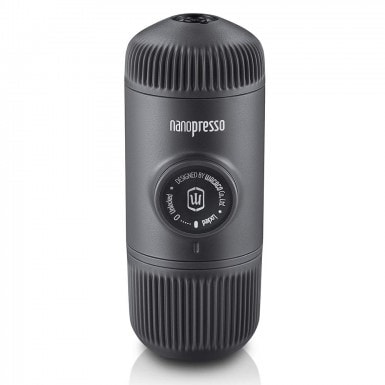 Pump action espresso makers are quite the fad these days, and the Nanopresso by Wacaco leaves its own mark. This item is simple to use and delivers a fine product. It gets 18 bars of pressure, which is pretty impressive considering its size, and pulls a good shot. You can also buy an adapter to have it pull a double shot.
So, why is this maker so low on the list? Well, most people just don't consider drinking espresso while camping. It also seems like a lot to bring for such a small drink.
There are also durability concerns, which seems to be the case with many of these hand pump devices.
Cons
Would you really take it camping?
Lack of durability
---
Buying Guide: Selecting the Best Camping Coffee Maker
When buying a coffee maker for your camping expeditions, there is so much to think about. If you are the outdoors type, chances are that you will end up with several of these products because no single one can cover everything you could need for every situation. So, what are your options?
If you're going camping by yourself …
You probably don't need something like our top pick, which can make up to 12 cups of coffee. Or, maybe you do because you really love coffee.
If you're going with your friends …
You probably do want something that makes 12 cups of coffee. But maybe you don't want to make coffee for your friends because you like to camp light.
Also, factor in how rough you are …
Consider how rough the trip might be, how much space you have, and the kind of heating sources there will be. Some people like to take it easy when they camp. Others like to make it as difficult as possible.
So, our advice? Try different stuff and if you like it, keep it. As long as you have something to drink to help you enjoy that sunrise, you really can't go wrong. And for something a little more exotic, why not try Sweden's steeped coffee, called Kokekaffe?

Conclusion
The winner of our tests and research is the Coleman QuikPot Propane Coffee Maker because it makes you feel right at home and produces a high-quality cup of coffee, but it certainly isn't the only one worth your money. GSI's traveling French press is great and maybe preferable if you tend to be more self-sustained. For the money, you can't go wrong with another GSI product, the Java Drip. It all depends on the type of camping you plan on doing.
Wherever you find yourself, in a tent or in a cabin, we hope that these reviews help you reach that destination with great coffee.