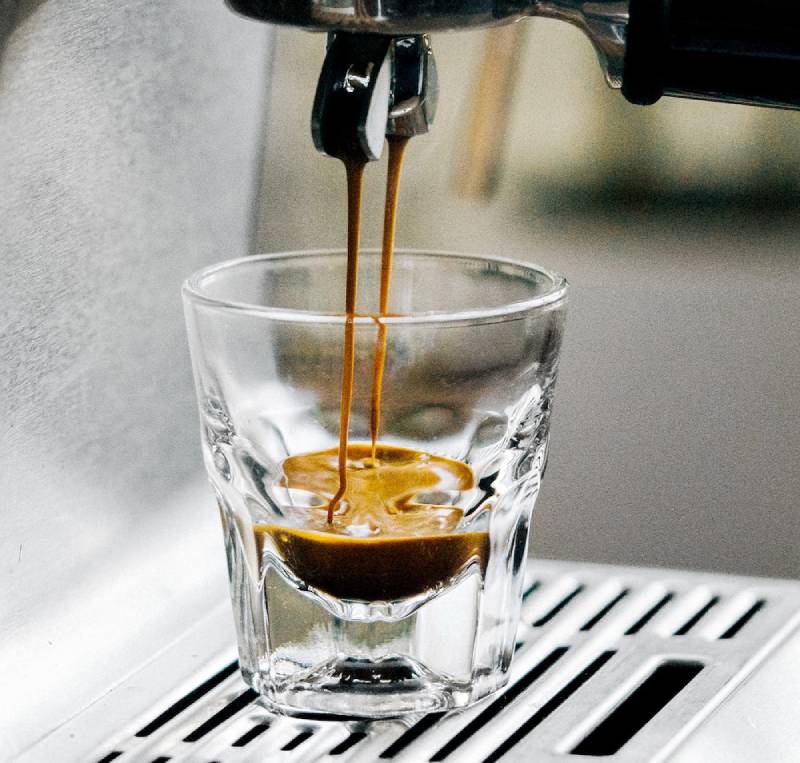 There are hundreds of espresso makers on the market, all offering different features and levels of automation. Whatever your budget or espresso-brewing skill level, there's an espresso machine out there for you, and we're here to help you find it. If you're feeling overwhelmed by your options, we've done the research and testing for you.
To help you find your perfect model, we've put together a guide to this year's ten best espresso machines. For our in-depth reviews, we compared performance, features, appearance, durability, and warranty across the models. Whether you're shopping for the perfect home espresso maker or you need one with commercial capacity, we've got you covered. Read on for our top picks and a quick guide to the available features.
---
A Quick Look at Our Favorites of 2023
Image
Product
Details

Best Overall

Breville Barista Express

Many included stainless steel accessories
Highly customizable
Attractive stainless steel body

Best Super-Automatic Pick

De'Longhi ESSAM3300

Very easy to use
High-quality built-in grinder
Two-year warranty

Best Value

KRUPS XP3208

Very compact and small
Low cost
Large, removable water tank

Top Pick for Commercial Use

La Pavoni BAR-STAR

Huge copper boiler
Large capacity
Energy-saving modes

Gaggia Brera Super Automatic

Quiet ceramic burr grinder
Compatible with pre-ground and whole bean coffee
Stainless steel front panel
The 10 Best Espresso Machines
1. Breville BES870XL Espresso Machine – Best Overall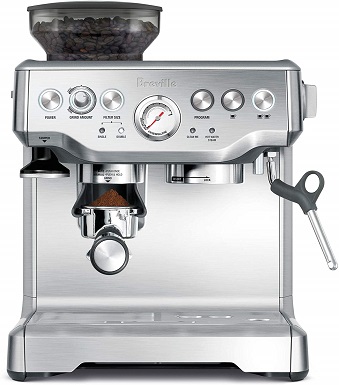 The Breville BES870XL is our top pick, especially for a hands-on home espresso brewer. This semi-automatic machine, which overflows with features, including a large 67-ounce water reservoir, hot water dispenser, built-in conical burr grinder, and stainless steel tamper, may be a great option if you're looking for a lot of control over your espresso pulls.
The 23-pound BES870XL is built of elegant stainless steel with minimal plastic. It has an attractive pressure gauge, and though you'll definitely have to read the manual, the somewhat cluttered interface features surprisingly intuitive buttons. This model allows you to customize your coffee, with useful indicators and knobs to adjust grind amount, filter size, and water temperature.
The machine grinds on demand and deposits measured coffee grounds straight into the portafilter, so all you have to do is tamp. In testing, we found the included tamper to work well and the razor dose trimming tool very helpful. The manual frother is functional but slow. The package includes a nice range of stainless steel espresso accessories, which are higher quality than we found included with other models.
To make cleanup easier, this machine has a dry puck feature and an included cleaning kit. It's covered by a basic one-year warranty with decent Breville customer service.
All this combined makes it one of the best espresso machines of the year.
Pros
Many included stainless steel accessories
Highly customizable
Attractive stainless steel body
Decent customer service
Durable
Built-in conical burr grinder and steel tamper
Dry puck feature and cleaning kit included
Large water reservoir
Cons
Heavy
One-year warranty
Slow manual frother
---
2. DE'LONGHI ESAM3300 Espresso Machine – Best Super-Automatic Pick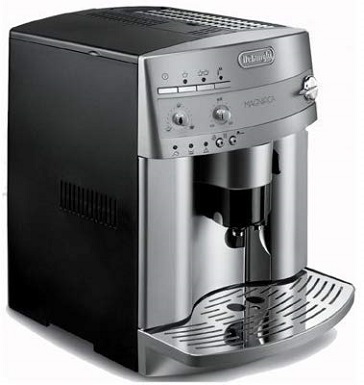 If you're interested in a model that's easier to operate, take a look at the De'Longhi ESAM3300. This super-automatic espresso maker produces excellent espresso, but is almost as easy to use as a pod machine. You won't be able to control every step, but you will get high-quality espresso that practically brews itself.
The ESAM3300 doesn't require you to use a portafilter or hand tamp. You simply load the beans and select the grind size and amount of water, and the espresso maker does the rest, grinding and measuring the beans for you. With a couple of extra steps, you can even use pre-ground coffee.
The removable frothing wand works well with frequent cleaning, and we found the included instructions easy to follow. Though the rest of this hefty 23-pound machine feels well-built, the coffee bean container is made of less durable plastic and has no coffee bean level indicator, making it more difficult to keep full. In testing, we also found that the built-in burr grinder, though surprisingly quiet, does become stuck occasionally.
Pros
Very easy to use
High-quality built-in grinder
Compatible with pre-ground coffee
Reasonably quiet
Includes frothing wand
Large water reservoir
Cons
Less durable coffee bean container
Not great customer service
Grinder becomes stuck sometimes
---
3. KRUPS XP3208 Home Espresso Maker – Best Value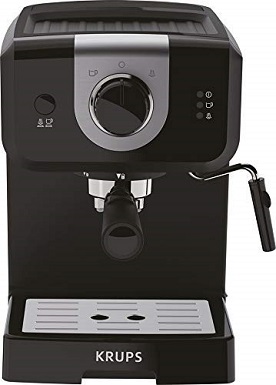 If you're operating on a tight budget or have limited counter space, the Krups XP3208 is well worth looking at. At only eight and a half pounds, this was the best small espresso machine we tested, offering excellent value for its low price. Its streamlined design is low on features but fairly simple to use, and produces good espresso with impressive crema.
The XP3208 has a removable 50-ounce water tank, manual steam nozzle, and cup warmer. With few automatic features, you'll need to be more hands-on with this one. It doesn't have a built-in grinder, so you'll need to grind your beans separately or buy pre-ground beans. You'll also need to fill and hand tamp the portafilter. Inconveniently, this espresso maker does not measure the water needed for a shot, so you will need to stop it once you've pulled the right amount.
–> You can see our full comparison of the 10 most popular budget espresso makers here
Pros
Very compact and small
Low cost
Large, removable water tank
Manual steam nozzle and cup warmer
Cons
Fewer features
Not automatic
One-year warranty
No auto-off
No built-in grinder
---
4. La Pavoni BAR-STAR Espresso Machine – Top Pick for Commercial Use
If you're looking for a commercial model that can make hundreds of espressos per day, the La Pavoni BAR-STAR is a great option. This attractive Italian machine has brass and chrome-plated brew heads, comes in shiny black or red, and can brew up to 600 cups of espresso per day. With a very high price tag and shipping charge, this 176-pound model is a big investment that requires direct plumbing and significant counter space.
The BAR-STAR comes with some nice cleaning features, including a huge 14-liter copper boiler that wards off bacteria and microbes, a manual boiler water change button, and anti-vacuum valves on the two steamer arms. Depending on your demand, you can choose between models with two, three, and four brew groups.
Among its many features, the BAR-STAR also has a digital control pad, continuous brewing and stop buttons, hot water jet, overheating protection, energy-saving modes, and NSF and CSA certifications. The included water softening kit must be used to maintain the one-year warranty.
Pros
Huge copper boiler
Large capacity
Energy-saving modes
Lots of features
Commercial capabilities of up to 600 cups of coffee per day
NSF/CSA certified
Cons
Expensive machine and shipping
One-year warranty
Very heavy
Requires direct plumbing
Included water softener required
---
5. Gaggia Brera Super Automatic Home Espresso Maker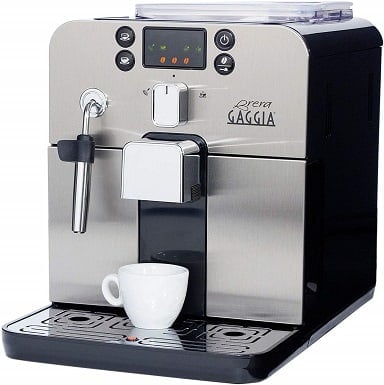 The Gaggia Brera is an easy-to-use super-automatic model with lots of features and an attractive look but a few key drawbacks. With indicators for water and coffee bean levels, as well as a descaling light, this maker has a useful but complicated interface, so you'll have to put in some time with the manual.
The Brera has an unusually attractive drip tray design and an expensive-feeling stainless steel front panel, which conveniently allows access to the water reservoir and dregs drawer. Unfortunately, the Brera's body is made of a flimsier plastic. It brews up to eight ounces at a time and has a 60-minute auto-off feature and a Pannarello wand frother.
Our favorite features include ease of cleaning. The whole brew group comes out, and the machine self-rinses at startup and shutdown. The impressively quiet built-in ceramic burr grinder is programmed to adapt grind time and RPMs to your choice of beans, and has a bypass system to allow the use of pre-ground beans. These features help make it one of the best home espresso machines out there right now.
The 40-ounce water reservoir is much too small for this 18-pound model, particularly with its self-rinsing feature. The tank is compatible with the Mavea Intenza water filter, though this will further limit an already small water capacity. Gaggia also promises a hassle-free one-year warranty, though there are reports of expensive shipping for repairs and replacements.
Pros
Quiet ceramic burr grinder
Compatible with pre-ground and whole bean coffee
Stainless steel front panel
Compatible with Mavea Intenza water filter
Lots of features
Easy to clean
Cons
Expensive shipping for repairs/replacements
Fairly heavy
Plastic body
Small water reservoir
One-year warranty
---
6. Coffee Cafe Barista Cappuccino and Espresso Machine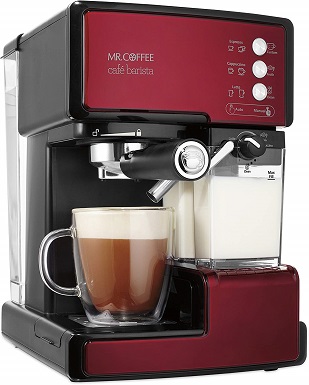 The Mr. Coffee Cafe Barista offers a simple interface at an attractive price, but does not seem particularly durable and may require supplemental accessories. The 10-pound Cafe Barista can brew espressos, cappuccinos, and lattes, from 1.25 ounces up to an impressive 15 ounces.
It's the only one we tested that offers automatic milk frothing, via a removable milk reservoir. Our tests found that this feature requires a lot of milk to work, and is not very adjustable. If you don't want a lot of milk in your coffee, you may prefer a separate, manual frother.
The included plastic measuring scoop and tamper isn't strong enough for heavy tamping, so you may want to replace it with a more durable steel tamper. The 54-ounce water tank is well-sized and easy to remove, and the machine has a 15-minute auto-off feature. We've found reports of difficulties using the one-year warranty.
Pros
Automatic milk frother with removable milk reservoir
Auto-off feature
Lower price
Fairly lightweight
Large, removable water tank
Cons
Flimsy plastic tamper
Not the most durable
Milk frother not adjustable or durable
One-year warranty
---
7. Nespresso Essenza Mini Espresso Maker – For Nespresso Fans
If you're a fan of Nespresso, you may be interested in the reasonably priced Nespresso Essenza Mini, which is the result of a collaboration with Breville. This single-serve pod brewer is very easy to use, with a simple two-button interface and a streamlined, glossy black or white body.
This five-pound espresso maker operates using only Nespresso Original pods, which are more expensive but make the machine easy to operate and clean. The package includes a welcome set of capsules, and you can order more for delivery from Nespresso. The company also offers a dedicated recycling program for your used pods. If you want to avoid purchasing single-use pods altogether, try one of these Nespresso-compatible refillable pods.
The Essenza Mini heats up in a speedy 25 seconds and brews either 1.35 or five-ounce cups, though you can reprogram its buttons for different sizes. It has energy-saving features, including an eco mode after three minutes and auto-shutoff after nine minutes. You'll have to refill the tiny 20-ounce water tank often, though it's difficult to access in the back of this compact espresso maker.
In testing, we found that the small drip tray fills up quickly, and the used capsule holder has to be emptied after five to six capsules.
Pros
Lightweight and compact
Easy to use
Pod recycling program
Easy to clean
Fast brewing
Energy-saving modes
Reasonable price
Two-year warranty
Cons
Only compatible with Original Nespresso pods
Tiny, difficult-to-access water tank
Small drip tray
Small used pod holder
---
8. EspressoWorks All-In-One Espresso Machine & Cappuccino Maker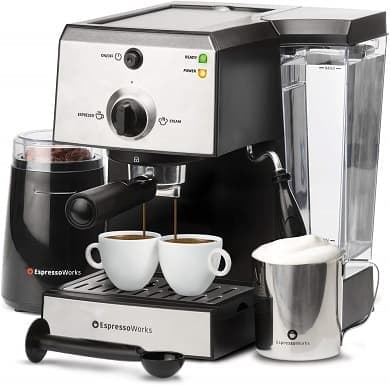 The EspressoWorks 7 Pc All-In-One boasts a number of included accessories and a simple interface, but has a higher price point and few customization options.
This seven-piece bundle includes a separate grinder, portafilter, frothing cup, plastic measuring spoon/tamper, two espresso cups, and single and double shot filter baskets. It also has a 25-minute auto-off feature and a built-in manual steam wand. Its small 40-ounce water tank has a handle for easy removal, and the water level is simple to monitor from the machine's front.
The EspressoWorks weighs a reasonable 10 pounds, though it does have a longer water heating time, taking 45 seconds to heat up. The separate electric grinder and plastic tamper do not feel especially durable, so you may prefer to substitute higher quality options.
The one-year warranty is backed up by decent customer service, including no shipping charges for replacements or repairs.
Pros
Small footprint
Decent customer service
No shipping charges for replacements/repairs
Many included items
Auto-off
Fairly lightweight
Cons
Included grinder less durable, not built-in
One-year warranty
Longer heating time
Small water reservoir
Higher price
---
9. COSTWAY Super Automatic Espresso Machine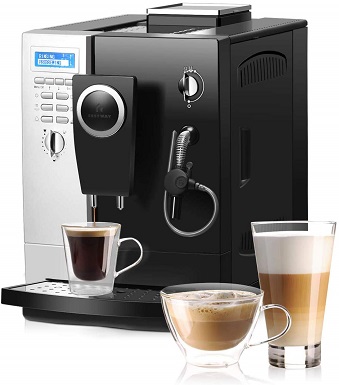 The COSTWAY Super Automatic has a number of features, though its hefty size and less stylish plastic and stainless steel construction leave something to be desired.
COSTWAY's 23-pound, 18.5-inch–deep espresso maker, which brews between one and seven ounces of espresso at a time, will take up quite a bit of space on your counter. The machine does offer a high degree of control, though the complicated interface will take you some time to master. Among other things, you can adjust the cup size, water temperature, and water hardness. It has a combined hot water and steam knob and a built-in grinder.
This espresso maker offers a removable brewing group and automatic washing and descaling capabilities to make cleaning easier. The adjustable drip height decreases splashing, and the large 67-ounce water tank is easily removed with a handle.
In testing, we found the built-in grinder to be loud, though the adjustable grind size is a nice feature. The 90-day warranty is a point of concern, especially given this model's higher price point, complicated interface, and extensive features.
Pros
Large water tank with handle
Adjustable drip height
Easy to clean
Many customization options and features
Cons
Heavy and large footprint
High cost
Complicated interface
90-day warranty
Loud grinder
Less stylish construction
---
10. De'Longhi EC155 15 BAR Pump Cappuccino and Espresso Machine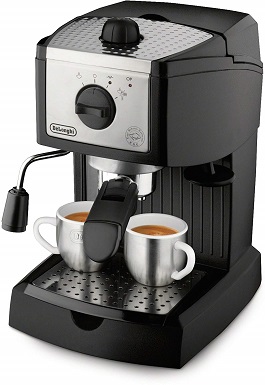 Our least favorite pick, the De'Longhi EC155, is low–cost and lightweight with a simple interface, but doesn't offer many automatic or programmable features.
The EC155, which weighs a mere 6.6 pounds, has the flexibility of working with ground coffee or soft ESE pods. With no built-in grinder, you'll have to buy pre-ground coffee beans or purchase a separate grinder. It includes a manual frother and a built-in plastic tamper, though we found the tamper to be less effective than a steel one, so you may need to substitute another.
The small 35-ounce water tank is removable and has a convenient indicator. In testing, we found that the machine produced a satisfying crema, and the dishwasher-safe removable parts are a nice feature. However, the included instructions are difficult to decipher, the plastic construction feels cheaper, and the warranty lasts only one year.
Pros
Removable water tank
Lightweight
Low cost
Dishwasher-safe removable pieces
Simple interface
Manual frother and built-in tamper
Cons
Few automatic or programmable options
Limited features
No included grinder
One-year warranty
Small water tank
Complicated instructions
Less durable
---
Buyer's Guide: How to Find the Best Espresso Machine For You
Now that you've reviewed our list of this year's 10 best espresso machines, it's time to get shopping! But how do you decide which one will fit your specific needs? Here are a few things you may want to consider before you make your decision.
Super-Automatic or Semi-Automatic?
Have you worked as a barista or owned an espresso maker for years? Do you want to be able to control every step of the coffee brewing process? You might be interested in a semi-automatic. These models are more complicated, but will allow you to adjust everything from water temperature to grind size. You'll need to know how to grind your beans to just the right texture, and how much pressure to apply when hand tamping the portafilter.
If you have less patience or don't want to spend your time learning the ins and outs of a complicated machine, you may prefer the convenience of a super-automatic model. All you'll have to do is pour in your favorite coffee beans, select a cup size, and wait 25 to 30 seconds for a perfect shot of espresso. These espresso makers will do the rest for you, grinding your beans to the ideal size, measuring the grounds into the filter, and tamping them down with just the right amount of pressure.
RELATED READING: A look at the different types of espresso machines & makers
Budget
An espresso maker can be a very big investment. Streamlined models begin at around $100, but ones with more features and durability will cost you from $500 up into the thousands. Commercial models, in particular, can cost thousands of dollars and require expensive installation and maintenance.
But don't panic. On average, American adults spend over $1,000 a year on coffee — and if you frequent coffee shops, it could be a whole lot more. Even if you choose a more expensive machine, you can save money by making your espresso at home. Before you start shopping, you may want to consider how much you're currently spending on coffee, and how much you'd like to invest in your perfect espresso maker.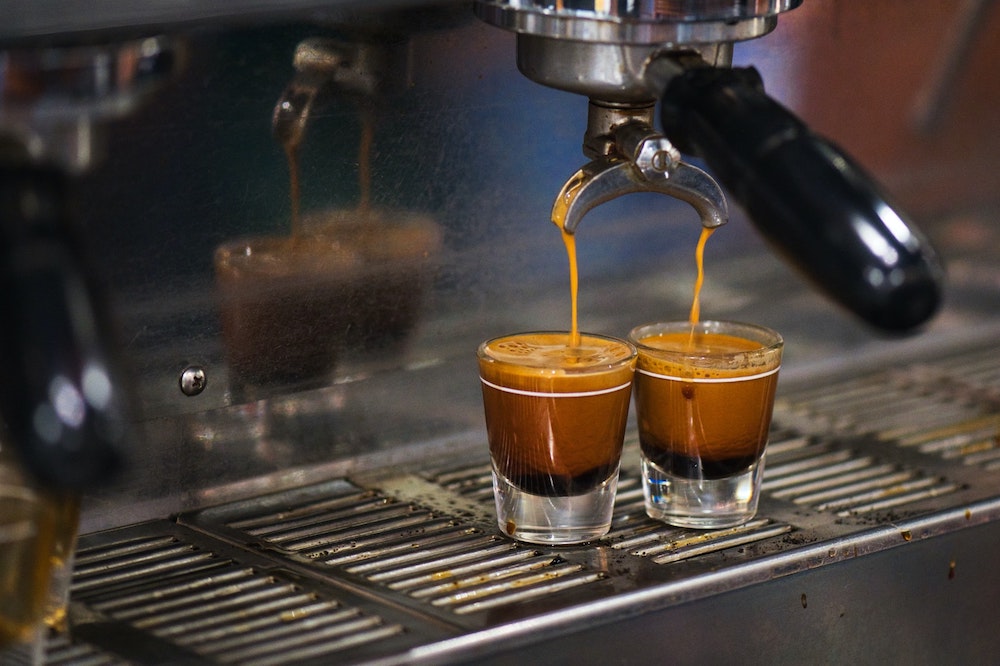 Other Considerations
You've decided on a semi- or super-automatic, and you've thought about how much you want to spend. But there are still quite a few espresso machines to choose from. With these features in mind, you can narrow the wide field down to find your ideal espresso maker.
Capacity
How many espresso shots do you need to make per day? If you only brew a few, you'll probably want to stick with home espresso makers. But if you need a lot more, take a look at commercial options. If you're running a coffee shop, you'll also want to keep an eye out for NSF and CSA certifications.
Water tank
How much do you like filling the water tank? If you make a lot of espresso, you may prefer a larger tank to avoid spending all your time at the sink. If you're just making one or two, the smaller footprint of a compact water tank could be appealing.
Appearance
Do you prefer sleek, stainless steel appliances, or are you looking for other colors or plastic options? Look around your kitchen and think about how your new appliance will fit in.
Ease of cleaning
Keep in mind that all espresso makers require frequent cleaning and descaling. Are you willing to spend the time to clean a more difficult model, or are features like removable brew groups and self-rinsing a priority?
Warranty
Espresso makers are complex machines. With so many moving parts, they may be more likely to break, so you'll want to keep an eye on warranties. Most of the models on this list offer at least a one-year warranty, but some charge shipping and handling fees for repairs and returns. You may also want to consider purchasing an extended warranty to protect your investment.
Grinder
Do you already have a favorite grinder, or are you interested in an espresso maker with a built-in grinder? Would you like it to accommodate both pre-ground and whole bean coffee? Are you interested in additional grinder features like dose control and grind size? Maybe you need an espresso machine with a built-in grinder?
Frother
How often do you add steamed milk to your espresso? Most espresso makers offer either a manual frother wand or an automatic frothing function, and produce different textures of foam. Don't forget to regularly clean anything that comes into contact with milk!
Other accessories
If you choose a model with a portafilter, you may want to purchase a knock box to make cleaning up easier.

Final Verdict
The results are in! Our all-around favorite is the Breville BES870XL, an elegant and well-designed semi-automatic espresso maker offering lots of customization and features. If you're looking for a machine that's easier to operate, the super-automatic De'Longhi ESAM3300 could be a great option. Shopping on a budget? Take a look at the Krups XP3208, a streamlined espresso maker offering great value. And if you're in the market for a commercial model, try the high-capacity, feature-heavy La Pavoni BAR-STAR.
There's nothing quite like a rich, foamy shot of espresso. Whether you want to pull it yourself or let the machine do the work for you, there are many great espresso makers on the market. All you have to do is pick one, and we hope that our 10 in-depth reviews, along with our guide to choosing the best espresso machine for you, will help.
SEE ALSO: