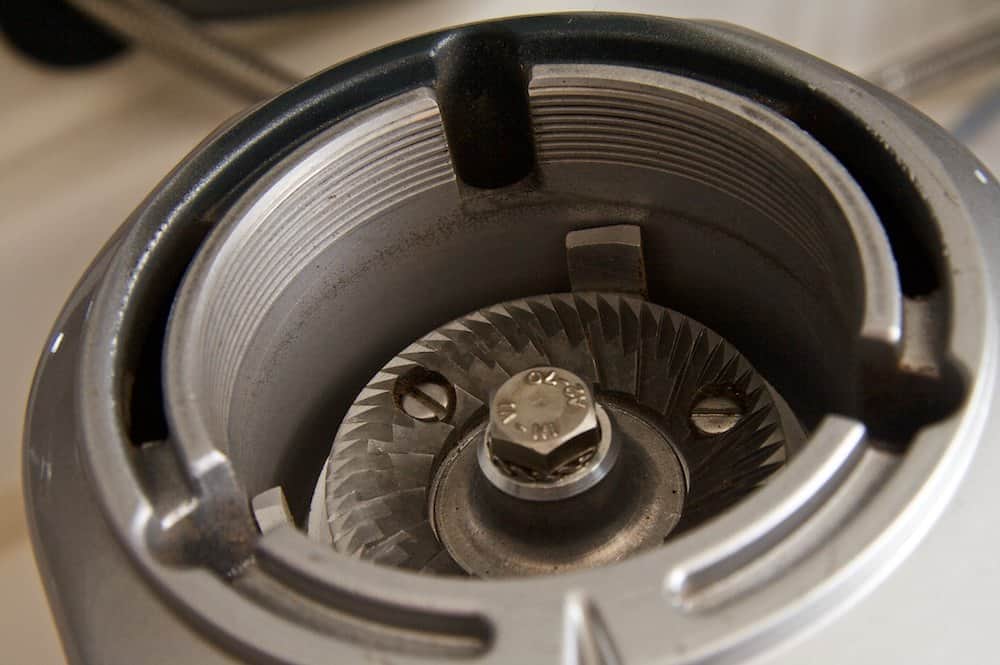 For coffee lovers who turn into baristas at home, a burr grinder is essential. Whether you're shopping for your first coffee grinder or looking to upgrade from your blade grinder, you've come to the right place.
Burr grinders have two key advantages over blade grinders: consistency and accuracy. While burr grinders often cost more, they're the gold standard for perfectly ground beans.
To help you find a great burr grinder, we researched and tested the top models on the market. The result? This list of our top 10 best burr coffee grinders, complete with in-depth reviews and buying tips. Keep reading to find a great grinder!

A Quick Glance at our Favorites in 2023
Image
Product
Details

Best Overall

Baratza Encore Conical

Simple controls
Accessory scale available
One-year warranty

Breville Pro Coffee Bean

60 settings
Consistent grind
Hopper easy to remove

Best Budget Buy

KRUPS Electric

Economical
45 grind settings
Easy to clean

Best Manual

Hario Ceramic "Skerton"

Affordable
High durability
Simple to use

Capresso Infinity Conical

Affordable
Easy to use
Quiet
The 10 Best Burr Coffee Grinders
1. Baratza Encore Conical Burr Electric Coffee Grinder — Best Overall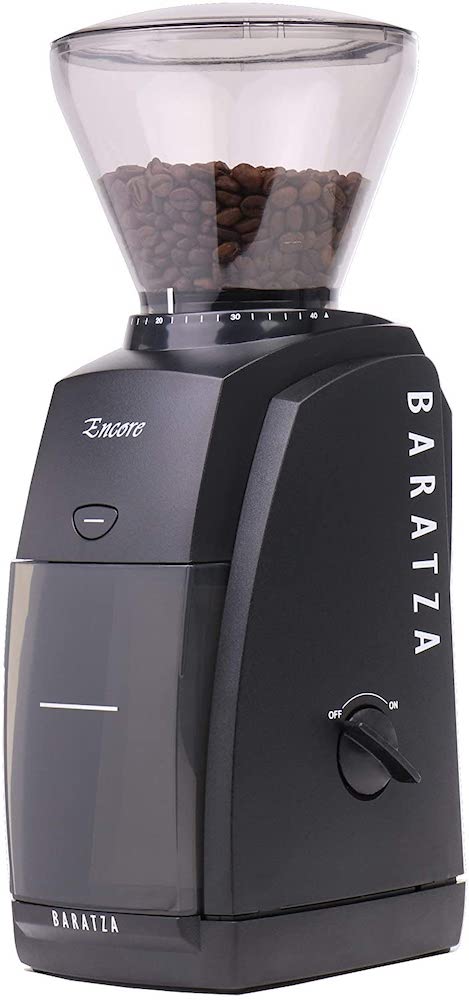 The Baratza Encore Conical Burr Electric Coffee Grinder is our top contender. This grinder is ideal for a newbie due to its simple controls, sturdy construction, and alloy steel burrs. With 40 settings from coarse to fine, you can get the grind you need for your preferred brewing method. It also has a front-mounted pulse control so you can grind on demand.
This is a reasonably priced machine that comes with a one-year warranty, and Baratza's customer service responsiveness is commendable. The Encore may need recalibrating at times, so be sure to keep the owner's manual. It will also require patience because the grind is slow, due to gear speed reducers to prevent overheating and static buildup.
For its functionality and price, we believe this is one of the best electric coffee grinders. As a future bonus, if you fall in love with this grinder, there's an accessory to add another feature: a scale that transforms this machine into a weight-based grinder.
Pros
40 grind settings
Simple controls
Steel burrs
One-year warranty
Reasonably priced
Accessory scale available
---
2. Breville BCG820BSSXL Pro Coffee Bean Grinder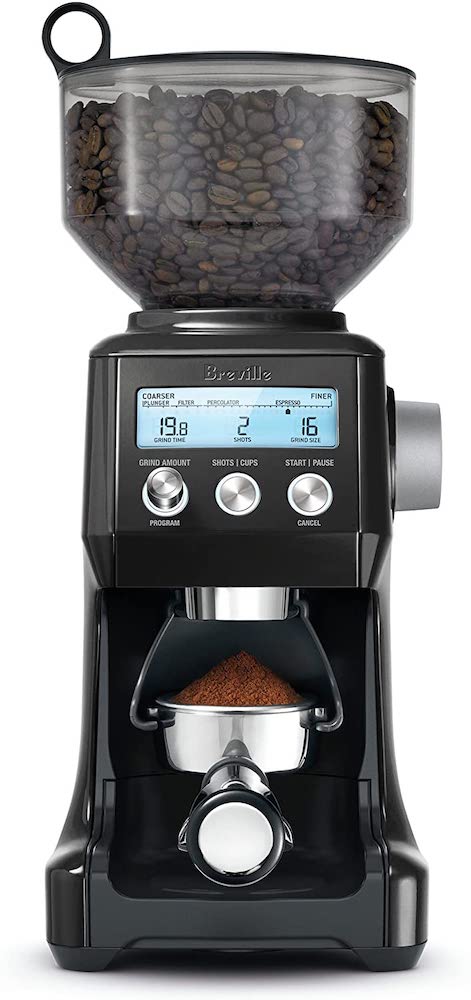 The Breville BCG820BSSXL The Smart Grinder Pro Coffee Grinder is a conical grinder with 60 settings and stainless steel burrs, and it allows you to grind directly into a filter. It also comes with small and large portafilter cradles. There is a large LED display that makes early morning coffee sessions easier to navigate.
The higher price on this model places it in the number-two position. While dosing is not weight-based, it's programmable for the number of cups. If you want to grind enough for a full pot in a drip machine, you'll have to grind them manually. The internal impeller that pushes coffee down after grinding is plastic, bringing durability into question. While recognized for producing a consistent grind quality, the hopper will clog if you don't pay attention to the oiliness of the beans you're using.
Pros
60 settings
Stainless steel burrs
Consistent grind
Hopper easy to remove
Cons
Slightly pricey
Beans jam easily
Noisy
---
3. KRUPS GX5000 Electric Coffee Burr Grinder — Best Budget Buy
The Krups GX5000 Professional Electric Coffee Burr Grinder is a compact flat burr model, ideal for coffee lovers who want the convenience and quality of a burr grinder but have little space for a larger machine. Grinding is easy with 45 grind settings and an auto-stop function, as well as a quantity selector from two to 12 cups. There's also a safety lock system, so make sure the hopper and lid are securely in place; otherwise, it won't grind.
Unfortunately, there is no on/off switch, so you'll have to plug/unplug it to load/unload the hopper. As compact as it is, it's rather noisy, so you may need to warn any others in your household.
The GX5000 can also grind spices or nuts, and it's easy to clean. For the price and the features, this is our choice for the best budget buy.
Pros
Economical
45 grind settings
Versatile use
Easy to clean
Safety measures
Compact
---
4. Hario Ceramic Coffee Mill Skerton Pro — Recommended Hand Grinder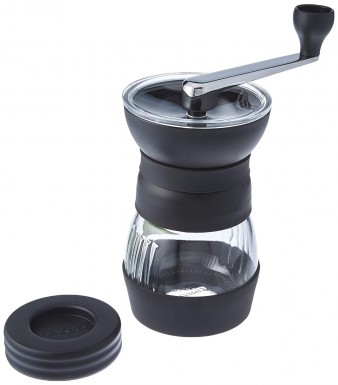 If you prefer a ritualistic, hands-on approach to your daily coffee routine, the Hario Ceramic Coffee Mill "Skerton Pro" may be just right for you. This hand grinder is gaining traction as a preferred grinding method for many coffee geeks. While it may seem like a great deal of work, there are certain advantages of a hand grinder, such as cost, consistency, noise, and size.
The Skerton Pro weighs less than two pounds and doesn't need to take up counter space. It has a burr shaft with a stabilizer plate, ceramic burrs, and a grind adjustment screw, giving you control over consistency. If you have a volume-sensitive household, there's no machine noise. It has a glass container that's easy to clean, as it's dishwasher safe. This grinder is budget friendly and easily portable.
This method does involve elbow grease, and if you need a coarse grind, it's less consistent than finely ground. It has a grind adjustment screw to vary the coarseness of the grind, but this may work itself loose during grinding.
SEE ALSO: Our Detailed Review of the Hario Skerton Pro
Pros
Affordable
High durability
Easy to clean
Simple to use
Compact and easy to store
Quiet
Cons
Less consistent with coarse grind
Adjustment screw comes loose with use
---
5. Capresso 560.01 Infinity Conical Burr Grinder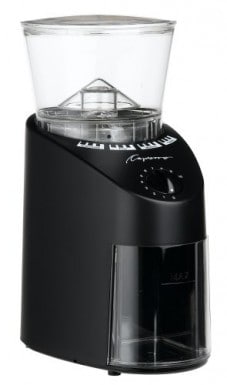 The Capresso 560.01 Infinity Conical Burr Grinder is number five on our list and ranks as the quietest electric model. Outfitted with steel burrs, 16 grind settings, and a removable bean hopper, this is an affordable option. Although constructed of plastic, it's of solid quality.
Due to the plastic construction, static allows coffee particles to get stuck in every crevice, so you'll have to be diligent with cleaning. This grinder won't accept a portafilter and will only grind into the included catch container. However, finely grinding will still give you what you need for your espresso. Conversely, if you use a French press often, the coarse grind is inconsistent and may not be a good fit for you.
Overall, it's a low-cost upgrade to introduce you to the world of burr grinders and help you determine if you want to climb higher on the ladder of investment.
Pros
Affordable
Quiet
Compact
Easy to use
Cons
Inconsistent coarse grind
Plastic construction
Needs cleaning often
---
6. Bodum Bistro Burr Coffee Grinder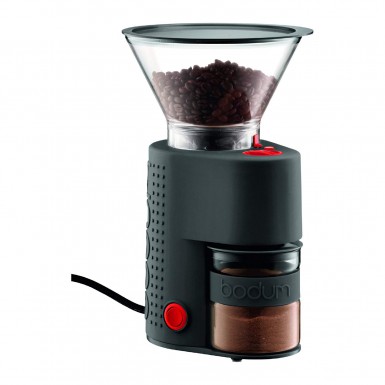 From a brand well known for its French press, Bodum has added the Bistro Burr Grinder to its line of products. Considered an entry-level grinder, it provides a consistent grind and has simple controls, a measuring guide on the hopper lid, 12 grind settings, and a pre-set timer. Unlike many grinders, the coffee catcher is glass, which helps reduce static and subsequent mess. It's also dishwasher safe and has a safety shut-off mechanism for added protection.
While the conical burrs are stainless steel, the drive gears are a less durable plastic, and unfortunately, replacement parts are not available. Be aware that after grinding for 20 seconds, the motor will need to cool down for five minutes before grinding again, so patience is a must. Even though there is a reduced amount of static with this model, it's essential to stay on top of maintenance for the sake of longevity.
Pros
Affordable
Glass catch container
Reduced static
Cons
Loud
Plastic interior
Lengthy cooldown
---
7. OXO BREW Conical Burr Coffee Grinder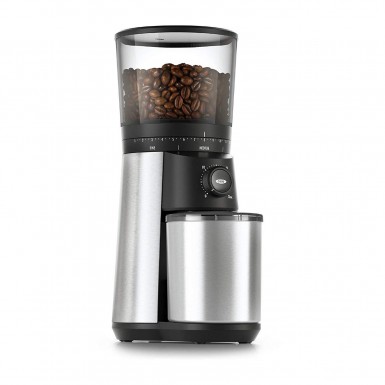 The OXO BREW Conical Burr Coffee Grinder has stainless-steel conical burrs, 15 settings, and a one-touch start timer. It's an entry-level grinder at the top end of affordable, easy to use, and easy to clean, which any coffee brewer will appreciate. Not to mention, this model is faster than others in terms of grinding.
On the downside, you'll need to clean this grinder daily for optimal longevity and to prevent clogging. While it's quieter than a blade grinder, it does make a high-pitched sound while grinding. While a typical warranty for a grinder is one year, this model comes with a two-year warranty.
Pros
Easy to use
Easy to clean
One-touch start timer
Consistent grind
Two-year warranty
Cons
Needs to be cleaned often
Prone to clogs
High-pitched sound
---
8. Baratza Vario Flat Burr Coffee Grinder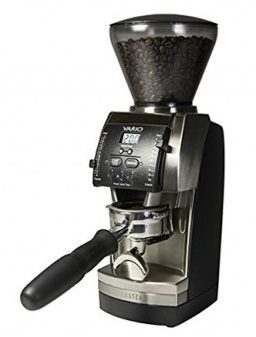 For home, office, or light commercial use, the Baratza Vario Flat Burr Coffee Grinder is a high-performance grinder full of options. It has flat ceramic burrs, a built-in digital timer for dosing, a metal portafilter holder, and 230 grind settings. For convenience, the control panel is front-mounted and has three presets for one-touch grinding.
The solid construction, versatility, and vast options of this choice make for a pricey investment. It's the most expensive model on our list and comes with a one-year warranty. If you decide that this is the purchase for you, be patient, as you'll need to break in the grinder to achieve consistent grinding. Unlike many models, the transmission is belt driven instead of gear driven. If it stops working, the belt may be the culprit.
Pros
Versatile options
Consistent grind
Solid construction
Cons
Expensive
Belt-driven transmission
Difficult hopper removal
---
9. Rancilio Rocky Espresso Coffee Grinder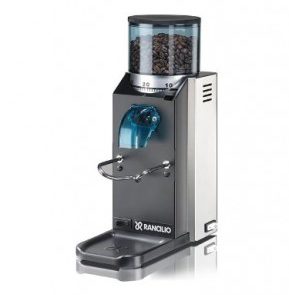 The Rancilio HSD-ROC-SD Rocky Espresso Coffee Grinder is specifically for grinding into a portafilter and is intended as a companion to the Rancilio espresso machine. It has commercial-grade burrs and simple controls with a range of grind adjustments.
For a companion model with little variability in options, it's expensive. While it does have a sturdy motor and burrs, it also has a plastic interior. Users have mentioned that this choice has little tolerance for oily beans, and the grind adjuster knob jams often. It's important to note that factory testing may leave coffee residue in the unit, so if you choose this grinder and it arrives with coffee particles, don't worry that it's a used machine.
Cons
Expensive
Limited options
Portafilter only
Plastic interior
Adjuster knob jams
---
10. Mr. Coffee Automatic Burr Mill Coffee Grinder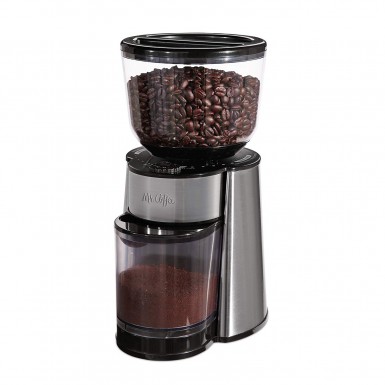 An economical, entry-level grinder, the Mr. Coffee Automatic Burr Mill Coffee Grinder has flat burrs and 18 grind settings. It also has a removable bean hopper and grinding chamber to make cleaning easier. For additional safety, it comes equipped with safety locking features and an auto shut-off.
Due to extreme static in the coffee container, it requires frequent cleaning. This grinder may not be suitable for espresso, as the grind is inconsistent, though it may be ideal for a drip method. The price may not generate high expectations, but for a beginner, it's an economical choice that will get the job done.
Pros
Economical
Safety features
Cord storage
Cons
Inconsistent grind
Clogs easily
Frequent cleaning
Loud
Extreme static
---
Buyer's Guide: Finding the Best Burr Coffee Grinder
A good coffee grinder can make the difference between a mediocre cup of coffee and a flavorful one using the same coffee beans. When you begin window shopping for a burr grinder, there are a few things to keep in mind, such as cost, features, capacity, and grind quality.
Cost
There is a wide spectrum of prices for burr grinders. Once you know how much you want to spend and the options you'd like, it will help you narrow down your choices. From economical to astronomical, there is a grinder for every budget.
Features
Consider the amount of flexibility you would like to have when grinding coffee beans. Some grinders have an array of settings, while others just have a few simple ones. Depending on your brewing method, you'll want a machine with settings that meet your needs.
Capacity
It's important to consider how many users are in your household. If your grinder needs to serve the needs of many, make sure it can meet that demand. If it's too small, it could be a time-consuming and frustrating process.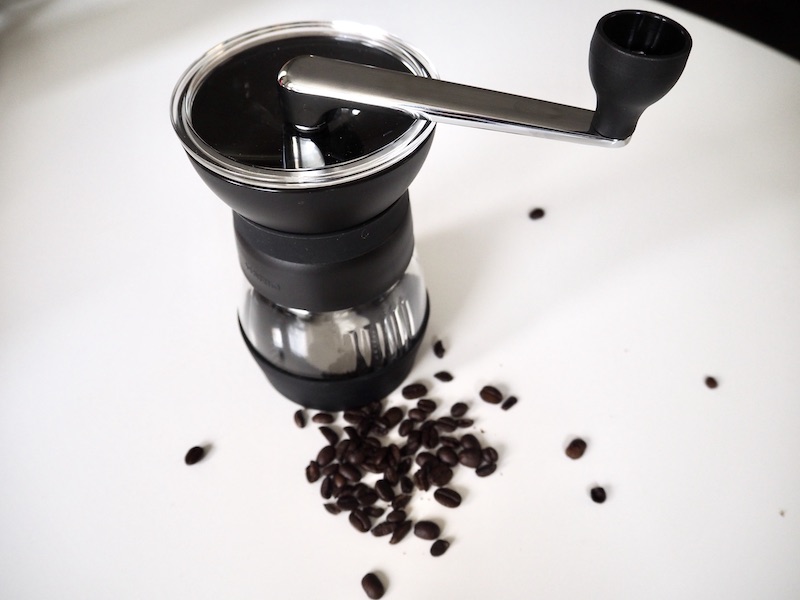 Grind Quality
If you only use a drip coffee maker, any of the grinders above will work well to give you a consistent grind. If you prefer espresso, you'll want to pay attention to fine grind consistency. Some grinders may grind too fine or inconsistently for this method. For French press users in particular, certain grinders aren't consistent with a coarser grind. You may need to look at a higher-priced model to ensure that you'll get the grind you need.
It's also important to emphasize that static is common in grinders. It's worse if the coffee catch container is plastic. Glass containers help minimize static but don't get rid of it completely. Also, this type of small household appliance isn't generally constructed to last a long time. However, with diligent maintenance, it may last much longer. Lastly, no grinder is completely silent. It's only a matter of how much noise you can tolerate.
Some other grinders we have compared:

Conclusion
The goal of purchasing a burr grinder is to get the absolute best out of the coffee you love. We hope we've helped you narrow down a few choices.
As a reminder, our top choice is the Baratza Encore Conical Burr Electric Coffee Grinder. It has simple controls with functionality, at a reasonable price. Our runner-up, Breville BCG820BSSXL The Smart Grinder Pro Coffee Bean Grinder, has a slightly higher price with more grind settings. The KRUPS 8000035978 GX5000 Professional Electric Coffee Burr Grinder is our best budget buy with exceptional versatility, at an economical price. For a rustic approach with a hand grinder, we recommend the Hario Ceramic Coffee Mill "Skerton". It's by far the quietest model and doesn't take up any counter space.
We wish you well on this coffee-grinding journey, and keep on brewing!
RELATED READ: Not sure how much to grind? Check out our Ultimate Grind Size Chart!
---
Featured image: Nicholas Lundgaard, Flickr, CC 2.0