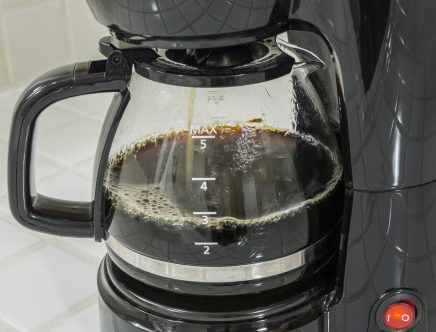 So, you're in the market for a good coffee maker, but you only have $100 to spend. This can make for a pretty significant dilemma. How do you get a great coffee maker on a budget, without feeling like you missed out on features that can only be found on more expensive models?
The good news is that this isn't the case. Today, there are a ton of models on the market that have premium features on budget prices. And while that can sometimes be a scary thing, we've created a list of reviews that covers some great models under $100, so that you can get to know them inside and out before you buy.
That way, you'll be able to find the model that is just right for you. We've also assembled a buyer's guide that will walk you through what you should consider when shopping for a coffee maker, so if you're new to the process, we've got you covered.
---
Coffee Affection's Favorite Picks for 2023:
Image
Product
Details

Best Overall

Keurig K-Classic

Single-serve
48-ounce reservoir
Easy to use

Hamilton Beach FlexBrew

Use K-cups or ground coffee
Single-serve or coffee pot
Separate water reservoirs

Best Value

Hamilton Beach 2-Way Brewer

Single-serve or coffee pot
Separate water reservoirs
Programmable

Cuisinart 12-Cup Programmable

Huge reservoir
Hot water for other drinks
Programmable

BLACK+DECKER 12-Cup Thermal

No-drip carafe
Easy-to-clean
The 5 Best Coffee Makers under $100:
1. Keurig K55 K-Classic Coffee Maker – Best Overall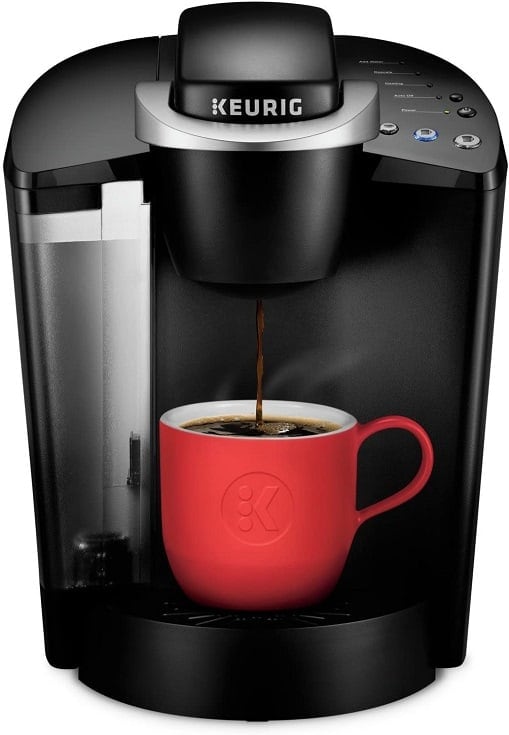 If you're a once-a-day coffee drinker and you're not already using a Keurig machine, why not? Keurig is a great brand for people who just want a single cup of coffee at a time, and don't want to have to deal with filters or coffee grounds. The Keurig K55 is a great way to get into the Keurig ecosystem for less than $100.
Since it uses the K-pod system, you just pop in a single-serve K-pod each time you want a cup of coffee, choose the size of cup you're using, and brew away. It's a super-easy system with minimal cleanup, and since it comes with a 48-ounce reservoir for water, you won't have to refill it all that often. There are also a ton of great choices for flavored coffee in the K-pod universe, giving you a ton of options for great drinks. The one downside is that K-pods are more expensive per-cup than ground coffee, but the convenience you get for the money far outweighs the extra cost.
To conclude, we think this is the best coffee maker under $100.
---
2. Hamilton Beach 49976 Coffee Maker
The Hamilton Beach 49976 is an interesting concept that takes a traditional coffee brewer and a single-serve brewer and combines them into a single model. Does it do this well? Sort of. The good news is that to make up to 12 cups of coffee on the carafe side of the machine or use K-cups or the included ground coffee holder on the other side to make a single cup. It's also programmable, so it can be set to have your coffee ready for you when you wake up.
There are a couple of small problems with this machine that keep it out of first. It brews very slowly relative to other single-serve machines. And it uses separate water reservoirs for the two sides, which works mostly well. On the single-serve side, you don't have a choice of cup size, and it will use 100% of the water on that side in a single brew, which means you have to refill it each time you use that size.
Overall, this is a great model for a situation where you or multiple people will need both single servings and large pots of coffee.
Pros
Use K-cups or ground coffee
Single-serve or coffee pot
Separate water reservoirs
Programmable
Cons
Uses all water in reservoir
Slow
---
3. Hamilton Beach 49980A Coffee Maker – Best Value
The Hamilton Beach 49908A is also a combination of the traditional coffee brewer and the single-serve variety. However, it is much cheaper than the previous model, making it the best value for the money on our list. You can make up to 12 cups of coffee on the carafe side of the machine, or up to 14 ounces on the single-serve side, which comes with a permanent mesh filter. That means the single-serve side can only work with ground coffee or with round soft pods.
Yes, that means this machine isn't K-cup compatible. And, for some people, that's not going to be that big of a deal. You want the convenience of a single-serve machine without the inflated price of K-cups. Like the previous model, this one is also programmable, so that you can have coffee when you want it without having to wait for its preparation.
Overall, this is a machine that provides great value for its cost and would be a worthy addition to any kitchen in need of a coffee brewer.
Pros
Single-serve or coffee pot
Separate water reservoirs
Programmable
---
4. Cuisinart CHW-12 Coffee Maker
The Cuisinart CHW-12 is a decent coffee maker that can make up to 12 cups of coffee at once. It also comes with a hot-water dispenser that can provide instant hot water for tea, hot chocolate, or other hot drinks. It comes with a huge 56-ounce water reservoir that allows you to make lots of coffee and use hot water at the same time without having to worry about running out. It's also programmable, which means you have hot coffee whenever you want, without having to wait on it to brew.
However, this model has a few serious problems. If you like your coffeemaker, you're going to use it a lot, which requires frequent refilling, and this model makes it unnecessarily hard. You have to be extra careful when adding water to avoid spilling it everywhere. Likewise, there seems to be contamination between the two sections of the machine, so that the hot water from the hot water dispenser begins to taste like coffee over time, which is something few people want. There is some upside to this machine, but there are others that will provide better features for the same price, or less!
Pros
Huge reservoir
Hot water for other drinks
Programmable
Cons
Hard to fill
Coffee flavor in hot water
---
5. BLACK+DECKER CM2035B Coffee Maker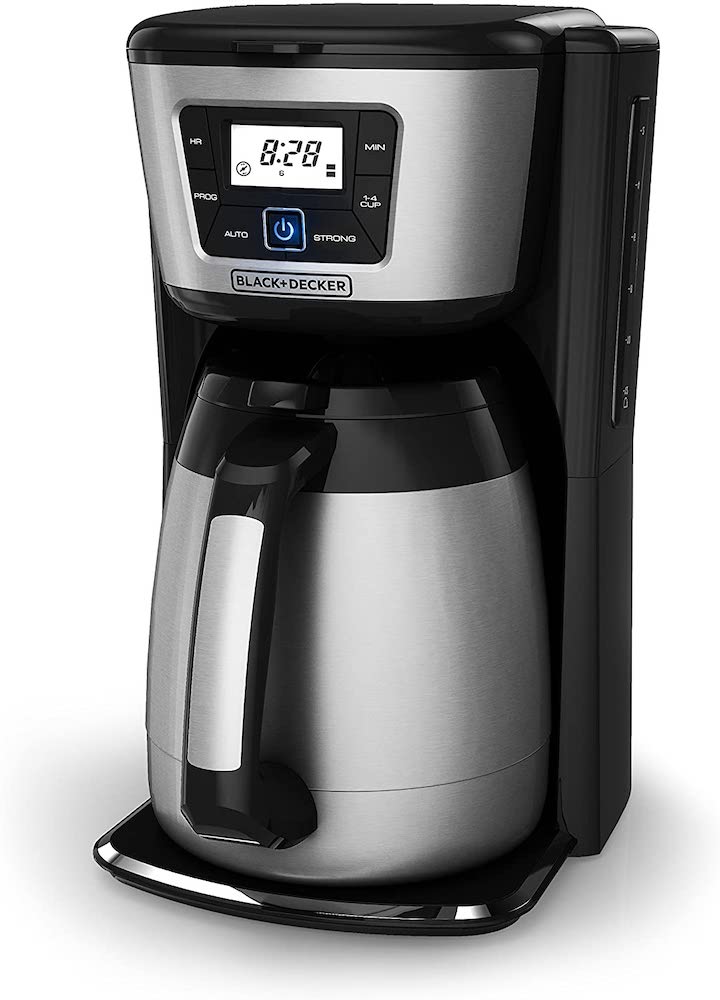 If you thought that BLACK+DECKER only made power tools, then you're in for a bit of a surprise here. The CM2035B is a coffee brewer with the utilitarian bent that you'd expect from a tool company. Its best feature is a no-drip carafe, which means you're not going to have to clean spills as often. The carafe also features a very wide mouth which makes it easy to clean.
However, this isn't a model without flaw. The carafe is built with thermal materials and a vacuum-sealed lid but often fails to keep your coffee warm for a significant period. Moreover, the model itself suffers from cheap parts and apparent design flaws. While you'll never know exactly what is going to break and render the model inoperable, this is one of those models where such an occurrence is more a matter of "when it happens" than "if it happens."
Overall, you're not getting a lot of value for the money, and other models will give you a better experience and come with more features.
Pros
No-drip carafe
Easy-to-clean
Cons
Quality varies
Carafe doesn't hold heat
---
Buyer's Guide: Finding the Best Coffee Maker Under 100 USD
If you're new to coffee and finally want to make it at home, you're going to need a coffee maker, but you might not know what you need to be looking for. Likewise, if you're shopping on a budget of $100, you may not be familiar with all of the features you can get for your money. Either way, you've come to the right place. This Buyer's Guide is designed to help you understand what makes great coffee makers great, and what makes other models worth less than the money you pay for them.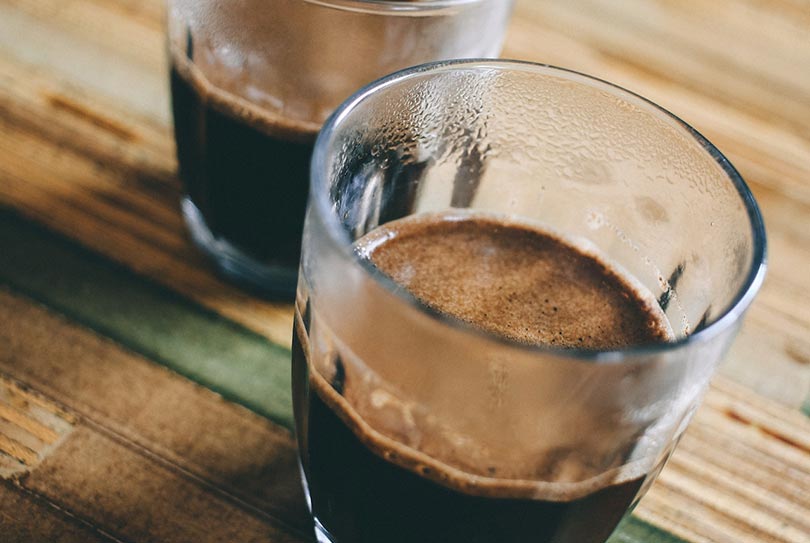 Number of cups
The first thing that you need to consider is the number of cups of coffee you're going to be needing at a time. If you're shopping for just yourself, you may just need one cup at a time. If you're shopping for a large household or an office, you could be looking at dozens of cups per brewing.
If you only need a single cup, you'll waste a lot of money if you get a large-capacity brewed. You're probably more in the market for a single-serve coffee maker, which uses a small number of coffee grounds, or a prepackaged, disposable container with coffee, like a K-cup. This way you can make a single cup of coffee quickly and with minimum fuss.
If you're going to be brewing coffee for a lot of people, the single-serve might not be the way to go. It'll take more time to brew all those single cups of coffee, and you'll create a lot of trash relative to just using a carafe brewer. Carafe brewers pour the coffee into a large pot, called the carafe, which is then used to pour the hot coffee into the cups people will drink from. These usually have a capacity of 10 to 12 cups but are sometimes found in larger configurations.
In some situations, you're going to want to be able to make both single servings and large carafe portions. In theory, you could buy two separate machines, but you wouldn't get great value, since it would cost more, and you wouldn't be using either machine all of the time. Instead, you should go for one of the combination machines on the market today, which feature both a carafe brewer and a single-serving brewer.
Other features
You're going to get a decent-to-good cup of coffee on most coffee brewers today. Consequently, the biggest difference between models, other than the amount of coffee created, is the number and kind of features that come on each model. While these features may not affect the quality of the coffee, they will certainly change how much you like using the machine.
For instance, some machines come with the ability to be programmed to start automatically at certain times. So, you could set it up the night before, and wake up to a steaming hot cup of coffee, which saves you prep time in the morning. This is also great for you if you're one of those people who just can't get going until they have their first cup.
Another valuable feature is the hot water dispenser. If you or someone else who uses the machine will frequently be making hot beverages that aren't coffee, this is an invaluable resource that will save a lot of time. Just place the mug under the hot water spout, pull the lever, and you'll have instant hot water.
Which coffee maker is right for you?
Believe it or not, $100 is more than enough when it comes to getting a great coffee maker. However, not all models are going to be the best choices for all people. Consequently, you shouldn't look only at the cheapest models because they are cheap. Sometimes spending a little extra money will make you much happier in the long run, due to the better performance or expanded features found on a costlier unit. Likewise, don't just look at the expensive models, especially if they have features you won't use. If you buy one, you'd be wasting money. Overall, make sure that you get the coffee maker that suits your needs and fits your budget.

Final Verdict:
Our review concluded that the Keurig K55 is the best coffee maker under $100. As it's super simple to use and is very durable. The Hamilton Beach 49976 is a cool combination of a traditional coffee maker and a modern single-serve brewer kept out of first due to its slow speed. Though it lacks K-cup compatibility, the Hamilton Beach 49908A provides great value in its combination of a traditional coffee maker and single-serve. The Cuisinart CHW-12 is good for you if you're frequently looking for hot water for non-coffee drinks but comes up short in other areas. The BLACK+DECKER CM2035B has little upside and major quality-control issues.
It's not always easy to get great value online. Hopefully, our reviews and our buyer's guide will help you find the sub-$100 coffee maker that is right for you. We hope you love your pick!
Other popular posts: