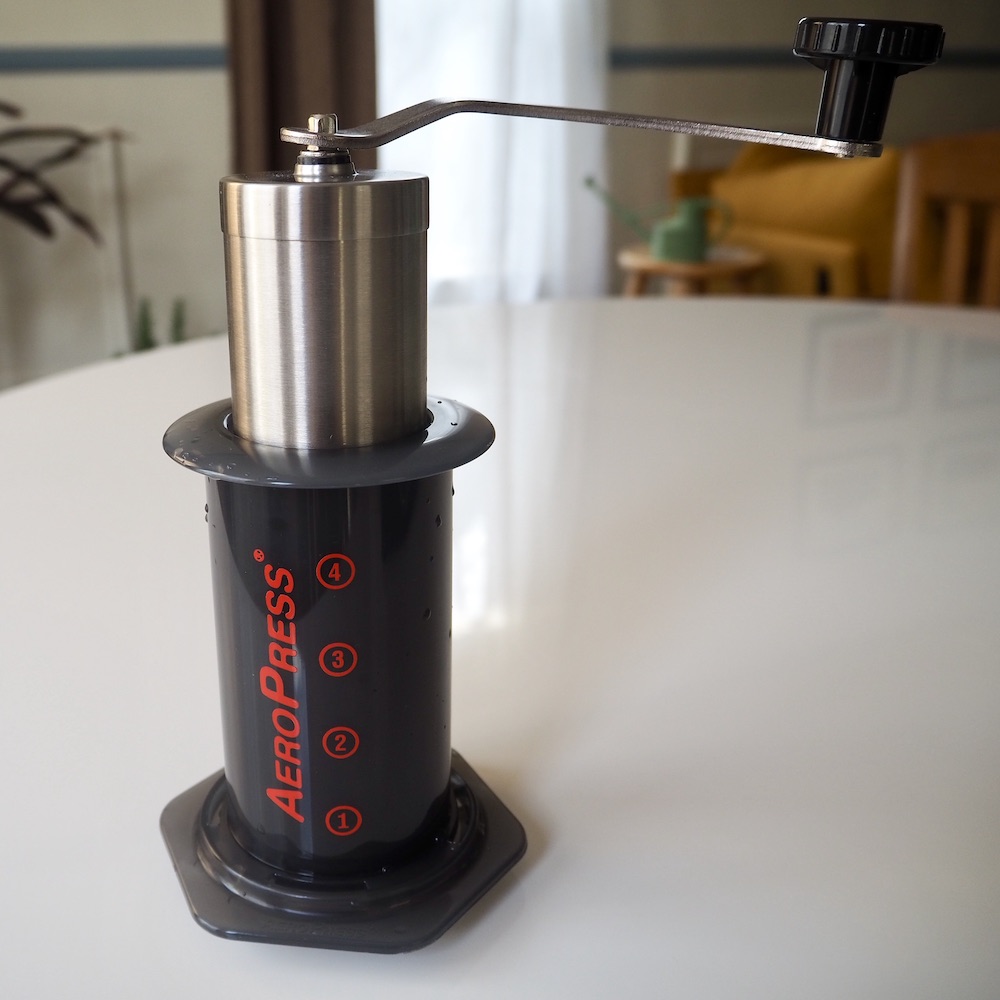 The AeroPress has become very popular in the last decade, and with good reason. It's a portable, minimalistic brewer that makes great-tasting coffee with excellent flavors. However, the grinding process can make or break your AeroPress experience. Do it right and you will brew delicious coffee. However, if you use the wrong grind size, you will end with a mediocre cup of coffee.
The AeroPress works best with medium to medium-fine ground coffee beans, so make sure you choose a grinder that can accommodate that.
To help you with that, we've assembled this list of our four favorite grinders for AeroPress. After researching and testing the best models on the market, we put together these detailed reviews, covering each model's design, ease of use, price, and consistency.
DID YOU KNOW? Many manual burr grinders fit inside the body of your AeroPress. This makes them incredibly easy to transport together! You can find two of them on our list below.
---
A Quick Summary of our Favorites (Updated in 2023)
Image
Product
Details

Best Overall

Baratza Encore Burr

Quality construction
Easy-to-use interface
40 settings

JavaPresse Manual Grinder

Affordable
18 settings
Attractive design

Bellemain Burr

Best value for money
17 settings
Shuts off automatically when done

Great for Travel

Porlex Mini Grinder

Stainless steel
Versatile
Fits inside AeroPress
The 4 Best Coffee Grinders for AeroPress
1. Baratza Encore Burr Coffee Grinder – Best Overall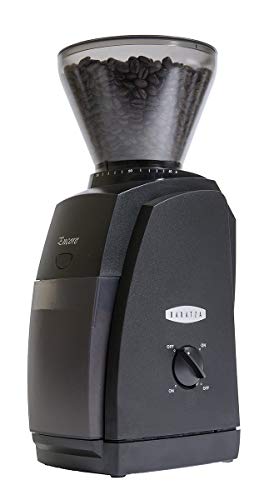 The award-winning company Baratza makes our top choice, the Encore. This unit is made for amateur baristas who want complete control of the brewing process, with 40 settings that allow you to optimize your grind to your precise specifications.
Despite the many settings, the product is also easy to use, with a simple interface that includes an adjustment knob, a pulse button, and a straightforward on/off switch. The quality construction ties it all together. Baratza is known for its high-end parts, which are imported from Europe to top industry standards.
This is very pricey for a coffee bean grinder — significantly more expensive than even some high-end brewing systems. You need to be very serious about your coffee to pay this option serious consideration. For those who fit that category, the uncompromising quality of the Encore, encased within a sturdy, compact frame, will be a compelling option.
All in all, we think this is this year's best coffee grinder for AeroPress.
Pros
Quality construction
Easy-to-use interface
40 settings
Pulse button
---
2. JavaPresse Manual Coffee Grinder
The JavaPresse Manual Coffee Grinder can be a great option for users who do most of their brewing with the AeroPress. This is largely because the grinder actually fits within the AeroPress tube, making it super portable and great for traveling.
It features 18 different settings to give you precise control over your grind and clean stainless steel design that will complement the décor scheme of most modern kitchens.
This is also an affordable tool—a breath of fresh air for buyers who were taken aback by the price tag of the last unit we looked at. Granted, in exchange for this low price, the JavaPresse does have some drawbacks. It's a manual hand tool, which means you do need to do all the grinding yourself. Some baristas prefer hand tools, as it makes them feel more connected with the process. However, there is no denying that they also require more effort.
The JavaPresse is also somewhat challenging to clean, thanks to its very narrow design. These things aside, it's a great option for buyers who want a manual grinder.
NEED COFFEE? JavaPresse also offers a great coffee subscription service!
Pros
Fits inside the AeroPress tube (great for traveling)
Affordable
18 settings
Attractive design
Cons
Manual tool
Hard to clean
---
3. Bellemain Burr Coffee Grinder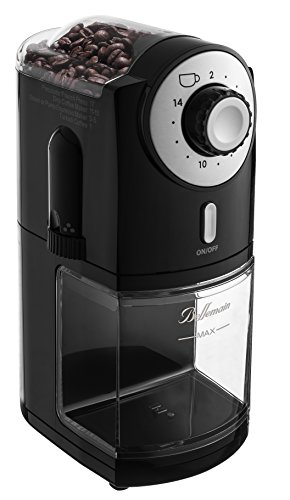 If you want an electric coffee grinder that doesn't break the bank, you're going to love the Bellemain. All the convenience of an electric coffee grinder for the price of a manual unit.
That said, the Bellemain doesn't skimp on features despite being a bargain unit. This grinder is particularly user-friendly, with 17 settings that make the tool as easy to use as possible. Simply select the number of cups you're going to make and the grind setting and let the Bellemain do the rest. It works on a timer and automatically shuts off once it finishes your grind.
These features are great, but you do make some compromises when buying on a budget. One of the main issues to look out for with the Bellemain is that it makes a massive mess, with grounds often spilling out regularly.
It's also hard to clean up afterward, with little specks getting stuck in nooks and crannies. Some users even report needing to disassemble it completely just to perform a thorough clean.
Pros
Best value for money
17 settings
Shuts off automatically when done
---
4. Porlex Mini Coffee Grinder – Great for Travel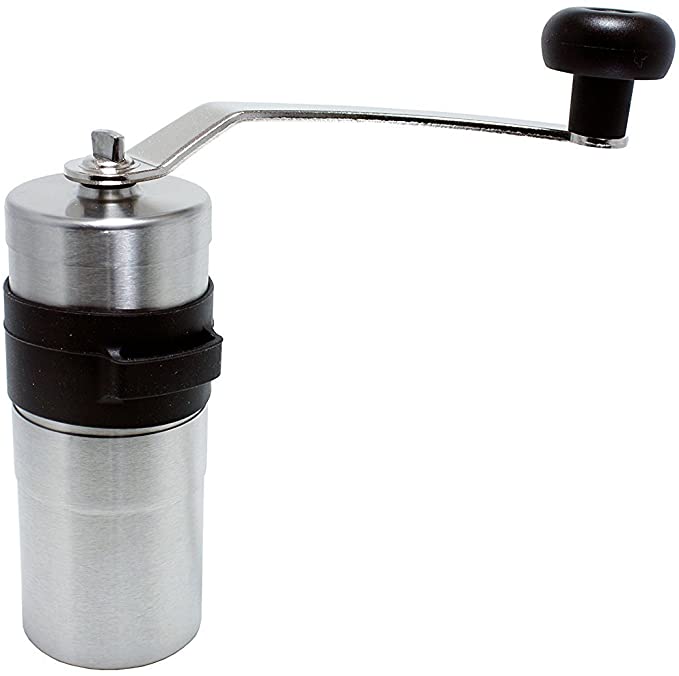 We end with another grinder that conveniently fits directly in the AeroPress. The Porlex Mini Stainless Steel Coffee Grinder is a manual coffee grinder that's compact enough to be easily stored away at the end of a brewing session, or even taken with you in travel. It can handle coarse to fine grinds, so it's versatile enough to fit the needs of most users.
Despite the solid build of the grinder's body, however, there is a durability concern. The handle itself is oversized, which is good for ease of use, but also seems to make it vulnerable. It loosens very easily, promoting a fragile feel.
The grinder is also the smallest we've seen to this point. Since it's designed with travel in mind, that's not entirely a bad thing. However, it does raise value concerns. Though it performs virtually identically to the last hand grinder we saw, this unit produces less volume at a significantly higher price.
This grinder does a decent job with a range of grind sizes, but it's not especially good at the medium to medium-fine grind that works best in an AeroPress. It's also too small and fragile for daily use.
Pros
Stainless steel
Versatile
Fits inside AeroPress
---
Buyer's Guide: How to Choose the Best Grinder for AeroPress Brewing
As with all brewing methods, the AeroPress works best with fresh, consistently ground coffee. To do this, you'll need a great grinder. Keep reading for our buying tips.
Consistency
The best grinders for AeroPress brewing are the most consistent grinders. A great grinder will produce coffee particles that are evenly sized. This will allow you to evenly extract your coffee, eliminating the possibility of bitter or weak coffee. Look for well-built grinders with sturdy ceramic or stainless steel burrs.
Settings
When you're brewing coffee with an AeroPress, you need medium to medium-fine coffee grounds. Therefore, you'll want a grinder that's easy to adjust and offers those specific settings.
Size
Are you looking for a travel-friendly grinder or a home model? If you like to take your AeroPress on the road, you may want to choose a hand-operated model that will fit inside. If you don't want to put in the elbow grease and don't want to prioritize portability, you may appreciate the added features of an electric model.

Conclusion
Our reviews and buyer's guide have come to an end, and we hope that you've gotten a clear idea of what you want. If not, two of our picks have a broad appeal to most buyers. If you want the best product you can get your hands on regardless of what it costs, you'll probably take special notice of our top choice, the Baratza Encore Conical Burr Coffee Grinder. However, if you need to factor in your budget as well, our best for the money pick, the Bellemain Burr Coffee Grinder, is another enticing choice. By combining quality and value, this grinder gives you premium features at an affordable price.
Other specialty coffee-grinder posts we've written: