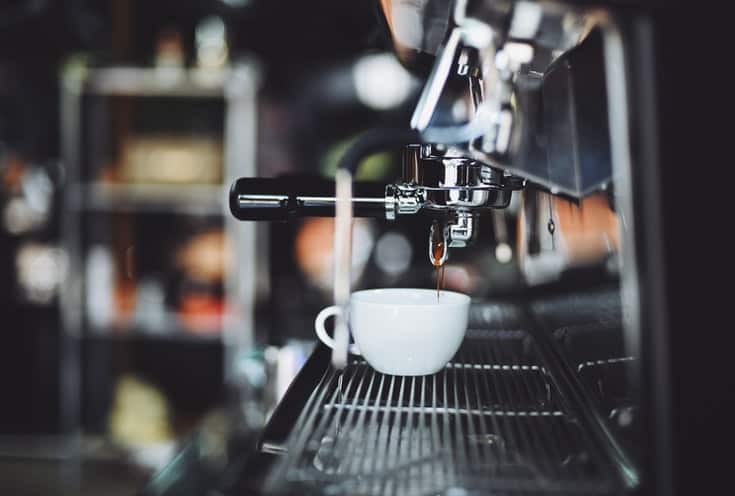 Purchasing a great semi-automatic espresso machine can be an opportunity to show off your barista chops at home, or simply a great way to ensure that you always wake up to a satisfying shot. Whether you're after the ease and comfort that comes with a machine smart enough to almost do it all for you, or the thrill that comes from endless ability to adjust and tinker, these eight machines are all solid choices to join your morning routine.
Espresso machines span a range from super-simple and bare-bones models to more decadent choices that come rich with special features. Sorting through these options can be a difficult and time-consuming process. It's hard to know which machine to buy. We wrote these reviews to help you break down what makes each one unique, looking specifically at special features, design, and durability.
---
A Quick Glance at our Favorites of 2023:
Image
Product
Details

Best Overall

Breville 'Barista Touch'

Intuitive touchscreen controls
Powerful boiler
Large reservoir, 67 oz.

Best Value

Breville 'Barista Express'

Simple and intuitive controls
A classic feel
Highly customizable

Nuova Simonelli Oscar II

High-quality parts and great design
Compatible with attached water line
Great ability to adjust steaming

Gaggia Carezza De LUXE

Large reservoir, 47 oz.
Brita filter compatible
Automatic pre-infusion feature

Ascaso Dream Up V3

Impressive vintage design
Simple, all-analog experience
Solid construction
The 8 Best Semi-Automatic Espresso Machines:
1. Breville 'Barista Touch' Espresso Machine – Best Overall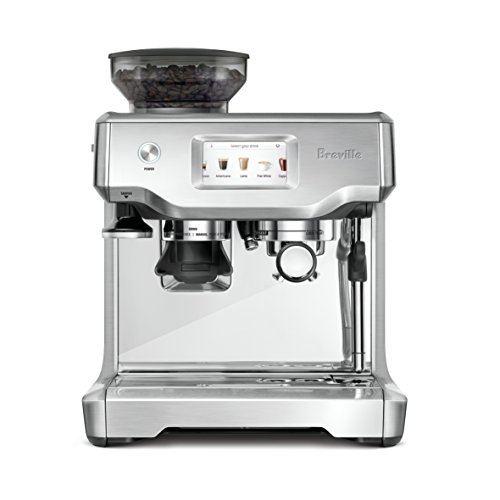 Breville's top-of-the-line model, the Barista Touch, earns its spot as the premier home espresso maker. Designed with Breville's signature attention to detail, this machine goes beyond technical perfection. For example, the temperature sensor used to steam milk is intelligently placed, beneath the pitcher as opposed to in the wand. This provides a much more accurate reading. Details like this help ensure that very little can go wrong. The interface is controlled by a slick touchscreen – which looks great on any kitchen counter – and these controls allow minute variations in brew strength, milk texture, and temperature.
This machine provides a nearly hands-off experience, which can be great for an espresso novice, or someone who knows their way around a machine but who's simply in too much hurry in the morning. Automatic grinding, dosing, and digital temperature control are included, along with automated milk frothing. However, it doesn't tamp for you, and you'll still have to take the lead on that step.
The Barista Touch offers eight programmable profiles. This means everyone in your house can tinker around and save their preferred drink. In the morning, you'll be able to wake up to drinks at your specific and ideal temperature.
In short, we think this is the best semi automatic espresso machine of the year.
Pros
Extensive automation and five-second heat-up time
Intuitive touchscreen controls
Eight profiles to meet everyone's personal preferences
Powerful boiler
Integrated burr grinder with automatic dosing
Grinder easily removable for cleaning
Large reservoir, 67 oz.
Cons
The hands-off experience isn't for everyone
Can't brew and steam milk at the same time
No automated tamping
---
2. Breville 'Barista Express' Semi Automatic Espresso Machine – Best Value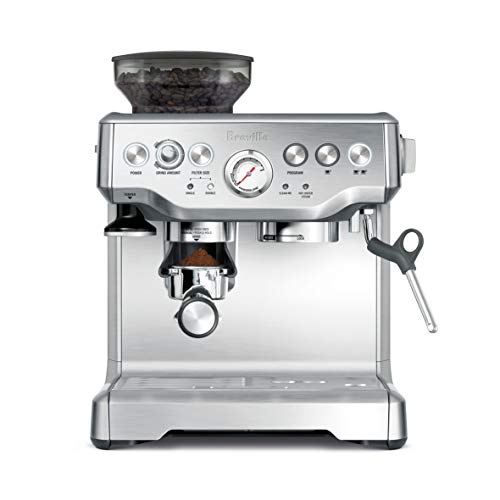 Breville's Barista Express includes many of the same technical aspects as the Barista Touch, but with a more hands-on brewing experience. Rather than a touchscreen, this model relies on a simple control panel, which allows you to adjust dose, temperature, and steaming preference. Like its more costly cousin, this Breville model includes high-quality burr grinders, digital temperature control, and a well-designed steam wand. In other words, most of the mechanisms are identical to the Barista Touch.
A well-designed hot water dispenser also makes this machine great for brewing tea or crafting americanos. If you're feeling especially precise, this feature can also be used to warm cups in preparation for a shot.
If you're looking for the technical details of the highest-end models, but with a simpler and more hands-on approach, this machine is a great choice. The Barista Express by Breville is a cost-effective way to get top-of-the-line precision. As a bonus, embracing the hands-on aspect of this model gives you the chance to impress guests with your espresso know-how.
Pros
Simple and intuitive controls
A classic feel
Highly customizable
Powerful boiler
Integrated burr grinder
Cons
Slightly larger footprint
A more involved process
No water temperature control
---
3. Nuova Simonelli Oscar II Semi-Automatic Espresso Machine
Nuova Simonelli's Oscar II stands out most for its high-quality parts and great design. This means that not only will you pull great shots, but this machine will last a long time. The marine-grade brass grouphead ensures even heat conduction around your espresso puck, and features such as an engineered three-way solenoid steam valve mean that shots will pull evenly. This machine also has clever features, including a steam-release process that will dry finished espresso pucks to prevent any messy dripping.
This maker is designed as a hybrid between a commercial model and a home machine. Features such as its computer-controlled reservoir are great if you're able to connect the machine to a water line. But the Oscar II can also be filled by hand for home use. The hardened plastic exterior means you won't need to worry about any stains or scratches to a steel exterior. The drip tray can be flipped to accommodate larger cups.
This machine shines most in its ability to control the steam. Nuova Simonelli has engineered an intelligent system that takes advantage of passive heat given off by the boiler, and this system allows precise adjustment to factors like temperature and pressure. The steam wand is extra-long, so you'll have no trouble achieving a pearly and well-mixed pitcher of milk.
Pros
High-quality parts and great design
Compatible with attached water line
Cup storage on the top of the machine, and a warming feature
Great ability to adjust steaming
Cons
No integrated grinder
Hands-on approach; you won't be able to walk away mid-steaming
Limited ability to adjust brew settings; not the best choice for someone who likes to tinker with different extraction techniques
---
4. Gaggia Carezza De LUXE Espresso Machine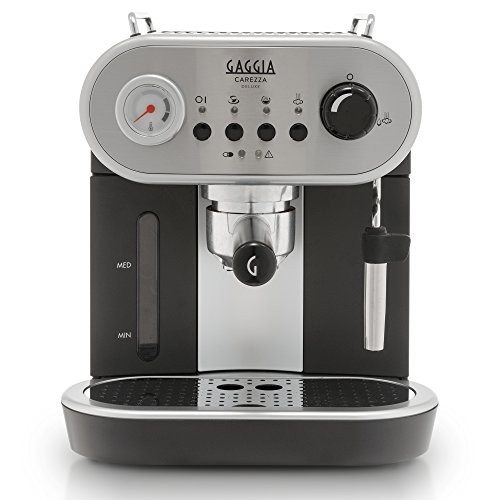 The Carezza De LUXE by Gaggia stands out with a super traditional look and feel. With styling that you might find in a retro Italian cafe, this machine produces simple and reliable espresso. The Carezza De LUXE lacks some of the precision attention to detail seen in the Nuova Simonelli and Breville models, but its ease of use and tasteful styling make it stand out.
This machine has a hefty 47-ounce reservoir, but like the Nuova Simonelli model, it lacks an integrated grinder.
If you're a believer in pre-infusion, this would be a great choice. Pre-infusion is the process of dampening the espresso puck before beginning the real extraction process, and some home baristas swear by it. This machine gets rid of the guesswork, thanks to the automatic pre-infusion function.
Unlike the higher-end models, there's no automation built into the steaming features. But the Pannarello steam wand is designed to be forgiving to beginners. With carefully placed holes at the top of the wand, this machine draws in some extra air to simplify the frothing process. Depending on your level of confidence, this could be a huge boon – but if you're more of a traditionalist, the Pannarello could throw off your texturing.
Pros
Large reservoir, 47 oz.
Brita filter compatible
Pannarello steam wand, simple to use
Automatic pre-infusion feature
Cons
Stylized Italian look may not fit with every kitchen
Pre-infusion system sometimes interferes with other functions
A much more hands-on approach
---
5. Ascaso Dream Up V3 Espresso Machine (Semi-Automatic)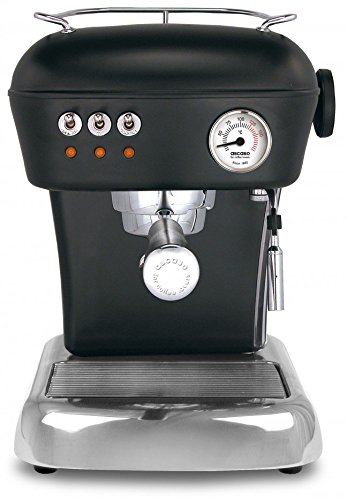 One look at Ascaso's Dream Up V3 should make it clear that it's crafted to show off and be a bit flashy. The vintage and retro look accompanies less than stellar functioning, but the overall experience is still very satisfying. With simple buttons and a sleek analog temperature dial, this machine provides a satisfying hands-on experience. Solid aluminum construction means you won't have to worry about durability, and the simplified experience allows room for your own technical expertise to shine through in each cup.
The Dream Up V3 allows a variety of wand tips, and this provides an opportunity to adjust to your own preference. Beyond that, though, it doesn't offer a lot in terms of being able to tinker with specifics.
Unfortunately, it uses one heating system for both the water and the milk steaming. In practice, this means you'll need to pause after pulling a shot and allow the machine to adjust temperatures before steaming a pitcher of milk.
Pros
Impressive vintage design
Simple, all-analog experience
Solid construction
Cons
Combined heating system
Not well suited for a beginner
---
6. De'Longhi EC155 Cappuccino & Espresso Maker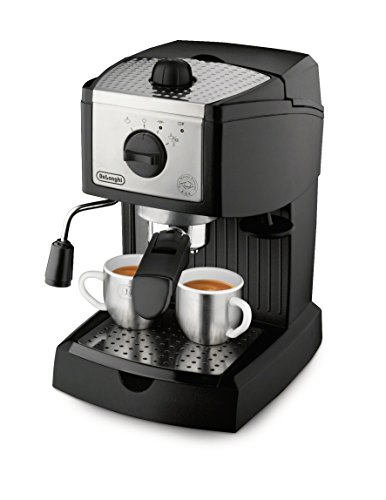 This De'Longhi machine is a solid and simple choice for an aspiring home barista. The EC155 is solidly in the low-priced range of semi-automatic espresso machines, but when considering the cost, the EC155 provides a great value.
This model is all about the home barista, and as a result, some features are scaled down a bit. For example, the 35-ounce reservoir is smaller than some higher-end models, but still plenty big enough for a couple of shots in the morning. The steam wand is petite and can be a bit finicky, but the EC155 is designed with two thermostats – one for brewing and one for steaming. This avoids the problem with the Dream Up V3's temperature control.
With a pleasantly weighty tamper included, the EC155 looks great on a kitchen counter. A seasoned and comfortable barista may want more than what this provides, but for a simple latte in the morning, this machine will work just fine.
Pros
Very economical choice
Simple and easy-to-use controls
Dual temperature control
Cons
Smaller capacity
Entirely hands-on
---
7. AICOOK Semi Automatic Espresso Machine Set
AICOOK's Espresso Machine offers a cost-effective solution for a burgeoning coffee enthusiast. With a squat little pot and a larger portafilter, it can brew up to four shots at a time. Of course, these shots won't be of the same caliber as a higher-end machine's, but they'll still be satisfying in the morning.
This machine would be a great choice for someone interested in making an allongé. This trendy preparation involves letting a shot run to fill up a cup. The end product is similar to an americano, though with a more complicated taste. Like this preparation, which straddles the line between espresso and drip coffee, the AICOOK also falls between a true espresso machine and a typical drip coffee machine.
With only 3.5 bar pressure, be sure to use a coarser grind. And if you're brewing more than one shot, expect the crema to be faint.
Beginners will feel comfortable with the easy-to-use interface, and the ability to walk away while shots are being pulled, and then come back to a pot of coffee. However, if you're looking for a more authentic experience, this is not the best choice.
Pros
Brew up to four shots at a time
Simple controls
Elegant on a kitchen counter
Cons
Not well suited for authentic espresso shots
Very low pressure
Clumsy steam wand
---
8. Mr Coffee Café Automatic Espresso & Cappuccino Machine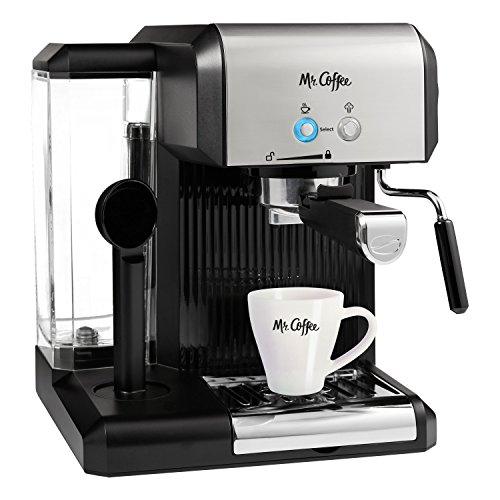 If you're after a true budget machine, the Café Steam Automatic by Mr. Coffee is a great choice. It's priced significantly lower than some other models, and it doesn't attempt to do too much. Though it does provide an impressive 15 bar of pressure (so you should be able to get decent crema), some design flaws get in the way of more complicated tasks. For example, the heating system may have trouble going straight from pulling a shot to steaming milk.
If you're going to be bothered by having to occasionally wait 15 minutes for the machine to cool down and heat up again while in the midst of making a latte, it may be worth splurging for a more well-constructed model.
Though the technical aspects of this maker are not hugely impressive, the styling will definitely make an impression on your counter. With an attractive yet minimal casing, this machine will stand out – and it can be a great introduction for a curious home barista.
Pros
Great exterior
Solid entry-level model
Impressive 15 bar of pressure
Cons
Poorly designed heating system
Small reservoir
Limited ability to tweak a shot
Very hands-on experience
---
Buyers' Guide: How to Select the Best Semi-Automatic Espresso Machine
When looking for the best semi-automatic espresso machine, what matters most is the finished product. We're all looking for the perfect shot, and there's no better way to start your morning – especially when you're able to craft the shot in the comfort of your own home. But it really is also worth considering the specific experience you're looking for.
All these machines will pull reliably satisfying espresso. The difference is that some will do it at the push of a button. Others put state-of-the-art equipment directly into your hands and let you take the lead, and some simply offer a much lower-priced alternative to your morning coffee stop.
No matter which type of machine you're looking for, some things are always worth considering. Specifically, consider grinding, heating, and pressure. These three functions represent the core of these machines, and the varied and fancy features are only as good as these fundamentals.
RELATED READ: What does it take to win a coffee competition?
Luxury
If you're looking for luxury, the two Breville machines stand out. With their level of automation, you'll be able to roll out of bed and let the machine do the work. These models also promise a slew of other features, including automated milk steaming with a plethora of automated options. Play around with texture and temperature – and once you've found the sweet spot, save your preferences with the Barista Touch's profile feature. This will ensure that every member of your family can enjoy their ideal cup. Machines like this can add a little bit of grandeur to any home.
Technique
If you're a more confident home barista and simply looking for a way to bring impressive technique into your home, options like the Nuova Simonelli and Gaggia are great. These types of machines do away with some of the bells and whistles of the higher-end models, but they more than make up for the trade-off with well-crafted components and impressive design. With straightforward machinery like this, you'll be confident every morning, and your guests will appreciate the thought that goes into each shot.
Efficiency
If you care more about efficiency and less about the precision of your morning coffee, more economical models are a great choice. With machines like the De'Longhi and the AICOOK, you'll save time and you won't be stuck waiting in a coffee shop. These espresso makers are all are a simple first step to becoming a more confident coffee lover. They're all nicely compact, and a pleasing addition to any kitchen.
Grinding
Consider your grinding set-up. If you already have a coffee grinder to accompany a drip machine, you may not need to splurge on a machine with an integrated grinding feature. Even if you have a stand-alone grinder, it might be worth it for you to just buy pre-ground espresso beans. Most good coffee shops will sell you a bag of whole beans and grind them on the spot for you to ensure maximum freshness. This can be a timesaver, and if you're going through your beans fast enough, you may not mind letting the grounds sit on your counter for a couple of days.
If you're a stickler for peak freshness, it's important to grind for each shot. This might make it worth using an integrated grind function. Machines with built-in grinding (like the two Breville models) offer the ability to tinker with the specifics, and this will let you dial in each shot just like a professional.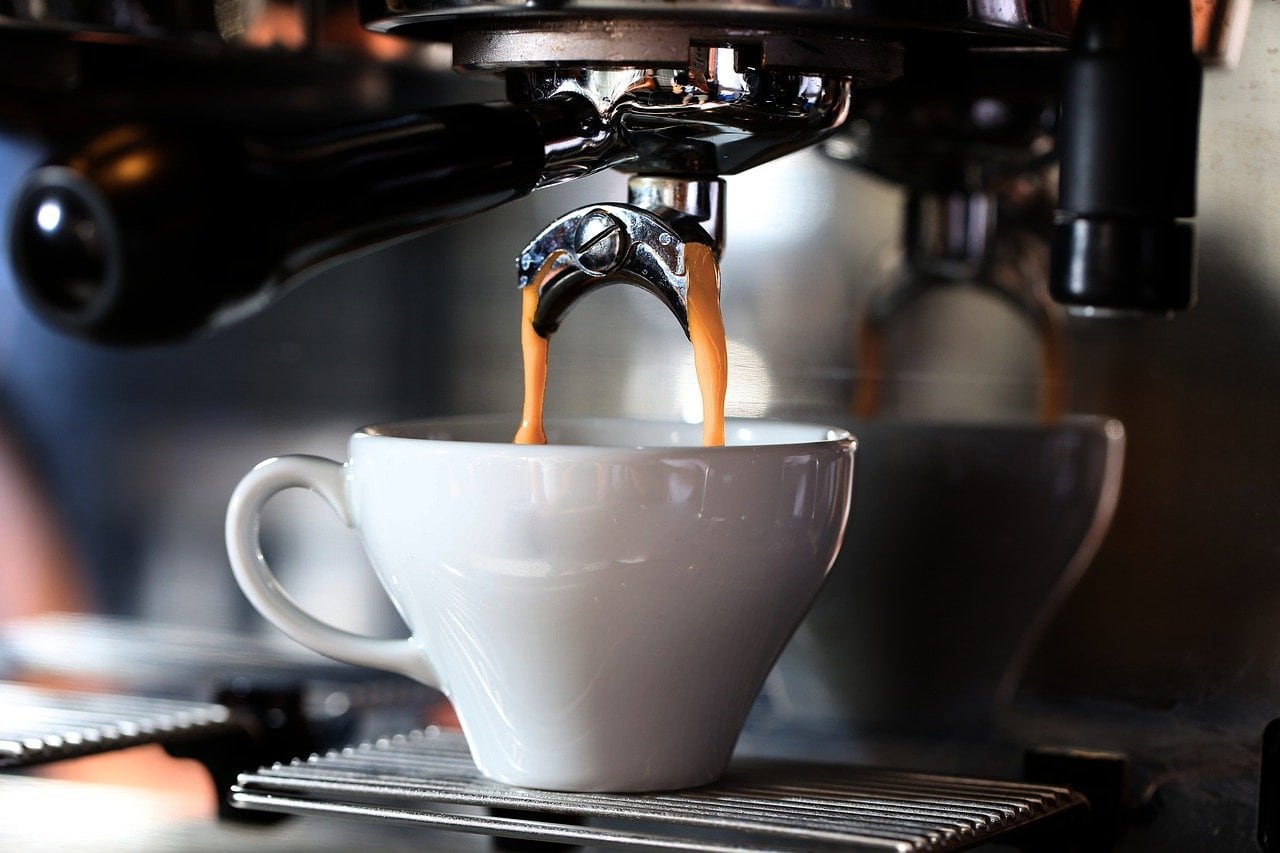 Heating
Heating poses another issue even in the best semi-automatic espresso machines. In all-in-one machines like these, there are two important functions involving heat. The boiler warms water to extract the shot, but the machine also creates steam to froth milk. If you're motivated to create the absolutely perfect latte, you'll need to carefully adjust the temperature for these two functions. If your machine only includes one heating system, you'll be severely limited. A dual heating system promises the ability to adjust these temperatures independently of each other. It also means you won't have to pause to allow the machine to re-heat.
Pressure
Pressure is a crucial component of any espresso shot. These machines run the gamut, with some capable of 15 bar pressure, and some with only 3.5 bar. More pressure does not necessarily lead to a more perfect cup, but being stuck with consistently lower pressure will keep you from using finer grinds. This could limit the flavor you're able to extract.

Final Verdict
No matter which semi-automatic espresso machine you choose, your morning will be markedly better with a satisfying home-brewed drink. These reviews take the guesswork out of your choice and highlight some of the most important considerations.
The Barista Touch by Breville stands out as our top pick because of its incredible automation and flexibility. Features like the milk temperature thermometer and the easy dosing are especially useful, but the ability to save a handful of programmed custom drinks is key.
However, if you're looking for the basic features of the Barista Touch – but at a more economical price – the Barista Express, also by Breville, stands out. This model is our pick as best for the money because it balances great design with a more do-it-yourself approach. This is a smart choice for a cost-conscious home barista.
All these picks should give you a solid shot in the morning. We truly hope that our guide helps you find the best semi-automatic espresso machine for your needs. Happy brewing!
SEE ALSO: What are the top 8 super-automatic espresso machines? See our detailed guide here!
---
Featured image credit: Chevanon Photography, Pexels