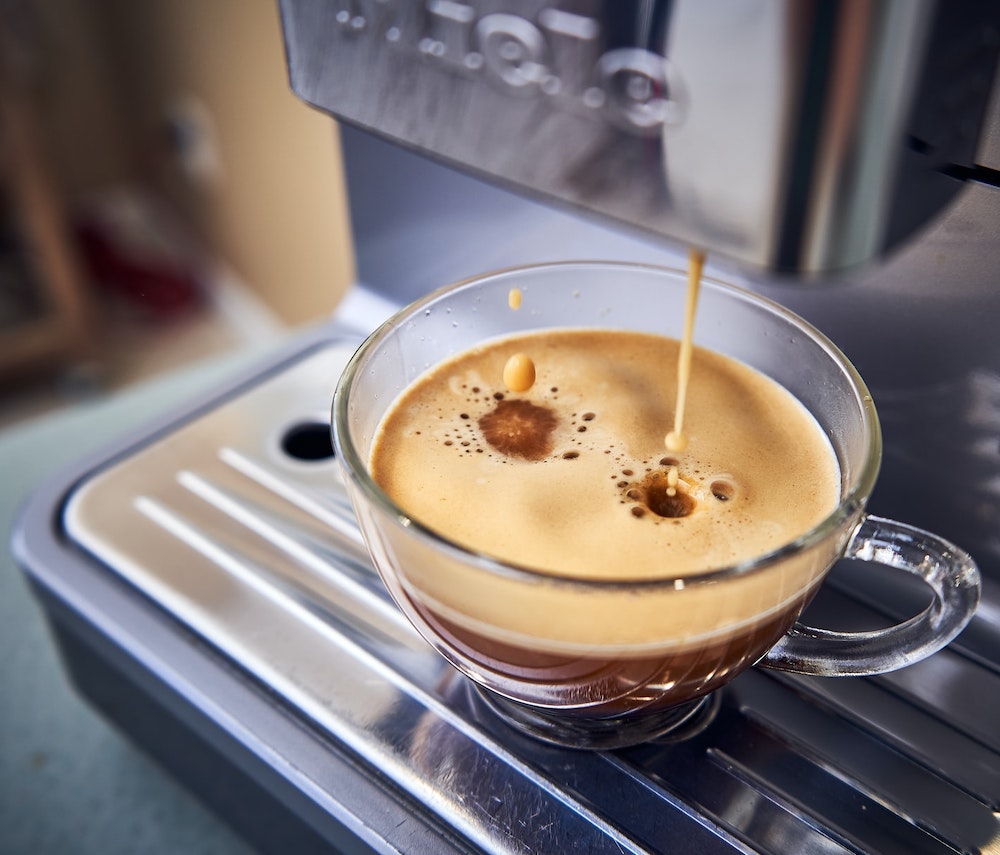 Many coffee lovers feel passionate about espresso. Perhaps you've fallen in love with the idea of having an espresso machine in your own home, or perhaps you've already been trying your hand on a simple beginner machine and are considering an upgrade now that you've developed those barista skills. Maybe you just want to add more options and control to your coffee-creating ritual. Simply deciding to begin this quest has likely brought about the child-like excitement of getting a new toy!
Now you have to dive deep into the world of espresso machines. We've come to help because we're coffee lovers too, always looking out for an exciting find. If you crave more out of your machine or want to pick out your very first one, we've put together a list of reviews of our top 10 espresso machine picks that cost less than $1,000.
---
A Quick Summary of our Favorites for 2023:
Image
Product
Details

Best Overall

Rancilio Silvia

Commercial grade interior
Flexible steaming wand
Stable temperature

Best Value

Breville Barista Express

Integrated conical burr grinder
Auto or manual operation
Temperature stability

DeLonghi Cappuccino & Espresso Machine

Single and double shot
No recovery time to brew
Fast heat-up

Jura A1 Super Automatic

Ultra-compact
Quick brew time
Built-in grinder

DeLonghi Magnifica

Single and double shot
Energy-saving mode
Useful for any espresso-based drink
The 10 Best Espresso Machines under $1000:
1. Rancilio Silvia Espresso Machine – Best Overall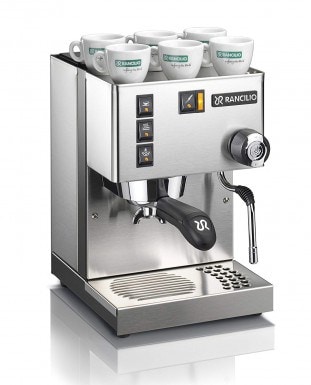 "Silvia" is Latin for "forest," and the Rancilio Silvia Espresso Machine may stand out as the greenest tree in the forest that is your kitchen. It's semi-automatic with an elegant presence and a commercial-grade interior, from the thermally stable group-head to the portafilter size. It also has a flexible steaming wand, allowing you to control steaming pressure while you practice your latte art.
As a compact machine, this choice does have its shortcomings. The drip tray is smaller than many might prefer. It does have a removable water reservoir, but no low water indicator. Without a built-in grinder, you will have to purchase one separately if you don't own one.
Overall, we think the Rancilio Silvia is the best espresso machine under $1000.
Pros
Commercial grade interior
Quick recovery
Flexible steaming wand
Stable temperature
Large water reservoir
Single or double shot
Pod/capsule adaptor kit available
Mid-range price
---
2. Breville BES870XL Espresso Machine – Best Value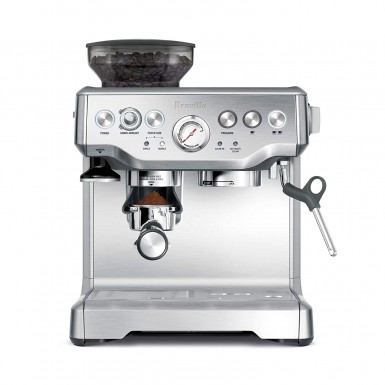 The Breville Barista Express is a semi-automatic that includes a conical burr grinder with a size dial, giving you control of the grind. It allows for single or double shots and micro-foam milk texturing and has PID technology to ensure that there are no temperature fluctuations.
It's not a self-explanatory machine, so you might need to immerse yourself in the manual if you're still acclimating to the barista world of espresso. It comes with interchangeable filters so you can use the auto operation or manual operation, if you're in the mood to dabble with the method. It does come with a water filter, but replacement filters are expensive, and using pre-filtered water may be a better option.
While it may be our runner-up, it is our top choice for the best value. The price of this machine lands on the lower end of the price point spectrum and offers more advanced options for the money. However, the skills needed to conquer this machine keep it out of first place.
SEE ALSO: Our Complete Review of the Breville Barista Express
Pros
Integrated conical burr grinder
Auto or manual operation
Temperature stability
Grind control
Manual steam wand
Single or double shot
Easy to clean
Mid-range price
Cons
Requires practice
Small drip tray
Top loading
---
3. DeLonghi ECAM22110SB Cappuccino & Espresso Machine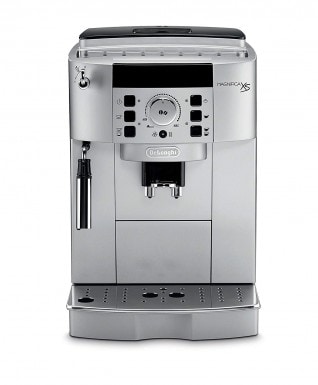 A practical and compact super-automatic, the DeLonghi ECAM22110SB Compact Automatic Cappuccino, Latte, and Espresso Machine is recognized for its ease of use. With a built-in grinder that has 13 grind settings, it's considered a hidden treasure for the price. It also has a bypass doser if you opt for pre-ground coffee. It also has a fast heat-up time, and there's no wait between brews.
On the flip-side, many users have indicated the steam wand is difficult to clean, though that may not be unique to this unit. Unfortunately, the grinder isn't ceramic, as is typically found in super-automatics, but stainless steel. This means that as the unit heats up, so does the grinder, which could affect the taste of the coffee. There is also a notable issue with beans not flowing smoothly into the grinder and users having to push them down manually.
It's important to note that in general, super-automatic espresso machines, including this one, do not handle oily beans well.
Pros
Easy to use
Easy to clean
Fast heat-up
Single and double shot
No recovery time to brew
Adjustable cup height
13-setting grinder
Manual steamer
Cons
Pricey
Top loading
Steam wand difficult to clean
Loud
Stainless steel grinder
Nonflowing beans
---
4. Jura A1 Espresso Machine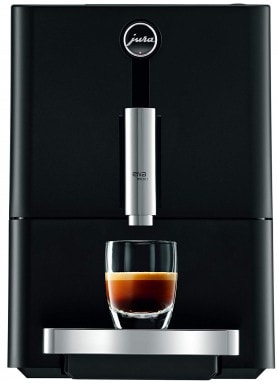 Docking in the fourth position, the Jura A1 Super Automatic Coffee Machine is compact yet dense. Although this is an ultra-compact machine of only 12 inches and 20 pounds, it contains a built-in grinder, and the spout is high enough to accommodate a tall mug. It includes a few options for control, such as three cup sizes, two aroma levels, three strength settings, and three water amounts, to provide flexibility for your preferred coffee drink.
The downside to this tiny turbo is it's a single-serve machine, so take note that it may not be for a household of many coffee lovers. For as small as it is, it's pretty pricey, though not the most expensive on our list. If you're looking for a device that will deliver an array of coffee drinks, this also isn't for you. This can make a straight-up espresso, ristretto, or Americano because there is no frother or steamer.
In a nutshell, if you're looking for a simple, straightforward approach to having fresh espresso, you may love this ultra-compact, easy-to-use coffee machine.
Pros
Easy to use
Ultra-compact
Quick brew time
Built-in grinder
Fits taller cups
Energy-saving mode
Programming options
Cons
Top loading
Single shot only
Not easy to clean
No frother/steamer
All plastic
---
5. DELONGHI ESAM3300 Espresso Machine
The DeLonghi ESAM3300 Super Automatic Espresso/Coffee Machine is a super-automatic system with easy settings and a programmable menu. It also has an energy-saving mode with a three-hour shutoff. With its patented cappuccino system frother, it creates a rich and creamy foam every time. If you desire that large cup of cappuccino or tea, the coffee spout is adjustable and there's a hot water spout too.
If you're a coffee master who prefers using water filters, this model isn't compatible with those, so using pre-filtered water is a must. Also, it's a bit on the noisy side, so that morning cup may come with repercussions in your household.
This DeLonghi is small but fierce with an array of features, making it easy to use and taking up little space.
Pros
Built-in grinder
Single and double shot
Easy to use
Easy to clean
Energy-saving mode
Useful for any espresso-based drink
Mid-range price
Cons
Top loading
Slightly noisy
Not water filter compatible
---
6. Gaggia Brera Super-Automatic Espresso Machine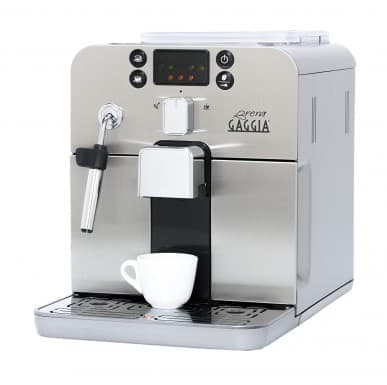 As one of the moderately priced options on our list, the Gaggia Brera Super Automatic is quiet and easy to use. It conveniently has a front-loading water reservoir and dreg drawer, which means it can stay in one place under your kitchen cabinet until it's time to clean it.
It's good that the water tank is easily accessible because you may be refilling it often. It has a smaller water reservoir than many other models, holding only 40 ounces. The bean hopper only holds eight ounces, so be sure to also check that while you're refilling the water. For a multi-user household, neither of these is considered a bonus.
With its programmable brewing, easy milk steaming and grinder with five settings, this super-automatic would be ideal for a single-user household.
Pros
Quiet
Easy to use
Affordable
Built-in grinder
Single and double shot
Water dispenser/steam wand
User-friendly programming
Front-loading water and dreg drawer
Cons
Top loading
Small water tank
Small bean hopper
Lengthy cleaning process
Larger footprint for a compact
Small for multiple users
---
7. Saeco Incanto Plus Espresso Machine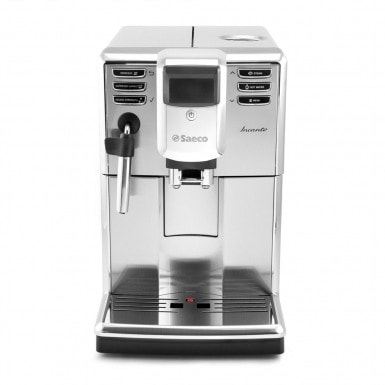 The Saeco Incanto Plus Super Automatic Espresso Machine has a polished look with its stainless-steel face and a no-nonsense design. It has press-and-hold programming and a large LED screen, making it easy to use. With many of the parts dishwasher-safe, it's also easy to clean. A water filter is included, ensuring that descaling and maintenance should be infrequent.
While not a deal-breaker, this sleek apparatus is a top-loader that may or may not work with your kitchen layout. Unfortunately, it's on the upper end of the price spectrum and takes longer than other models to heat up.
If you're not in a rush and want to easily prepare your favorite coffee drink, this may be the machine for you.
Pros
Easy to use
Easy to clean
Programmable auto-off
Water filter included
Built-in grinder
Cons
Expensive
Top-loading
Slow heat-up
---
8. La Pavoni 8-Cup Lever Style Espresso Maker
The La Pavoni EPBB-8 Europiccola 8-Cup Lever Style Espresso Machine is a gem of a find with an old-fashioned charm. If you enjoy the ritual of authentically pulling a shot, this lever-style model will allow you to marry your skills with your taste. If you've never experienced this way of making espresso and now crave a you-complete-me relationship with your machine, it conveniently comes with an instruction video to get you started. There's also a user group page on Facebook.
This gadget has an auto milk foamer, but you can purchase a separate attachment to see your cappuccino all the way through. There is a learning curve with it, however, and if a trial-and-error approach is frustrating for you as a newbie to the lever game, this isn't the right choice for you. It's also important to note that there is no tamper included and the portafilter isn't a standard size.
If you're looking to level up your true barista skills, this find may be a good fit. It makes eight cups continuously without recovery, so practice makes progress!
Pros
Extraction control
Delivers good crema
Training video included
Eight-cup continuous brew
Minimal space requirement
Cons
Expensive
Frustrating for beginner
No tamper included
Nonstandard portafilter size
No frothing attachment
Separate grinder required
---
9. illy 60254 X1 Espresso Machine
While this may look like the last robot left on earth, the illy 60254 X1 Espresso Machine has a style all its own. This is an anniversary edition of an original created 20 years ago. With upgrades to match today's technology and need for convenience, this is a capsule-only machine, able to create espresso or brewed coffee. It has a steam wand to help create your favorite cappuccino and latte, and using capsules ensures consistency from cup to cup.
If you prefer more control over your espresso brew or like trying different brands of coffee and grinding your own beans, this is not the machine for you.
If you have a fast-paced life and are always on the go, the simplicity of this machine is convenient with little wait time. Simply put in a capsule, let it brew, and you're on your way. Plus, if you're looking to jazz things up in your kitchen, it also comes in red!
Pros
Easy to use
Easy to clean
Cons
Expensive for lack of features
No control flexibility
illy iperEspresso capsules only
Rear loading water tank
Small water tank
---
10. Gaggia Anima Prestige Automatic Espresso Machine
This classy model, the Gaggia Anima Prestige Automatic, is all about capacity. It has a drop tray that holds up to 24 ounces, a dreg bin that will hold 15 pucks, and a 60-ounce water reservoir. If you frequently entertain guests or have multiple coffee fanatics in your household, this machine may be perfect for you. It has a quiet operation and allows 15 pulls without interruption. This choice will easily appease the masses. It will let you know when the water is low and the bean hopper is empty. As if that's not enough, there are alerts for descaling and maintenance — and it's self-cleaning.
No machine is without its disadvantages. It will not be a gentle embrace to your wallet, as it's the most expensive on our list. It takes up a good bit of counter space, and both the water reservoir and bean hopper are top-loading, so you may need to consider how it would fit in your kitchen without hassle. Although it's created to handle many uses, it has only one boiler, which is surprising for the cost.
This last pick does have auto milk steaming with the included milk carafe and a separate steam wand. If you're obsessed with foam and milk in your coffee, you may love this choice.
Pros
Large capacity
Built-in grinder
Programming options
Single and double shot
Milk carafe and steam wand
Self-cleaning
Cons
Expensive
Challenging initial setup
One boiler
Only three water temp settings
Top loading
Larger footprint for compact
---
Buyer's Guide: Finding the Best Espresso Machines Under $1000
When shopping for an espresso machine to take your skills up a notch, there are a few things to consider, such as cost, size, cleaning, number of users, and machine features.
Cost
Of course, you want a good value for the money. It thus makes sense to consider it an investment versus a purchase. Comparing dollars to dollars — how much you regularly spend at the nearest coffee shop and how much you'll save over time by having your own machine — will help you make the decision and settle on a budget.
Size
Analyze your kitchen, and figure out where you'd like to place your new investment. Measure the area before you begin window shopping. Espresso machines vary in size, even among compact designs. Some footprints are wider and deeper and have a shorter stature, while others have smaller footprints yet are taller. Once you know how much space you have available, pay attention to whether a machine loads water and beans from the top, the front, or the rear.
Cleaning
Ultimately, no one wants to spend an inordinate amount of time cleaning anything. If you enjoy the process of spending more time with your beloved espresso machine, some options require a more meticulous approach to cleaning. There are also self-cleaning options, and those will cost extra.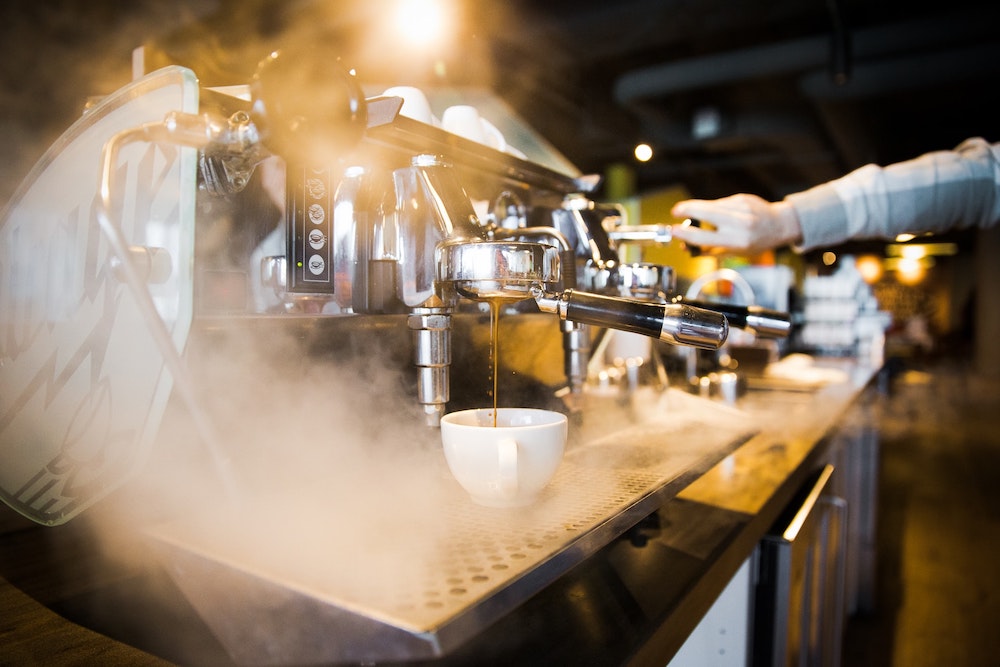 Number of users
If you are a single-person household and don't need a workhorse to make your day brighter, there are options sized just right. But if you have a large household, take into consideration how often espresso will need to flow and how much is flowing. You'll want a machine that can accommodate the amount of use and be able to meet the demand.
Machine Features
There are so many features available regarding water temperature, bean grind, indicator light alerts, and programming. There's also the matter of semi-automatic and super-automatic, which involves extraction control. If you're looking for a fancy choice that does everything but refill the bean hopper, you'll need the budget to match. If, however, you want a simple and easy option with just a few controls, those do exist. Make a list of what features are important to you and seek them out.
There are a couple of general notes to keep in mind. Semi-automatic and super-automatic machines do not handle oily beans well, as they can clog the grinder. Use non-oily beans for the best performance and to prevent maintenance issues down the road. Also, if you don't or can't use a water filter in your machine, it's advisable to use pre-filtered water. Using hard tap water will cause maintenance issues if descaling isn't performed regularly. It will also affect the flavor of the coffee.
Learn more about espresso machines:

Final Verdict
To recap, our number-one choice is the Rancilio Silvia Espresso Machine, which has a distinguished presence and commercial grade interior. We believe the best value for money is our runner-up, the Breville the Barista Express Espresso Machine, which gives you a wide range of control for a mid-range price.
We've come a long way on this journey to help you take the next step in your espresso endeavor, and we've enjoyed the ride. Don't let it end for you here. We hope this list of the 10 best espresso machines under $1,000, complete with reviews and a detailed buyer's guide, helps you find the perfect model. Have fun and keep on brewing!
---
Featured image credit: Unsplash