When you make coffee every morning, you want it to be flavorful, easy, and quick. Technology has continuously improved the quality and efficiency of how we complete our daily tasks, like making coffee. Electric milk frothers are one of these improvements.
There are dozens of models on the market, so which milk frother should you buy? Every frother has different features, and it's important to make sure you select the product best suited for you. To help you make your choice, we've put together detailed reviews of the five best electric milk frothers available this year, looking carefully at features, price, design, appearance, and more. If you'd like to know more about these useful products, take a look at our buyer's guide. Now it's time to start shopping!
---
Our Favorites of 2023
Image
Product
Details

Best Overall

Nespresso Aeroccino

Auto-shut off
Consistent Temperature
Non-stick surface

Capresso FrothPLUS

Three temperature control
Dense foam
Dual auto shut-off

Best Value

VAVA Electric

3 temperature settings
Angled spout for pouring
Extra whisks included

Favorite handheld pick

PowerLix Power Milk Pro

Durable
Easy to clean
Dense foam

Bodum Bistro

Dense foam
Auto shut-off
Durable
The 5 Best Electric Milk Frothers
1. Nespresso Aeroccino Electric Milk Frother – Best Overall
Milk frothing is made easy with the Aeroccino's fast and simple automatic system. There's one button for all operations, and the frother is impressively quiet. It has auto-shut off, which is a safety feature designed to prevent milk from burning and to ensure the device isn't left on for long periods of time. It consistently heats your milk to the right temperature so you can count on having perfectly warm milk each time.
Occasionally, the device creates foam that is wispy instead of dense. Though this frother operates on a base unit with a cord, you can remove it from the base for easy pouring. A non-stick surface on the interior of this frother makes for easy clean up and the small size is good for storage.
All in all, we loved this model and consider it the best electric milk frother of the year.
Pros
Simple and fast
Auto-shut off
Consistent Temperature
No noise
Non-stick surface
Small size for storage
Cons
Doesn't always create dense foam
---
2. Capresso FrothPLUS Auto Milk Frother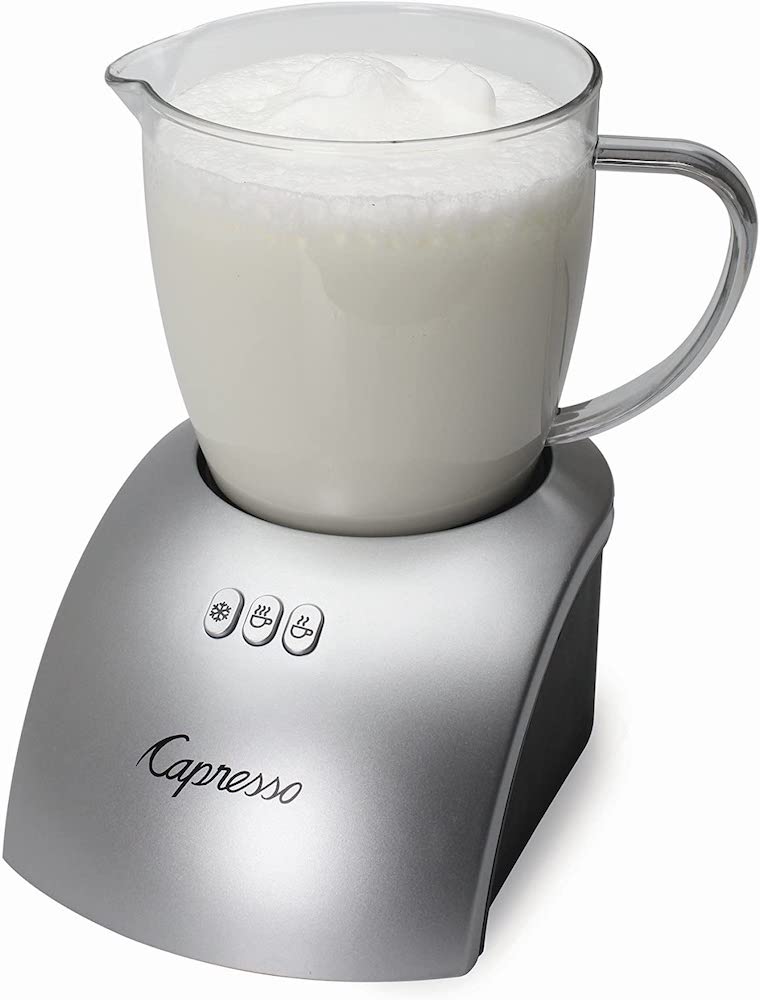 The Capresso model will provide you with control over the temperature of your froth. There are three temperature settings so you can decide if you want cold, warm, or hot. The cold setting can even create cold froth. There's a unique frothing disc that creates dense foam. The frother can also store two frothing discs and a heating disc so you can keep all parts and pieces in one place.
Though it gently aerates the foam, this machine is surprisingly fast, and the dual auto shut-off offers safe operation. When the frother is in use, it makes some noises. You can also use this frother to heat liquids to make warm drinks without foam. The Capresso holds more than most electric frothers with a maximum capacity of 8 oz of froth or 12 oz of liquid. Cleaning will be easy for you because it is dishwasher safe.
Pros
Three temperature control
Dense foam
Quick
Large capacity
Storage for discs
Dual auto shut-off
Dishwasher safe
---
3. VAVA Electric Milk Frother – Best Value
The best bang for your buck is this VAVA model made of stainless steel and with great frothing power. The VAVA has three temperature settings, so you can make a variety of hot and cold drinks. You can also heat the milk without producing foam. It comes with extra whisks, so if one needs to be replaced you already have replacements. It silently produces the foam in only a minute and the angled spout is excellent at preventing spills.
The capacity is smaller than other frothers with a maximum of only 3.9 oz of froth and 8.1 oz of heating, but can still make enough foam or hot milk for a latte or cappuccino. The non-stick coating makes for easy cleaning. After about a year of use, sometimes the VAVA milk frothers motor dies and the product needs to be replaced.
Pros
3 temperature settings
Durable
Extra whisks included
Silent
Angled spout for pouring
Easy to clean
Cons
Motor dies occasionally
Small capacity
---
4. PowerLix Power Power Milk Frother – Favorite handheld pick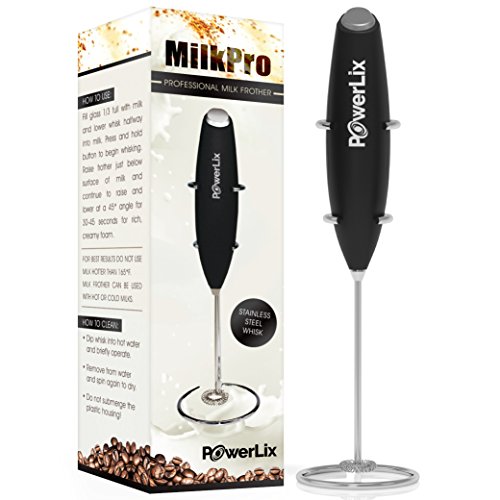 If you want a model that is handheld, this battery powered milk frother is the best bet. It is stainless steel so it will be long-lasting and reliable. Although this is a handheld model, it has a comfortable handles and is much smaller than a countertop electric milk frother.
This doesn't heat the milk like a countertop version would, but still can produce very dense foam. If you want flavored frothy drinks it has a motor powerful enough to mix them in with your milk. Cleaning this device is very easy, as you just put it into hot water and turn it on for a few seconds.
Pros
Durable
Dense foam
Small
Easy to clean
Cons
Doesn't heat milk
Handheld and battery-operated
---
5. Bodum Bistro Electric Milk Frother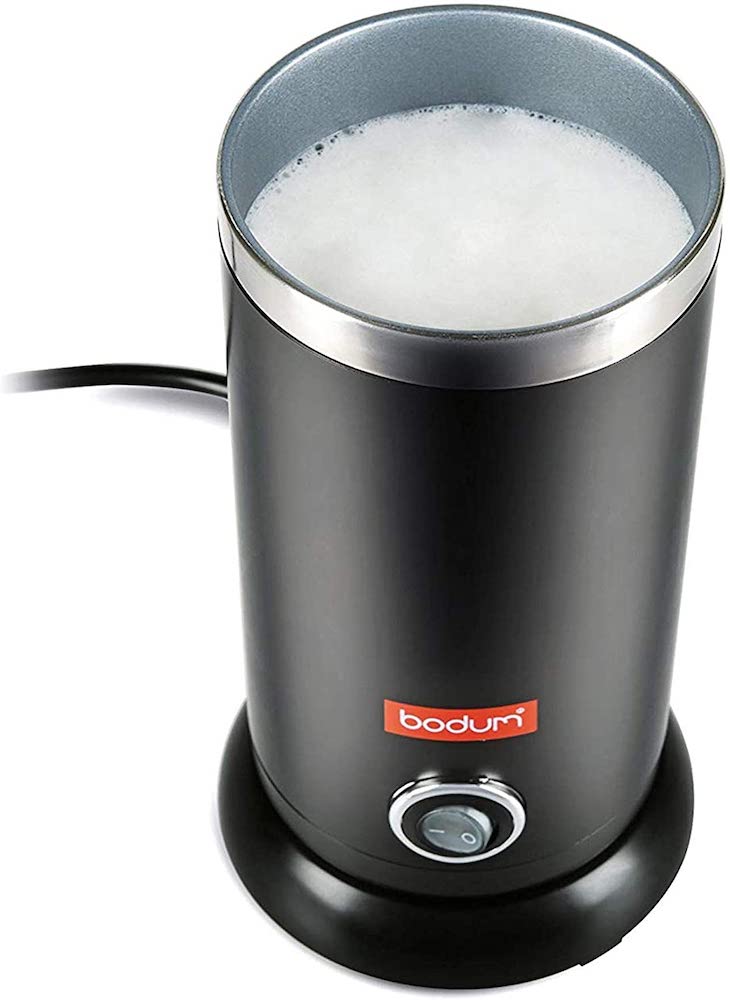 The fifth model on our list is another countertop electric milk frother made of long-lasting stainless steel. It does not have temperature control features, and the warmer is not always reliable. There is an auto shut-off safety feature, but the frother only offers one setting.
The Bodum does have a heavy duty motor for making dense foam, but it does produce some noise when in use. The non-stick interior is meant for easy cleaning, but unfortunately, it does not prevent all the hot milk from sticking to the bottom and can be difficult to clean from time to time. The pour spout has a tendency to leak, but this model still produces great froth for your favorite morning drinks.
Pros
Dense foam
Durable
Auto shut-off
Cons
No temperature control
Does not warm consistently
Difficult to clean
Pour spout leaks
---
Buyer's Guide – Finding the Best Electric Milk Frother
When purchasing a milk frother, you should keep in mind the differences each product can have. The reviews above have explained the benefits and drawbacks of each so you can choose your best option. Below we will look at qualities you do and don't want in the product you choose to purchase.
Power
The main advantage of an electric milk frother is that it does all the work for you. This is why you want to get one that has a powerful motor and can produce good froth. If the motor is not powerful, you could end up with partially foamy hot milk, which is not the way you want your cappuccino. The only disadvantage of powerful motors is that sometimes they are noisy. If you're very sensitive to noise, you may want to look for a quiet model.
Heating
The heater is also an important feature to pay attention to. You need a heater that is going to consistently produce the same temperature results. Some electric milk frothers won't heat your milk enough, while others will make it too hot. Some models come with temperature controls which can help with this issue. These models typically have three temperature settings: hot, warm, and cold. The cold setting can be used to make cold froth for drinks like iced lattes or even milkshakes.
Durability
Durability is important because you want your frother to last you as long as you continue to want lattes and other frothy drinks. Stainless steel provides strength and reliability that plastic or other materials cannot. Most electric milk frothers are made from stainless steel, however, and should not be hard to find.
Cleaning
Cleaning a milk frother usually consists of wiping out the interior with a wet towel. Many electric frothers have non-stick surfaces on the interior, which makes this easier. However, some models do better than others at not letting the milk stick to the surface. If you prefer the convenience of a dishwasher, there are some dishwasher-safe frothers.
RELATED READING: Is there a difference between steamed and frothed milk?

Conclusion
Our top pick, the Nespresso, offers quite a few features and can make several types of foam. If you're looking to save money, the VAVA model offers plenty of features but has a smaller capacity and a lower price point. Our other picks have their benefits and drawbacks, which you can see in the reviews above.
Shopping for a new kitchen gadget can take up your valuable time and energy, which is why we've done the research for you. We hope that our reviews and handy buyer's guide help you choose a great electric milk frother. No matter what you're looking for, there are quite a few great models on the market. Your next smooth, perfectly foamed beverage awaits!
---
Featured Image Credit: Pixabay