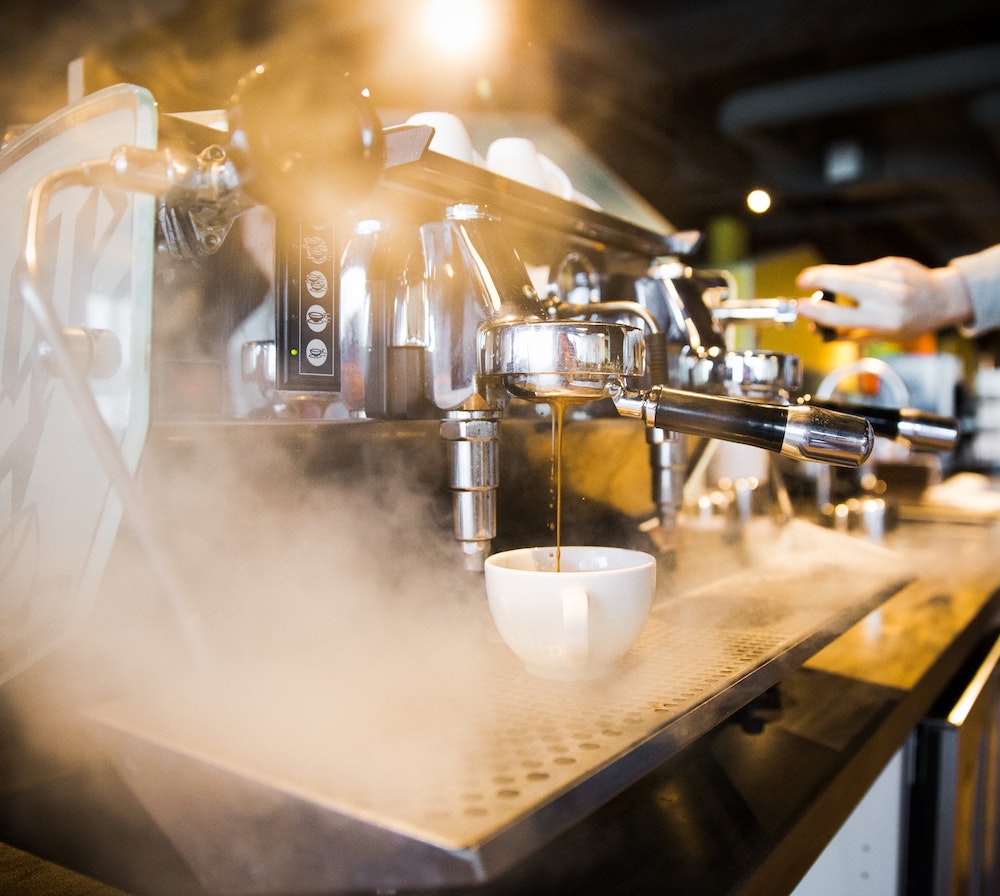 If you're a coffee fanatic enamored with the idea of owning an exceptional espresso machine to make your life easier when it comes to creating your favorite beverage, you may want to consider purchasing a commercial espresso machine. And if you're a business owner serving coffee drinks daily and want service to flow without any hiccups, owning a commercial espresso machine is essential.
With options ranging in price from economical to deluxe, it's important to make the right bottom-line decision. Mass production requires an investment to safeguard consistent delivery to your customers.
It's also important to consider the skill of your servers and how easy production should be.
Here are our top eight reviews for the best commercial espresso machines. Whether you're a dedicated coffeeholic who desires one for home or a business owner investing in your shop, we've got you covered.
---
A Quick Glance at Our Favorites of 2023:
Image
Product
Details

Best Overall

La Pavoni BAR-STAR

Programmable dosing
Energy-saving mode
Large boiler capacity

Nuova Simonelli Aurelia II

Manual and programmable dosing
Handles high turnover
Steam wand capability

Best Value

Breville Oracle Touch

One-touch automation
Digital temp control
Auto steam wand

La Pavoni PUB

Portable
Direct plumbing not required
Digital controls

Nuova Simonelli Aurelia II 4-Group

22-liter boiler capacity
Completely automated
Soft infusion system
The 8 Best Commercial Espresso Machines:
1. La Pavoni BAR-STAR 2V-R Espresso Machine — Best Overall
The La Pavoni BAR-STAR 2V-R comes to us from an Italian company that revolutionized the industry of espresso machines beginning in the early 1900s. This model has a two-group head with four dosing settings and a built-in water softener. It's equipped with two steam wands, digital controls, and automatic hot water dosing, able to accommodate a barista in training.
With a bit of a higher price and weighing nearly 150 pounds, this is a model for a commercial setting and would be too much for a home kitchen. This machine is made to order from Italy, so be prepared to wait for the magic.
This product is ideal for a customer-based environment, as it has a 14-liter boiler capacity and can serve up to 600 drinks a day with ease. It also provides an energy-saving mode to help your business save money on the power bill.
All in all, we think this is the best commercial espresso machine of the year.
Pros
Drink volume
Programmable dosing
Energy-saving mode
Digital controls
Large boiler capacity
Water softener included
---
2. Nuova Simonelli Aurelia II Espresso Machine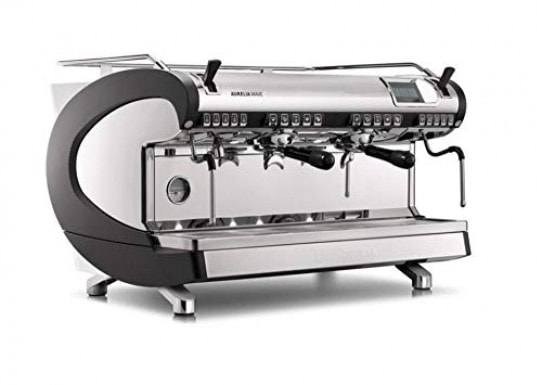 The second on our list, the Nuova Simonelli Aurelia II Volumetric 2 Group Espresso Machine, is also appointed with a two-group head and two steam wands. If you have customers starry-eyed for milky coffee drinks, you can add another wand on each side for a total of four steaming wands.
This model supplies manual and programmable shot dosing as a way of ensuring consistency for every customer, and this kind of programming will save time. The soft infusion system is a safety precaution that decreases the need for an even tamp. With a power-saving option, energy conservation is another plus, saving money over time.
Though our runner-up has plenty of options, it also has a price tag double that of our number-one choice.
Pros
Manual and programmable dosing
Handles high turnover
Pre-infusion function
Steam wand capability
Ergonomic design
---
3. Breville Oracle Touch Commercial Espresso Machine – Best Value
On the lower end of the price spectrum, the Breville BES990BSSUSC Fully Automatic Espresso Machine has much to offer. It includes automation at every stage, making coffee brewing easier than ever. There are five pre-programmed settings and eight customizable settings. The burr grinder grinds, doses, and tamps with one touch. With PID technology, the machine maintains a precise water temperature and has pre-infusion for even extraction. The steam wand is automatic and self-cleans.
While this model could be used at home or for your business, it's still pretty large and hefty. For the price, though, it's a great budget buy for a small shop. It's been noted by users that the brand's customer service is exceptional, but the water filter replacements are difficult to find. With the smart steam wand, the froth is good, but it's not as good as manual.
If you have a small business and want to provide exceptional coffee with ease, this may be your next addition. With a dual-boiler and one-touch everything, you don't need exceptional barista skills to serve a delicious coffee drink to your customers. Definitely one of the best commercial espresso machines for the money.
SEE ALSO: Our favorite Breville espresso machines!
Pros
Easy to use
One-touch automation
Digital temp control
Dual boiler
Auto steam wand
Low maintenance
Cons
Lackluster froth
Water filters difficult to find
---
4. La Pavoni PUB 1M-R Cappuccino & Espresso Machine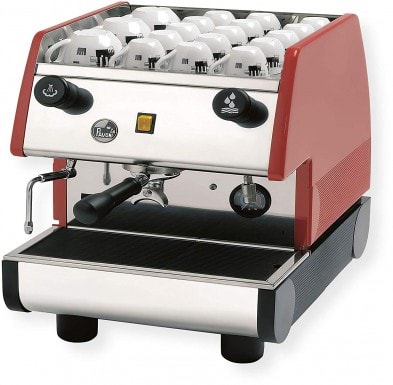 The La Pavoni PUB 1M-R Commercial 1 Group Manual Espresso/Cappuccino Machine can provide up to 150 drinks per day. This pick is on the smaller side of commercial machines, but it may be perfect for your catering business. Direct plumbing is not required, since pour-in is possible. With a 5½-liter copper boiler and large filter, you can make six espresso shots continuously. It also includes one steam wand. This portable pick is a super-automatic, with digital controls for simplicity.
The downfall is that even with all the options for portability, it's still on the heavy side, weighing in at 88 pounds. If you're catering, you'll need a little muscle to carry it around. It also has an equally heavy price tag. While you may think you're paying by the pound, this would still be considered a big investment for your business.
Pros
Portable
Direct plumbing not required
Digital controls
Steam wand
---
5. Nuova Simonelli Aurelia II 4-Group Espresso Machine
The Nuova Simonelli Aurelia II Digital 4 Group Espresso Machine is the Cadillac of the machines on our list. It has an impressive appearance that is sure to catch everyone's eye. With a 22-liter boiler capacity, a four-group head, and a completely automatic system that heats and recovers quickly, your baristas will be able to serve customers with swiftness and ease. For convenience, there are two steam wands on either end of the machine, allowing multiple baristas to work efficiently at the same time.
This model was created with heavy-duty, high-volume business in mind. It's a considerable investment, so if you don't need four group heads, you probably don't need this machine.
While not the most expensive on the market, it's an asset that you should feel confident purchasing. If you do consider this option, you'll be in good company, as it was the official machine of the World Barista Championship for two years.
Pros
22-liter boiler capacity
Completely automated
Soft infusion system
Heavy-duty, high-volume
---
6. La Pavoni Bar-Star 4V-B Commercial Espresso Machine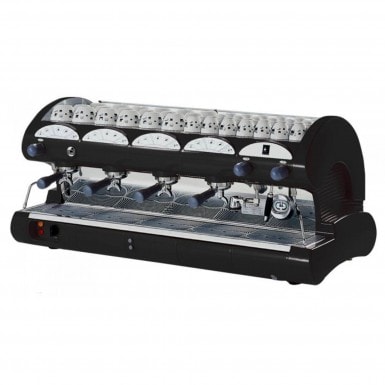 Another four-group head on our list, the La Pavoni Bar-Star 4V-B Espresso Machine is an indomitable choice in the world of espresso machines. It has a stunning presence with its curved exterior design and professional appearance, as well as the thermal stability to eliminate variability in temperature and pre-infusion to establish consistency in shots. It also features a 26½-liter boiler capacity.
This model is a sizable choice with a sizable price, but if you have a high-volume business, this investment may be for you. It has been noted that due to the curved exterior, cleaning inside the machine can be difficult.
Pros
26.5-liter boiler capacity
Thermal stability
Automated controls
Pre-infusion
Cons
Difficult to clean
Pricey
---
7. La Pavoni 16-Cup Espresso Maker – Best Manual Pick
If you're looking for a showpiece that's sure to be a conversation starter, the La Pavoni PPG-16 Professional 16-Cup Espresso Machine may be just the model to add to your collection. With a solid brass boiler and rosewood handles, this find has an old-world feel that folks are sure to talk about. It's a manual lever model that requires some skill to operate and isn't intended to pull many shots continuously. Still, it's a cost-effective addition for either commercial or home use. The boiler capacity is 38 ounces, which is enough for 16 shots.
This machine will age gracefully, and even if espresso isn't the spotlight of your business, its presence is sure to get the attention of any coffee lover nearby. Keep in mind that if you choose this for home use, there's a learning curve to using it, though an instruction video is included. If you want a showstopper for your next small gathering, your guests are sure to be delighted.
Pros
Solid brass boiler
Internal thermostat
Easy to clean
Cons
Skill required
Separate grinder required
Low volume only
Lengthy warm-up
---
8. Gaggia Accademia Espresso Machine
Closing up this list, the Gaggia 1003380 Accademia Espresso Machine is one of the least expensive for a commercial choice. It comes outfitted with a milk carafe and steam wand and may be ideal for your small business, office, or home. It's a super-automatic with a built-in ceramic grinder and one-touch brewing and accommodates various cup sizes.
While this choice is easy to use, it's been recognized by many home coffee lovers as high maintenance. With mostly plastic construction, its durability is lower than other models. It also has a smaller drip tray that needs to be emptied often. If you prefer your coffee hot, the average temperature is only 162-168 degrees Fahrenheit.
If you're looking for an automated machine for small office or home use, this may be a good choice. If you're searching for a high-volume, durable addition for your business, this won't fit the bill.
Pros
One-touch brewing
Tall spouts
Milk carafe included
Cons
Top-loading water/bean hopper
Small drip tray
Plastic construction
High maintenance
Not easy to clean
---
Buyer's Guide: Selecting the Best Commercial Espresso Machine
When searching for the best commercial espresso machine, it's important to consider a number of factors, such as type of use, cost, ease of use, and consistency.
Type of Use
If you're in the market for a commercial machine, you first have to consider the environment in which it will be used. If this is for your high-volume business, you need a machine that can provide coffee quickly and efficiently with a low wait time. In business, time is money, and you want a good return on your investment. If this is for an office setting, consider how many people this needs to serve. For home use, you'll want a good value for the money while having something that fits appropriately in your space.
Cost
In business, the bottom line in every decision involves a return on investment. You don't want to waste money or time on something that will not contribute to your success. Once you've narrowed down your needs for a machine and your budget, it will be easier to determine your options. Though the choices are not too different for office or home use, you still need to weigh what you need in terms of functionality vs. dollars. Everyone, regardless of their environment, wants good value for money spent.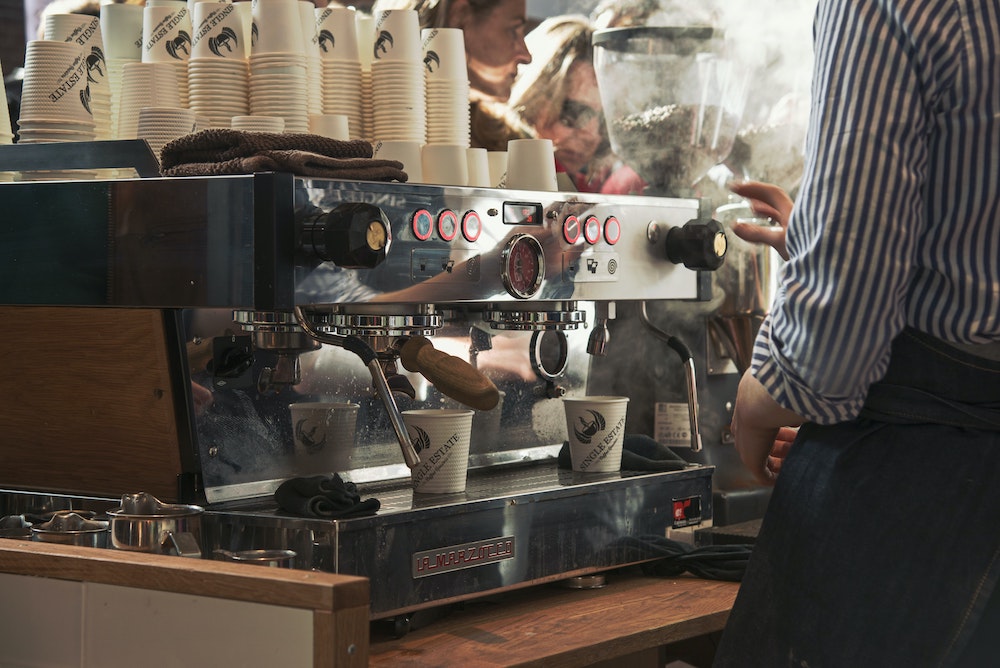 Ease of Use
When researching, pay attention to how easy the machine is to use. For commercial settings, do you need it to be user-friendly, or are skilled baristas on hand? For office use, you need something quick and easy for all-day-long coffee lovers. For home use, you'll want something that fits your skill level or meets your need for adventure. A machine that is easy to maintain and clean is best for everyone.
Consistency
Regardless of use, what's ideal is a machine that delivers consistency with every shot so you're not wasting time trying to figure out how to make it work. No one wants to deal with the frustration of trying to get every single shot just right. You want consistency in temperature, extraction, and recovery.

Final Verdict
If you're specifically in the market for the best commercial espresso machine for your business, that serves coffee to customers, the options can be daunting. With this list of reviews, we hope that we've helped you narrow the field. In summary, our top choice, La Pavoni Bar-Star 2V-R, can serve a high-volume needs with ease. Our runner-up, the Nuova Simonelli Aurelia II Volumetric 2 Group, comes in at a higher price but can grow with the business with its many options. We wish you well on your search and happy brewing!