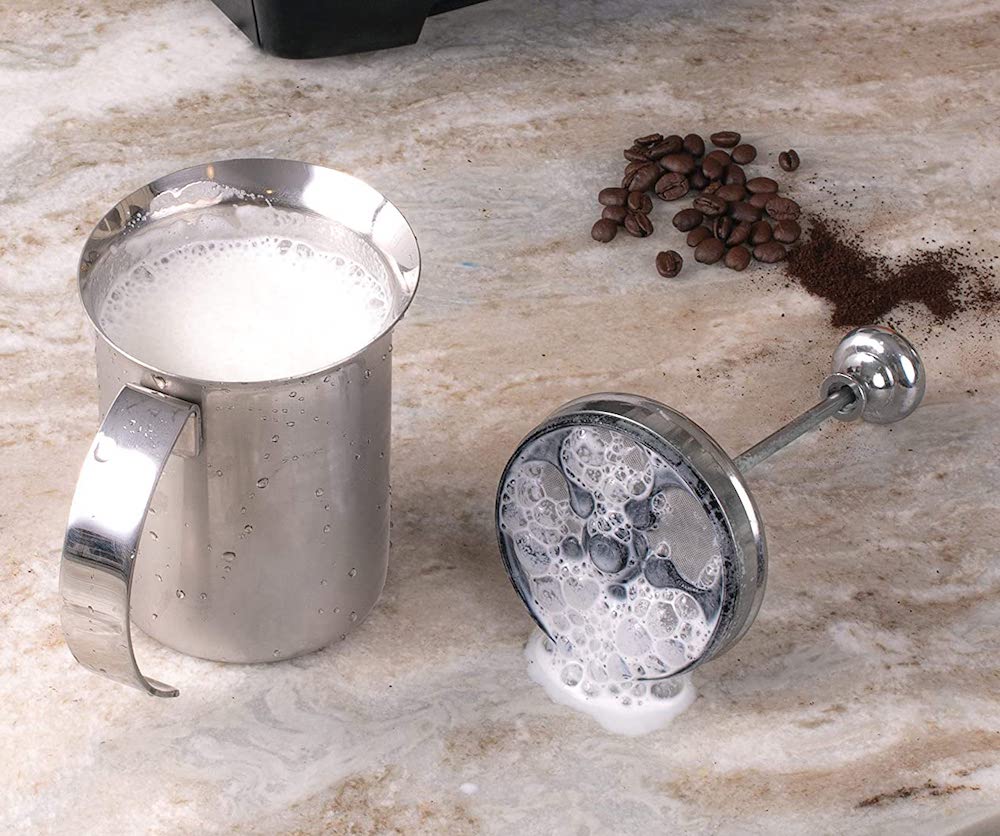 Frothy milk is a big reason we love lattes and cappuccinos. The instant that foam hits our lips, it's like fluffy coffee heaven. Most espresso lovers would love the convenience of making these frothy drinks at home. Handheld milk frothers make this easy for you.
However, not all milk frothers are alike, and there is a wide variety to choose from. This is why we've reviewed dozens of milk frothers and chosen our five favorite models. Hopefully, this will help you find the right one for your needs.
---
Comparison Table (updated in 2023)
Image
Product
Details

Best Overall

PowerLix MilkPro

Produces rich, creamy froth
Durable, lasts a long time
Comfortable to use

Aerolatte

Quick, only 15-20 seconds
Powerful and consistent
Durable

Best Value

MatchaDNA

Makes rich froth
Small, easy to store
Easy to clean

HIC

Dishwasher-safe
Comfortable handle
Comes with a vessel for milk

IKEA

Quick, 15-20 seconds
Small, easy to store
Battery-operated
The 5 Best Handheld Milk Frothers
1. PowerLix MilkPro Handheld Milk Frother – Best Overall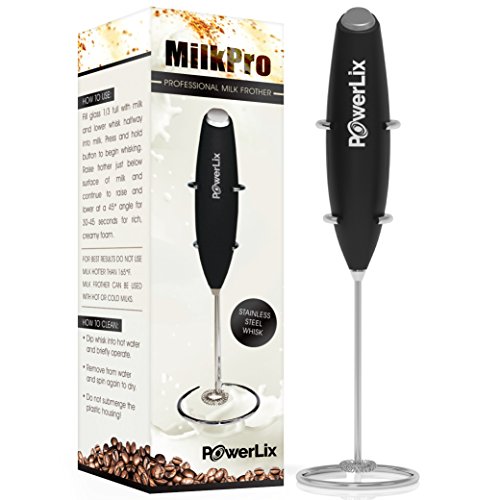 The PowerLix is our top pick for multiple reasons. It is made with high-quality stainless steel, so it will last you for years. There won't be any breakage due to everyday use, either. The handle is comfortable and easy to grip. This frother has a lot of power and can create the creamy froth you are looking for. It has enough power to mix liquids with powders, so you can also make hot chocolate or matcha tea lattes!
While the motor is powerful, it still takes an average of 60 seconds to produce foam. After you've enjoyed your coffee, the clean up is easy: just put the frother in hot water and turn it on. This frother will give you the best results and will last the longest.
All in all, we think this is the best handheld milk frother on the market.
Pros
Produces rich, creamy froth
Durable, lasts a long time
Easy to operate
Easy to clean
Comfortable to use
Cons
Slower in comparison, 60 seconds
---
2. Aerolatte Handheld Milk Frother
This Aerolatte provides froth quickly and consistently. With its powerful motor, it only takes about 15-20 seconds to produce quality foam. The stainless steel makes it very durable, ensuring long-term use. The cleaning process is the same as our top choice: put the frother in hot water and turn it on.
Unfortunately, some users have experienced motor failures or dead batteries after only using the product a few times.
Pros
Quick, only 15-20 seconds
Powerful and consistent
Durable
Easy to clean
Cons
Sometimes fails after minimal use
---
3. MatchaDNA Handheld Milk Frothers – Best Value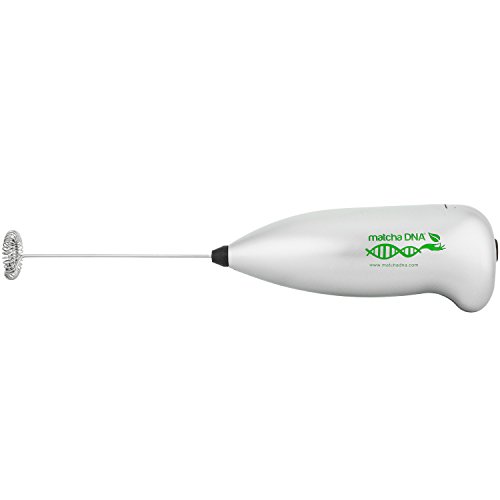 If you want a good deal that works well, we rated this model the best handheld milk frother for the money. The froth is very rich and smooth, and the small size is convenient for storage or even travel. This product is also made of stainless steel, which means it will be long-lasting. The MatchaDNA model is easy to clean, requiring the same simple method as the two models listed above.
Though this product is battery-operated, it doesn't come with batteries. It takes about 40 to 60 seconds to produce a good foam.
Pros
Makes rich froth
Small, easy to store
Durable
Easy to clean
Cons
Have to purchase batteries separately
Slower in comparison, 60 seconds
---
4. HIC 43127 Handheld Milk Frother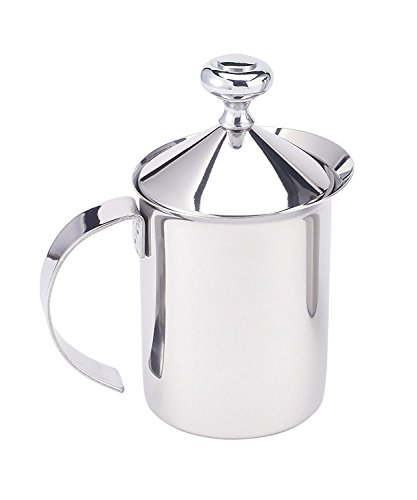 This milk frother has a big difference: it isn't battery operated. Instead, this milk frother works by manually pumping air into the milk. On average it takes about 20-30 plunges and 60 seconds to create foam. The manual process is aided by the comfortable handle, which has a good grip. This model is conveniently dishwasher-safe.
Unfortunately, the foam is mediocre and occasionally in big bubbles, which you don't want. The device is also prone to leaking and somewhat larger than the other models we reviewed, though it has an attractive appearance.
Pros
Dishwasher-safe
Comfortable handle
Comes with a vessel for milk
Cons
Lower-quality foam with occasional large bubbles
Bulkier
Manual operation, no batteries
May leak
Takes longer
---
5. IKEA 7 Handheld Milk Frothers
Although this model works in a quick 15 to 20 seconds, the foam it produces isn't very high quality. The motor is not very powerful and can be frustratingly unreliable. This model is battery-operated, but you'll have to purchase the batteries separately, and they can be difficult to insert.
This frother also has a habit of breaking after only a few uses. In fact, this product is sold in packs of two or three, which indicates that it needs to be replaced often. This is not surprising since it is primarily made of plastic, with just a few stainless steel components. The small size does make this product easy to store in your kitchen.
Pros
Quick, 15-20 seconds
Small, easy to store
Cons
Batteries not included
Made from plastic
Prone to breaking from minimal use
Not powerful
---
Buyer's Guide: How to Find the Best Handheld Milk Frother
Owning a milk frother can give you a barista experience at home and offers the ultimate convenience for latte and cappuccino lovers alike. After purchasing a handheld milk frother, you won't have to wait in line at a coffee shop again, at least not unless you want to. If you're going to choose the right product, you'll need to be informed on what qualities to look for.
Power
First, you want to make sure it's powerful enough to produce a rich, creamy foam. This means that the motor has to be strong and reliable. A motor without enough power or that is prone to breaking will produce less foam or foam that falls flat in seconds. A strong motor will also give you consistent results. You won't have to worry about the quality of foam decreasing as time goes on.
Durability
Second, quality is key. You want to find a product that is made from durable materials, like stainless steel. This will keep your frother working for years. Plastic frothers, in particular, may be more likely to break or need replacement parts.
Power Source
The next thing to look for is how your handheld frother is powered. The easiest and most powerful models are battery-operated and don't require manual pumping to aerate the milk. If you want a quick result without manual labor, then a battery-powered frother is better for you. Also, keep in mind that some frothers don't come with batteries, so you'll need to purchase them separately.
If you want a little workout in the morning or you want to save money on batteries, you may prefer a manual frother.
Size
Size can be an important factor when it comes to storing your frother. Most frothers are small and can easily fit into your kitchen. Small frothers are also fantastic for traveling if you want foam on the go. However, some manual frothers can be larger and take up more space. Consider where you want to keep your frother or if you plan to take it with you when you travel before making a purchase.
Cleaning
Most frothers are easy to clean. Hand washing is easy, as these machines practically clean themselves. Put the frother into hot water and turn it on, and it'll take care of the rest. For those who want the convenience of putting it in the dishwasher, some models are dishwasher-safe. This difference does not affect the quality of the frother. We recommend that you go with your personal preference since this product requires cleaning after each use.
RELATED READS: What's the difference between steamed and frothed milk?
Final Verdict
So which model should you buy? We highly recommend our #1 pick: the PowerLix, which gives you a good froth along with many other benefits. Our tests showed us that MatchaDNA milk frother is the best handheld milk frother for the money since it produces quick, rich foam, and is easy on the wallet.
After navigating through our reviews and buyer's guide, we hope you find the best handheld milk frother for your needs.
While you're waiting for your handheld frother to arrive, why not try one of our nine ways to froth milk at home?
RELATED READS: What's the best electric milk frother?