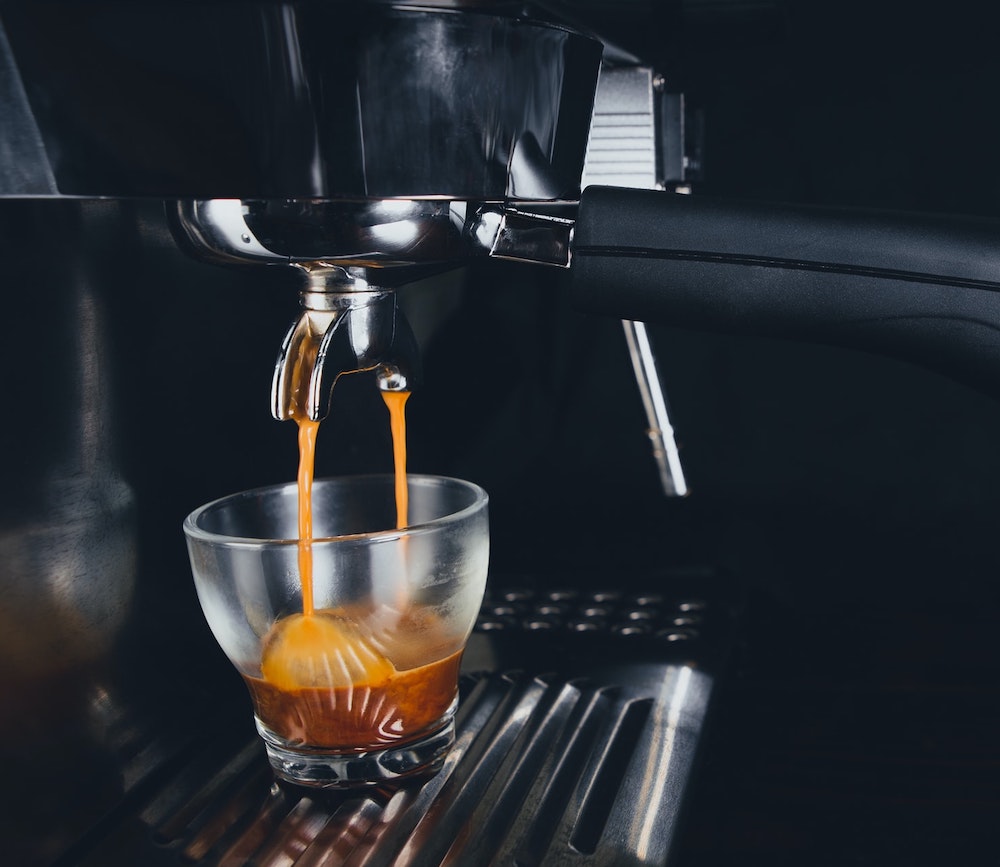 If you're a fan of buying your coffee at a chain, you've probably discovered the joys of lattes, cappuccinos, and straight espresso drinks. However, you probably don't love the price tag that comes with those drinks. Making your own espresso drinks at home is a great way to save money, but it also means that you can get drinks exactly how you want, which means you'll never be unsatisfied with a store-bought coffee ever again.
However, it's not always easy to shop online, and it's not easy to find a good budget espresso machine. But, you've come to the right place. We've assembled this list of reviews of the best espresso machines under $100 so that you can find the model that will work best for you. We've also created a buyer's guide so if you've never made your own drinks before; you'll have a chance to learn what separates the best models from the not-so-great ones.
---
Our 5 Favorite Picks for 2023:
Image
Product
Details

Best Overall

Hamilton Beach 40792

Excellent pressure
Use pods or loose grounds
Swiveling steam wand

De'Longhi

Uses pods or ground coffee
Swivel jet frother
Self-priming

Best Value

Unique Imports

Powerful
Cool-touch decanter handle
Included measuring scoop

Hamilton Beach 40715

Powerful
Dual-shot brewing
Fast

Mr. Coffee

Dual-shot brewing
Affordable
Milk frothing wand
The 5 Best Espresso Machines Under $100
1. Hamilton Beach 40792 Espresso Machine – Best Overall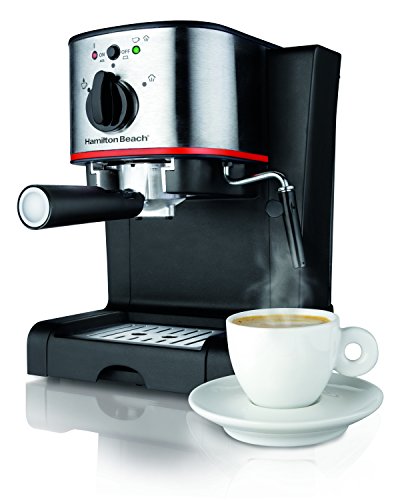 The Hamilton Beach 40792 is our choice as the best espresso machine under $100. It comes with some of the best pressure of any machine on this list, which makes for strong, flavorful coffee. It also comes with the option to use either ground espresso or a pod, so that you have flexibility between price and ease of use. The swiveling steam wand makes it easy to use and makes great frothed milk.
It also comes with a cup warmer, so that you won't lose any of your heat to your cup itself. It's a model that is easy to clean, which means you'll be able to keep things sanitary and keep the flavor of your drinks pure. The one downside to this model is that the first cup sometimes comes out lukewarm, but this can be solved by running water through without any grounds first and using the second, hot round as the base for your drink. If you're looking for a great espresso machine under $100, this model is a great buy.
Pros
Excellent pressure
Use pods or loose grounds
Swiveling steam wand
Cup warmer
---
2. De'Longhi EC155 Espresso Machine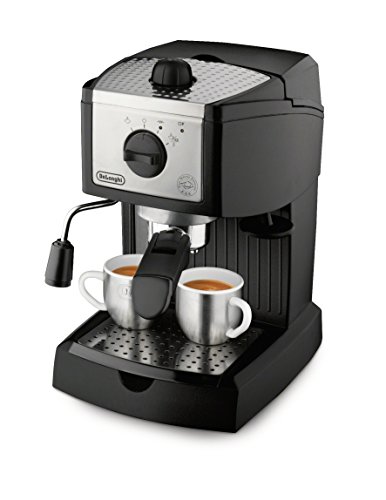 The De'Longhi EC155 is a quality espresso machine that doesn't break the bank. It can work with either espresso pods or ground coffee, giving you flexibility when it comes to which brands you use. It comes with an easy-to-use swivel jet frother, which allows you to froth your milk quickly with consistently-good results. It also comes with separate steam and water thermostats, which means that the machine is always keeping both at the right temperature, giving you the ability to make high-quality drinks.
It is also self-priming so that you get to avoid the long startup times that you might experience with other units. Unfortunately, this model has some moderate durability problems. Most models will last about a year without any kind of technical problem, but almost all of them fail before they hit their 18-month anniversary. This is common for espresso machines at this price point, but it's just too bad that it happens to one with this much upside in other areas. If you're okay with replacing your espresso machine every year or so or need to tide yourself over until you can afford something more durable, this is a great model for you.
Pros
Uses pods or ground coffee
Swivel jet frother
Self-priming
Separate steam and water thermostats
---
3. Unique Imports Cappuccino & Espresso Maker – Best Value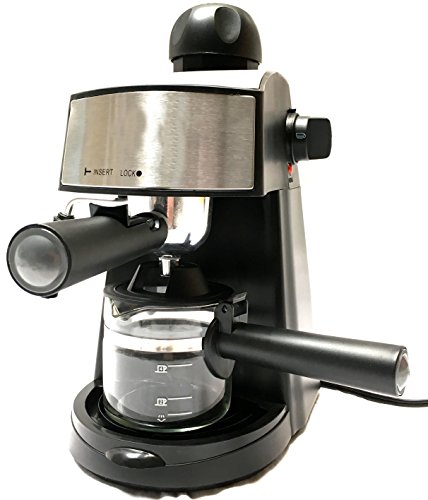 The Unique Imports Espresso & Cappuccino Maker is our choice as the best value for the money. It containers enough power to create great espresso at a price that would be hard to beat. It comes with a glass decanter, which is a high-quality part that you're not going to get with most other models in this price bracket. It also comes with a cool-touch handle, which saves you from worrying about accidental burns.
It also includes a measuring cup, which makes getting the right amount of espresso easy and quick, every time. One downside to this model is that it doesn't froth milk all that well. You may end up wanting to buy a hand-frother if you value that part of the operation. Overall, this model makes great espresso at a fantastic price, and it's certainly worth checking out.
Pros
Powerful
Cool-touch decanter handle
Included measuring scoop
---
4. Hamilton Beach 40715 Espresso Machine Brewer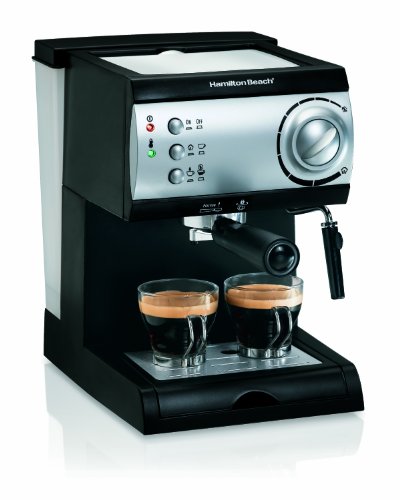 The Hamilton Beach 40715 is made by the same company as the first entry on our list, and while it shares some features, it is overall a very different espresso maker. The good news is that it has good power for forcing the water through the espresso, and it can brew two cups of espresso at once, which saves you a lot of time if you're making espresso for multiple people.
However, this model comes with significant downsides that move it down on our list. The first is that it's very loud, even for espresso machines. It also vibrates a lot. These vibrations are strong enough to bounce most cups that you set on the machine, so you have to keep a careful watch on them while it works. It's also pretty slow to start, taking 5 minutes or more to reach optimal internal temperatures for steaming and brewing espresso. Overall, these are surmountable obstacles, but you have to ask yourself if it's worth it to save a bit of money but still have to put up with these issues.
Pros
Powerful
Dual-shot brewing
Cons
Loud
High vibration
Slow to start
---
5. Mr Coffee ECMP50-RB Espresso Machine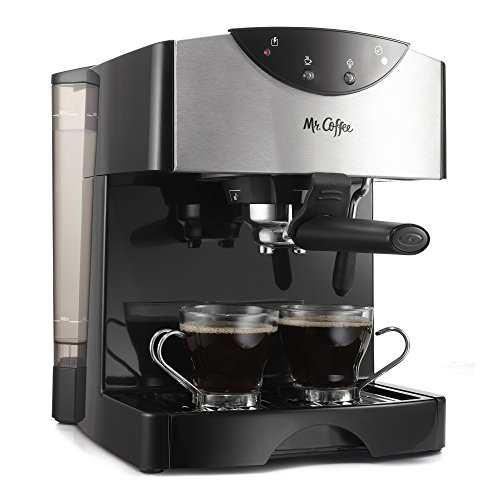 The Mr. Coffee ECMP50-RB is a discount model that in theory can brew two single-shots of espresso at once. It does that decently well, but the rest of the machine has several significant problems. The frothing arm is the source of many of those. It comes with a black, rubber cover that greatly reduces its ability to froth milk. It's confusing why they included the part, as removing it results in much better frothing abilities.
Add that to the fact that this model has durability problems, and you've got a recipe for disaster. This model often lasts only nine months, which means you're going to have to replace it in less than a year, which is a horrible lifespan for an espresso machine, even a cheap one like this model. There's not a whole lot of reasons that a person should consider this model. In just about every scenario, you're better off spending the same amount of money, or less, for a model with better value.
Cons
Subpar steaming arm
Durability problems
---
Buyer's Guide
If you've never used an espresso machine before, you might not know what features are important and which ones you can safely skip. Shopping online doesn't make things any easier, since manufacturers sometimes exaggerate what a model can do or leave out information about that model's shortcomings. This buyer's guide is designed to help you overcome those obstacles by showing you what features we considered in our rankings, and which ones you should look out for when shopping for an espresso machine.
Quality of Frother
The Quality of the milk frother is something that can generally tell you a lot about the espresso machine as a whole. If the machine has a great milk frother, then it is typically a great machine. If the frother is average, so is the machine, and if it is not that great, that's what you can expect of the machine as a whole.
There are exceptions to this rule, of course, but it never hurts to find out how good the milk frother is. Signs that it's a poor milk frother include it having a rubber cover on the outside, as well as being completely fixed to the machine. Better machines have adjustable milk frothers so that you can work at an angle you find comfortable.
Ease of Use
How easy a machine is to use is also something that should be considered when considering different models of espresso machines. Some models are quick to start up, saving you time. Some models come with tools that make it easy to tamp down your espresso grounds, while others need a nearly perfect fit to close properly. Some make it easy to get everything locked down, while others have design flaws that make it nearly impossible to get the tray in the proper position, even when you've done everything right.
That makes this a good category for "tiebreaking." If you're trying to choose between two models and don't know which to get, then a good way to decide is to figure out which one has features designed to make using it easy. Most of the time that creates a clear winner.
Which espresso machine should you choose?
No one model of espresso machine is going to be right for everyone. Overall, the best way to go about buying an espresso machine is to figure out which model has all of the features that you need, but skips the ones that you don't, so that you get the best value for your money.

Conclusion:
The Hamilton Beach 40792 is one of the best espresso machines on the market for under $100, coming with excellent pressure and the ability to use loose grounds or espresso pods. The De'Longhi EC155 is self-priming for ease of use and features separate thermostats for coffee and steam so that you can make the ultimate drink. The Unique Imports Espresso & Cappuccino Maker, with an included glass decanter that you won't find anywhere else for the same great price. The Hamilton Beach 40715 could be useful if you have a small budget but has issues you'll have to deal with. The Mr. Coffee ECMP50-RB is a disappointing model that won't get the job done for most people.
Hopefully, our reviews have helped you figure out which model is best for you. It's not easy to shop online, but you should now be able to buy with confidence.

More espresso articles:
---
Featured Image Credit: Tim St. Martin, Unsplash