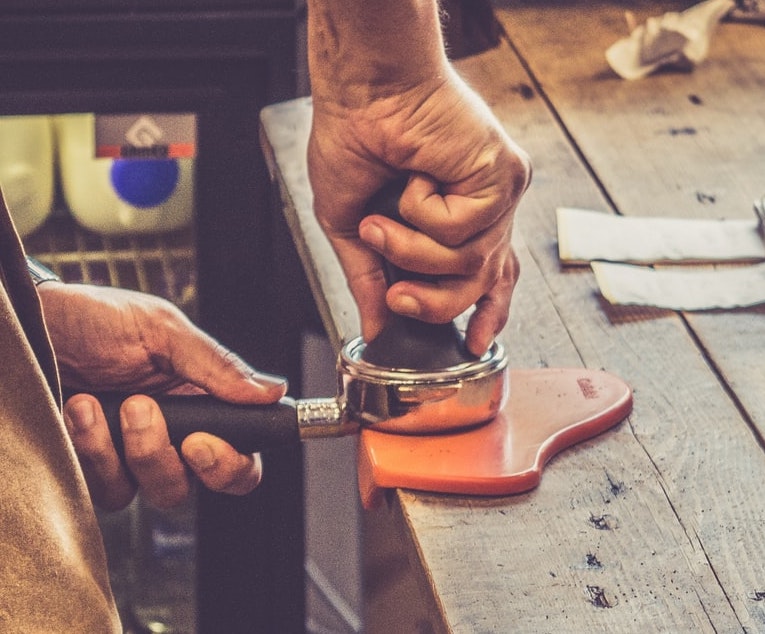 There's nothing like bringing home a new espresso machine, but without a trusty tamper, it will be difficult to pull consistently great shots. You'll want to make sure that you purchase the right one. Because tamping is such a physical and variable process, a whole wide range of tampers has popped up.
In order to save you some time, we've gone through reviews and picked our eight favorite options out there. We hope that this guide will help you to achieve that wonderfully consistent and reliable tamp.
---
A Quick Glance at our Favorites in 2023
Image
Product
Details

Top Pick

LuxHaus

Calibrated for consistency
Ergonomic handle
Effective design

Best for the Money

Apexstone

Very simple
Nice, hefty feel
Great value

FEENM

30-35 pounds of pressure
Ergonomic handle
Very consistent

RSVP Terry's

Double-sided for versatility
Super simple
Strong alloy

Omgogo

Ergonomic grip
Multiple size options
Simple design
The 8 Best Espresso Tampers
1. LuxHaus 53mm Calibrated Pressure Espresso Tamper – Top Pick
Any big-time espresso aficionados out there will likely know all about LuxHaus tampers. We love the 53mm model because it goes just one step beyond the traditional models. Thanks to the precise calibration, you'll have no trouble at all getting the perfect tamp.
When you begin to press down, your force will build up in the handle, and once you reach the correct pressure, the handle will depress and push down on the tamping end. This may seem like a somewhat complicated mechanism, but we love this feature because it ensures maximum consistency. You'll easily achieve even tamps every time.
We also love how this option feels in the hand. LuxHaus has designed a wonderfully ergonomic handle. Even though it is a bit short, we do appreciate that it has a satisfying heft.
This is a great choice for anyone seeking perfect consistency, as well as a well-designed and comfortably understated product.
Pros
Calibrated for consistency
Ergonomic handle
Cons
Shorter handle
Flattened bottom may not be best for all baristas
---
2. Apexstone Espresso Tamper – Best for the Money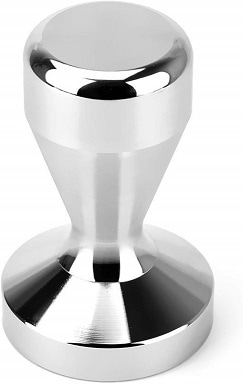 While the LuxHaus is most notable for its precision features, the Apexstone Espresso Coffee & Espresso Tamper is great for anyone looking for a much simpler option. This is our pick as "Best for the Money" because it just works really well.
There's nothing ostentatious about this one. The Apexstone tamper is made from chrome-plated iron, and it projects a no-nonsense appearance. It has a nice hefty feel in the hand, thanks to its 700 grams of weight, and this will help you achieve meaningful pressure with each tamp.
Another important feature that we love is the customer service. This tamper comes with a one-year all-inclusive warranty. Of course, it's very unlikely that there would be any manufacturing defect in such a simple and sturdy product. But if for some reason you don't love using the Apexstone, feel free to send it back for an exchange or refund. For all these reasons, we think this is definitely the right tamper for anyone looking to get the most for their money.
Explore the handful of different diameters that this tamper is available in.
Pros
Very simple
Nice, hefty feel
Cons
No pressure calibration
Not especially ergonomic
---
3. FEENM 58mm Calibrated Espresso Tamper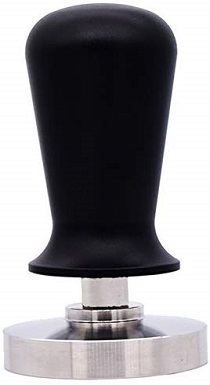 The FEENM 58mm Calibrated Coffee Espresso Tamper is quite similar to the LuxHaus above, but we think it's also worth mentioning.
This tamper is calibrated to ensure that every press produces the same amount of pressure. This is great because – once again – this consistency is the key to being able to dial in appropriately and to produce properly extracted espresso.
We're not quite as excited about this tamper as we are about the LuxHaus, and this is primarily because of issues with construction. Many users have reported that the internal mechanisms require some continual re-greasing, and that the mechanism seems to wear down quickly. Overall, this is not too big an issue. For such a modest price, problems like these may be expected – but it does mean that this might just be a good tamper to experiment with, before moving on to a more serious option.
Pros
Calibrated to produce 30-35 pounds of pressure
Ergonomic handle
Cons
Issues with internal mechanism
Relatively light
---
4. RSVP Terry's Dual Sided Espresso Tamper
Terry's Dual Sided Espresso Tamper, by RSVP, is a versatile and solid option. Thanks to its combination of two different tamp heads, it will work with either a 51mm portafilter, or a 58mm portafilter.
The RSVP tamper is made out of a strong alloy, and it has been cast to ensure no blemishes and a rust-free finish. As an added bonus, it's super easy to clean – just rinse after use. Be careful about putting this tamper in the dishwasher, as some users report that this can cause the metal to tarnish.
We love this option, but we're a little bummed that it doesn't have a more satisfying feel. Because this tamper is so simple, it is actually very lightweight, and this means that it lacks a substantial feel in the hand.
Pros
Double-sided for versatility
Super simple
Cons
A little lightweight and cheap-feeling
No ergonomic handhold
---
5. Omgogo 53mm Stainless Steel Coffee Tamper
The Stainless Steel Coffee Tamper from Omgogo is accented nicely, thanks to its solid wood handle. The handle is shaped to provide a pleasant ergonomic grip, and it's this combination of form coupled with function that we appreciate most about this tamper.
Connected to the beautiful handle is the base, which can be found in 49, 51, 53, 57.5, and 58 mm diameters. Many users have had problems with the handle being slightly askew or with tiny nicks in the surface of the tamping head. These are small issues which can easily be overcome, but oversight like this is disappointing. It is for this reason that we're not ranking this product any higher.
This is a respectable tamper for an incredible price. If you're looking for quick bang-for-your buck, this is a great choice. And if you're drawn to the natural wood finish, this tamper will look great on your kitchen counter.
Pros
Ergonomic grip
Many different size options
Cons
Some issues with construction
Not dishwasher safe
---
6. PerriRock Stainless Steel Coffee Tamper Barista Espresso Tamper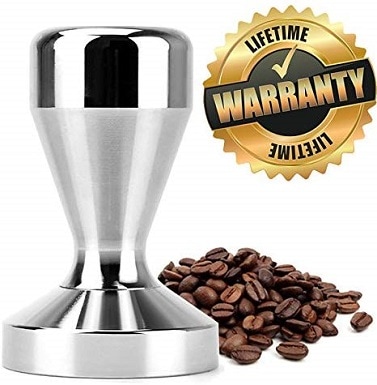 The PerriRock Stainless Steel Coffee Tamper is different from the previous models, primarily in that it features a convex head. While many baristas seek out a perfectly level tamper, there are others who argue in favor of a rounded head like this one. If you're looking for a convex tamper, this is a great choice.
The PerriRock is a standard 51mm in diameter, and it weighs 570 grams. This means it's able to provide a satisfying weight in your hand, without being simply too heavy and being a nuisance.
It's made from stainless steel, like many of our other picks. This tamper is actually two parts that have been fastened with a heavy-duty bolt. In general, there shouldn't be any problem, but some customers report having to fidget around to ensure that a polishing twist at the end of a tamp doesn't actually separate the handle from the base.
Pros
Nice solid feel
Convex tamping head is a nice option for some
Cons
Slightly uncomfortable handle
Only one size option
---
7. New Star Foodservice 43310 Casting Aluminum Espresso Tamper
Much like the RSVP tamper, the New Star Foodservice Casting Aluminum Espresso Tamper is actually two convenient tampers in one. With a very simple design, it can be flipped over in order to accommodate either a 50mm or a 56mm diameter portafilter.
We love the concept, but this tamper is not particularly special in any way, and it's for this reason that we're not ranking it higher.
Because this tamper is cast from aluminum, it is not actually dishwasher safe. It must be handwashed gently. The tamping head may begin to corrode after extensive use, thanks to the natural acids found in your coffee grinds.
While it will certainly get the job done, unless you need two different sizes readily available, your hands may wish for a more ergonomic handle.
Pros
Great price
Simple design
Cons
Made from aluminum – not dishwasher safe
Difficult to hold
---
8. HIC Harold Import Co 43739 HIC Dual-Sided Espresso Tamper
The Dual-Sided Espresso Tamper from the Harold Import Co is very similar to the other dual-sided tampers that we've picked, but we think it stands out most for its relative lightness.
While this slight weight makes this a good option for anyone who struggles with mobility, this is actually thanks to its relatively shoddy construction. Rather than being cast out of stainless steel or iron, this tamper is constructed from a molded polycarbonate. This means that the quality is substantially less than many of our other picks.
Be careful about washing this tamper. The polycarbonate is coated in a metallic covering, and if you scrub a bit too hard, this will begin to peel off. This is frustrating, but – again – we do think this is a good option for anyone seeking out the most lightweight tamper on the market.
Pros
Very lightweight
Interesting styling
Cons
Not well constructed
Difficult to hold
---
Buyer's Guide: Finding the Best Espresso Tamper
Many professional baristas would be quick to argue that tamping is actually the most crucial stage in pulling a shot. It's the tamping that ensures an even (or uneven) extraction from the espresso puck, and it's what balances all the interesting tastes that should be in your shot.
For these reasons, it's definitely important to find a tamper that's right for you. Because tamping is such a hands-on process (literally), we all have our individual preferences. Here are some factors to keep in mind when making your decision.
Flat or Convex
It's worth considering whether you'd rather use a convex tamping head or a flat one. The vast majority of tampers on the market are flattened at the bottom. In fact, manufacturers are often eager to brag about how precisely level their heads are. The idea is that a level surface will ensure water from the group-head is dispersed entirely evenly through the puck.
However, some baristas prefer a convex end to their tamping devices. With a convex surface, you'll be less likely to end up with a tilted surface, and you'll be able to allow your tamper to settle into the puck more evenly. A convex tamper will, of course, leave an indentation in the middle of your espresso grinds. Some purists may worry that this will lead to a discrepancy in extraction.
Calibrated or Not
Another important consideration is whether you'd like a calibrated tamper, or a standard no-nonsense option. In addition to aiming for a perfectly level tamp, baristas are also always in search of the right amount of pressure. Calibrated tampers will ensure that you press down with the same amount of pressure each time.
If you don't yet feel comfortable in your consistency, a calibrated tamper is a great option. Using one can help to train your body to move in just the right way, and with the level of consistency that will promise a better shot.
Our other guides like this:

Conclusion
Once you figure out which of these options is right for you, you'll be able to rest easy knowing that your pucks will always be leveled in the same exact way. And once you've mastered the consistent tamp, you'll be all set to move on to experimenting with other aspects of the espresso process – like grind, timing, and pressure. But it all starts with the tamp.
We hope these reviews have helped to make your decision easier. Once again, our top pick is the 53mm Calibrated Pressure Tamper from LuxHaus, and our runner-up is the straightforward Espresso Coffee & Espresso Tamper from Apexstone.
RELATED READ: The 10 Best Espresso Accessories