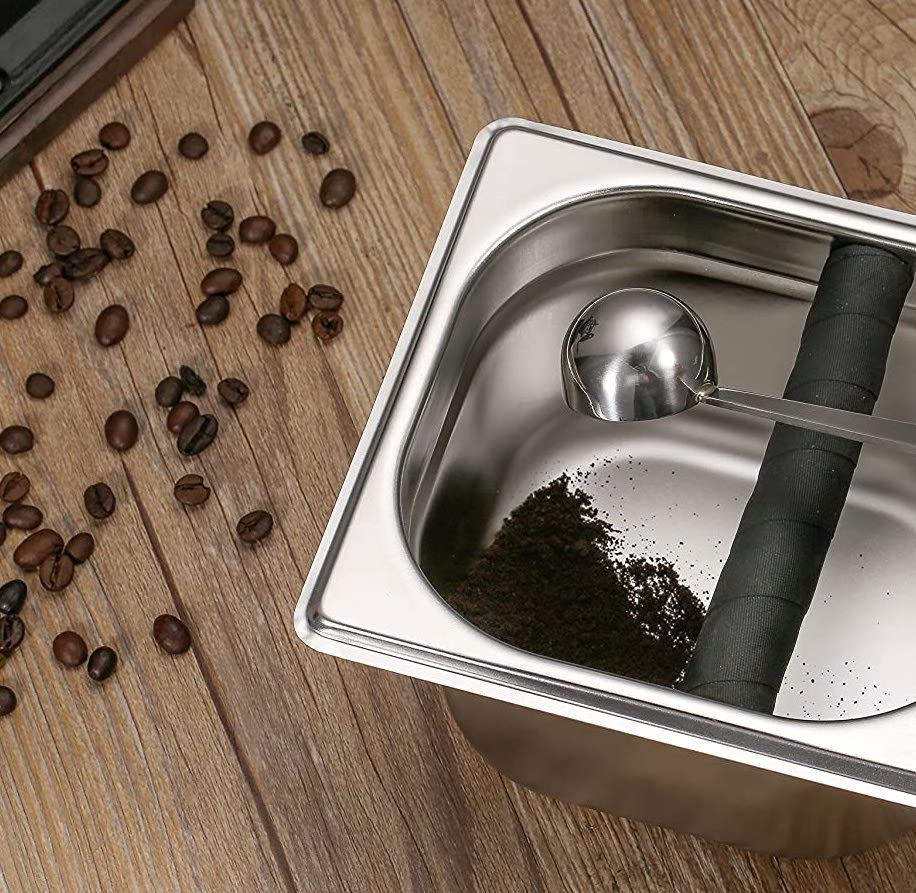 Picture this: you've just brewed a perfect, professional-grade espresso shot with your gleaming espresso machine. You pull out the shiny portafilter and bang it on your trash can, dropping the filter into the trash and splattering grounds everywhere. Or, worse yet, you clog your plumbing by washing the grounds down the sink.
The solution? An inexpensive knock box, conveniently located next to your espresso maker, can collect your used pucks. You'll have a cleaner kitchen and look like a professional barista at the same time. These handy little boxes have even inspired some coffee-themed satire.
Knock boxes may seem simple enough, but choosing the right one for you will save you frustration and upgrade your espresso brewing experience. To help you decide, we created this guide to the eight best espresso knock boxes of the year. For our in-depth reviews, we compared size, durability, design, and price across the brands. Keep reading for our top picks and a quick guide to what makes a great knock box.
---
A Quick Comparison of Our Favorite Picks in 2023
Image
Product
Details

Best Overall

Dreamfarm Grindenstein

Durable
Includes fertilizer booklet
Non-slip rubber ring

Best Value

Apexstone

Durable stainless steel
Non-slip weighted bottom
Easy to clean

Breville Barista-Style

Non-slip polymer ring
Large capacity
Durable stainless steel body

Cafelat Tubbi

Non-slip gasket
Dishwasher-safe
Replacement bars available

Home Dept

Non-slip gasket
Stainless steel
Can be used for tamping
The 8 Best Espresso Knock Boxes
1. Dreamfarm Grindenstein Espresso Knock Box – Best Overall
Our favorite knock box is the sturdy and compact Dreamfarm Grindenstein. This 14-ounce, four-inch–tall knock box is conveniently small enough to fit on your espresso machine's drip tray, freeing up counter space.
The Grindenstein is made of durable, dishwasher-safe plastic, and comes in black, red, and silver. While the rubber-coated steel bar is not removable, it's so sturdy that you probably won't need to replace it.
Because its opening is so small, we found this knock box to be a little more difficult to use. You may have to practice your technique to keep grounds from spilling. Its small capacity also means you'll have to empty it after five or six pucks. As a bonus, this model comes with a handy booklet on how to turn your used coffee grounds into fertilizer.
Pros
Small footprint
Durable
Non-slip rubber ring
Dishwasher-safe
Good customer service
Includes fertilizer booklet
Cons
Smaller capacity
Small opening is more difficult to use
Non-removable bar
---
2. Apexstone Stainless Steel Espresso Knock Box – Best Value
If you're looking for a knock box that's simple, durable, and wallet-friendly, check out Apexstone's stainless steel offering. With its durability and simple design, this knock box far outpaces its wallet-friendly price.
The Apexstone knock box has a wide opening, so you won't spill grounds everywhere, and impressive capacity, so you won't have to empty it constantly. On the other hand, it will take up more space on your counter.
The rubber-wrapped bar is non-removable, but at this price, you might as well replace the whole thing if it eventually wears out. Instead of a non-slip pad, the bottom of this knock box is weighted to prevent slipping.
Pros
Durable stainless steel
Large capacity
Non-slip weighted bottom
Easy to clean
Cons
Larger footprint
Not the most attractive
Non-removable bar
No non-slip rubber on the bottom
---
3. Breville BCB100 Barista-Style Coffee Knock Box
If you own a Breville espresso maker (like our favorite, the Breville BES870XL), you may not be able to resist this matching knock box. The stylish, die-cast Breville BCB100 is made from durable and elegant stainless steel.
Our favorite feature is the dishwasher-safe removable inner cup, which makes cleaning a breeze. This knock box also has a non-slip polymer ring.
The BCB100 does have some downsides, however. In testing, the plastic polymer bar dented easily and did not feel as durable as on other models. We also found that the bar is placed a little too high for comfortable use. This knock box also takes up a lot of counter space.
Pros
Dishwasher-safe removable inner cup
Attractive, durable stainless steel body
Non-slip polymer ring
Reasonable price
Large capacity
Cons
Non-durable polymer bar
Imperfect bar alignment
Large footprint
---
4. Cafelat Tubbi Knock Box
The Cafelat Tubbi is a streamlined plastic knock box that comes in five colors, including a vibrant yellow-green. It's incredibly easy to clean, dishwasher-safe, and features an easily removable rubber bar.
The rubber bar, however, is not perfectly designed. Though it does a great job of muffling sound, the bar is not very durable and gets scratched easily. In testing, we also found that the bar's end caps are not well-attached. Luckily, Cafelat sells replacement bars.
The Tubbi comes in two sizes, each with generous capacity. The five-inch small can hold 10 pucks, while the six-inch large can hold up to 40. It also features a non-slip silicone gasket.
Pros
Comes in five colors
Easy-to-remove, sound-muffling rubber bar
Replacement bars available
Simple, streamlined design
Dishwasher-safe
Large capacity
Non-slip gasket
Cons
Non-durable rubber bar
Less attractive design
---
5. HomeDept Espresso Knock Box and Coffee Grind Dump Container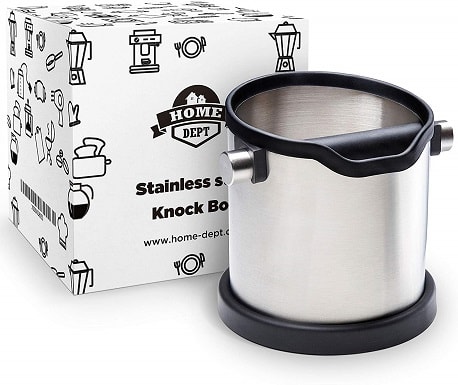 If you've got the space, the HomeDept Espresso Knock Box could be another good option. Its stainless steel and silicone construction gives it an expensive feel and mixes well with other steel appliances. The silicone pieces and rubber bar are easy to remove, leaving a dishwasher-safe one-piece steel base.
At over two pounds and seven inches tall, this is not a lightweight knock box. It has a large footprint and a capacity of 15 to 20 pucks, with a non-slip rubber bottom.
Though we found the silicone pieces to feel less durable, HomeDept sells replacement parts and offers excellent, responsive customer service. As an added feature, the HomeDept knock box is also designed to be used as a portafilter tamping station.
Pros
Large capacity
Stainless steel and silicone construction
Removable bar
Replacement parts available
Excellent customer service
Non-slip rubber bottom
Easy to take apart
Dishwasher-safe
Works as a tamping station
Cons
Large footprint
Heavy
Less durable silicone parts
---
6. HOMEE Espresso Knock Box
Featuring a very similar design to the Tubbi, but at a more attractive price, the HOMEE Espresso Knock Box is made of durable plastic with an easily removable rubber-coated steel bar. With a compact footprint, the HOMEE will fit easily on your counter, but the smaller capacity of five to six pucks is less convenient.
In testing, we found that the HOMEE knock box was very stable, with a durable feel and an effective non-slip gasket. There are reports of the rubber bars splitting, but unfortunately this company does not sell replacement bars.
Pros
Streamlined design
Low price
Easily removable rubber-coated steel bar
Non-slip gasket
Small footprint
Cons
No replacement bars
Small capacity
---
7. Saizone "Knock Me" Espresso Coffee Grind Knock Box
The Saizone "Knock Me" box has a very similar design to our top budget pick, the Apexstone, with a stainless steel construction and rubber-wrapped, non-removable knock bar. However, it costs about twice as much. The difference? This knock box comes with a decorative wooden box emblazoned in gold with "Knock Me."
The "Knock Me" is durable and works well. However, the outer box doesn't provide enough added value to justify the higher cost, and the decorative elements may not work with your kitchen's aesthetics. With a large footprint and weighing over two pounds, this knock box is also not a particularly compact option.
Pros
Includes outer wooden box
Durable stainless steel with rubber bar
Good customer service
Cons
Large
Heavy
Decorative box may not be your style
More expensive
Non-removable bar
---
8. RSVP Commercial Stainless Steel Espresso KnockBox
With the highest price of all of the knock boxes we reviewed, a clunky, unattractive design, and non-durable rubber parts, the RSVP Commercial knock box is our least favorite option. This model is made of stainless steel with a weighted non-slip rubber base and a removable rubber-coated bar.
At over six inches tall and one and a half pounds, this knock box is a bulky addition to your kitchen counter. The rubber bar does not feel very durable, as the grommets are easily damaged. RSVP does sell replacement bars.
Pros
Removable rubber-coated bar
Durable stainless steel body
Weighted non-slip rubber base
Replacement bars available
Cons
Higher cost
Heavy
Non-durable rubber parts
Non-durable bar
Less attractive design
---
Buyer's Guide: Finding the Best Espresso Knock Box
Knock boxes may seem simple, but the perfect design could mean the difference between frustrating and satisfying espresso brewing experiences. How do you know which features will make your life easier? Let's dive a little deeper into your espresso knock box options.
Durability
The name says it all. These little boxes are meant to be knocked around, so you'll want to make sure you pick one that can handle it.
Non-slip design
You don't want your knock box sliding around when you hit it, so keep an eye out for non-slip features like weighted bottoms and rubber gaskets.
Bar design
The bar is the piece that takes all the knocking, so you'll want it to be strong enough to handle that. You'll also need it to be padded enough to absorb the knocking noise and protect your portafilter handle from scratching or denting. Look for durable rubber coating around stainless steel or hard plastic bars.
Replacements
Hopefully, your knock box will last for years. But if it does start to fall apart, do you want to be able to buy replacement parts? Some companies offer replacement bars, inner cups, or non-slip pads. If you buy a cheaper knock box, you may just want to replace the whole thing.
Opening size
What's your knock box skill level? The bigger the opening, the easier (and less messy) it will be to knock out your espresso pucks.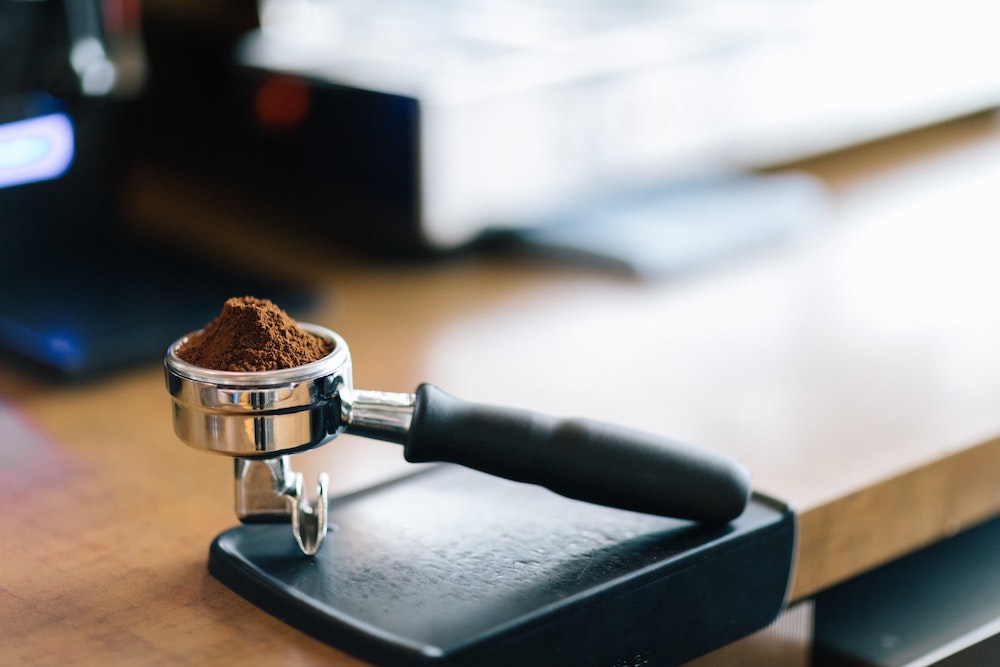 Capacity
If you make a lot of espresso shots every day, you may want a knock box with more capacity, so you won't have to empty it constantly. On the other hand, if you only make one or two a day, you may want to prioritize your counter space or other features instead.
Counter space
How much space are you willing to dedicate to a knock box? If your espresso maker already takes up a lot of space or you're operating in a small kitchen, you may want the smallest knock box available.
Price
You've already invested in an espresso maker. Do you want to spend a bit more for the perfect accessory, or are you looking to maximize value and minimize the strain on your wallet?
Appearance
How important is style to you? Most knock boxes are made from plastic or stainless steel, but designs vary widely. Do you just want the practical box, or do you want a nicer box holder or a knock box that matches your espresso machine?
Ease of cleaning
You'll probably want to wash your knock box fairly frequently. Do you want it to be dishwasher-safe? Will a removable bar make your cleaning experience easier?
With these important features in mind, you can shop for a knock box with confidence. Whether you prefer compact or spacious, plastic or stainless steel, there are plenty of great options available.
Once you find the perfect one, what do you do with all those collected grounds? Take a look at our guide to the best uses for used coffee grounds.

Conclusion
Our all-around favorite knock box is the lightweight yet sturdy Dreamfarm Grindenstein, with its simple plastic design and tough rubber bar. If your wallet is feeling a little lighter, the stainless steel Apexstone knock box is a cost-effective and durable option.
A great knock box can be a valuable upgrade to your espresso-making process. These simple boxes make cleaning easier and let you brew espresso like a pro. We hope that our detailed reviews of this year's eight best espresso knock boxes, plus our quick guide to the best features and options, help you find the right espresso accessory.