There are so many wonderful things about Nespresso machines and the delicious crema they can produce. For starters, there's the ease of use and the convenience of being able to produce almost instantaneous single servings of coffee.
But there's one big glaring downside to the Nespresso world – and it's that most pods are only single-use. You may be struggling to deal with daily piles of used capsules, or you may be cautious about purchasing a new machine just to then have to buy a whole bunch of environmentally irresponsible pods.
You'll likely enjoy these refillable Nespresso pods. While these products are all fairly straightforward, there's a broad range of options out there. Because of this, we've sorted through reviews so that you'll be able to make an informed choice and find the option that's right for you.
---
A Quick Summary of our Favorites (Updated 2023)
Image
Product
Details

Best Overall

Cafilas Steel Capsules

Exceptional crema
Simple push-top with rubber gaskets
Original line

Best for VertuoLine

Bluesea Refillable Capsules

Solid construction
Well-designed top
VertuoLine

Capmesso Reusable Capsules

Satisfying crema
Reliable and consistent
Original line

Best Value

Seal Pod Capsules

Simple to fill
Easy to clean
Original line

Alchemy Bar Goods Capsules

Easy to clean
Long-lasting
Original line
The 5 Best Nespresso Reusable Capsules
1. Cafilas Reusable Capsules (Original Line) – Best Overall
These capsules by Cafilas make bold promises about crema. And for the most part, they don't disappoint. They're made from stainless steel, so they're very durable and can be reused endlessly. Thanks to a clever rubber gasket around the rim, these pods can produce a strong seal and make the ever-important crema that we all expect from espresso.
Many users recommend filling these capsules to just below the top, but not any farther. This is because filling these pods can often lead to problems with the water being able to push all the way through. Additionally, it's best to leave some room for water to fill the capsule before breaking the seal – this will produce stronger and more satisfying coffee. Remember to use fine-ground beans and not anything too coarse.
This is our top pick for best Nespresso refillable capsule because of the wonderful crema.
Pros
Exceptional crema
Simple push-top with rubber gaskets
Cons
A little pricier than other options
Incompatible with some newer machines – double-check to confirm compatibility
---
2. Bluesea Coffee Capsule (Vertuo Line) – Best for Vertuo Line
Next up is our top pick for the Vertuo line. Because of the differences in the brewing process, many of the reusable pods on the market are intended for the Original line of Nespresso machines, and very few are built for the Vertuo line. This is because the mechanics of the Vertuo process are more complicated. These pods need to spin rapidly, and it's this spinning motion that mixes the coffee and water properly.
The Bluesea Coffee Capsules aim to fill the space left by a lack of Vertuo refillable options, and they do so very well. The stainless steel finish of these pods looks wonderful, and it also means that these capsules will hold up over time. Don't worry about any espresso seeping into the surface and leaving behind a residue – that won't be a problem with the steel.
These capsules are a great choice for anyone who is excited about a newer Vertuo line machine, and who is looking for a more sustainable way to get a morning coffee fix.
Pros
Solid construction
Well-designed top promises great crema
Cons
A pricier option
Only compatible with Vertuo machines
---
3. CAPMESSO Reusable Espresso Capsules (Original Line)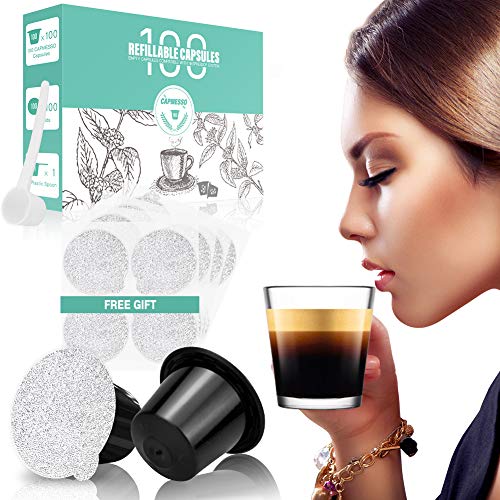 The CAPMESSO Reusable Espresso Capsules are a very simple option, and perhaps a great one to consider for anyone who wants simple operation and doesn't mind using sticker tops. These capsules use foil tops, which adhere to the cups.
After filling the CAPMESSO with your preferred coffee, you can simply press a foil cover onto the capsule and then slide the pod into your machine. This makes cleanup easy, but it does mean you'll need to occasionally re-stock the disposable tops. However, the sticker top does also generally produce better crema, and some users may especially appreciate this.
Because these pods are so light, they may not stand up to endless use. Expect these pods to – of course – last longer than a typical Nespresso pod. But also expect them to only handle about a month's worth of consistent use. These are not the answer if you're looking for an endlessly reusable option, but this is a great choice if you're looking for something in-between.
Pros
Satisfying crema
Reliable and consistent
Cons
Not endlessly reusable
A little difficult to clean
---
4. Sealpod – Stainless-Steel (Original Line) – Best Value
The Sealpod Stainless-Steel Refillable Pods stand out, because rather than using a flip top or any kind of latching, these pods rely on a sticker top. This is convenient because you'll have no trouble loading one up and getting it ready. You'll also have no trouble disposing of the used tops and doing a quick cleanup.
Unfortunately, you'll need to occasionally restock on tops, but if you don't mind this, the Sealpod is a great option. The sticker tops allow pressure to build up in a more reliable and even way than some alternatives, and this promises great crema.
Users generally enjoy this option and report that it works well. However, one small downside of the Sealpod is the size. Because the stainless steel needs to avoid the puncturing that would happen with traditional Nespresso pods, the Sealpod itself is a little smaller than typical pods. This means your shots may be smaller than a traditional Nespresso pod, but this will likely only be a small difference, and it may not be a big deal.
Pros
Quick and convenient to fill
Easy to clean
Cons
Disposable tops will need to be occasionally restocked
Smaller basket size may mean smaller shots
---
5. Alchemy Bar Goods Reusable Nespresso Capsules (Original Line)
The Reusable Nespresso Capsules by Alchemy Bar Goods are convenient in part because they're so easy to clean. These pods are totally dishwasher safe, and this can make the morning routine so much easier. Simply fill the capsule, lock the lid, make your drink, then empty the capsule into the compost and pop the reusable pod into the dishwasher to get ready for the next day.
Unlike some models, the Alchemy Bar Goods capsules use a latching top as opposed to a sticker lid. This means that pressure builds up before water is released through a valve of sorts. This system doesn't typically produce as much crema as a sticker-top option, but it is much more reliable and simpler to use. As a bonus, you won't ever need to restock on tops.
These capsules are made from BPA-free plastic, and they're rated to withstand the temperatures used in the Nespresso process. We appreciate touches such as this, but unfortunately, the flip-top design does get in the way of brewing crema-heavy rich espresso. Consider this option as a convenient alternative to disposable pods, but don't hold out hope for these to fully replace the typical Nespresso experience.
Because these pods cannot reliably produce super-strong coffee, we're including them as our last pick. This is a typical issue with refillable pods, and it's something to keep in mind.
Pros
Easy to clean
Long-lasting

Buyer's Guide: How to Find the Best Nespresso Refillable Capsules
It's a whole wild world of refillable capsules out there. Because these products are so simple to make – and are relatively basic – many different options have popped up. More so than with other coffee products, this means you have a wide variety of options to choose from. But it's still worth considering your purchase very carefully. Here are some important things to keep in mind.
Original Line or Vertuo Line
Think carefully about which type of capsule you are looking for. If you already own a Nespresso machine, double-check to make sure you're finding compatible pods. If you're looking to buy refillable capsules in anticipation of a nice new machine, take a look at our Nespresso guide.
The basic difference between the VertuoLine method and the Original method is in the mechanics. Original line machines simply use the capsules to create high pressure before pushing water through coffee grinds, in a fashion very similar to traditional espresso machines.
VertuoLine machines push water into the capsules and then spin them around to blend the water and grounds. This more involved process can produce better drinks, but it means that much more design has to go into the capsules.
For this reason, the majority of refillable pods here are designed for the Original line, but we do feature one that works well for the VertuoLine.
Different Tops
One of the most important components of any Nespresso capsule is the top. Of course, the lid is what allows pressure to build up before wonderful coffee is released. It's this pressure that creates beautiful crema, so it's important to find a good seal.
The capsules we've reviewed are pretty evenly split between those that use sticker-type tops and those that use latching tops. The difference is that sticker-type tops rely on adhesive and are disposable, while latch tops are a part of the capsules themselves.
One major drawback to the sticker-type tops is that you will need to occasionally restock. This means losing some of the convenience that refillable capsules promise. It also means that sticker-type tops are not as environmentally responsible as they could be.
But there is one major upside to the adhesive lids. Generally, these can handle a much higher build-up of pressure before releasing coffee. For this reason, sticker-type tops are a great choice for anyone looking for substantial crema.

Conclusion
With all the features and drawbacks mentioned above, it can be pretty daunting to sort through the variety of refillable Nespresso capsules. But now – after having taken a look at all of our reviews – you know a lot more about these great products.
Once again, we've made a handful of picks for you. Our top pick for the year, for the Original line machines is the Cafilas Stainless Steel Reusable Capsules, and our top pick for Vertuo line machines is the Bluesea Coffee Capsule. These are followed by the CAPMESSO Reusable Espresso Capsules, our runner-up for the Original line machines, and the Sealpod, our "best for the money" pick.
Hopefully, we've made your choice easier for you. If you choose from our list of the best refillable Nespresso capsules, we think you'll be pleased!