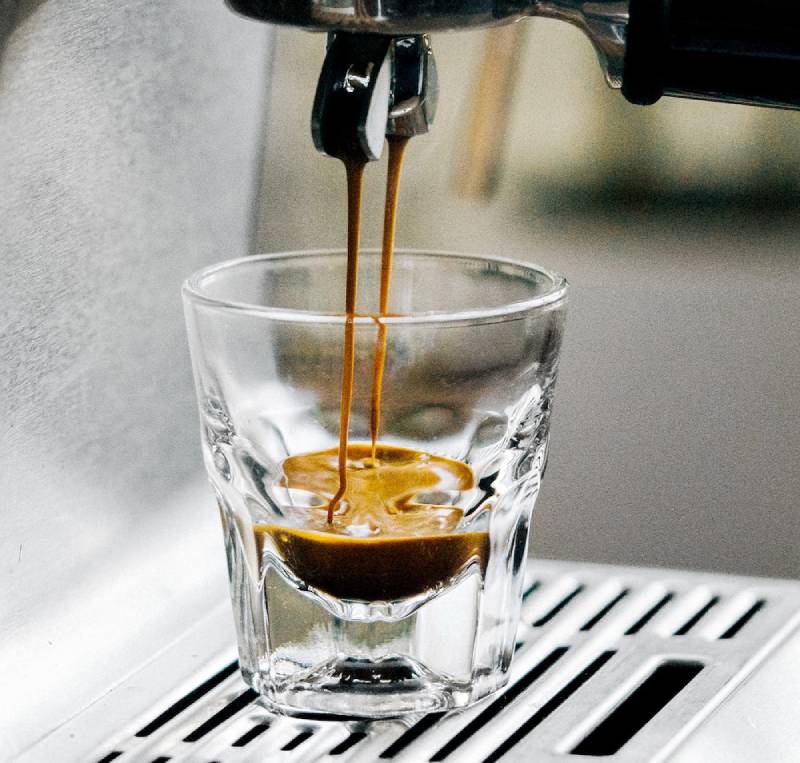 Our morning cup of coffee is as important and personal to us as are our clothing choices. Some prefer the simplicity of a drip machine or a single-cup Keurig brewer, while others like the hands-on pour-over method. If espresso is your coffee of choice, you can choose among a range of espresso machines. Today we will discuss the most authentic method: Italian espresso machines.
Let's be honest; Italian espresso machines aren't for everyone. But if you're in the market, we've done all the hard work for you, researching and testing the best machines. Here are our detailed reviews, comparing ease of use and cleaning, overall design, and price. Let's get started!
---
Comparison of our Favorites in 2023
Image
Product
Details

Best Overall

DELONGHI ESAM

Easy to use
Takes care of all the fuss
Attractive

Gaggia Brera

Fairly easy to use
Versatile
Very customizable

Best Value

Delonghi

Sleek and compact
Attractive
Delicious espresso

Best Italian Stovetop Espresso Maker

Bialetti Moka

Can produce amazing results
Cost-effective
Compact and easy to store

Nuova Simonelli Oscar II

For the pro coffee maker
Precise
Ergonomic
The 5 Best Italian Espresso Machines
1. DELONGHI ESAM 3300 Italian Espresso Machine – Best Overall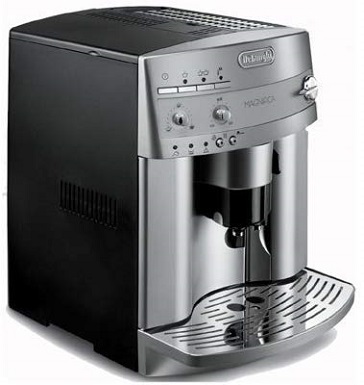 With the Delonghi ESAM 3300, you don't have to be a trained barista to prepare yourself a latte or cappuccino. Delonghi's patented Cappuccino System does everything from grinding the beans, pouring the shot, and even frothing the milk. This won't yield as good of a cup as a world-class barista, but you also won't have to pay it by the hour.
This machine is easy to use and easy to clean, which makes it ideal for larger gatherings or even your morning cup. It's also a really good looking machine, so you won't be embarrassed to have it on your kitchen counter. It's easy to see why this is our number one pick. Anything with a patented Cappuccino System is bound to impress your guests.
On the other hand, if you are a trained barista, this machine will take out all the fun of preparing your cup.
All in all, we think this is the best Italian espresso machine available this year.
Pros
Easy to use
Takes care of all the fuss
Attractive
Cons
No creativity allowed
Small water reservoir
---
2. Gaggia Brera Italian Espresso Machine
This Gaggia Brera Super Automatic is not quite as easy to use as the Delonghi ESAM 3300, which is to say that you have to do more than just push a button. It isn't our pick for the best Italian espresso machine, but it might be a better option for some of you out there. Here's the thing: this bad boy has options. From the strength of your coffee to the grind of your bean, this machine will let you decide. It doesn't come with the patented technology that our first model does, so you'll have to figure frothing out on your own. Of course, once you become proficient as frothing your own milk, you'll be able to make better drinks, so in the long run, this machine could yield a better product. Let's also be clear – this is not a hard machine to use; it's just harder than the first machine.
Of course, there are drawbacks. The water reservoir is small. It's not a tall machine, so some cups won't fit under the dispenser. And the steam wand dispenses the hot water, which may be a little less sanitary.
Pros
Fairly easy to use
Versatile
Very customizable
Cons
Small water tank
Too short for some cups
Less sanitary hot water dispensing
---
3. Delonghi Italian Espresso Maker – Best Value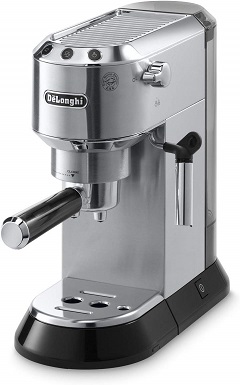 This machine is good; it's just not as good as the ESAM 3300. The shots are great, and it comes with three different baskets for one, two, or three shots. The water stays at a temperature needed to produce a wonderful drink – all for a fraction of the cost of the ESAM 3300.
However, there are some less appealing aspects of this machine. It's not as easy to use as the ESAM 3300. It also won't steam the milk for you, so you'll have to figure that out.
Now, some things about it might be more attractive to a prospective buyer than the ESAM 3300. It is smaller but still sleek. Some people prefer to be in control of frothing milk and with this machine you will be. Plus, it's tall, so you can use any cup.
But let's get down to why this is number three. Durability. This bad boy is more of a soft boy and has been known to break down in just months for some people. Sure, it comes with a warranty, but nobody gets a warranty with hopes of using it.
Pros
Sleek and compact
Attractive
Delicious espresso
Cons
Durability
Manual frothing
---
4. Bialetti Moka – Best Italian Stovetop Espresso Maker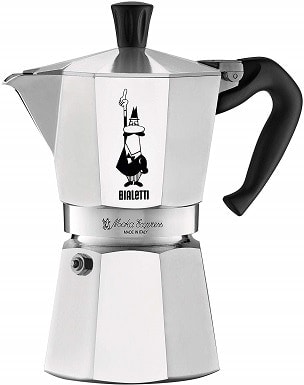 There is something so joyous about the simplicity of a Moka pot that we had to put it on this list. Sure, it lacks all the bells and whistles of an electric machine, but with a little bit of care and attention paid, you can get the best espresso you've ever had out of one of these little guys. With that being said, the Bialetti is, in our opinion, the best Italian Moka pot. Why? It's durable, cost effective, and easy to use – if you know what you're doing.
Yes, you have to pay attention to this. Getting the grind size right and filling the compartments correctly will make a big difference. But it doesn't take long (about 5 minutes) and it is small and easy to store. You won't get the full espresso experience, but you'll spend a fraction of the money.
Pros
Can produce amazing results
Cost-effective
Compact and easy to store
Cons
Doesn't produce full espresso
Needs more attention
---
5. Nuova Simonelli Oscar II Espresso Machine (made in Italy)
This machine is as close to commercial as it gets for home use, so it wouldn't be recommended for those who want the work done for them. To put it another way, if our top pick intrigues you, you should stay away from this machine.
Once you have the barista skills and knowledge to make a great drink, this machine gives you really fun options. The steam wand is a lever as opposed to a wheel, making things easier on your wrist. With the lever controlled wand you also have a better chance of not accidentally burning your milk (read: steaming your milk too hot, burning yourself, then pulling the milk from the steam wand). You can control the water temperature, which adds some pretty interesting possibilities. You can also choose between single shots, double shots, timed shots or volume shots.
Aesthetically, this machine is beautiful. But fair warning: don't expect to get extra stuff (milk pitchers, grinder, etc.). You pay for an awesome espresso machine, and that's what you get. It may seem pricey, but if you compare it to a machine that a coffee shop would use, then you realize that you got a good deal.
Pros
For the pro coffee maker
Precise
---
Buyer's Guide – Choosing the Best Italian Espresso Machine
So, you've decided you want to find the best Italian espresso machine. Before you endeavor to buy, we implore you to think about something first: What kind of coffee drinker are you? That should be the main thing that informs your buying process.
What is it that you want?
How much coffee do you drink? Do you really need a Simonelli Oscar II? Do you need to be able to steam milk, or would you rather buy a separate steamer or frother? These are good questions to ask yourself before making your purchase.
Super-Automatic or Semi-Automatic?
If you are new to coffee, maybe it's best to start with something fully automatic. If you want more of an experience but are still a novice, maybe take a class or two. You could also ask your local barista to give you a few pointers. Once you gain some experience, you can work your way up to a semi-automatic machine.
SEE ALSO: What's the difference between Semi-Automatic, Automatic, and Super-Automatic espresso machines?
Are you entertaining larger groups?
Is your Italian espresso machine just for your morning pick-me-up, or do you want one that will impress your friends? Maybe you're going to host a party and you want it to be the centerpiece. If that's the case, maybe aesthetics matter more than functionality.
How much?
Yes, you should think about how much you're spending, but you may also want to consider about how much espresso you want to brew. Some machines have small reservoirs and can only yield a few cups, while others might be more suitable for social gatherings.
For instance, if you were having your buddies come over to try a new bean, you probably wouldn't want to do so with a small Bialetti 06800. Instead, you might want to shell out the extra thousand dollars for the Simonelli Oscar II.

Italian Espresso Machines: Final Verdict
There you have it. All of these are good machines that produce a good cup (if you know how to use them properly). To review, our pick for the best Italian espresso machine is the Delonghi ESAM 3300, a super-automatic machine that's easy to use and clean. Our runner-up is the versatile Gaggia Brera Italian Espresso Machine, and our value pick is the sleek, affordable Delonghi Italian Espresso Machine. If you're looking for the best stovetop Italian espresso maker, we recommend the Bialetti Moka pot.
It all depends on how much you want to spend and what you need the machine for. We understand that there are a lot of options out there, so hopefully, these reviews have helped you find the best Italian espresso machine for your needs. Happy brewing!
RELATED: Is Illy or Lavazza the Better Italian Coffee Company?