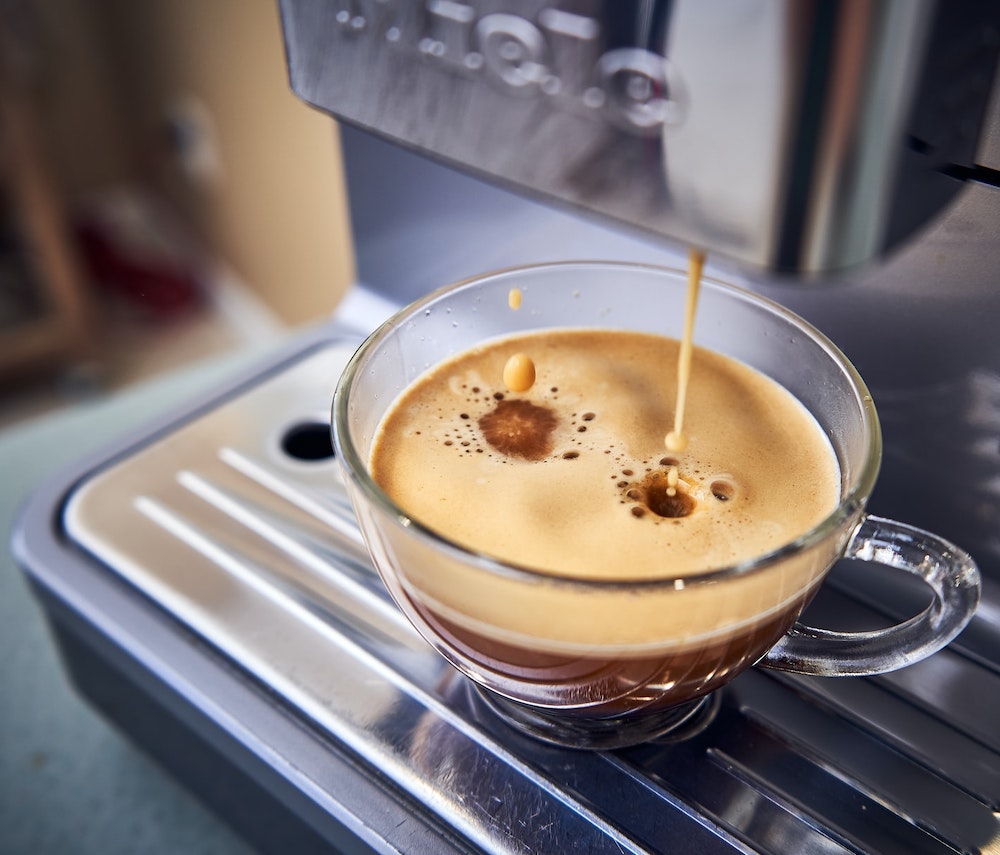 The greatest thing about getting your morning espresso drink fix is waiting in line at the crowded coffee shop and overpaying for a drink you can get at home for a fraction of the price. Everyone enjoys that, right? For those who don't, you've landed in the right spot. Super-automatic espresso machines eliminate pre-caffeine stress in the morning. They make our lives easier by delivering fresh espresso drinks at the push of a button.
The only real stress that comes with having a super-automatic espresso machine is choosing the right one. There are so many options, so how do you know which one is right for you? Do you choose the one with the many preset drink settings? Or maybe the one that froths milk like no other? Do you just go with the one that fits your budget? Well, buyers rejoice, because our team has narrowed down the expansive selection to the eight best super-automatic espresso machines. Plus, we've written a detailed review of each model so you can make the best choice.
---
An Overview of our Favorites for 2021
Image
Product
Details

Best Overall

Breville Oracle Touch

Intuitive interface
Great milk texture
High-quality espresso
CHECK PRICE

Best Value

De'Longhi Magnifica

Great value
Double boiler
Effective milk wand
CHECK PRICE

Philips Saeco Xelsis

Automatic cleaning
Six user profiles
Sleek design
CHECK PRICE

De'Longhi Eletta

Very easy to use
Two hoppers
11 drink presets
CHECK PRICE

Saeco Incanto Carafe

Beautiful design
Fairly priced
Very customizable
CHECK PRICE
The 8 Best Super Automatic Espresso Machines
1. Breville Oracle Touch Super-Automatic Espresso Machine – Best Overall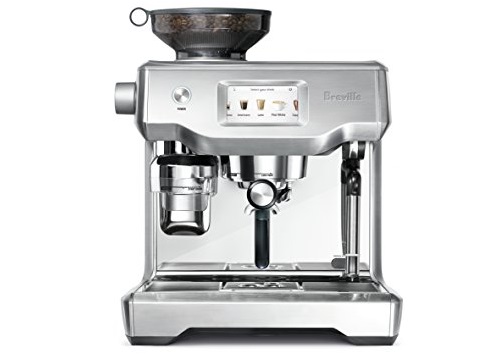 There are many reasons why we think Breville Oracle Touch is the best super-automatic espresso machine. This espresso maker is a workhorse. We tested it based on espresso taste, milk texture quality, and usability. It passed with flying colors. Its highlight is the milk texture quality. Cappuccinos and lattes made from the Oracle Touch can easily go head to head with barista-made ones at your local coffee shop.
This machine is easy to set up and operate. However, it's a portafilter espresso machine, so it's not necessarily hands-free. If you're looking for something hands-off, it may not be for you. The price is a bit steep, but for the best cappuccino or latte you may get at home with very little effort, it's well worth it.
All in all, this is definitely one of the best fully-automatic espresso machines in 2021.
Pros
Easy-to-learn user interface
Best milk texture from a super automatic
Best quality espresso extraction
Easy cleanup
Cons
Price
Not hands-off automatic
---
2. DeLonghi Magnifica Super Automatic Espresso Machine – Best value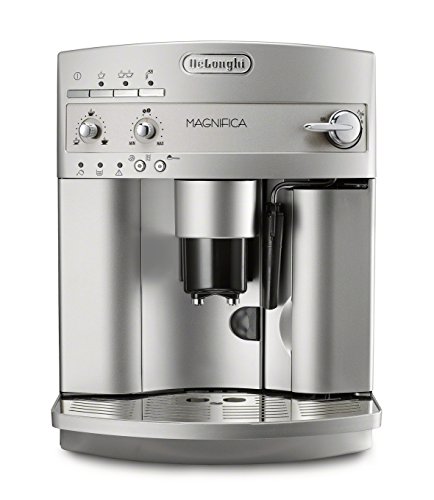 The DeLonghi ESAM Magnifica is one of the best super automatic espresso machines priced below $1000. It's simple to use and easy to learn. It comes with a double boiler and can use pre-ground coffee.
It has a lot of similarities to the Breville Oracle Touch, but we couldn't give it the number one spot because some features aren't as hands-off automatic. For example, the steam wand does steam beautiful foamy milk, but you have to control it. So, this machine is not completely hands-free. There's also no milk carafe.
We recommend this machine to the coffee aficionado who doesn't want to break the bank but still wants to enjoy a fairly effortlessly made espresso drink at home.
Pros
Double boiler
Fair price
Can use pre-ground coffee
Cons
Steam wand length
No milk carafe
---
3. Saeco Xelsis SM7684 Espresso Machine
The beauty of the Saeco Xelsis SM7684 comes from its aesthetics. It's a sleek machine that features the AquaClean automatic cleaning system. This is another easy-to-use machine with a touchscreen interface. It makes tough mornings easy with its six customizable user profiles. You can easily have your very customizable coffee settings ready to go immediately.
The one thing that we don't particularly fancy about the Xelsis is the milk carafe that connects to it via a milk tube. It's such a sleek machine that an attached carafe would fit the look a lot better and leave you some extra space on your countertop.
Pros
Auto cleaning
Six user profiles
Cons
Very pricey
Separate milk carafe
---
4. DeLonghi 45760B Super-Automatic Espresso Machine
The DeLonghi ECAM 45760B Digital Super Automatic Espresso Machine is well-rounded. It has everything we love in a super automatic espresso maker. It's easily programmable, with a blue LED interface. Unfortunately, it doesn't have a two-hopper grinder. Like many espresso machines, it has one bean hopper and a bypass for pre-ground coffee. The bypass is an okay option, but for optimal taste, espresso should be ground right before extraction.
The DeLonghi ECAM 45760B has 11 drink options to choose from. You can also control the temperature, the strength of the coffee, and the amount of milk froth you desire. However, we've noticed this machine's grinder has a difficult time grinding oily dark roast beans.
Pros
One-hopper grinder and pre-ground bypass
Very easy to use
11 preset drink options
Cons
Grinder can't handle large amounts of dark roast
Doesn't have two hoppers
---
5. Saeco Incanto Carafe Fully Automatic Espresso Machine
As with most Saeco espresso makers, the Incanto Carafe Super Automatic Espresso Machine is very aesthetically pleasing. The push-button interface is pretty easy to get the hang of. This machine is fully customizable, but it also has easy options for macchiatos, cappuccinos, and lattes. It makes your life easier by having an auto cleaning mechanism. What we love about this machine is what you get for the reasonable price tag.
We couldn't give it a higher rating, though, because the milk frother leaves a lot to be desired. It does a good job, but compared to others on this list it doesn't hold up well. It's easy to set up and operate. Overall, for the price, the Incanto Carafe is a solid choice. As with the DeLonghi ECAM 45760B and most super automatic espresso machines, the grinder has a hard time with dark roast beans, so be aware.
Cons
Grinder can't handle dark roast
Sub-par milk steaming
---
6. Gaggia Velasca Prestige Espresso Machine
The Gaggia RI8263/47 Velasca Prestige Espresso Machine is another well-rounded super automatic espresso maker. We love the hardware's ease of use, but the software was a bit more difficult to program. It's got everything you could want in a super automatic espresso machine, such as a dual boiler, a burr grinder with 10 settings, and a detachable milk carafe.
The area it's lacking in is the quality of the drinks. For those with advanced palates who like to get some of the little nuances of the espresso in your cappuccino, this machine is not for you. But with the price being under $1000, this is no surprise. This machine is easy to operate and clean. We'd recommend it to coffee lovers who don't care too much about the quality of the cup, but want the ease and speed of use.
Cons
Sub-par drink quality
Not completely customizable
---
7. KRUPS Deluxe Super Automatic Espresso Machine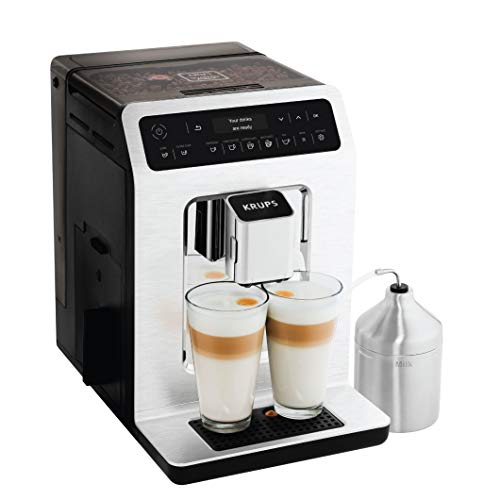 Even though it sits in our second-to-last spot on this list, the KRUPS EA89 Deluxe One Touch has some unique features. The OLED touchscreen is easy to use and a welcome change from the commonly used LED display. It offers 15 customizable drink options, which is amazing for its price. Another feature that makes it stand out a bunch is the option to add another shot to your extraction once you've started brewing. With most machines, you have to wait until the initial extraction is complete to add more coffee.
However, it's number seven for a reason. The milk carafe is attached by a tube and takes up space on the counter. It's not ideal if you have limited counter real estate. Another thing to watch out for is the milk temperature. Pass on this one if you enjoy a nice hot espresso drink, because the temperature doesn't get as high as some people like it.
Pros
Price
15 customizable drink options
Cons
Detached milk carafe
Lack of high temperature
---
8. Gaggia Brera Espresso Machine (Super-automatic)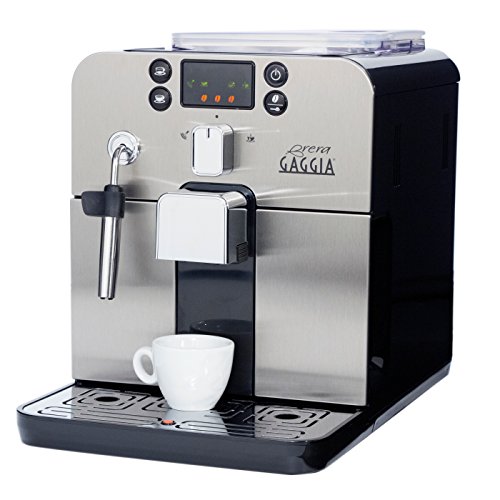 Last, but certainly not least, is the Gaggia Brera Super Automatic Espresso Machine. This is an awesome machine for the price point. It's less than $500, which is hard to beat for an espresso maker. However, it sits in our last slot because it's not fully automatic. You have to steam milk manually, instead of having it in a carafe heating up. There's no problem with steaming milk by hand, but it puts a damper on efficiency if that's why you're in the market for a super automatic.
For those who are looking to explore and play around a bit with milk but still want the ease of a super automatic, this machine is for you. Compared to the others on our list, the hardware doesn't feel as high quality, which is reflected in the price tag.
Cons
Not fully automatic
Feels cheaply made
No pre-programmed espresso and milk drinks
---
Buyer's Guide
There are many things to take into account when buying the best super-automatic espresso machine. Espresso makers, in general, are an investment, but quite worth it if you purchase espresso drinks every day. You'll easily get your money back and save a few bucks by having one. There's also the satisfaction that comes with experimenting with the different settings and expanding your espresso drink palate.
However, neither coffee drinkers nor coffee makers are the same. You know what you specifically look for in your cappuccino or latte, and your choice of espresso machine should reflect that. If it doesn't, you've made the wrong choice. If you're here, you're probably the type of person who doesn't want to be bothered too much with the mechanics of how your latte is made. Super-automatic espresso machines take the guesswork out of fiddling with a machine to get your daily dose of caffeine. Here's a guide on what to consider when choosing a super-automatic espresso machine.
Efficiency
The point of owning a super-automatic espresso machine is to have delicious espresso drinks ready for you right away. One term to look for when buying is "dual boiler" or "double boiler." A double boiler ensures that the machine can steam milk and extract espresso at the same time. Most machines have this function, but some still don't.
Portafilter Brew Method
You'll notice a stark difference in a machine like the Breville Oracle Touch. The Breville Oracle Touch has a different brew method from the other makers on our list. It uses a portafilter and grouphead for brewing, so it's not fully automatic.
The portafilter is a tool that holds the espresso during extraction. On a machine like this, you have to manually move the portafilter from the grouphead (where the espresso is extracted) to the grinder spout that dispenses the espresso.
Once the espresso is ground and tamped perfectly in the portafilter, you must physically move it from the grinder spout back to the grouphead.
That may be a turn-off for some of you, but the quality of the coffee you can get from this type of machine is second to none. It's the type of brewing that commercial makers use, except for the automatic features. This is the best type of machine to have if you're brewing espresso.
Removable and Non-Removable Brew Group Method
The other machines here use either a removable or non-removable brew group. It has the same function as a portafilter, but it's located internally. When you press a button to tell the machine what kind of espresso drink you want, the beans are automatically dosed, ground, and dispensed into the brew group. Once extraction is over, there's usually a chamber for the spent grounds. If you're going to go with one of these machines, get one with a non-removable brew group, mainly because it ensures the machine's cleanliness and therefore maintains its integrity.
Ease of Cleaning and Maintenance
The beauty of a super-automatic espresso machine compared to a manual one lies not only in the lack of effort you have to put into making your coffee, but also in the ease of cleaning. Manufacturers make sure to keep the hands-on effect to a minimum with these machines. Cleanup is usually a breeze, but of course, not all makers are equal.
If you don't want to worry about cleanup after every use, get an espresso machine with features such as:
Automatic steam wand purging
Automatic milk carafe purging
Non-removable brew group
Easily removable drip tray and grounds box
Water filtration system
For maintenance, the most important feature to look for is a water filtration system. If you live somewhere with hard water, make sure your machine has some type of filtration system. With this, you don't have to worry about decalcifying your machine as often. The Saeco models have a great example of this with their specialized AquaClean filtration system. Saeco advertises that you don't have to change the filter for up to 5000 brew cycles. That's a lot of espresso!
Customization
Depending on how picky you are about your espresso, this factor may be the most important for you. But let's keep in mind that super-automatic espresso machines are all about an easy, streamlined process of brewing espresso. Some makers honor custom settings, and some just give you presets that come with limited settings.
Temperature
Temperature plays a major role in a balanced shot of espresso. If you get a machine that doesn't run as hot as you'd like it, try preheating your mug. Some espresso machines have a designated area on the top where mugs can rest and preheat, or you can simply put some hot water in the mug before brewing. Be sure the mug is as warm as possible. If not, the heat from the espresso will quickly travel to the walls of the mug.
Brew Strength
Brew strength is another common customizable trait of super-automatic espresso machines. This is usually controlled by how much coffee goes into a shot, and the option to choose between a single and a double shot.
Adjustable grinder settings allow you to make the coffee grind either more coarse (bigger) or finer (smaller). If you notice your extraction is moving at a slow pace, or if it tastes extremely bitter, you may need to make the coffee more coarse to allow the water to move through more easily. If your shot is moving fast and tastes fairly weak, adjust the grinder to a finer grind. Here's a tip: when adjusting the grinder setting, make sure the grinder is in use. If you adjust the grind when it's not in use, it damages the burrs over time.
Presets
Drink presets allow the ease of just making a latte or cappuccino at the press of a button. Almost every super-automatic espresso machine has this option. On our narrowed-down list, the only maker that doesn't have it is the last one, the Gaggia Brera. Some machines even let you choose your own custom profile with your custom drink settings. It's an awesome option for those who are sharing the machine with others.
Milk Frothing
There are also a few types of milk frothing systems to consider when choosing an espresso machine. The simplest option is the detachable milk carafe. Detachable milk carafes are best because the milk is automatically dispensed into the mug through the spout.
The other option is a steam wand. This is best for those who don't mind, or prefer building their cappuccino or latte. Both these options can be adjusted to control how much froth you want and what temperature you want your milk.
Price
The most expensive super-automatic espresso machine on our list is around $2500. The least expensive is around $459. The craftsmanship of those makers is reflected in their price tags. However, what you can get in between is up in the air, so it's wise to know what's important to you when choosing an espresso machine.
If you mainly drink coffee and espresso and don't care about milk quality, get a machine that reflects that. Surely, you won't be spending as much as the person who cares about milk quality. Super-automatic espresso machines are an investment, but a luxury item. Just because one may be expensive doesn't mean it's the best one for you.

Final Verdict
There's so much that goes into automatic espresso machines, and it's wise to know exactly what those things are. You may have made a decision already from our reviews of some of the best super-automatic espresso machines. If not, you're probably very close to figuring it out.
You can't go wrong with the Breville Oracle Touch. The quality espresso it makes with its ease of use is unheard of. But, if that's way above your price range, get the DeLonghi ESAM Magnifica. For below $1000, it's a stellar option.
We hope this guide has made it easier for you to choose a super-automatic espresso machine. After we've narrowed down the best eight and explained what to look for when buying, you should have a fairly clear picture of what you're looking for.
RELATED READ: You can also see our rundown of the top 8 semi-automatic espresso machines of 2021 here.