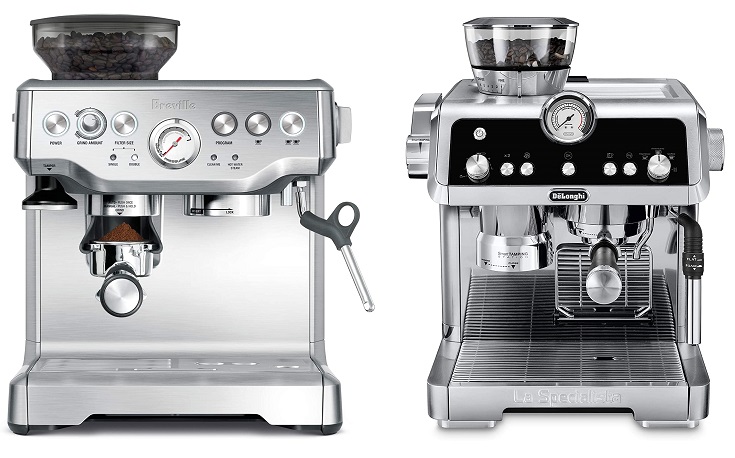 Breville vs. De'Longhi is considered by many to be the Ali vs. Frazier of the espresso world. The two espresso titans are the most popular brands for home espresso machines by far, and they offer similar products at comparable prices. In some ways, choosing between Breville and De'Longhi is a can't lose situation since both companies make high-quality, reliable espresso machines. However, there are some variations that might make a difference to you depending on what you're looking to get out of your espresso machine – besides espresso, of course.
In this review, we put Breville and De'Longhi head-to-head and give you all the details you need to help you decide between the two. If you're feeling confused and aren't sure which you should pick, this guide is for you.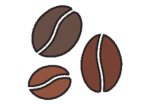 Breville vs De'Longhi Espresso Machines: At a Glance
Breville
More tunable for experienced users
Beautiful design aesthetics
High-quality steam wands
More expensive
Can be harder to learn
De'Longhi
Focus on user experience
Favors double boilers
Most machines come with many programmable features
Physically smaller
Lower water capacity

Overview of Breville
Breville is an Australian company founded in 1932 with an interesting origin story. Co-founders Harry Norville and Bill O'Brien started the company together and named their business Breville by combining their surnames. Despite the popularity of Breville as a home espresso company, it wasn't until the early 2000s that they turned their attention to coffee. They now have a worldwide presence and are among the most well-known companies making at-home espresso equipment today.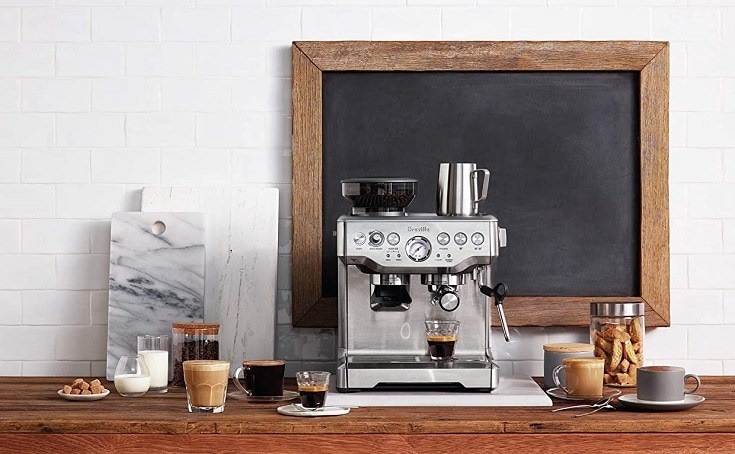 Breville's espresso machines have a few characteristics that help them stand out from the competition. If you've ever seen an espresso machine and thought, wow, that looks nice, it was probably a Breville. Stylish designs are a hallmark of Breville machines, but they don't suffer from focusing on form over function. Part of the beauty of Breville machines comes from the well-placed buttons and knobs that give users easy access to a plethora of controls to help them get their coffee just right. Breville products also usually have larger water reservoirs than De'Longhi machines and come with longer, more flexible steam wands.
Pros
Stylish aesthetic
More control
Easy to use interface
Larger water reservoirs
Longer steam wand
Cons
More expensive
Harder to use

Overview of De'Longhi
De'Longhi is an Italian company – if you couldn't tell from the name – founded in 1902. Interestingly, despite being over a century old, De'Longhi only started making coffee appliances in 2008. Even in that relatively short amount of time, De'Longhi has pulled away from the pack and distinguished itself as one of the premier brands for espresso equipment and home coffee supplies.
Unlike Breville's large, high-capacity machines, De'Longhi favors sleeker espresso machines with a smaller footprint that fit more snugly on your counter. They also prefer a double boiler design, which makes them better at simultaneously making coffee and steaming milk. The ideal brewing temperature for espresso is higher than the ideal temperature for steaming milk, making it impossible to do both at the same time without a double boiler.
Another philosophical difference from Breville machines is the user experience. De'Longhi machines are more likely to have additional programmable settings but less overall control of the brew cycle. Having fewer knobs to turn is a double-edged sword since relinquishing control means being at the mercy of the machine but it also makes it easier to use.
Pros
Less expensive
Easier to use
Smaller size is easier to fit on the counter
Double boiler is great for frothing milk while you brew
Cons
Less control over your espresso
Smaller machines means more refilling

What Are the Differences Between Them?
Performance
Edge: Tie
At similar price points, both Breville and De'Longhi machines make delicious espresso. Depending on how much control you like to have over your coffee, you might prefer one or the other. Breville tends to have more options and more settings, making it simultaneously harder to use but easier to get your coffee exactly how you like it.
De'Longhi machines usually have double boilers, meaning you can froth milk at a lower temperature while you brew your coffee, saving time. On the other hand, Breville machines have more temperature options and more frothing modes, letting you fine-tune exactly how you froth your milk. The tradeoff is it takes longer to make a latte with the Breville since you can't froth the milk while you wait for your coffee to brew.
Both companies have top-of-the-line machines with built-in grinders, automatic frothers, and programmable settings for a whole coffee shop's worth of drinks. They both also offer entry-level machines that make completely respectable espresso at a price that won't break the bank.
The bottom line is you can't go wrong from a performance perspective regardless of which you choose.
---
Price
Edge: De'Longhi
In general, a De'Longhi espresso machine with the same features as a Breville machine will cost less. It's difficult to make a broad statement that is true 100% of the time, but most of the time, this will be the case. If you're shopping for an espresso machine on a tight budget, we suggest looking at De'Longhi first.
---
Design
Edge: Breville
Breville wins here, hands down. The engineers at Breville pay as much attention to creating a machine that is pleasing to the eye as they do one that makes exceptional espresso.
Ultimately, how an espresso machine looks is not as important as how easy it is to use, and here Breville still wins. Not only are the Breville machines attractive conversation pieces, but they also pack an impressive number of features into a relatively small interface and give you maximum control over every aspect of your coffee.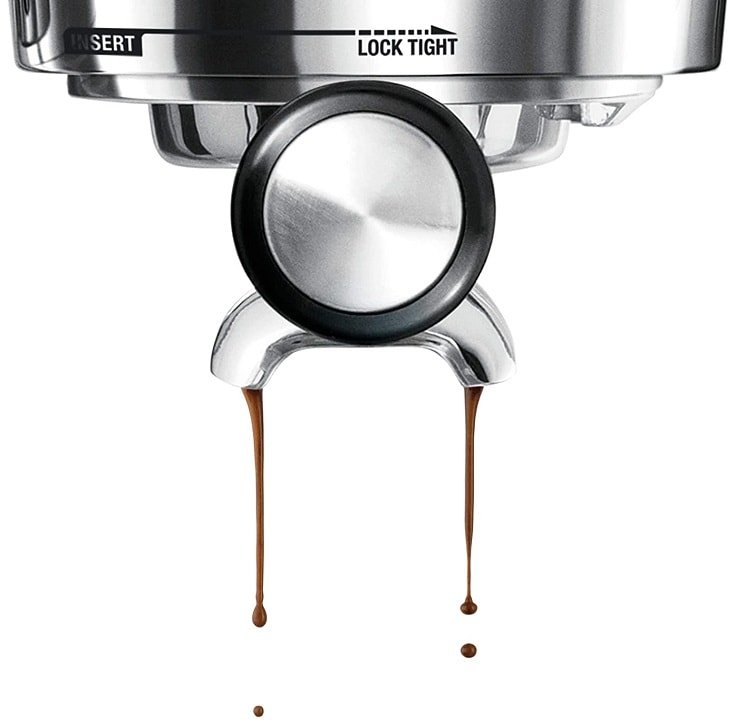 What the Users Say
We've poked around in the corners of the Internet to find out what the word on the street is about Breville and De'Longhi, so you don't have to. In general, reviews and discussions about both companies are overwhelmingly favorable. However, there are some differences at the different price points.
Let's start with lower-priced, entry-level machines. Reviews for both De'Longhi and Breville are largely mixed. Several De'Longhi customers report broken machines after less than one year of regular use. Breville's reviews are a similarly mixed bag, with one important difference. Many reviewers have only good things to say about Breville's customer service and have been able to replace parts or troubleshoot their problems. De'Longhi doesn't have the same good customer service, and many customers report simply having to replace their machines.
At higher prices, both Breville and De'Longhi have almost universally positive reviews across many review sites. It seems that the kinks the cheaper machines possess are sorted out in the premium machines. If you can afford to spend a bit more, your experience with De'Longhi and Breville will be nearly identical.

Conclusion
There you have it! Breville and De'Longhi are giants of the coffee industry, and both make high-quality espresso machines. You really can't go wrong with either brand. Which is right for you is ultimately a matter of preference. There is no clear-cut winner since differing design philosophies make them suitable for different types of customers.
If we had to sum up the entire review in a single sentence, it would go like this. Breville makes more expensive machines that are extremely tunable but also more difficult to use, while De'Longhi makes slightly cheaper products that are plug-and-play but sacrifice some customizability.
See also: