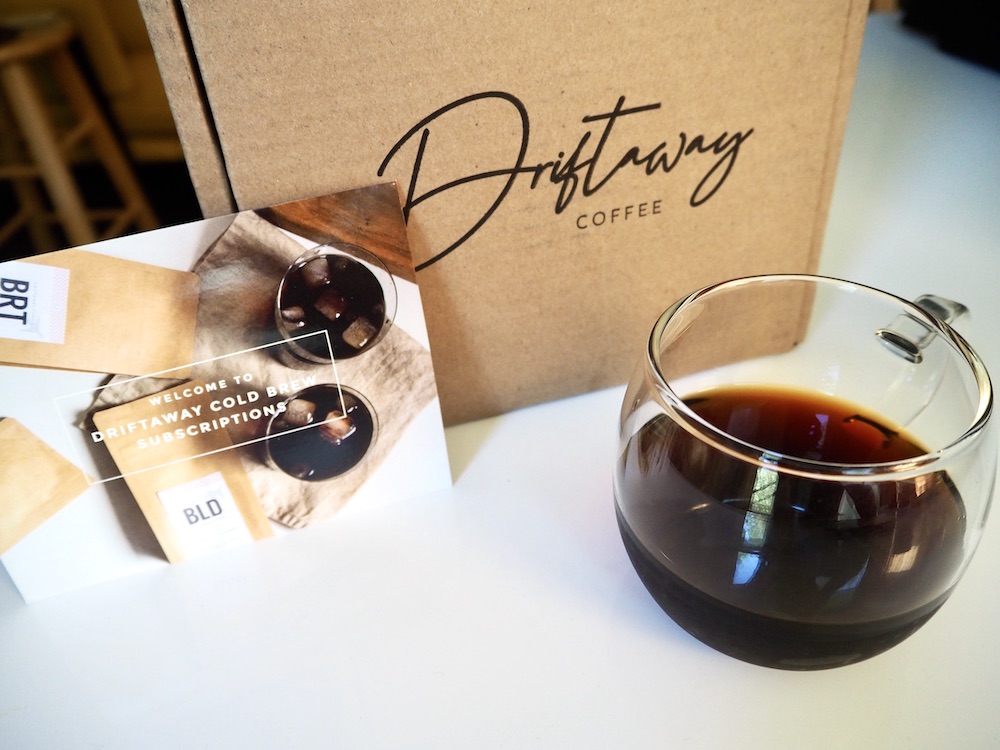 Our Final Verdict
We give the Driftaway cold brew subscription a rating of 4.6 out of 5 stars:
Flavor
Quality
Resources
Ease of Use
Price
At a Glance
Driftaway now offers a cold brew subscription that's as easy to use as it is delicious. To help you decide if it's right for you, we thoroughly tested this new offering.
The verdict? This cold brew's biggest plus is how easy and mess-free it is to make. You don't need any equipment — not even a grinder — and the mesh coffee bags are fully compostable. You get to sample three different types of cold brew and customize your future shipments. Best of all, all three varieties produce a tasty, rich cold brew with an impressive mouthfeel.
The downside? All of Driftaway's cold brew arrives pre-ground, even if you order it without the mesh bags, so you can't preserve flavor by grinding just before brewing. And though we think this subscription offers a lot of value, it may not fit the tightest budgets.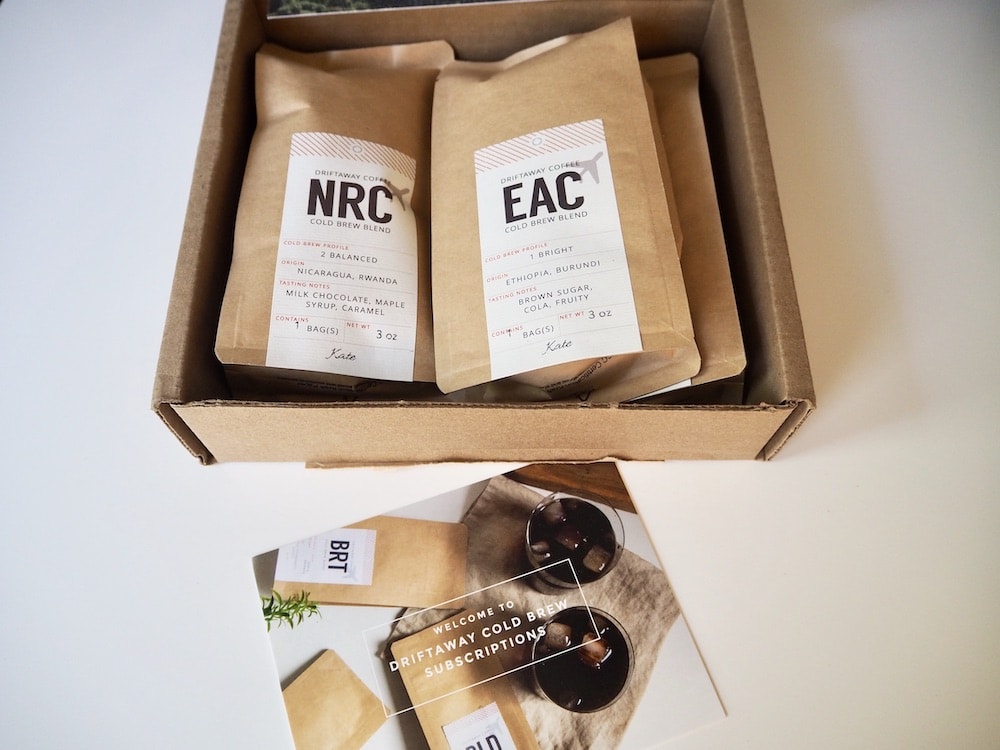 Driftaway Cold Brew Subscription: A Quick Look
Pros
Customizable and easy to use
Reasonably-priced
Fun, stylish packaging
Compostable coffee bags
Could be a great gift
The Company
Driftaway is a Brooklyn-based coffee roaster and subscription company. Its founders, Suyog and Anu, started the company with a simple idea: the desire to create great coffee and feel passionate about their work. The company aims to connect coffee farmers with coffee drinkers — and provide a sustainable livelihood while doing so.
Driftaway's website offers extensive information on each coffee variety, including where it's from, how it's processed and washed, and even what Driftaway paid for the beans!
The Coffee
Now for the fun part: trying the coffee!
Ordering
Every Driftaway cold brew subscription starts with a tasting kit, which includes three different coffees in three-ounce sample sizes. Once you've sampled all of the cold brew profiles, you can customize future shipments to your preferred flavors. If you love all three, you can have your shipments rotate so that you'll receive all of them.
Using the nicely-designed website, you can also adjust the amount and frequency of your cold brew deliveries. And if you love Driftaway's cold brew, you can order a kit for your office, including a brewing container with a tap and 20 cups' worth of coffee.
You can also order Driftaway's cold brew subscription from Amazon!
Brewing
The brewing process for these beans couldn't be easier. All you need to supply is a large jar and some cold water. Submerge the mesh bag of coffee in the water, close the jar, and store it in a cool, dark place — at room temperature or in the fridge — for 16 hours. Then remove the coffee bag and enjoy your brew!
Driftaway's cold brew recipe produces a concentrate, so when you're ready to serve, you can add water. Driftaway recommends adding one cup of water for every two cups of cold brew.
Already have a cold brew maker, like our favorite, the Ovalware RJ3? You can order your cold brew without the mesh bags.
RELATED READ: Driftaway vs Trade Coffee Subscriptions: How to Choose
Tasting
The first variety, which is described as "bright," features beans from Ethiopia and Burundi with tasting notes of brown sugar, cola, and fruit. It was delicious, floral, and complex. These beans are lightly roasted, but they brewed to a rich, dark, almost syrupy brew.
The second has a "balanced" profile and contains beans from Nicaragua and Rwanda with notes of milk chocolate, maple syrup, and caramel. It's a light to medium roast and, as advertised, had a well-balanced, round flavor. The third cold brew is "bold" and has beans solely from Colombia, with flavors of dark chocolate, nuts, and brown sugar. These medium/dark roast beans were chocolatey and surprisingly bold given the mellow cold brew method.
NOTE: We've also reviewed Driftaway's regular coffee subscription service. Spoiler: we loved it!
The Packaging
Driftaway is a truly stylish coffee company, and you can see that in every part of its packaging. Driftaway's founders designed the packaging themselves and were inspired by vintage luggage tags. The coffee bags come printed with useful information like the beans' origin and tasting notes, plus your name for a personal touch. There are also information cards for each variety, featuring brewing recipes and more detailed information.
Even better, the mesh bags that the coffee comes in are fully compostable, meaning once your coffee has brewed, you can toss the whole thing into your compost bin! The whole process is as mess-free as possible.
One (minor) downside is that the beans are all pre-ground. This is convenient — you won't need a grinder — but the coffee won't stay quite as fresh. To counteract this, Driftaway vacuum seals the coffee into stay-fresh pouches.
The Price
We found Driftaway's cold brew subscription very reasonably priced, given the high-quality beans, amazing flavor, and nice packaging. Plus, the cold brew bags are designed to produce a concentrate, giving you even more value for your dollar. And it's significantly cheaper than those $5-a-glass cold brews from your local coffee shop.
Driftaway Cold Brew Subscription: The Verdict
So what did we think of the Driftaway cold brew subscription? It's a delicious, incredibly easy to use option. You don't need any special equipment to produce mellow but tasty cups of cold brew. It's reasonably-priced, customizable to your favorite flavors, and has some of the best packaging out there.
There aren't any decaf or whole bean options, and the price may be a little higher than you'd like. But it's hard to beat the convenience of having these cold brew bags delivered to your door, and we loved the fun packaging and abundance of information about the beans.
Our recommendation? Give Driftaway's cold brew subscription a try. We think you'll love it!
Still looking for a great coffee subscription service? Read our guide to your 10 best options, or try one of other coffee subscription reviews: