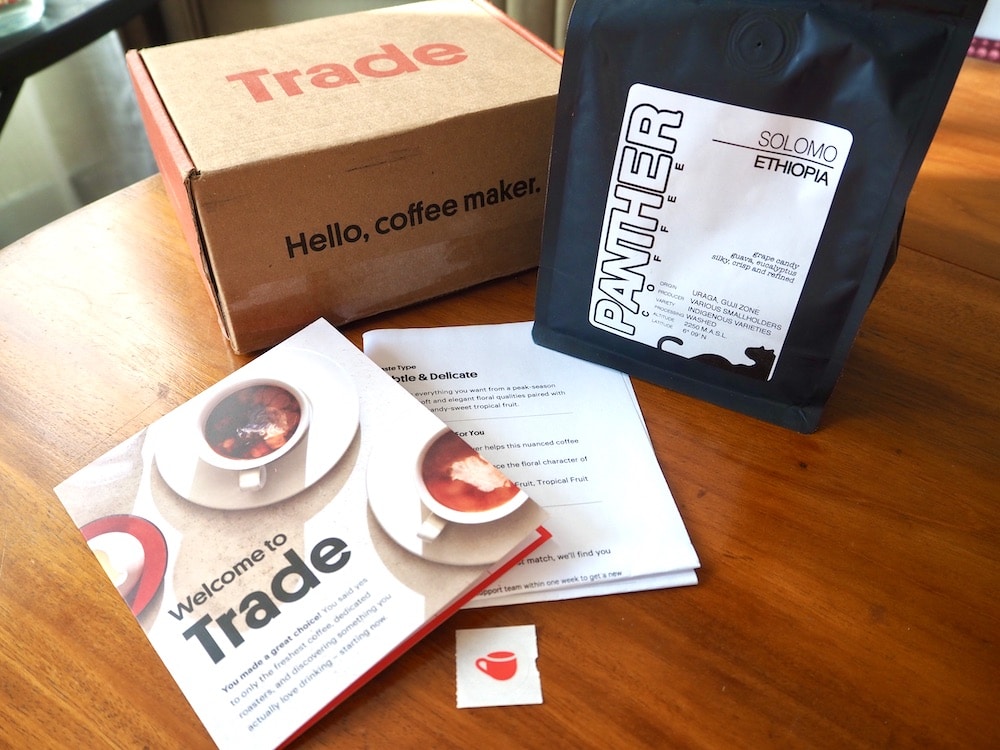 Our Final Verdict
We give the Trade coffee subscription a rating of 4.3 out of 5 stars:
Flavor
Quality
Selection
Resources
Ease of Use
Price
Trade Coffee Subscription Review: At a Glance
This may go without saying, but right now is a wonderful time to be a coffee lover – not only do we have access to a wide variety of local roasters and cafés, but we can also have curated, freshly roasted coffee delivered right to our doorsteps.
We took a look at a sampling of products from Trade in order to help you begin the search for the perfect coffee subscription service. We were especially interested in evaluating the variety that Trade has to offer, the ease of use, and the quality of the beans.
What's our Trade Coffee subscription box review verdict? Give it a try! Trade offers an amazing selection, high quality beans, and even a cold brew option. If you're short on time, take the quiz, which will quickly recommend a few varieties. Do you like to shop? You'll love browsing through Trade's extensive selection. While nothing will ever replace the intimacy of chatting with your local barista, impressive online coffee companies like Trade are too exciting to pass up.
What Trade Does Well
Great online store, easy to browse coffees
Huge selection to choose from – with over 400 different roasts currently
Helpful matching algorithm
The access to other products such as cold brew bags and specialty machines is nice
Trade helps local coffee roasters scale their Direct to Consumer business by selling their coffee online
What Trade Misses
Not especially eco-friendly, though they're working on compostable bags
Can be pricey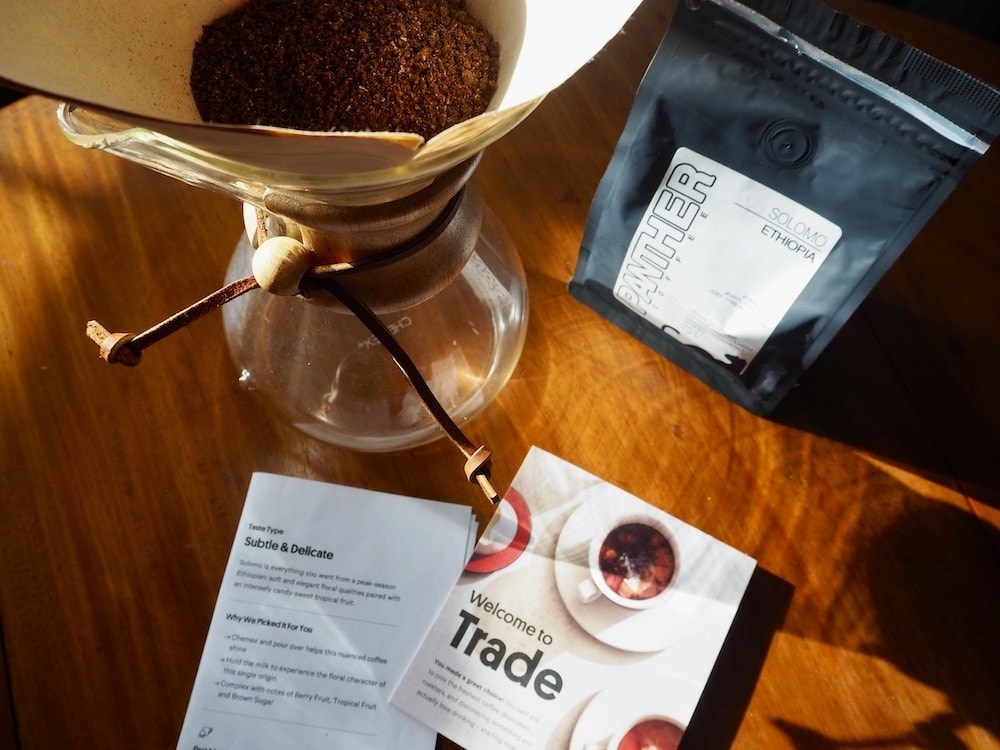 How Does Trade Work?
First off, it's worth explaining how Trade Coffee works. This is similar to other online services – but they do some things especially well.
Customized Suggestions
Unique to Trade is a specially designed survey system to match you to your perfect blend. It's easy to click through questions such as "How do you usually make coffee at home?" and "Do you want classic taste or surprising flavors?"
When clicking through this little quiz, I was able to enjoy some nice moments of self-reflection and they matched me up with an exciting dark roast. This seems wonderful.
A La Carte
But if you have some sense of what you're looking for – if you don't want to leave your selection to an algorithm, Trade does also offer an a la carte option which functions much like any other online store.
With over 400 different coffees to choose from, it's easy to get lost in browsing. But Trade does offer some helpful options to refine your search. Choose from filters such as "single origin," "blends," "roast level," and different taste categories.
After taking the matching quiz, Trade was able to highlight specific coffees that fit my tastes especially well – and this was helpful when pouring through pages of options.
---
The Big Test – Hot Coffee
We took the plunge and ordered Trade's suggestion: the Ethiopian Solomo from Panther Coffee. It arrived nicely packaged in a compact, sturdy box– and the bag was tightly sealed.
Upon opening up the box, we were greeted by a high-quality bean bag.
We're huge fans of pour-over coffee, and it seemed like this would be the best way to get an up-close-and-personal feel for these new beans. Because we were sent whole beans, we went ahead and ground them up – but you can also search Trade for ground beans if you'd prefer.
When it came time to brew, it was immediately obvious that the Panther beans were high quality, roasted to perfection, and super fresh. Note the powerful coffee bloom.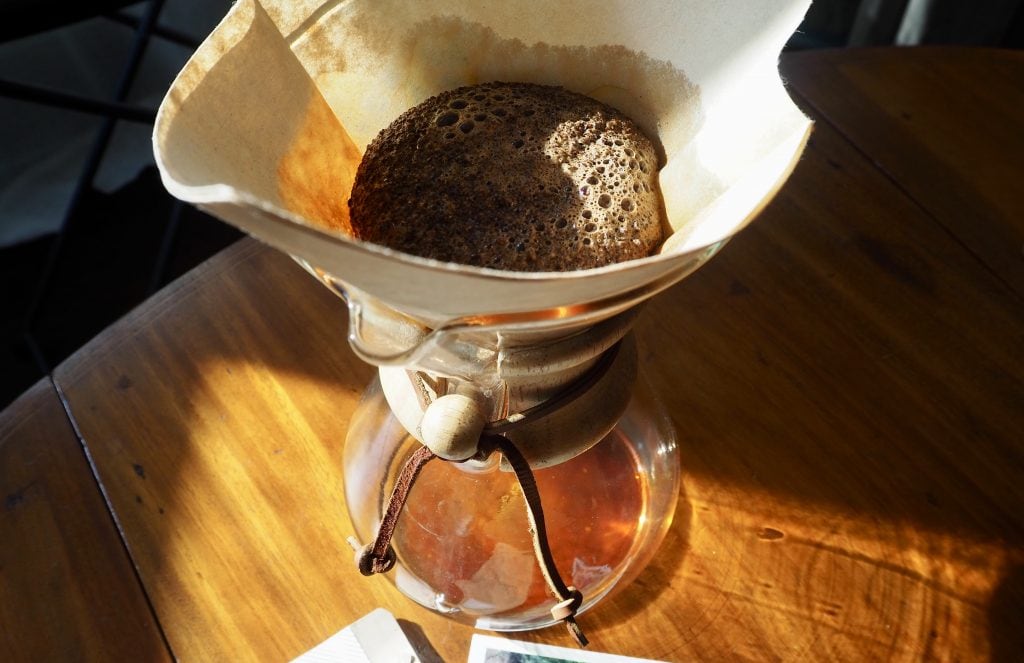 And when it came time to sip, we were pleasantly surprised. The Solomo really did hit all of our most adventurous cravings: floral, elegant flavors with surprising notes of grape and guava. Not to mention, the aroma was tantalizing. And their online store made it easy to search through different tastes to find exactly what we were looking for.
We especially loved the subtle fruity notes – and even some hint of eucalyptus. While this wasn't quite the same as an honest chat with a local barista, we still ended up with a personalized recommendation and it was really almost too easy.
SEE ALSO: Trade vs Bean Box: Which Subscription Is Better?
---
The Big Test – Cold Brew
But there's more to Trade than just bagged coffee. We were pleasantly surprised to see that they sell cold brew bags, and in the spirit of trying new things, decided to go for it. We don't normally love cold brew – but this seemed too easy to pass up.
Think of these bags as basically large tea bags. You can easily fill them up with coffee grounds, and then let everything steep overnight (or longer) and come back to some deliciously concentrated cold brew.
We were excited to try the Kickapoo with this method, and the first step was to grind the beans to the right setting. Of course, it's especially important to use a coarse grind when preparing cold brew. This is because too fine of a grind would over-extract when exposed to water overnight – and the result would be astringent, bitter coffee. Grinding properly ensures that cold brew will produce a pleasant chocolatey and bitter cup.
Here's a picture of the grounds loaded up into the little bag. Everything was super convenient and it was easy to pull the draw string tightly shut.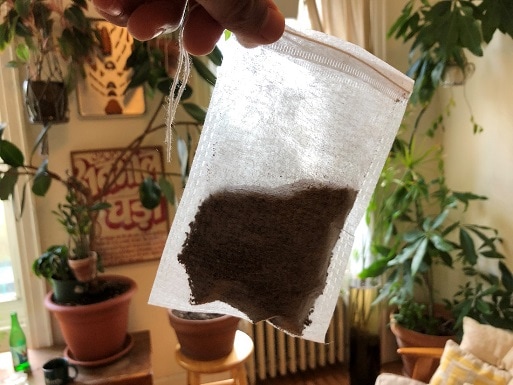 Per the directions included with these bags, we placed the cinched packet into 24 ounces of water, placed that all in the fridge, and waited 24 hours. The end result was pretty delicious.
We wish that we had either used more coffee grounds or let it all brew longer – the finished product was a bit watery. But we were pleasantly surprised by the chocolatey notes that are an iconic feature of cold brew.
There was some collection of sediment in the bottom of my mug – a big disappointment – but overall, the bags were quite convenient.
Of course, Trade coffee didn't invent the cold brew method, but we were happy that they're able to provide a convenient one-stop experience for purchasing beans and equipment.
NOTE: If you're curious about other coffee subscription services, read our complete guide here.

Conclusion
After experimenting with all that Trade has to offer, we came away pretty excited. This is a convenient, fun service and a perfect fit for anyone who wants regular deliveries of high-quality coffee. It'll also work for anyone who is eager to experiment with new options or who is new to the whole craft coffee scene and wanting a little guidance.
With a very flexible pricing model, it's easy to go in for as much or as little coffee as you'd like – and there's always the option of simply buying beans a la carte through the online store. All of this makes it hard to pass up on such a convenience.
While there's no substitute for supporting your local roasters and forming a relationship with neighborhood baristas, it's worth adding Trade to your world of coffee. We hope you enjoy the great beans as much as we enjoyed writing this Trade coffee subscription review!
RELATED READS: