Our Final Verdict
We give the Angels' Cup coffee subscription a rating of 4.7 out of 5 stars:
Flavor
Quality
Selection
Resources
Ease of Use
Price
Angels' Cup Coffee Subscription Review: At a Glance
Angels' Cup is a fun, game-like subscription service that promises to teach you how to taste coffee like an expert. If you've ever wanted to test your tastebuds, this could be the coffee club for you. The simple, well-designed website is easy to use, though the tasting model is fairly time-intensive. You won't get to customize your coffee or choose your favorite flavors, but you will get to try a wide range of interesting coffees from all over the world.
The coffee was flavorful and unusual, and the blind tasting feature is an interesting twist on coffee subscriptions. This company isn't the best for time-strapped or value-hunting coffee drinkers and may not be a great choice if you're looking for classic coffee flavors.
Want to learn more? Scroll down for the rest of our Angels' Cup coffee subscription box review!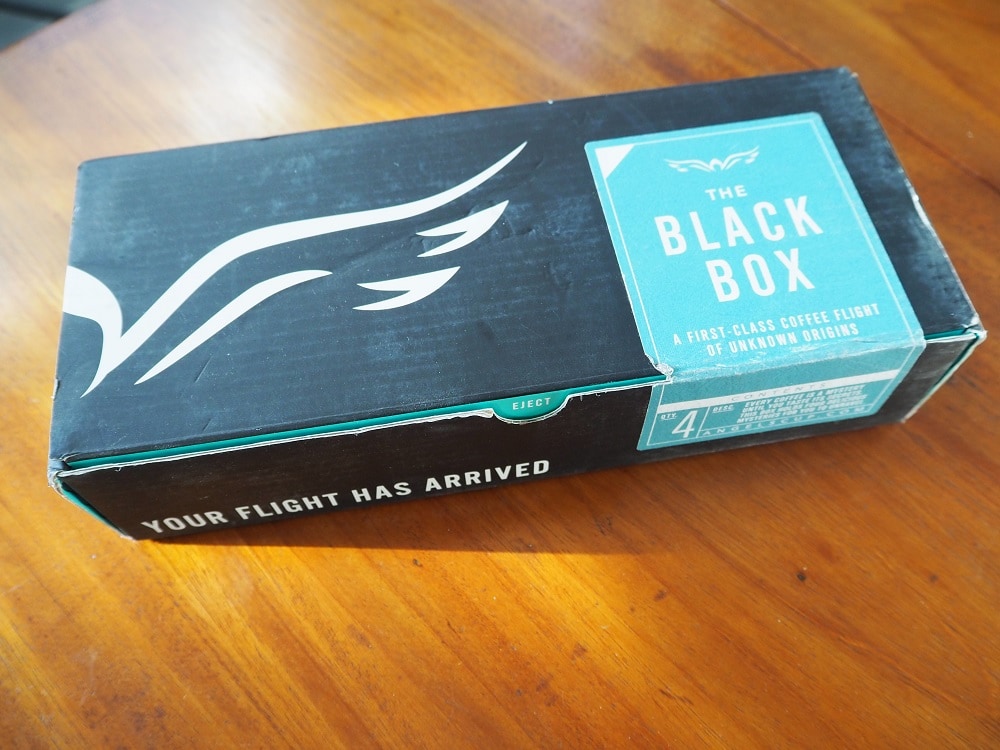 Angels' Cup Subscription Quick Look:
Pros
Unique blind tasting option
Choice of three subscription types
Choice of grind size, roast level, and shipment frequency
100% money-back guarantee
Never the same coffee twice
Coffee from all over the world
Attractive, interesting packaging
Well-designed website with subscriber dashboard and tasting app
Cons
Not customized to your flavor preferences
Can't reorder coffee beans that you enjoy, though you can buy them directly from the roaster
Tasting model is somewhat time-intensive
Non-resealable coffee bags
The Company
Angels' Cup is a Brooklyn-based company that aims to teach you how to expertly taste coffee, building your flavor acuity and vocabulary. Using their app, you can calibrate your tastes by comparing them to the roaster's notes and those of other users.
Angels' Cup is a curator, not a roaster or coffee importer. The company chooses beans from small-batch roasters, packages them, and sends them to you for tasting. For added freshness, the roasters that Angels' Cup works with roast and ship your beans on the same day. The Cupping and Black Box options arrive within seven to 10 days of roasting, and the All Stars option arrives within three to five days.
If you don't like the coffee you receive, Angels' Cup offers a 100% money-back guarantee.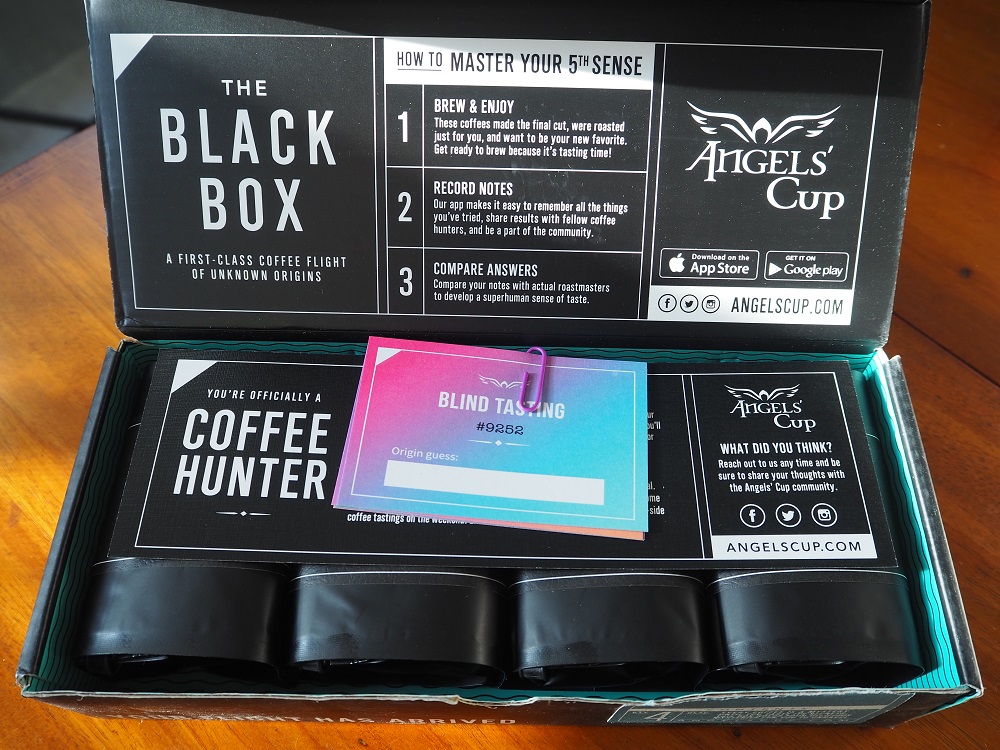 The Ordering Process
With Angels' Cup, you have a choice of three subscription plans, which you can pay for as you go or in three-month installments. The smallest and least expensive option is called The Cupping Flight, which consists of four 32-gram samples, producing a total of eight cups of coffee. These coffees come in a choice of whole bean, coarse grind, and fine grind, and are packaged as a blind tasting, so you can test your tastebuds.
The second and most popular option is called The Black Box. This medium-priced subscription consists of four 2.75-ounce samples (or 20 cups of coffee). These coffees are also packaged in blind tasting bags and come in a range of grinds. If you stick around for a full year, you'll try 208 coffees from at least 60 different roasters.
The third option is called Angels' Cup All Stars. This slightly less expensive plan will send you a 12-ounce bag of whole bean coffee every month. You'll get to try the company's most special coffee.
For our test, we ordered the most popular option, The Black Box, in medium roast and whole bean. Our shipment took about seven days to arrive, which is a bit longer than some other subscriptions but still comfortably within the peak range of freshness, which is one to two weeks after roasting.
Once you've ordered, you'll have access to a convenient subscriber dashboard, where you can see your shipments, pause your subscription, and monitor your referral earnings.
---
The Coffee
The coffee arrived fresh and aromatic, having been roasted the day after we ordered it. The four samples, which were all from different countries, produced strong blooms, and had very different flavors and aromas.
The first coffee sample we tried was an earthly, lightly spiced coffee grown in Thailand and roasted by Paradise Coffee. Surprisingly, this coffee consisted of Robusta beans, which were unexpectedly tasty, smooth, and complex.
Our favorite sample was the very interesting Ethiopian coffee from Café Campesino, which had a strong, unusual aroma of chocolate, grapes, and pepper. We also received a Nicaraguan coffee from 1000 Faces Coffee, which was nutty and chocolatey, and a blend from Botanical Roasters that was smooth and sweet with hints of cherry, chocolate, and vanilla.
---
The Packaging
Overall, the packaging is stylish and well-thought-out. The coffee comes in a well-designed, airplane-themed box printed with detailed brewing instructions. Inside, you'll find tasting instructions, information about the Angels' Cup app, and blind tasting notecards with room to write your origin guess. On the back of each notecard, you'll find detailed information about each coffee, including roast date, origin, process, and flavor notes.
So that you can taste them blindly, the coffee bags are labeled only with the roast date and the sample number. They don't have resealing features, but they do have easy-tear indents and wire holders.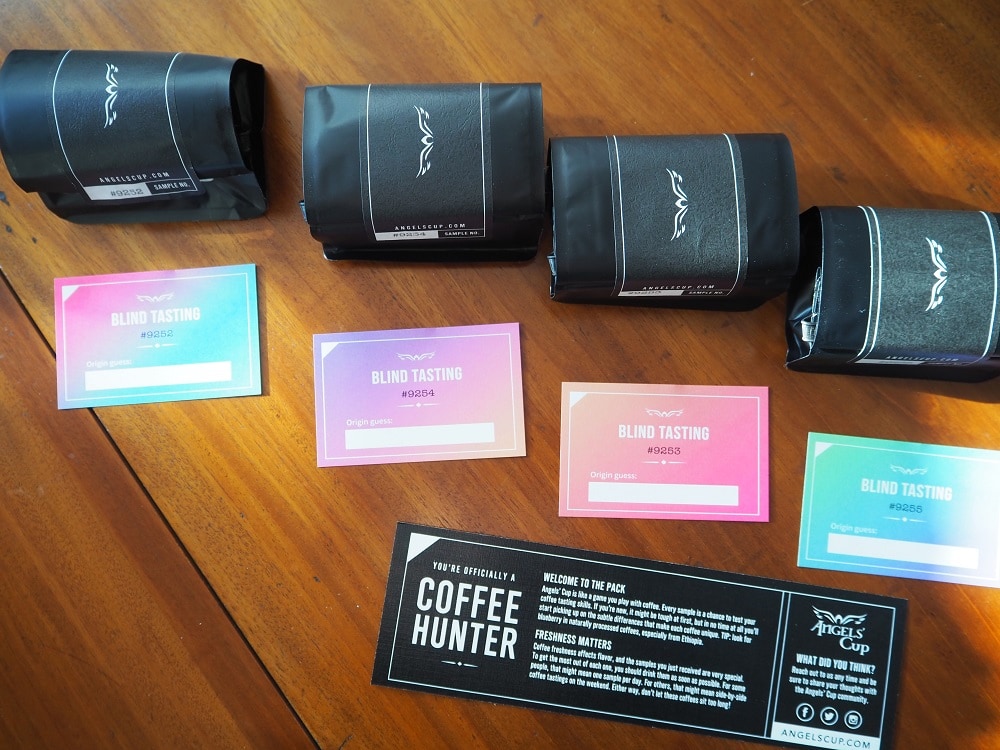 Extras
With nice packaging and a fun tasting process, this subscription service seems like a good gift option. Angels' Cup offers three-month gift subscriptions.
We found the free tasting app easy to use and well-designed, with interesting, intuitive graphics. You can add the sample number, detailed information about your brewing method, and your personal tasting notes. After you save your entries, you can compare your answers to the roaster's notes and the ratings and notes written by other subscribers.
Angels' Cup Subscription Review: Conclusion
Angels' Cup is a fun subscription service that lets you train your tastebuds and experiment with unusual, challenging coffees. You have a choice of subscription types, two of which will send you sample flights. The packaging is well-designed, and the tasting app is easy to use.
The downside? You can't pick your specific coffee. Plus, the sampler model takes more time, so this may not be your pick if you don't want to dedicate a lot of time to your coffee. And if you're looking for familiar flavors, you may want to look elsewhere. We hope this Angels' Cup coffee subscription review has been helpful!
RELATED READS: