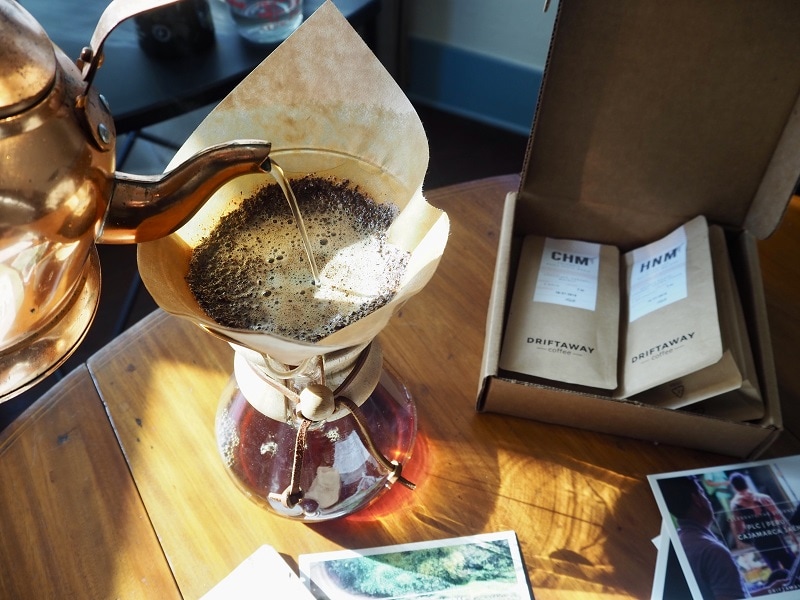 Our Final Verdict
We give the Driftaway coffee subscription a rating of 4.9 out of 5 stars:
Flavor
Quality
Selection
Resources
Ease of Use
Price
Driftaway Coffee Subscription Review: At a Glance
Driftaway Coffee is a stylish, travel-themed subscription club. All of the coffee is single-origin, and you can send notes directly to the coffee producers. You start with a tasting kit, and future shipments are customized to your personal preferences. You get coffee that's customized to your tastes without having to pick it out yourself.
The packaging is thoughtful, convenient, and personalized, making this a great gift option. The coffee is varied, fresh, and flavorful, and the box includes postcards with detailed information on flavors and coffee origins. Driftaway also sells whole bean and pre-ground coffee, so you don't have to grind it at home.
Scroll down to read the rest of our detailed Driftaway Coffee subscription box review!
Driftaway Coffee Subscription Quick Look:
Pros
Flavorful, fresh coffee from all over the world
Starts with a tasting kit
The coffee you receive is based on your taste profile
Simple, useful member portal
No shipping fees
Cold brew subscription option
Great gift options
Stylish, personalized, and travel-themed packaging
The Company
Driftaway Coffee is a single-origin subscription company that focuses on sustainable growth and individual farmers. You can read all about how the founders named the company here.
Driftaway sources and roasts its coffee. The company is also invested in sustainability, donating five cents for every pound sold toward long term coffee sustainability.
SEE ALSO: Driftaway vs Trade Coffee Subscriptions: How to Choose
The Ordering Process
To get started, you sign up to receive a tasting kit, which consists of four two-ounce samples of coffee from different parts of the world. These labeled samples fall into fruity, classic, balanced, and bold categories.
Next, you have a choice of bag size, shipping frequency, and payment plans. You can choose between 11-ounce and 16-ounce bags sent weekly, bi-weekly, or monthly. You can also opt to pay per shipment or pay for six months in advance, which will save you about 15%. Driftaway doesn't charge shipping fees.
After you receive your sample kit, you taste the coffee, decide which flavor profiles you prefer, and rate them through your account on the Driftaway website.
We found Driftaway's website well-designed and simple to use. Once you've signed up, you'll have access to a straightforward member portal, where you can edit and reschedule shipments. Through the portal, you can also send notes directly to the farmer who grew your coffee.
If you love one of the coffees you receive, you can order more through Driftaway's website.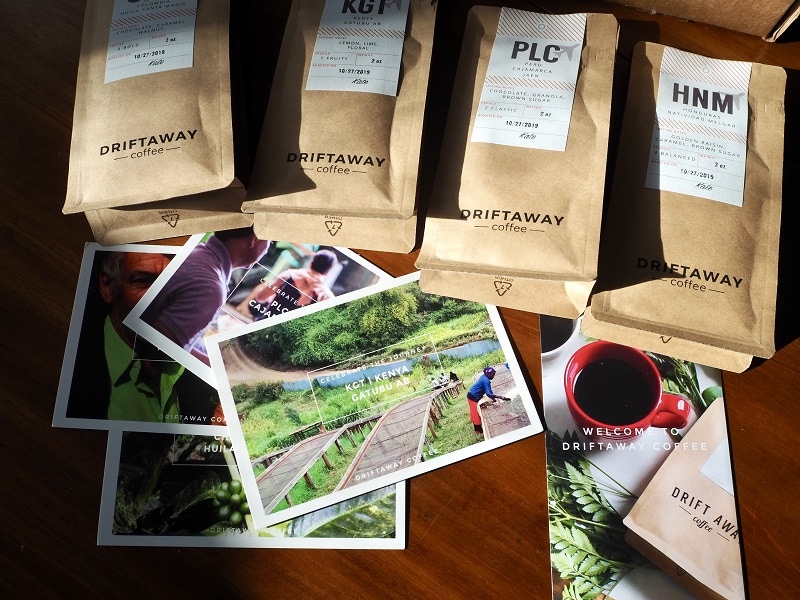 The Coffee
We received the tasting kit, with coffees from Kenya, Peru, Honduras, and Colombia. The coffee beans were all fresh and aromatic, with interesting floral notes in the Kenyan and raisin and brown sugar in the Honduran. They produced strong blooms and clear, full-bodied cups.
After you brew and sample your coffee, you can log into your member portal and update your taste profile. For each coffee, you can add flavor notes, mark body and acidity levels, and add an overall rating. Driftaway won't send you coffee in profiles you rate below 50.
---
The Packaging
According to Driftaway, the coffee bag design is inspired by vintage luggage tags. The bags are stylish and informative, with origin and tasting notes, plus roast date, weight, and your name. We liked the convenience of the bags, which have easy pull-tab openings and resealable plastic interiors. The coffee also comes with fun postcards, which have detailed information about the coffee producer, processing method, varietals, and growing altitude, plus flavor notes from the roaster.
RELATED READS: Our rundown of the best coffee subscriptions!
Extras
Driftaway now offers a cold brew subscription, which can be a great option if you prefer iced coffee and may be a fun summer addition to your regular subscription. The cold brew subscription starts with a tasting kit of three cold brew bags, which you can rate through a special cold brew profile in your member portal. Based on your ratings, you'll receive between two and six cold brew bags with bright, balanced, or bold flavors.
Driftaway also offers gift subscriptions, and given the fun packaging and personal flavor profile, we think it's a great option. You won't have to figure out what your coffee lover's favorite flavors are, and they won't have to take a quiz before receiving their first coffee.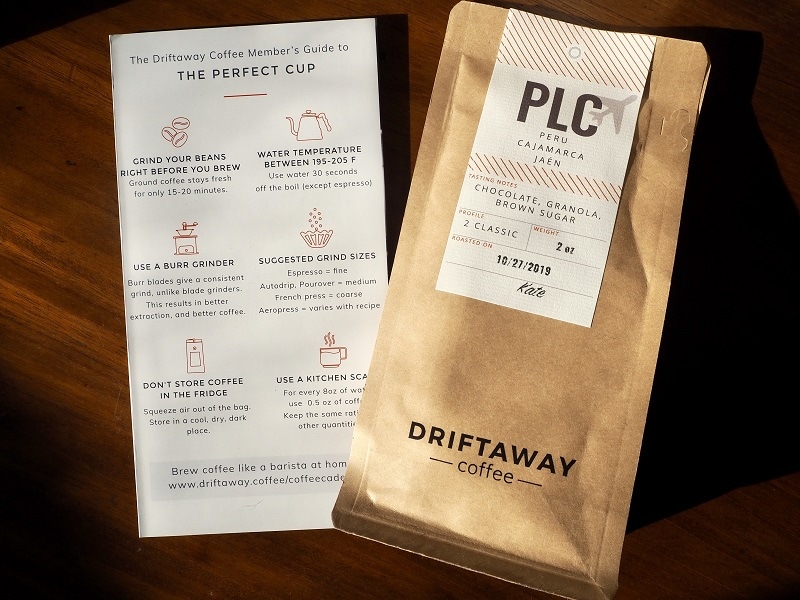 Driftaway Coffee Subscription: The Verdict
To wrap up our Driftaway Coffee subscription review, here are some final thoughts. Thoughtful touches like personalized coffee bags, incredibly detailed origin notes, and the ability to contact your coffee farmer directly make Driftaway an exceptional coffee subscription company. Every subscription starts with a sample tasting kit so that you can personalize future shipments to your favorite flavors.
Driftaway's website is well-designed and intuitive, allowing you to build a flavor profile and fully control your shipments. The company offers good gift subscriptions and a cold brew subscription option. The downside? This isn't a very budget-friendly coffee subscription.
RELATED READS: