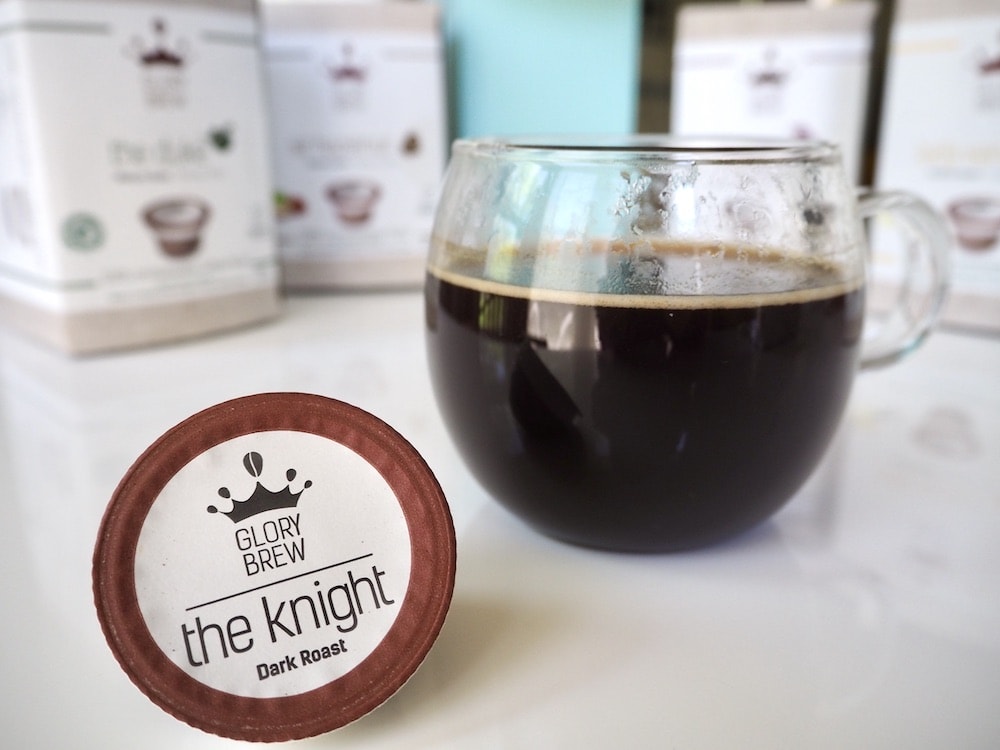 Our Final Verdict
We give Glorybrew K-Cups a rating of 4.4 out of 5 stars:
Flavor
Quality
Selection
Resources
Ease of Use
Price
At a Glance:
If you love the convenience of your single-serve coffeemaker but worry about the environmental impact of all of those coffee pods, you'll want to take a good look at Gourmesso. This sustainable company offers responsibly-sourced, compostable coffee pods — and you can choose between pods for Keurig machines and Nespresso models.
We were very impressed with the intensity of flavor and aroma, and the packaging was particularly high-quality. These pods are as easy to use as you'd expect.
Gourmesso may not work for you if you're looking for a couple of specific things. The Glorybrew line doesn't offer decaf or light roast K-Cups, and the Nespresso pods won't work in a VertuoLine machine. But if you have a compatible machine (Keurig 2.0 included), we think you'll enjoy this company's impressive, fairly-priced coffee.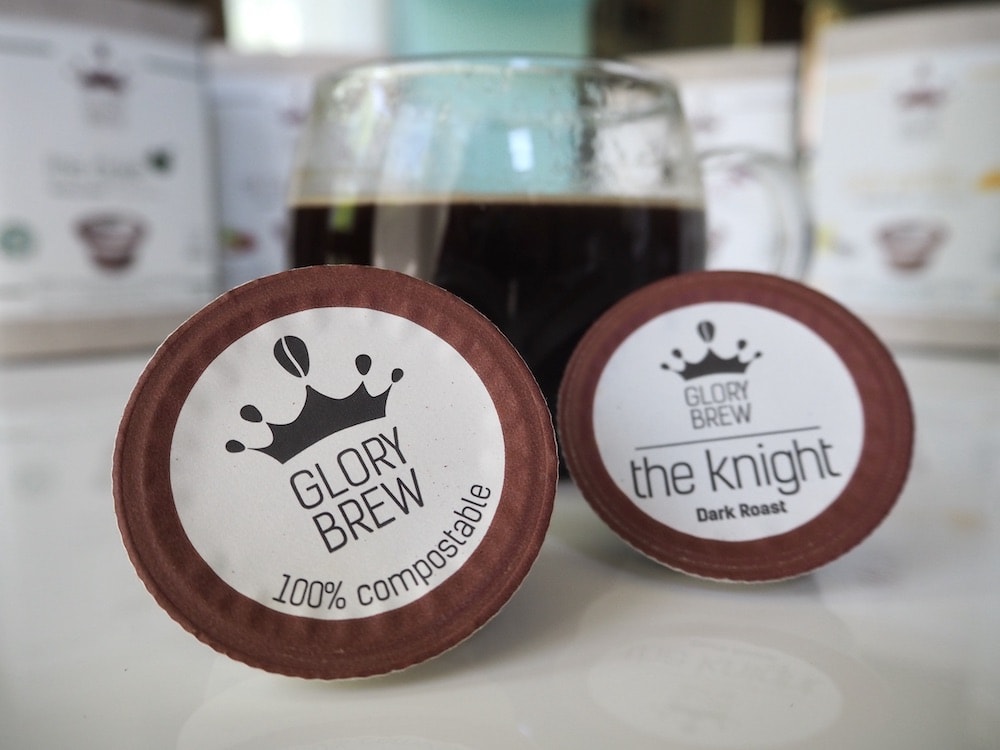 A Quick Look at Glorybrew K-Cups
Pros
K-Cups and Nespresso-compatible pods
Compostable and responsibly-sourced
A tree planted for every order
Moderately priced
Delicious range of flavors
The Company
Gourmesso was originally founded in Berlin, Germany to provide Nespresso customers with a wider range of reasonably-priced, high-quality coffee. More recently, they've expanded into K-Cups with a line called Glorybrew!
Gourmesso also partners with the National Forest Foundation to plant a tree for every order you place. 
---
The Ordering Process
Gourmesso has a nice website that's easy to order from. There are shipping fees, but you can avoid them by ordering a bit more coffee. Who can't use an extra box of K-Cups?
K-Cup Pods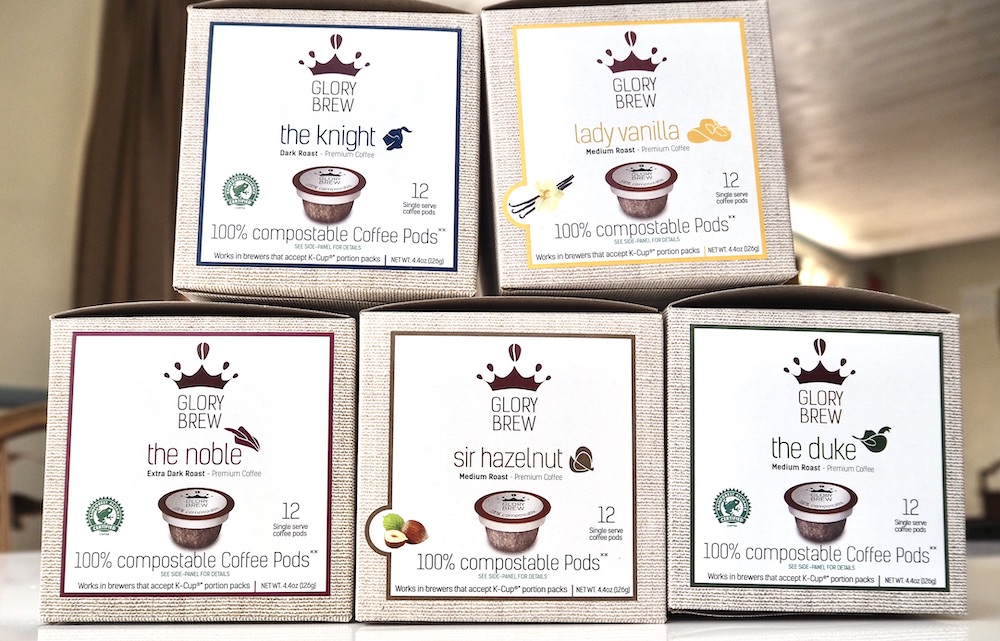 Gourmesso's Glorybrew line includes medium, dark, and extra-dark roasts, which is quite a good range unless you're a lover of light roasts. Their Keurig-compatible pods have fun names like The Duke (medium), The Knight (dark), and The Noble (extra-dark). The company also sells two flavored coffees: Lady Vanilla and Sir Hazelnut.
If you find a variety you love, you can stock up and save money with sets of five boxes (60 pods). Or sample your way through a variety pack!
Nespresso Pods
Before you start shopping, keep in mind that these pods only work with Nespresso's Original espresso makers. That said, you've got tons of choices, including an intense espresso called Midnight Monkey and blends from all over the world. 
HAVE A NESPRESSO VERTUO? Our Favorite Nespresso Vertuo Coffee Pods
Not into caffeine? There are four decaf Nespresso coffees, including a light roast from Peru and chocolate and vanilla flavors. 
---
The Coffee
Now the fun part: the taste test! For our review, we sampled the K-Cup-Compatible Variety Pack, which includes all five of the Glorybrew coffees.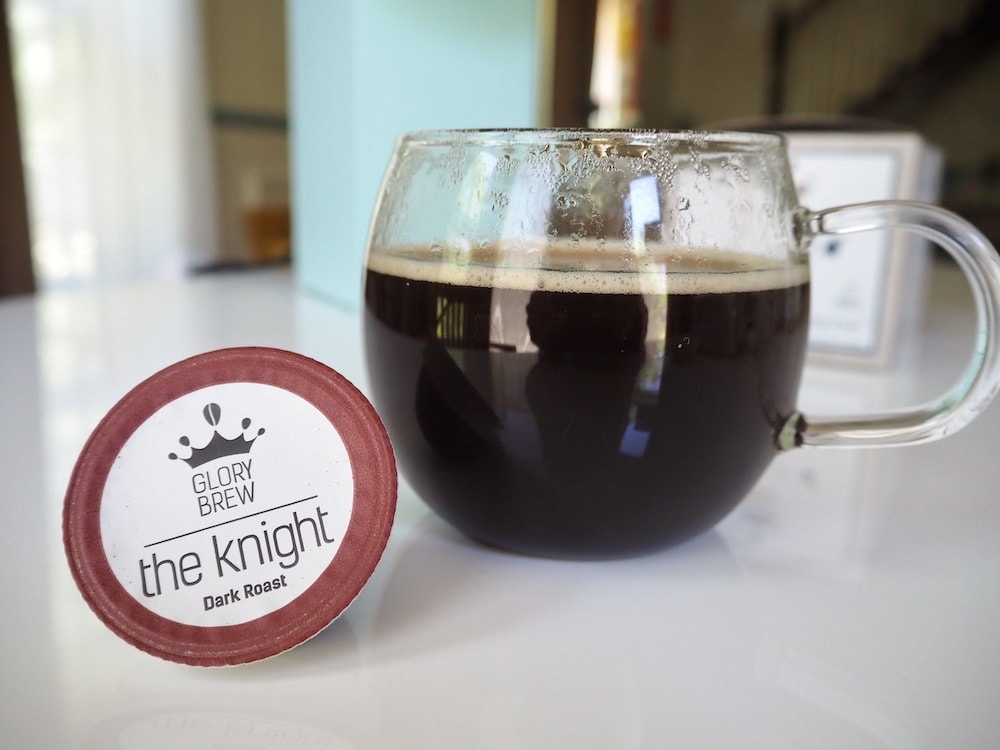 The medium roast (The Duke) was balanced and tasty, with notes of nuts and cocoa. The dark roast (The Knight) was deep and robust, with a lovely aroma and an almost crema-like foam around the edges. And the extra-dark roast (The Noble) was an even bolder version, with a rich, caramelized flavor and not a hint of bitterness.
When we opened the Lady Vanilla, we swooned over the aroma, which was just like a caramel latte. Rich, complex, and chocolatey — wow! You'll have to take our word for it — or better yet, order a box for yourself! The Lord Hazelnut was just as delicious, with a deep, nutty flavor and a pleasantly full body.
The Packaging
Glorybrew does a great job on stay-fresh packaging, which is great news if you like to stock up on coffee. The K-Cup boxes arrive sealed, and when you open them, you'll see a vacuum-sealed bag containing your coffee pods. What does that mean? You can buy a whole crate of these pods, and they won't start going stale until you open the 12-pod bag.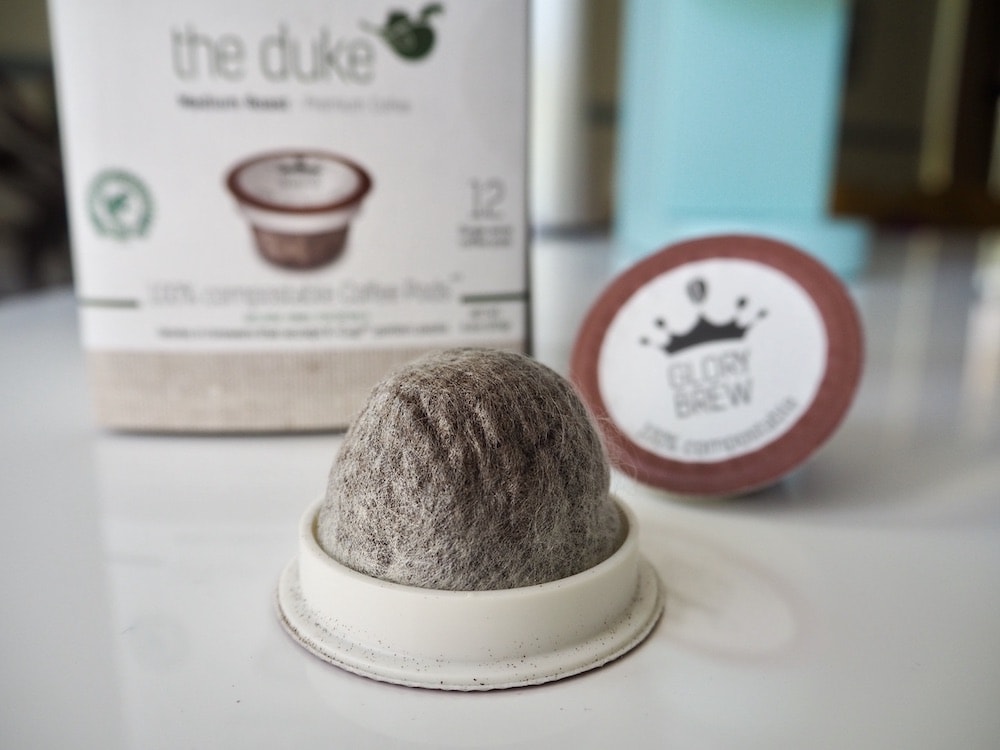 If you're anything like us, you're probably wondering what exactly a compostable K-Cup looks like. Without all of the usual plastic, these are small, soft pods. The lid (which is Keurig 2.0-compatible) is made of paper, and the ring below it is cleverly made out of coffee chaff. The coffee filter, which holds the grounds in, is made of renewable natural resources. Pretty cool, right?
We also loved the creative names. Who doesn't want to feel like a Duke (or a Nite Owl) while sipping a velvety cup of coffee?
---
Extras
The biggest extras for Gourmesso and Glorybrew are in sustainability. Industrially compostable pods, tree planting, sustainable resources, Rainforest Alliance, Fair Trade, and organic certifications… the company has it all. 
Other extras include a loyalty program, money-saving bundles, and a range of subscription options.
SEE ALSO: The 10 Best Coffee Subscription Services
The Verdict
So are Glorybrew's K-Cups worth it? Our answer is a definite yes. This is a cool company with a serious sustainability focus. You can enjoy delicious coffee from your Nespresso or Keurig machine without any environmental guilt!
The coffee pods are delicious, and you can choose among a wide range of coffee varieties. They're fully industrially compostable and come in fun names like Lady Vanilla and The Duke. Even better, this coffee is reasonably priced and comes vacuum-sealed for extra freshness.
There are a few limitations: Glorybrew doesn't offer decaf K-Cups, and Gourmesso's pods won't work with Nespresso's VertuoLine. But if you have a Keurig 1.0 or 2.0 machine or a Nespresso Original model, you'll have plenty of delicious options.
Other Coffee Brands We've Reviewed: