Our Final Verdict
We give the Ovalware RJ3 Cold Brew Maker a rating of 4.4 out of 5 stars:
Build Quality
Features
Price
Review Summary
There are many ways to make cold brew at home that are inexpensive and easy, and the Ovalware RJ3 cold brew maker is a great example of this. Ovalware is a dedicated coffee company — the "oval" in their name represents the coffee bean — that specializes in manual brewing methods. The RJ3 has a design that allows your cold brew to be made and stored in the same place while keeping it fresh.
We put the Ovalware RJ3 to the test. The verdict? We were impressed with the sleek design, ease of use, and reasonable price. The vertical filter isn't perfect and you may get uneven extraction, but the flavors were sweet and mellow. Our conclusion? If you are wanting to start making cold brew at home, the Ovalware RJ3 is a good place to start.
---
Ovalware RJ3 – A Quick Look
Pros
Easy 2-step brewing process
Makes and stores your cold brew
Keeps cold brew fresh for 2 weeks
Has a precision filter to keep grounds out
Durable materials make it long-lasting
Easy to clean
Inexpensive
Hot and cold beverages, coffee and tea
Cons
Occasionally grounds get through the filter
You must use coarse or medium coarse grind
Breaks easily when dropped
Tall filter can cause uneven extraction
| | |
| --- | --- |
| Brand: | Ovalware |
| Product Type: | Cold brew |
| Serving size options: | 1 liter, 1.5 liter |
| Material: | Borosilicate glass, silicone, and stainless steel |
| Product weight: | 1.45 lb |
| Dishwasher-safe: | Yes |
| Product Dimensions: | 7.9″ x 4.6″ (1.0L) / 9.6″ x 5.5″ (1.5L) |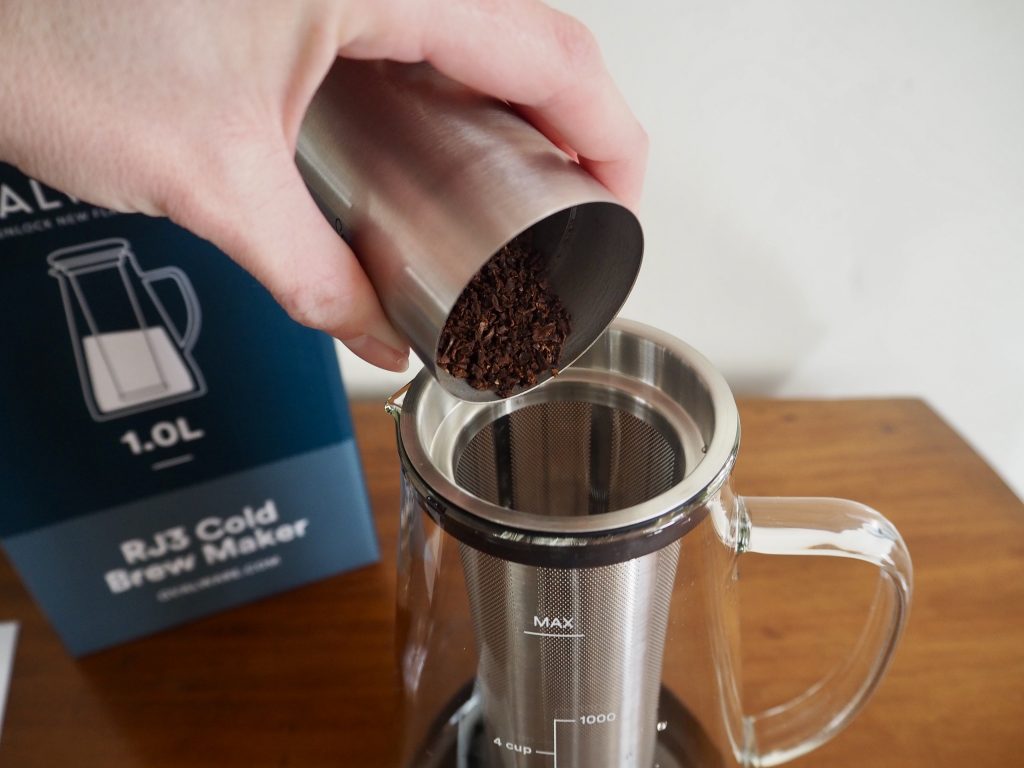 Overall Construction
This cold brew maker is made with sturdy borosilicate glass. The glass is durable and will last for a long time, making this inexpensive product worth the money. In terms of appearance, the RJ3 looks somewhat like a beaker. It's sleek, with a shiny metal lid and volume markings on the side. Plus, the RJ3 is dishwasher-safe!
Precision Filter
The RJ3's stainless steel filter makes brewing simple. Just add coarsely-ground beans, pour in cold water, and stir. After 12 to 18 hours of brewing, you can remove the filter and store the cold brew in the same container.
This filter is considered a precision filter because it not only keeps the grounds out of your brewed coffee, but it also enhances brewing for a bold, smooth flavor. It does have a couple of drawbacks, however. The long, tall filter can be difficult to stir, meaning that you might get uneven extraction of your beans. It's also a little more difficult to empty and clean.
Airtight Seal
The BPA-free seal on the Ovalware Cold Brew Maker keeps your cold brew fresh for at least 2 weeks after you make it. The best design feature is that the seal works whether the filter is in or out of the cold brew pitcher. This allows the seal to work just as well whether you are making or storing your cold brew.
Flavor
Now for the most important part: the coffee. We steeped our cold brew for 12 hours and then removed the filter. The coffee was light in color but very flavorful and delicately aromatic. It was sweet and mellow but held up well to milk and cream.
---
Ovalware RJ3 FAQ
Q: How many cups do the two different sizes make?
A: The 1 L makes about 4 cups, while the 1.5 L makes about 6. The measurements printed on the side should make measuring easy for you.
Q: Does this cold brew maker work for a fine grind?
A: Coarse or medium coarse grind is best to use for this product. The precision filter can get clogged up with grinds that are too fine, and your coffee beans may get over-extracted.
RELATED READ: The Ultimate Coffee Grind Size Chart
Q: What does it come with?
A: The cold brew pitcher and lid, the precision filter, one seal for the top of the filter, and a brief user manual.
Q: Can you use it to make other drinks?
A: Yes! You can brew hot or cold tea, as well. Look for recipes on the Ovalware website.
Q: Is there a warranty?
A: Yes! Ovalware offers a full refund within 90 days and a one-year limited warranty.
What the Users Say
Positive Feedback: Most of the reviews for this product are indeed positive reviews. The most common qualities people loved are mentioned below.
A lot of customers like the simplicity in the brewing process. The two steps are easy to understand and they say it's easy to clean also.
The cold brew this makes is always smooth and has a great flavor. Some customers have mentioned that it makes not only smooth, rich cold brew, but also fantastic iced tea. Therefore, there is some versatility to its uses.
To expand on its versatility, this cold brew maker isn't just for cold coffee and tea beverages, hot coffee, and hot tea can also be made in it. Customers appreciate that the borosilicate glass lets your cold or hot beverage stay that temperature for a long period.
The size and design of this cold brew maker have won the hearts of a lot of happy at-home cold brewers. They say it looks nice enough to leave out on the counter, but also is small enough to fit in many places inside their refrigerators.
Negative Feedback:
Some customers have said the filter still allows some grounds to get into their coffee, however, it normally isn't near enough to ruin the coffee. If grounds do appear, they are easily avoidable because they stay at the bottom.
Another complaint from a few customers is that the cold brew pitcher itself is prone to breaking when dropped. They dropped it once, and it either shattered or there is a large hole in the pitcher now. Be careful with your pitchers!

Ovalware RJ3 Cold Brew Maker: Final Thoughts
The Ovalware Cold Brew Maker will give you a delicious cold brew in a few easy steps. It also tightly seals, keeping your cold brew fresh for up to two weeks. The easy cleanup, sleek design and size, precision filter, and the versatility to make hot or cold coffee and tea are all reasons this product is worth investing in. It's durable, as long as it isn't dropped, and can keep providing you cold brew for years and years to come.
The only drawbacks we encountered were with the filter. It does a good job filtering out coarse coffee grounds but can be harder to stir and clean. Overall, we were very impressed with this low-cost brewer. Enjoy your mellow, rich cold brew!
Other equipment we've reviewed: