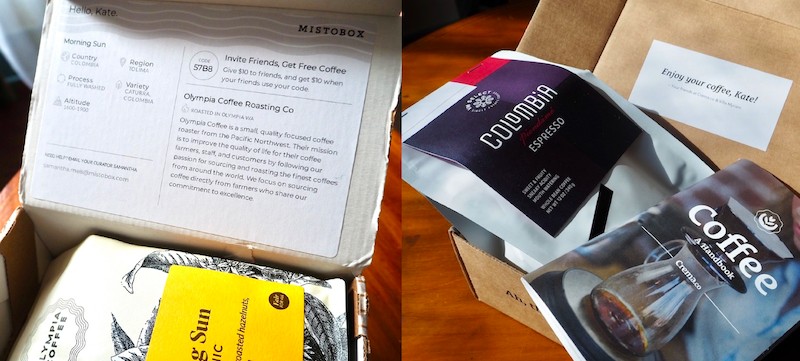 Choosing the right coffee subscription can be surprisingly difficult. You could be a subscriber for months or years, so you want to make sure you're picking one you'll love. We've tested both the Crema and MistoBox coffee subscriptions, so it's time for a head-to-head comparison!
Below, you'll find detailed overviews of Crema and MistoBox, covering the ordering experience, the packaging, and the beans themselves. These subscriptions have different focuses and strengths, but what they have in common is the most important part: delicious, gourmet coffee beans roasted on demand. Let's get started:
Want to compare more delicious coffee subscriptions? Take a look at
our 10 favorites
!

All About Crema Coffee Subscription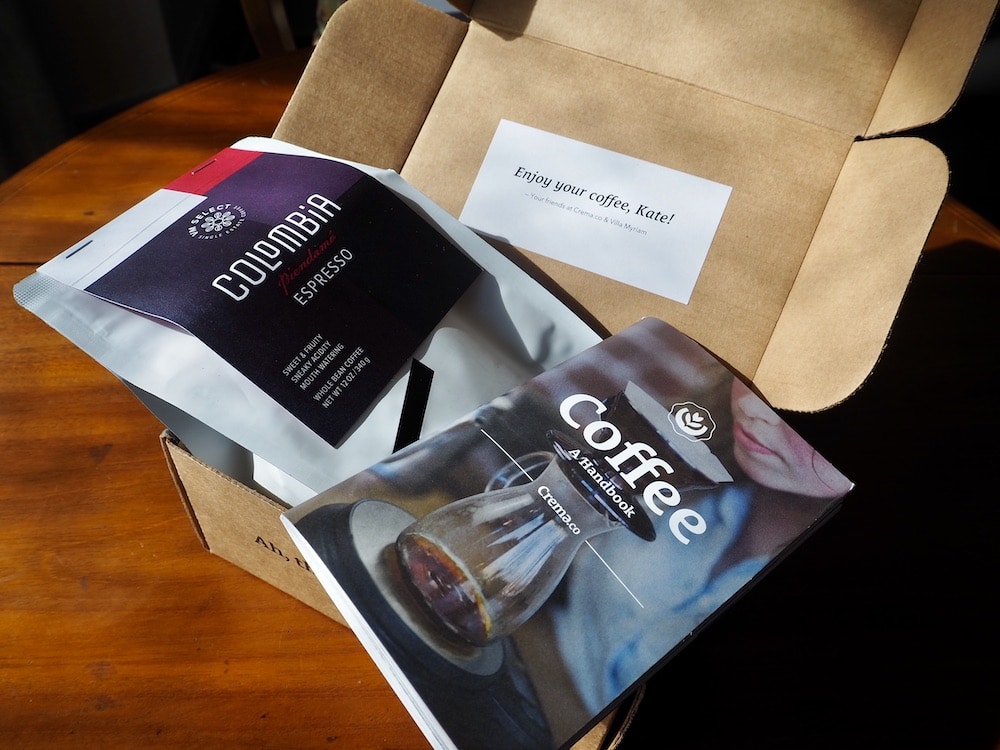 Crema's coffee subscription offers a couple of unique things: a direct connection to the coffee farmers and roasters producing your beans, and an easy-to-use "playlist" of coffees to try. Crema doesn't just tell you that your beans were grown in Colombia — it also tells you the history of the coffee farm, shows you a map, and introduces you to the roasters. And the playlist lets you do your shopping whenever you have time and then let the beans come when you want them.
Crema offers a cute, intuitive preference quiz to get you started. Choose between pictures of toast (roast level), classic movie characters (adventurousness), various kinds of food (tasting notes and flavor nuances), and lemons (acidity). Then the algorithm will offer you several kinds of coffee to try in a range of grind sizes!
Once you pick your first bag, you can start shopping for your future beans. Crema offers over 450 coffee varieties. You can filter by eco certifications, grind sizes, countries of origin, and even specific roasters — all to make choosing great beans easier. Add new bags to your playlist whenever you want, and Crema will ship them on your schedule.
When we tested Crema's coffee subscription service, we took the quiz and ordered one of the most appealing suggestions: the Villa Myriam Espresso from Colombia. The beans were bright and aromatic, with surprising notes of lime and chocolate malt. Impressive coffee, and we especially liked reading all about the coffee farmers, brothers Juan and David Certain, who produced it.
This subscription isn't quite as fun as travel-themed Atlas or game-like Angels' Cup, and it doesn't start with a tasting kit like Bean Box to help you find your favorite flavors. Plus, some of the coffees are quite expensive, so you may want to pay attention when you're putting beans in your playlist.
Pros
Direct connection to farmers and roasters
Huge selection of coffees
Available in whole bean or pre-ground
Surprising & unusual flavors
Easy-to-use "playlist" of coffees
High-quality beans
Intuitive flavor quiz
Cons
Not quite as fun or stylish
Can be expensive
Not curated
Doesn't start with a tasting kit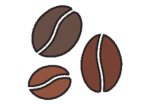 All About MistoBox Coffee Subscription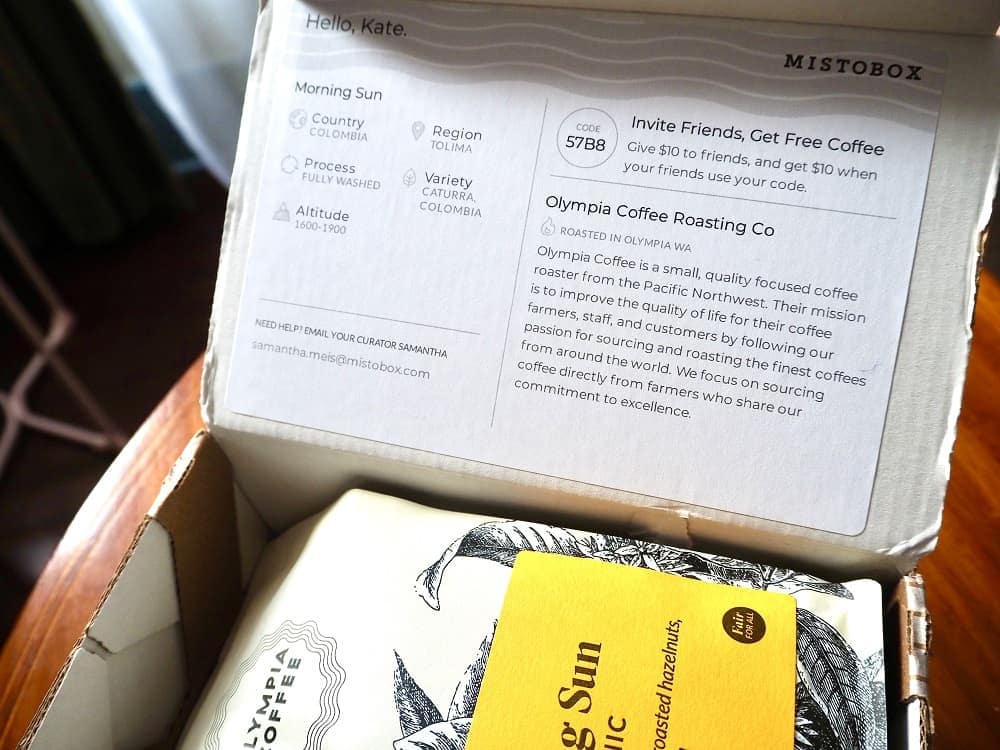 Right off the bat, MistoBox impressed us with something very unusual: a real-live expert curator. When you sign up for a MistoBox subscription, the company assigns you a human curator (ours was named Samantha) to help you choose the best possible beans.
As of this writing, MistoBox offers 590 coffees from 52 roasters — but this number is constantly changing as the company discovers delicious new beans. That's where your curator comes in: it's easy to get overwhelmed by this seemingly endless selection. Take the preference quiz, contact your curator, or just browse for yourself. Then add beans to your brew queue, and the company will ship them at your preferred frequency.
MistoBox also offers options in grind size, decaf or regular, and roast levels. Plus, you can decide how much you'd like to pay by choosing between two tiers: deluxe and exclusive. The exclusive level costs a couple of dollars extra, but it gives you access to a more premium type of coffee.
When we tested MistoBox, our curator sent us Olympia Coffee's Morning Sun, a chocolatey medium-dark roast that — as advertised — made an excellent morning coffee. The beans shipped in a stylish little box with a personalized note about the beans and how best to brew them.
Downsides? With such a huge selection, it's hard to feel confident that you've found the best possible beans. There's less connection to the individual roasters and coffee farmers, and the introductory quiz just isn't as much fun. But it's hard to argue with the quality of the coffee beans, the easy-to-use subscriber dashboard, and — best of all — the personal coffee curator.
Pros
Personal curator
500+ coffees to choose from
Grind size, roast level, and decaf options
Choice of two price tiers
Personalized, stylish boxes
Cons
Overwhelming selection
Less focused on farmers and roasters
Preference quiz isn't as fun

Crema vs MistoBox: Which to Choose
Now for the important part: you know all about these two gourmet coffee subscriptions. So how do you decide between them? It all comes down to what you want to get out of your subscription. Are you interested in learning more about individual coffee farmers and roasters? Crema's detailed information and focus on the production side of coffee will likely appeal to you. If you want amazing coffee professionally selected just for you, we'd recommend giving MistoBox a try. It's not every day you have a personal coffee curator — but it could be!
Both of these coffee subscription services give you access to a huge range of coffees — though MistoBox offers about 100 more. There are tons of organic, Fair Trade, bird-friendly, and rainforest-friendly options, and you can choose grind sizes, roast levels, and countries of origin. So the good news is that if you opt for either of these coffee subscriptions, you'll be signing yourself up for world-class coffee!
So which should you choose? We lean toward MistoBox because of how darn impressive that personal curator is. But Crema also has a lot to offer! The bottom line is that both of these coffee subscription services are great, so you really can't go wrong with either.
Related Reads: