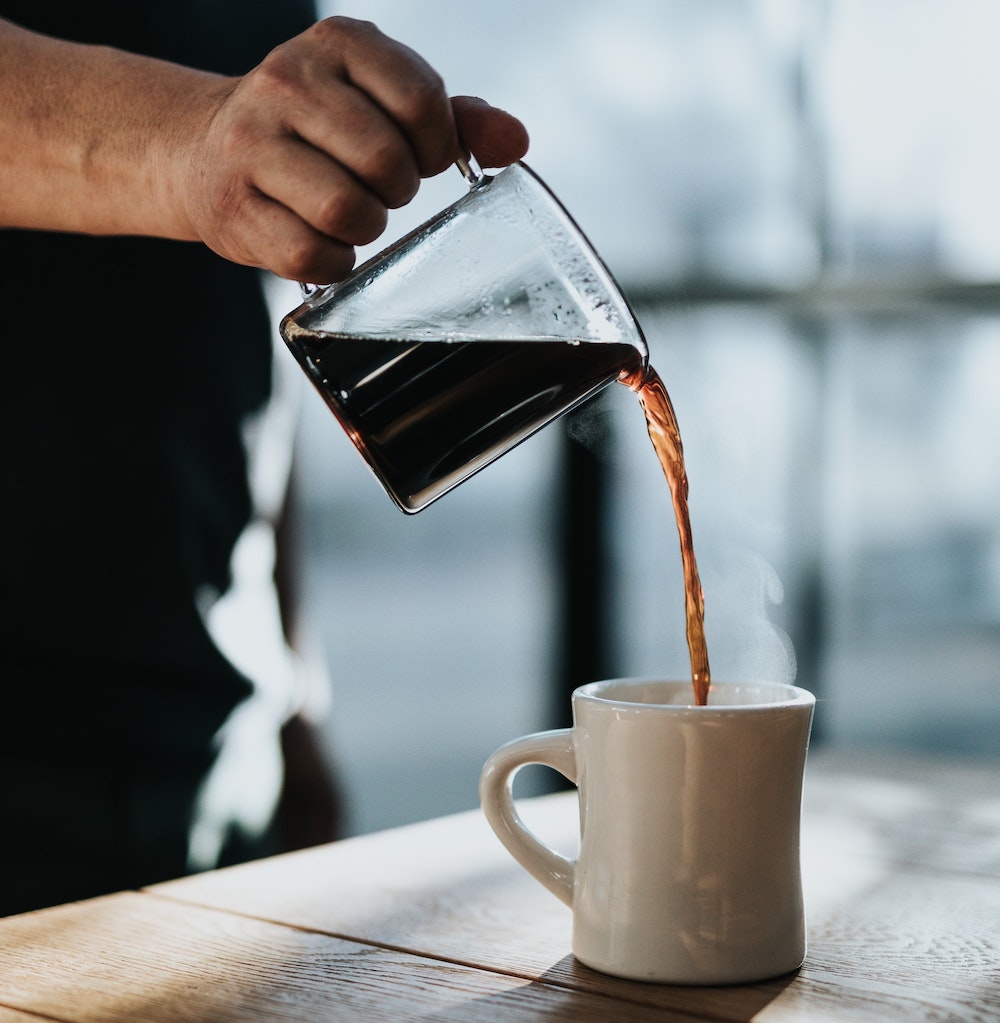 Starbucks is – of course – a perennial giant in the coffee world. It's able to churn out an incredible amount of reliably wonderful coffee, and this means an abundance of options to choose from.
These reviews walk you through some of our favorite Starbucks beans, so you'll be able to find what you're looking for.
All these options are available as both ground or whole bean. Starbucks sells all its products in both varieties, but it's generally easier to find bags of whole beans. The good news is that any Starbucks café will happily grind your beans for you. Even if you don't purchase them in the shop, feel free to bring a bag in and they will grind your beans free of charge.
---
Our Favorites Compared in 2023
Image
Product
Details

Best Overall

Starbucks French Roast

Rich caramel flavor
Very dark roast
Great for drip machine and French press

Best Ground

Starbucks Sumatra

Bold and funky
Available pre-ground
Impressive bloom

Best Medium-Dark Roast

Starbucks Caffé Verona

Rare post-roast blend
Mix of medium and dark flavors
Popular, classic flavor

Best K-Cups

Starbucks Breakfast Blend K-Cups

Easy to use K-Cups
Light, bright flavors
Goes well with food

Best Decaf

Starbucks Decaf Pike Place

Available in decaf
Dark and aromatic
Iconic Starbucks variety
The 10 Best Starbucks Coffee Beans
1. Starbucks French Roast Whole Bean Coffee – Best Overall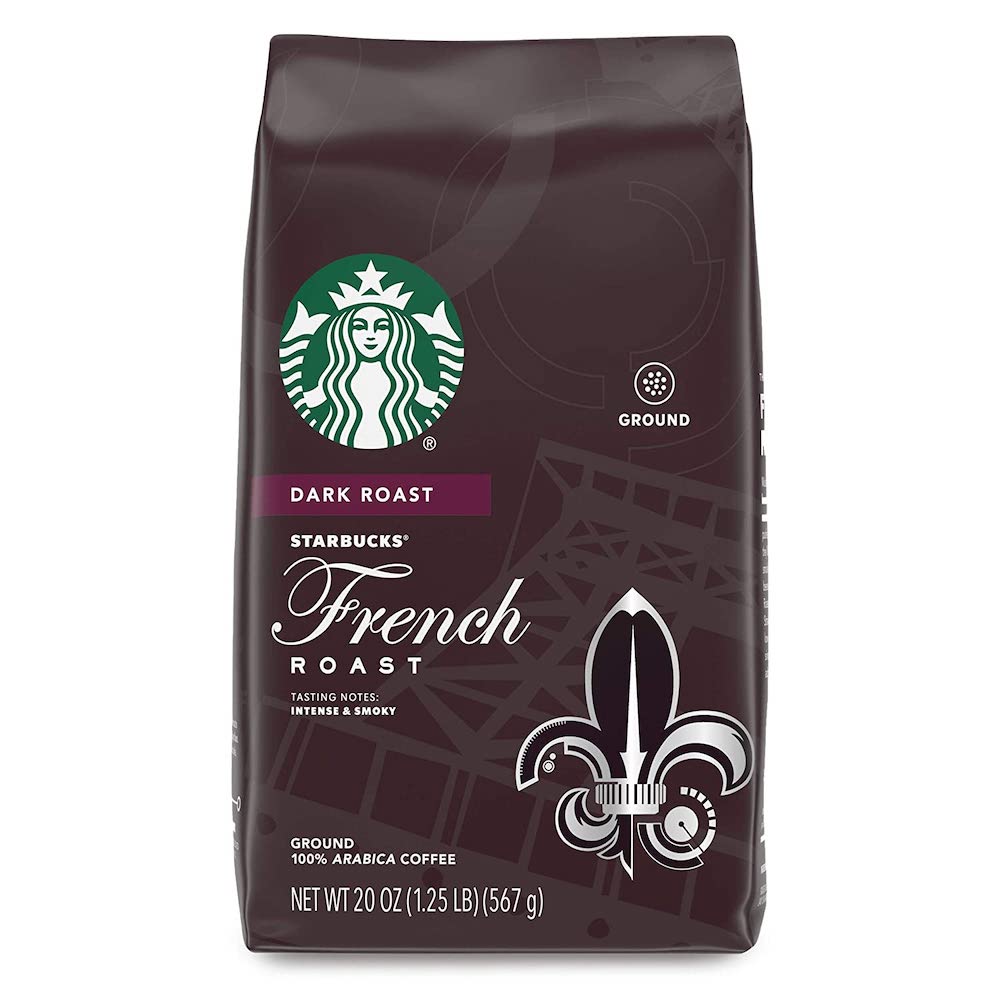 Much like the Italian Roast that Starbucks sells, this French Roast harkens back to traditional practices. Traditionally French coffee was brewed with the French press method (of course), and these beans are roasted in the style that grew out of this traditional coffee preparation.
The French Roast tends to taste a little more complex than some other options. Expect to enjoy satisfying notes of caramel, in addition to a smokiness.
In general, we recommend this roast most for use with drip machines and French presses. Because of the complexity of the roast, this bean will not do well if prepared as an espresso or any similarly quick extraction.
The French roast needs time for the proper flavors to be drawn out of the beans. If you don't mind this aspect, this is definitely one of the most satisfying dark coffees by Starbucks. We recommend this very highly.
All in all, we think the French Roast offers the best Starbucks coffee beans on the market.
Pros
Rich, smoky caramel flavor
One of Starbucks' darkest roasts
Great with drip machines and French presses
Cons
Doesn't work well with quick extraction methods
---
2. Starbucks Sumatra Dark Roast – Best Ground Coffee
The Sumatra blend is our personal favorite, but it's not universally loved, and that's why it's not our top pick. The Sumatra is full of rich and funky notes, and it's for this reason that most people either love these beans or hate them.
That said, if you're looking for a bold coffee with definite notes of fruit, this is a great choice. Because it's a darker roast, the Sumatra blend is distinctly less acidic than some other options. But it doesn't suffer from the "overly bitter and smoky" problem of some lower-quality dark roasts.
The Sumatra works well in any standard drip machine – whether at home or in the office – but it's an especially good pick for pour-over brewing. Because of the roast, these grounds have an especially impressive "bloom." This refers to the initial pour, when it's recommended to let the grounds sit for a couple of seconds and dampen. In this first stage, the Sumatra blend releases natural oils and makes for a great experience.
We always prefer buying whole coffee beans over ground coffee. However, if you don't have a grinder, this is definitely one of the best Starbucks ground coffee options to choose from.
Cons
Not as fresh as whole bean
May be too funky
---
3. Starbucks Café Verona Coffee Beans – Best Medium-Dark Roast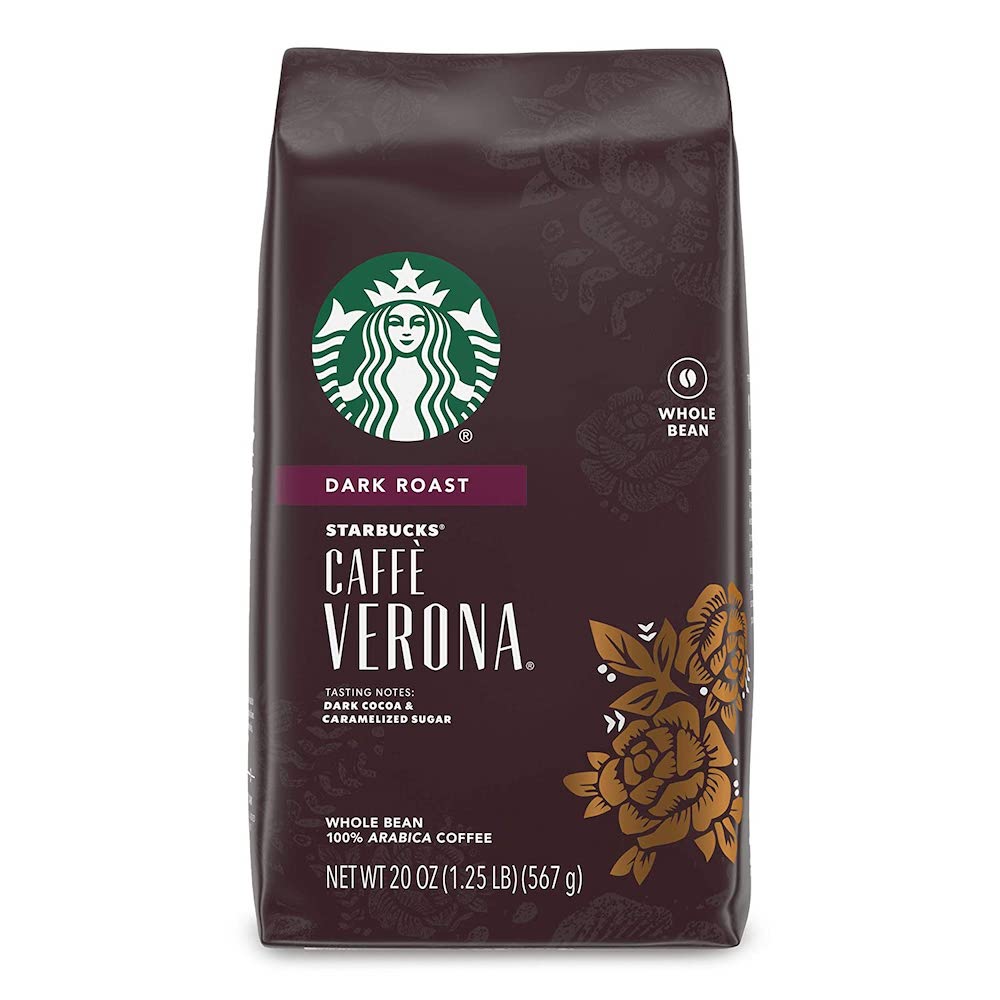 The Café Verona is an especially wild option. This stands out as one of Starbucks' very first roasts, and its popularity has endured to this day – it's one of the company's most popular offerings.
Café Verona is actually a "post-roast blend." This means that a blend of beans from South America is roasted a little on the lighter side, and then different beans are roasted much darker. Eventually, these two roasts are blended, in a proprietary ratio, and the result is an incredibly rich and unique coffee.
This blend is definitely on the lighter side, but the dark roasted beans do balance everything out nicely. Because of this combination, the Café Verona is a good choice for someone who may only be interested in buying one roast at a time. If you don't often drink coffee at home, but you want to have something satisfying on hand, this is the right choice. The dark notes will be satisfying as a morning pick-me-up, and the lighter notes will do well cutting through any afternoon malaise.
Pros
Rare "post-roast blend"
Pleasing mix of medium and dark-tasting notes
Very popular classic flavor
Cons
Too light for dark roast lovers
---
4. Starbucks Breakfast Blend K-Cups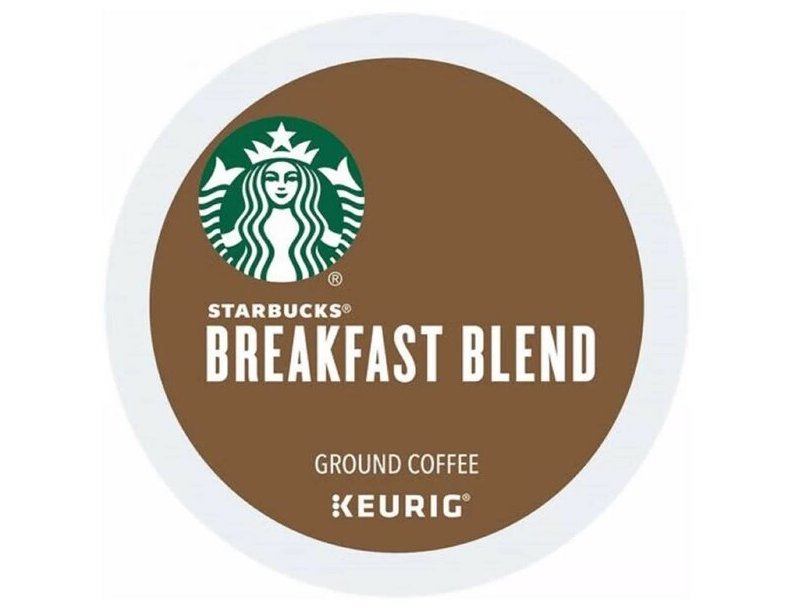 Next up is the trusty Starbucks Breakfast Blend. We've always imagined this blend as the perfect diner coffee: maybe slightly burnt, poured into stout white mugs, and enjoyed amidst the smells of pancakes and bacon. In truth, this roast is a little more than just diner coffee – but we think that this is the general atmosphere in which the Breakfast Blend shines.
This coffee is definitely not for coffee aficionados who want to carefully swirl a tasting cup. Rather, this is for everyday coffee drinkers who don't care about being too fussy. This blend is a lighter roast, and this means it's more acidic. This is great because the brightness can be very pleasing in the morning and because this blend goes well with food.
Overall, this blend does what it's intended to do: be a happy companion to any morning activity. That said, the Breakfast Blend is not one of our top picks because its flavors don't stand out.
Pros
Reliable and always satisfying
On the lighter side, with bright acidity
Goes well with food
Cons
Not the most interesting
Too light for dark roast lovers
---
5. Starbucks Decaf Pike Place Coffee – Best Decaf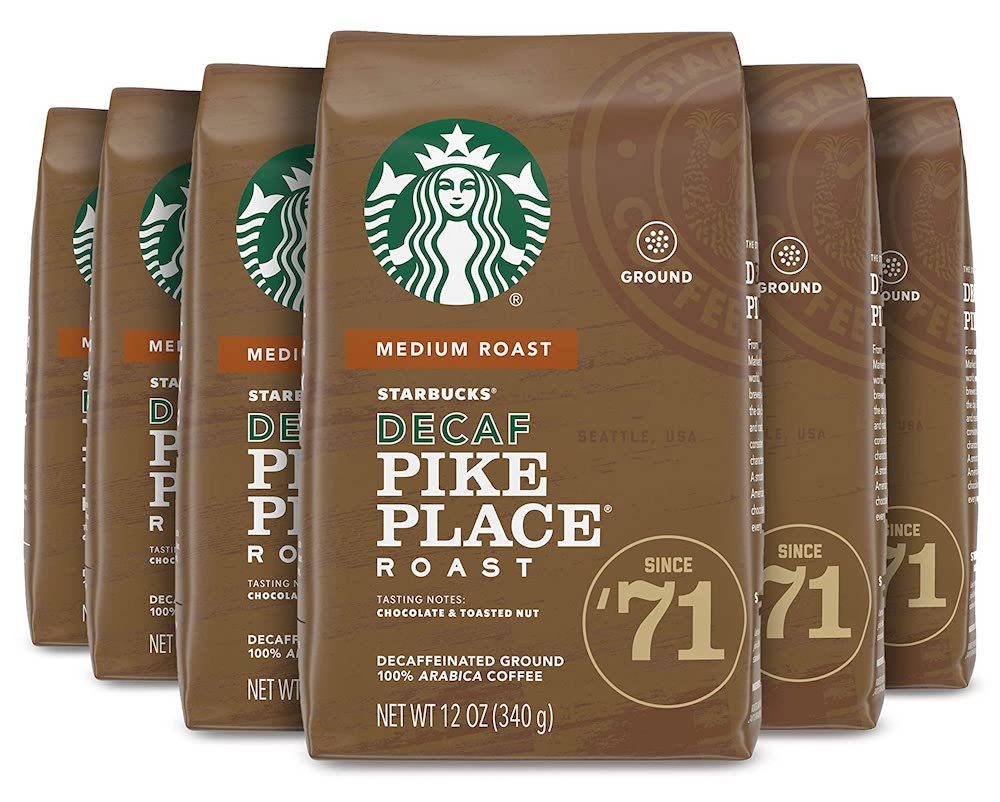 The name of Starbucks' Pike Place roast hearkens back to the company's very early days. Founded just around the corner from Seattle's famous Pike Place Market, Starbucks has always tried to hold on to this sense of place.
Over time, the Pike Place roast has become the company's default roast. If you go to any Starbucks location and order "just a coffee," you'll be handed a steaming hot cup of Pike Place. We love this trusty roast because it really does just hit every mark. The Pike Place is a darker roast, but it does have some bright notes, and this helps to make the drink less heavy-feeling. The strong flavors make it a great decaf option.
Additionally, this roast is especially pungent. Generally, darker roasts do have a more powerful scent, but Pike Place is notably aromatic. This is likely because Starbucks relies on this roast to perfume its stores.
The Pike Place roast is a great pick for those who know they want something simple and satisfying. But if you're looking for an especially fun purchase, you might consider some of the other options we've listed.
Pros
The most iconic Starbucks variety
Very dark and aromatic
Strong flavors
Available in decaf
Cons
Not very complex or unusual
May be too dark
---
6. Starbucks Brazil Blend Whole Coffee Beans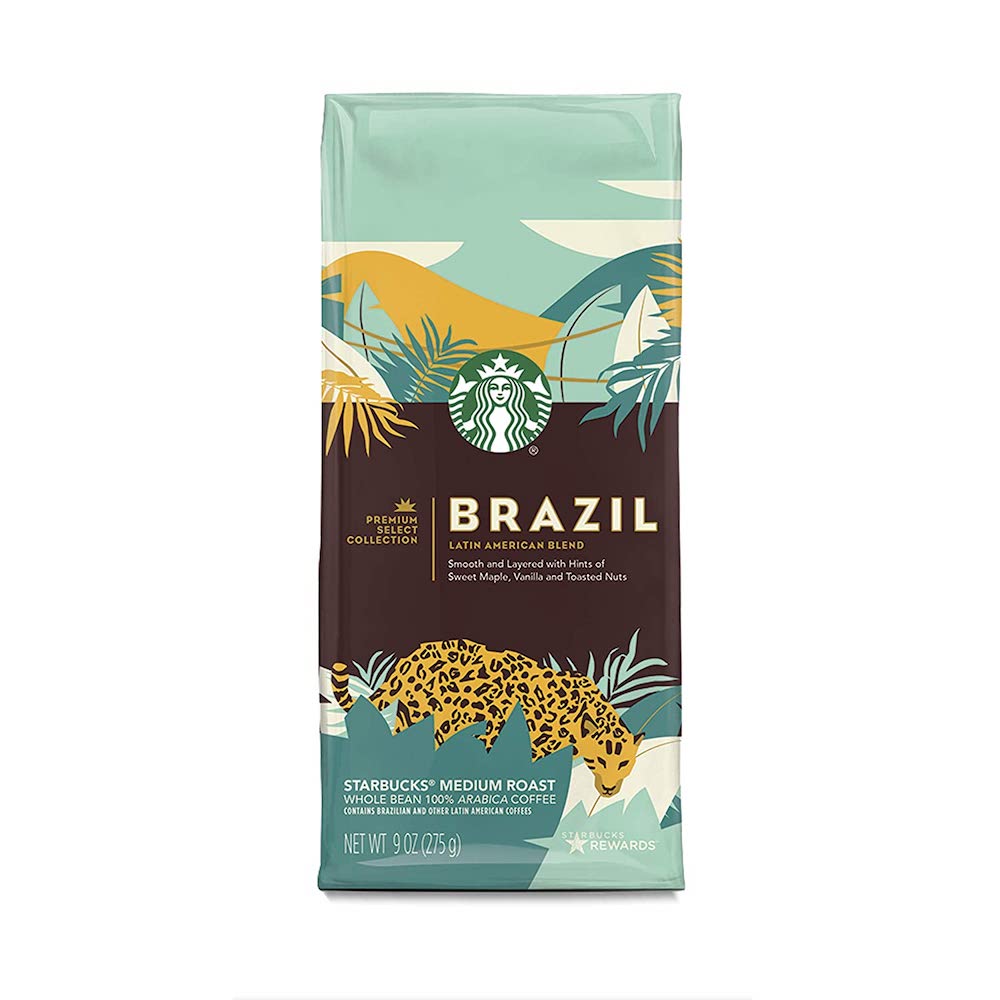 The Brazil Blend is incredibly unique. It was designed in anticipation of Starbucks' entry into its namesake country, and it's actually a part of a broader line of country-specific roasts. In Brazil, Puerto Rico, China, the Philippines – and a handful of other countries – Starbucks has made a point of serving roasts sourced entirely within the relevant country. All these roasts are a hit, but the Brazil variety is especially popular, and so we're including it as one of our top picks.
Coffee aficionados will know that beans from Brazil are generally more acidic and a little more fruity. This particular roast has been roasted just a little bit past what may be considered "traditional," and the effect is wonderful. Because the Brazil Blend begins with such bright-tasting beans, but then features some pleasing nuttiness,  it really stands out.
The Brazil Blend is sold through Starbucks' website, but it may be difficult to find in grocery stores. This is because it is a part of the very particular line of country-specific coffee. Consider these beans if you're feeling a little adventurous and if you enjoy both light and dark roasts.
Pros
Flavors unique to the Minas Gerais region
Very bright and fruity
Adventurous, with unusual taste and roast level
Cons
Can be hard to find
Not a basic or traditional coffee
---
7. Starbucks Veranda Blend Coffee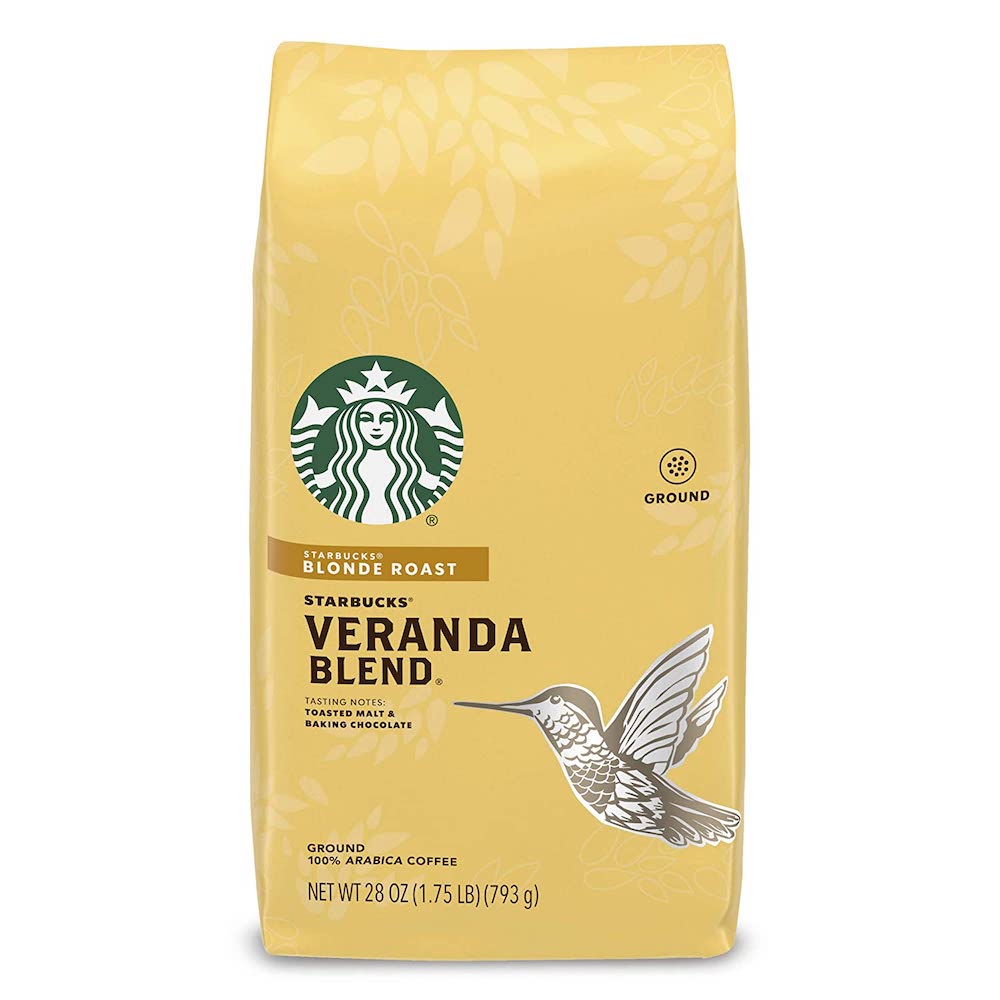 The Veranda blend has undergone a recent re-branding. As part of Starbucks' push to increase the popularity of lighter roasts, the word "Blonde" has been added to the roast, which was initially known only as "Veranda."
The Veranda Blonde is Starbucks' mainstay lighter roast. This is a very easy coffee to find, and a very pleasing coffee to drink. The beans are all from Latin America, and they're all roasted with attention to drawing out the pleasing acidity of this coffee. It is a great choice for anyone who enjoys a lighter roast.
Also of note: because this is Starbucks' premier lighter roast, these beans have a little more caffeine than some other options. This is great if you struggle to get out of bed in the morning, but it may also be a factor to consider if you're especially sensitive to caffeine.
RELATED READ: What is blonde espresso?
Pros
Starbucks' de facto light roast
Slightly higher caffeine content than other options
Mild, easy to drink flavor
Cons
Flavors may be too mellow
Not for medium or dark roast lovers
---
8. Starbucks Espresso Roast Whole Bean Coffee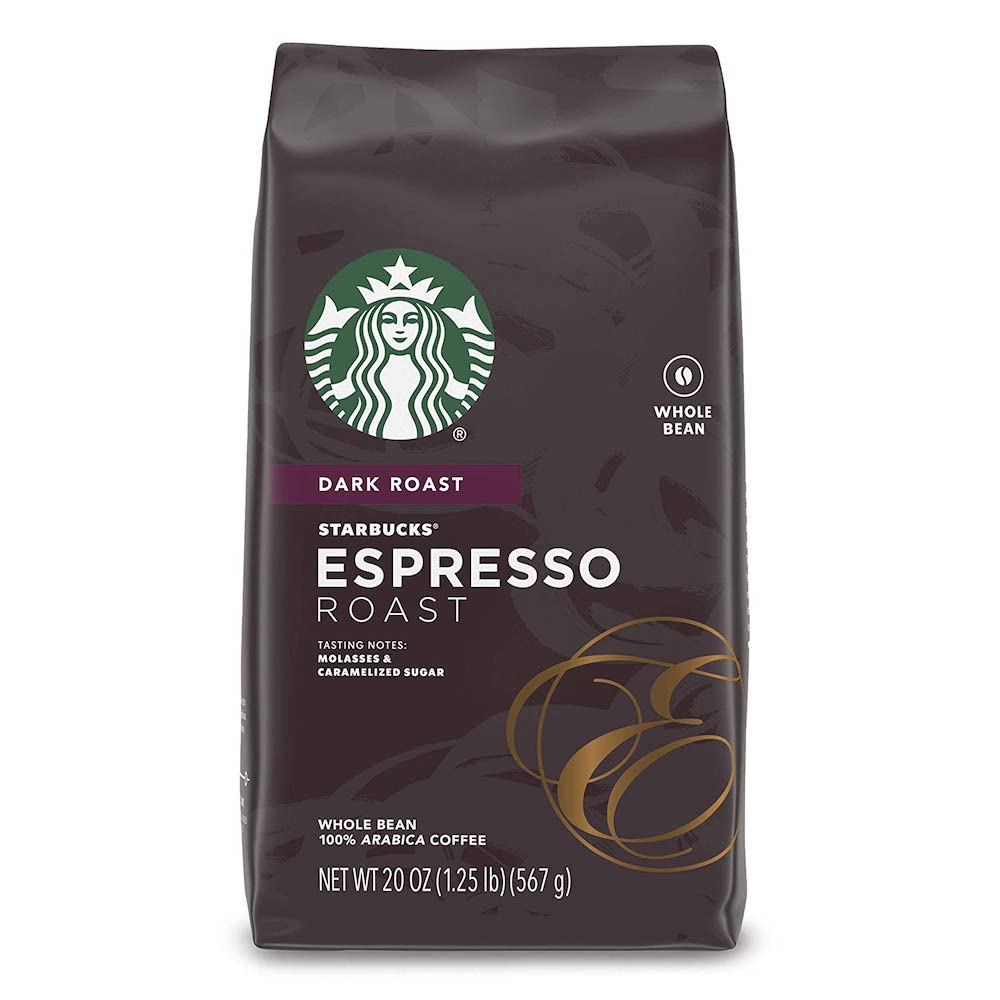 Shockingly enough, you can use the Espresso Roast for anything, and it doesn't even need to be espresso! This is an important aspect to consider because there really are good reasons to use these beans in a drip machine, pour-over, or French press.
The Espresso Roast is just a well-curated blend of beans, designed to preserve a crucial bit of oil. This oil is important because it produces the satisfying crema that is key to any quality espresso shot. No matter how you brew this coffee, the oil will add an extra dimension to the flavor.
This is absolutely a darker roast (one of Starbucks' darkest), and it is very full-bodied. This means that the Espresso Roast may be a great cup to drink early in the morning, and it pairs well with sweet pastries.
This is a great option for anyone who's looking to make espresso at home, but also for anyone who appreciates a bold bean. Expect to enjoy some caramel notes and just a touch of spiciness.
Pros
Bold flavor with notes of caramel and spice
One of Starbucks' darkest roasts
Full-bodied, with quite a bit of oil
Cons
Less complex flavor
May be too dark
Extra oil may clog filters
---
9. Starbucks Italian Roast Whole Bean Coffee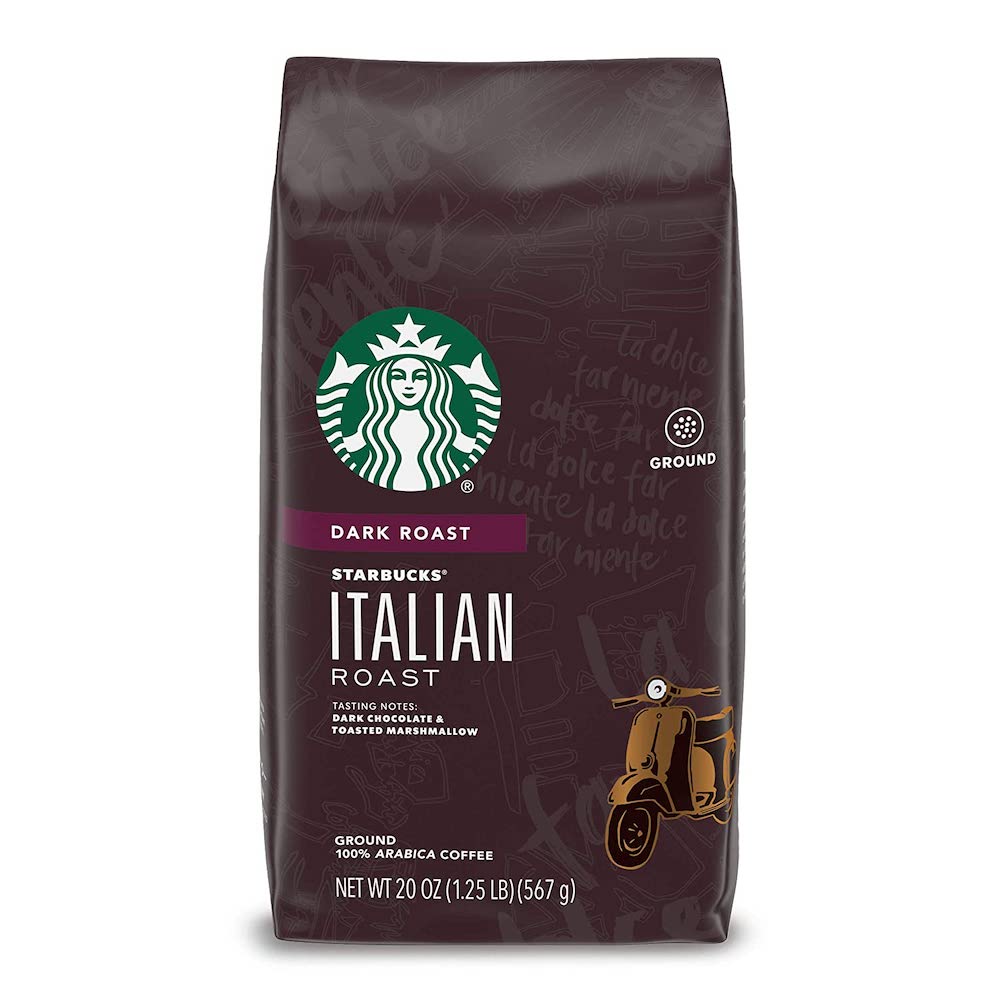 In general, "Italian Roast" refers to darker roasts prepared specifically for espresso. Italian roasts need not be from any particular location – but, in the case of Starbucks' Italian Roast, all the beans are sourced from the Asia-Pacific region and Latin America.
Note that this is not Starbucks' default espresso roast. Rather, this roast is designed to bring out many of the pleasurable qualities of these traditional Italian roasts. These beans will do well in any type of preparation.
Expect an especially dark roast, and a coffee full of rich flavor with some notes of chocolate.
This is a good choice for anyone who wants something bold in the morning, but it also isn't one of Starbucks' most interesting beans. For this reason, it's not one of our top picks, though we do think it can be a satisfying purchase.
Pros
Bold flavor
Works well in espresso machines
Chocolate notes
Cons
Not very complex or interesting
May be too dark
---
10. Starbucks Coffee Christmas Blend K-Cups
Last, we want to talk about the Christmas Blend – because how could we not? This is a very special blend that can stir up so many happy memories. I know that in my own family, Starbucks coffee has long been a reliable holiday gift, and that when cafes break out this blend for the fall, that's when the festivities really begin.
This is just a dark blend that has been roasted with very particular attention to aroma. The result is a box of K-cups ready to give off the most enticing smell imaginable, and to produce a great cup of coffee. Thanks to all of its syrupy and spicy-tasting notes, this blend does stand out as something special.
Though it is best to save these festive beans for the dark days of winter, they can also be a hit year-round.
You can read a full roundup of our favorite Starbucks K-cups here.
Pros
Especially festive aroma
Rich syrupy notes
K-cups compatible with Keurig brewers
Cons
May be too sweet
Not an everyday coffee

Buyer's Guide: Finding the Best Starbucks Coffee Beans
When choosing the best Starbucks coffee beans, there are a few things you should keep in mind. This buyer's guide will help you determine which coffee beans are best suited for your flavor palate so you'll enjoy a great cup of coffee each time you brew.
Tasting or Flavor Notes
Tasting notes are written by coffee tasters in an attempt to describe the taste, character, and aroma of the coffee. These notes help guide us to the coffees that are best suited for our personal taste buds and preferences. Keep in mind, though, when it comes to flavor notes, they do not include anything added to the coffee. Creamers, sweeteners, and flavors are not taken into consideration when a coffee's flavor notes are determined. If you enjoy adding things to your beans, you may change the flavor up a bit and change the flavor notes altogether.
Character Notes
Other than tasting notes, coffee tasters also use character notes. This tells you more about the coffee's personality. Character notes let you know if coffee is acidic, smooth, full-bodied, rich, lively, complex, balanced, or smooth. Both tasting and character notes can easily change when coffee is processed. If you prefer a stronger, full-bodied coffee with a nutty flavor, then choosing a Starbucks coffee bean that suits your preferences is the best way to enjoy a great cup of coffee each day.
Brewing Method
Each method of brewing coffee requires a different type of coffee bean. Understanding what's needed for your favorite method will help you determine which Starbucks beans are best to bring home. With so many eclectic tastes in the world, Starbucks tries to offer something for everyone. Whether you're a fan of espresso, lattes, or a quick cup in the Keurig before work, choose the right blend for your chosen method and your cup of coffee will taste amazing each time you brew.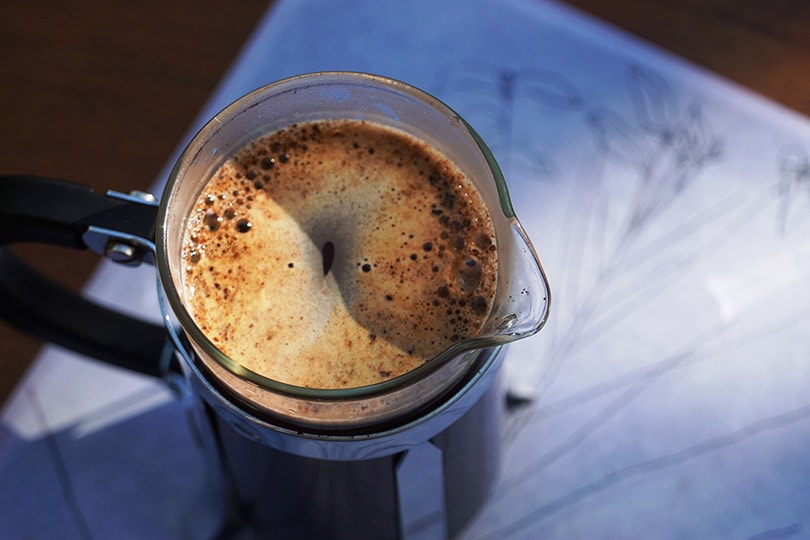 Caffeine
While most of us enjoy coffee due to the boost it gives our bodies, the caffeine content is something you should always keep in mind. For some people, caffeine is the thing that keeps them going through a hard day of work or dealing with things around the house. Unfortunately, other people may not be able to tolerate high caffeine content when it comes to their coffee. It is well known that most Starbucks coffee beans are high in caffeine content. If you have a low tolerance for caffeine, it is best to read all labels and packaging to determine which Starbucks roast is best suited to your body's tolerances and needs.
Price
Price is something we all think of when it comes to making a purchase. While you can easily find more expensive coffee beans on the market in comparison to the price of Starbucks coffee beans, you can't call this brand the most affordable. One thing Starbucks does excel in is options. As you can see by our list of favorite Starbucks coffee beans, they have something for everyone when it comes to flavors. The same is true on pricing. In most situations, the Starbucks brand should have a bag of coffee beans that will fit your budget.

Conclusion
It can be exciting to go explore your local coffee shops and to sip craft coffee when traveling – but when you want something reliable and healthy, these Starbucks beans will never disappoint.
So what are the best Starbucks coffee beans available this year? Our top pick is the trusty French Roast, and this is closely followed by our runner-up, the Sumatra blend. We're also very excited about the Caffé Verona, which is our top pick for more unusual roasts.
Hopefully, these reviews have helped you find a delicious coffee. Good luck choosing!
Also worth reading: