Our Final Verdict
We give the MistoBox coffee subscription a rating of 4.8 out of 5 stars:
Flavor
Quality
Selection
Resources
Ease of Use
Price
MistoBox Coffee Subscription Review: At a Glance
MistoBox is a fun and easy to set-up coffee club that offers a huge variety at a reasonable price. You can select your own coffee from the hundreds available or set your preferences and let your coffee curator choose for you.
The company offers a minimal, well-designed website with a useful subscriber dashboard. Your coffee ships and roasts on your schedule and the packaging is attractive and informative.
However, there aren't any sample options and you can't change the bag size. In addition, you'll have to pay shipping fees. So is this the right option for you? Read our MistoBox coffee subscription review to find out!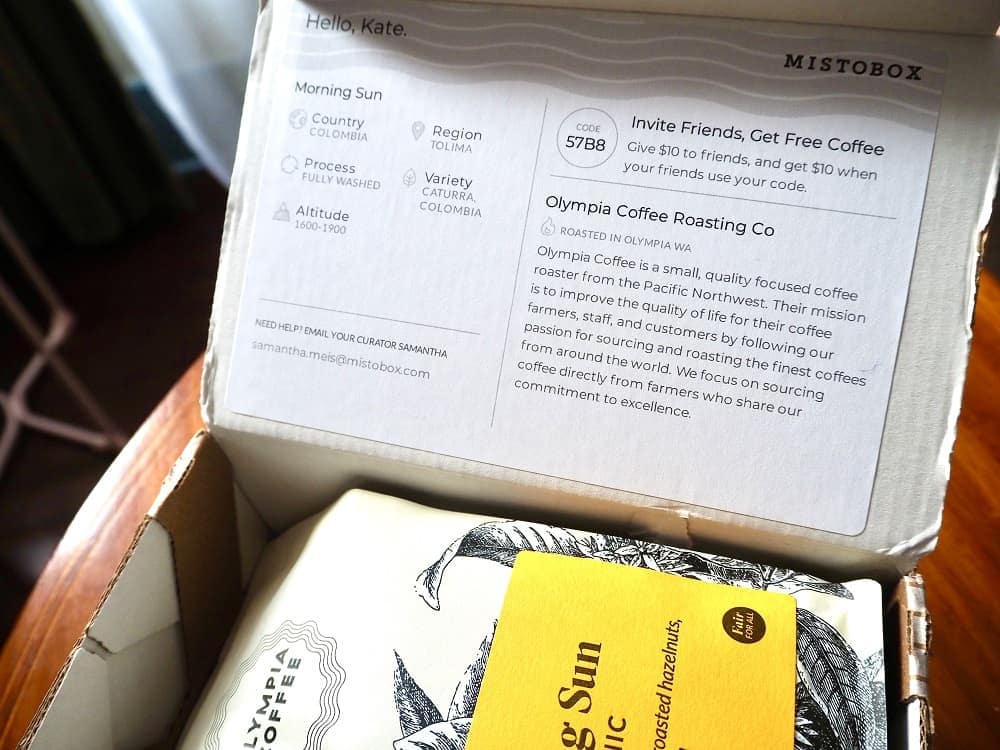 MistoBox Coffee Subscription Quick Look:
Pros
Fairly priced with two pricing levels
Ability to choose your coffee or have it selected for you
Over 500 types of coffee from 50 small roasters
Beautiful, personalized packaging
Detailed tasting and origin notes
Ships and roasts on your schedule
Choice of whole bean or ground
Good gift options
Cons
Charges shipping fees
Only one bag size with no sample options
The Company
MistoBox is a San Francisco-based coffee subscription service that works with an impressive range of roasters. The company currently offers 516 coffees from 50 roasters based all over the country.
And did you know? Some of MistoBox's early funding came from the ABC TV show Shark Tank.
---
The Ordering Process
MistoBox's website is well-designed and intuitive. To get started, you take a quick quiz, covering how you drink your coffee, whether you prefer single-origin, blended, or espresso coffee, your preferred shipping frequency, grind size, and roast level, and a choice of two pricing levels, deluxe or exclusive. If you choose exclusive, you'll pay a few dollars more, but you'll receive MistoBox's most special coffee. The company also offers a decaf option.
Once you set your preferences and add your shipping and billing information, you get access to your subscriber dashboard, where you can easily adjust shipping dates, see and rate the coffee you've already received, and manage gift subscriptions.
---
Shop… or Let Your Curator Shop For You
If you're short on time, you can stop there. You don't have to do anything else — your assigned coffee curator will pick a coffee for you based on your preferences. The company will send you an email once your coffee's been selected, and you can change it if you'd like.
If you'd like to pick out coffee for yourself, you can browse the 516 types of coffee available on your website and add bags to your Brew Queue. Conveniently, you can filter and search through the many kinds of coffee.
We found MistoBox's website fun to shop on, and the ability to choose your ideal coffee is very appealing. Given everything it offers, this coffee club is fairly priced, although you will have to pay a $5 shipping fee with each shipment. You can pay for one bag of coffee at a time, but the company offers bulk discounts if you buy ahead.
The Coffee
To try out this subscription, we set our preferences to single-origin, whole bean, medium roast coffee and let the curators take it from there. We received a 12-ounce bag of Olympia Coffee's Morning Sun, which is an Organic, highly aromatic coffee with strong flavors of chocolate and hazelnuts. The beans were consistently roasted at a medium-dark level. Plus, they were very fresh and produced a strong bloom.
SEE ALSO: MistoBox vs Crema Coffee Subscriptions: Which to Choose
---
The Packaging
MistoBox's coffee comes in a compact box printed with a personalized note describing the roaster and the region where the beans were grown. The note even includes the name and email address of your curator, which allows you to ask questions directly.
The bag we received was attractive and well-designed, with detailed tasting notes, a stamped roast date, and recommended brew ratios. The bag had a one-way valve for degassing and a simple pull-tab opening. Even better, the inner plastic bag conveniently resealed to maintain freshness.
---
Extras
MistoBox offers gift subscriptions. With personalized, beautiful packaging and a wide range of beans, this company could make a great gift. Plus, you don't have to choose the specific coffee unless you want to!

MistoBox Coffee Subscription: The Verdict
If you're looking for a variety of tastes and a company that lets you choose your coffee, MistoBox could be a great option. Plus, the beans are guaranteed to be fresh and packaged in appealing, well-designed bags. Every month, you'll be able to choose your own coffee or leave it up to your personal coffee expert.
However, you can't adjust the size of your coffee bags or order a sampler, and you'll have to pay shipping fees every time. Still, the coffee is delicious, the packaging is nice, and the curation is unbeatable. There you have it: the end of our MistoBox coffee subscription review!
Ready to get started? Save 25% using this code we found!