Our Final Verdict
We give the Atlas Coffee Club subscription a rating of 4.7 out of 5 stars:
Flavor
Quality
Selection
Resources
Ease of Use
Price
Atlas Coffee Club: At a Glance
Atlas Coffee Club is a fun travel-themed subscription service that's great for an armchair traveler looking to try a range of coffees. This club is fully curated, offering coffee from a different part of the world every month. It's quick to order and doesn't require many decisions, though you won't get to customize the coffee to your personal taste. That's great news if you're short on time!
The company offers appealing gift options and attractive, though not resealable, packaging. We found the beans very fresh and flavorful, and the extras like brewing tips, origin notes, and colorful postcards make this subscription feel like more than just coffee.
We've personally tested this coffee subscription service not once but twice — and trust us when we say that it's an all-around enjoyable experience from the moment you open the box. Adventure (and great coffee) is calling! Scroll down to read the rest of our Atlas Coffee Club subscription review.
Atlas Coffee Club Subscription Review Quick Look:
Pros
Reasonably-priced (and save 50% with code COFFEE50!)
Choice of three bag sizes
Whole and ground options
All single-origin and ethically sourced
Beautiful, minimal packaging
Could be a good gift option
Good for adventurous taste buds, with coffees from all around the world
Roasts and ships within two days of ordering
Intuitive member portal that allows you to skip or adjust orders
Cons
No quizzes or customization options
$5 shipping fee on each order
No pull tab or resealing feature on the bag
No sampler available
All About Atlas Coffee Club
Atlas Coffee Company, based in Austin, Texas, is a subscription company that aims to show you the world through coffee. They source beans from 50 countries all around the world and roast them to a level that complements their flavors, so you'll get to sample quite a range of flavors.
Atlas has a focus on ethically sourcing its beans, promising to pay above-market prices for all of the single-origin coffee it buys. The company offers brewing guides and a range of coffee-themed articles on its website.

How to Order
For our Atlas Coffee Club subscription review, we put the ordering process to the test. The Atlas website is well-designed and easy to use. When you sign up, you're given a choice of bag size (6 ounces, 12 ounces, or 24 ounces), frequency (every two or four weeks), roast level (light to medium, medium to dark, or all roast types), and grind type (whole bean or ground).
Atlas Coffee Club is very reasonably priced, offering a lower price point than many comparable single-origin subscription services. They do charge a $5 shipping fee on every order.
This is a curated coffee club, so you don't get to choose the specific variety you'll receive each month. It's not as much fun to order, and the coffee you receive isn't customized to your personal preferences.
After you sign up, you'll have access to an intuitive member portal, where you can add tasting notes, skip or edit shipments, and cash in your rewards points for things like store credit and free shipping. We especially liked that you're not locked into your original order date, so you can edit the shipment date of every order.
Tasting the Coffee
Atlas roasts your coffee on-demand, on the first business day after your order. They promise to ship your beans within 24 hours of roasting, and you can expect your beans four to six days after they ship. This is a longer shipping time than some subscription services, but still well within the ideal freshness period of one to two weeks after roasting.
The first time we tested Atlas, we received dark roast coffee from La Palma-Citalá, El Salvador. The beans were aromatic and lightly oily, with bold flavors of chocolate, nuts, and oranges. They produced a very aggressive bloom, meaning the coffee was quite fresh.
We recently got a chance to try Atlas' latest batch of beans from Monte Grande, Peru. We sampled dark and medium roast beans from the sub-region of Jaén. Atlas recommended using a Chemex for the dark roast on the included information card, which we did to spectacular results! These beans were on the lighter end of dark roast and weren't oily at all. When we ground them, the aroma was complex and enticing — and the coffee came out smooth and balanced, with notes of chocolate and caramel.
For the Peruvian medium roast beans, Atlas recommended iced coffee, so we made iced coffee in our Chemex. If you've never done that, try it! You're in for a real treat. These beans were a little more unusual, producing unexpected notes of bananas and butterscotch.
---
The Packaging
The coffee bags are charming and minimal. They come with beautiful patterns printed on the sides that are customized to the bean origin. Our El Salvadorean beans were floral, and our Peruvian beans had an interesting pattern reminiscent of Incan textiles. The bags come with degassing valves and wire ties, but they don't have convenient pull tabs or resealing features. We recommend investing in an airtight, opaque container to keep your beans fresh.
With the coffee, you'll find a pretty postcard (send it to a friend to tell them about your new favorite coffee club!) and a nicely designed information card with tasting notes, recommended brewing method, and roast level, plus detailed information about the country's coffee, including history and a map. It's a great way to put your beans in context and learn something!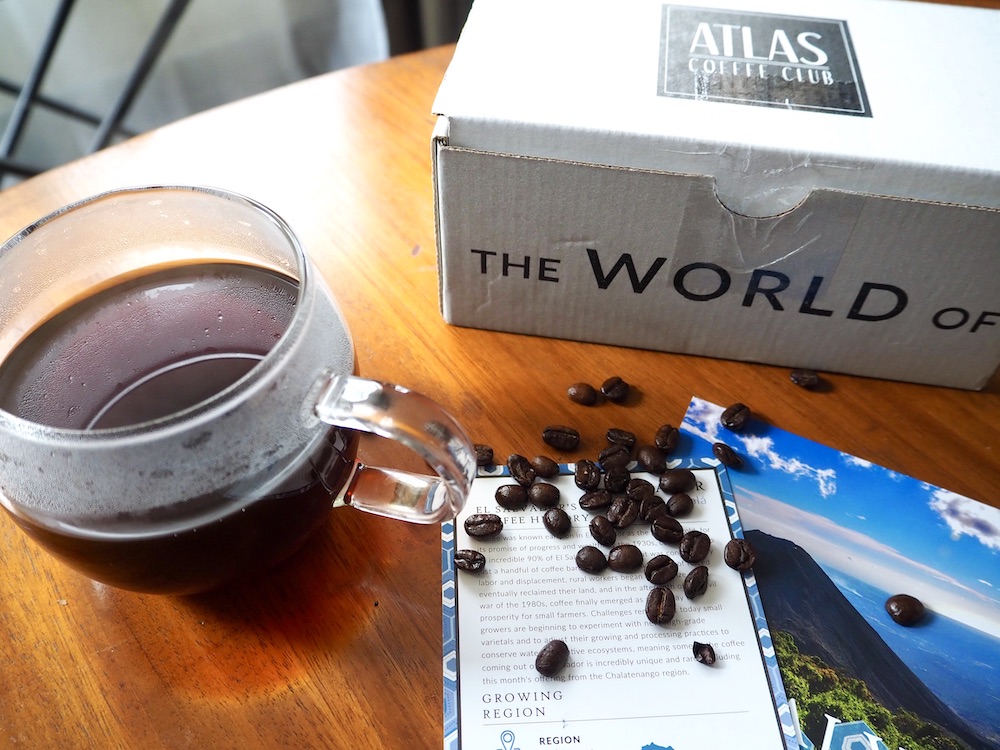 Extras
Atlas Coffee Club offers gift subscriptions lasting three, six, and 12 months. Given the beautiful, graphic packaging and the fun included information, this could be a good gift option. And if you're not sure what type of coffee your gift recipient prefers, you may like this company, because you won't have to guess.

The Verdict
Now that you've read our Atlas Coffee Club review, are you ready to give it a try? Atlas Coffee Club offers adventurous, highly varied coffee beans from all over the world. The well-designed packaging includes a postcard from your coffee's country of origin, plus tasting notes and history. Even better, the travel-themed subscription could be a great gift for the world traveler in your life. We've loved every bag of coffee that we've received from Atlas, and we're pretty sure you will, too!
There are a couple of downsides: you won't get to customize your flavor preferences or choose a specific type of coffee, and there aren't any sampler options. You'll also have to pay shipping fees on each order. But we thoroughly enjoyed this coffee subscription. Our verdict? Give Atlas Coffee Club a try! At an impressive 50% off, what are you waiting for?
Still looking? Try one of these other great coffee subscriptions: