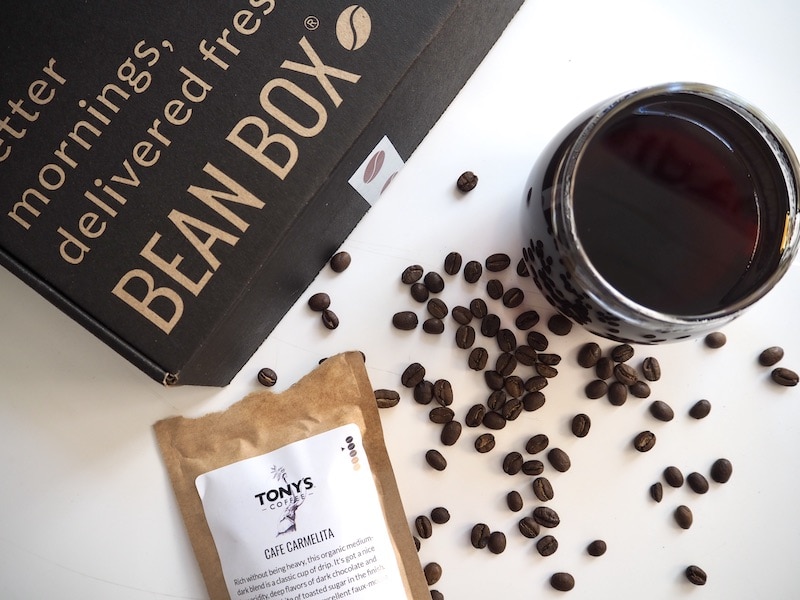 Our Final Verdict
We give the Bean Box coffee subscription a rating of 4.4 out of 5 stars:
Flavor
Quality
Selection
Resources
Ease of Use
Price
Review Summary
Bean Box is a coffee subscription that aims to give you the best artisan coffees from around the world. The coffees are roasted in Seattle and Portland before being sent fresh to your door.
This subscription service lets you choose from a large bag of the coffee of the month or a four-pack of samples if you're more adventurous. It has flavorful coffees from many countries that will expand what you know about coffee tasting.
The subscription also includes fun facts and free gifts, like chocolate, to improve your coffee experience. Take a look at everything we cover in this Bean Box coffee subscription review and find out if it's the one for you.
And if you're on a budget, we have great news: you can currently save 50% on your first order using code SIP50!
Bean Box Coffee Subscription Review Quick Look:
Pros
Coffees chosen from your preferences
Fresh, gourmet coffee with interesting flavors
Adventurous sampler packs or coffee of the month
Very customizable
Free gifts (like caramel candies)
Choice of whole bean or pre-ground
Save 50% on your first order!
Cons
Gourmet price (but save using code SIP50)
Don't get to choose every coffee variety
Coffee Quality
Good quality has a check mark here. The coffee beans from Bean Box are freshly roasted before sending, like many other great coffee subscriptions. The difference is that the beans are all roasted in Seattle and Portland. Roasting before delivery lets you taste the flavor of the coffees at their peak freshness, which is an important factor for a subscription. You don't want to pay for artisan coffee to get the same quality you can find at the grocery store. With Bean Box, you're definitely getting great quality coffee.
---
Flavor
Bean Box hits it out of the park when it comes to the coffee's flavor profiles. There are two options for subscriptions: one coffee of the month or four different smaller samples. We were lucky enough to sample both options — and trust us, they're both a lot of fun. Among the gourmet coffees we got to try were the buttery Cafe Carmelita, the fascinatingly spiced Tortoiseshell Blend, and the fruity Moonrise Blend, which features unexpected notes of cranberries and lychee.
The classic Drip Blend has tasting notes of cherry, chocolate, and caramelized sugar. The taste is smooth and sweet, and the coffee is very aromatic. The Brazil Canaan coffee was our "coffee of the month," and it was easy to see why. Nicknamed the "cookie dough" coffee because it tastes like chocolate and sweet cookies, this delicious bean has a rich flavor and full body. We also tried the Brazil Fazenda, which was smooth, rich, and nutty, with mind-blowing notes of mango and orange meringue. Wow!
This is the ideal combination for a subscription. If you're happier with getting just one coffee per month, that will also not disappoint, since Bean Box chooses its favorites for those shipments.
Selection
The selection of coffee from Bean Box is impressively broad. Whether you opt for the sampler or the full-size box, you'll receive a wide range of coffee beans. Bean Box offers a lot of very different coffees, from a simple dark roast that's complex and can be used for espresso, to blends that remind you of desserts with larger flavor profiles. The coffees Bean Box chooses from its roasters are from multiple different countries, which keeps the diversity. Both the blends and the single-origin coffees you're sent are from a wide selection that should keep any subscriber happy. Bean Box has also made it possible for you to list your coffee roast and flavor preferences, so you get coffees that match what you like best.
Resources
The resources Bean Box provides are pretty good. The coffee in your delivery is accompanied by a few coffee fun facts (plus a delicious caramel candy), but there aren't a lot of details about the coffee itself. The conveniently resealable coffee bag is the place to find tasting notes, where the coffee was grown when it was roasted, and how to brew it. You also have the company website to rely on. It has a lot more resources to explore, like a page with a list of coffee blends to buy, a coffee blog, a page about the roasters, and a coffee forum. It may not have every piece of information you want, but it covers quite a bit.
Ease of Use
The website has a great design and is easy to navigate. When you first go to the page, the subscription isn't thrown in your face but is still a clear option to click on. Signing up is also easy. First, choose if you want a four-pack of coffee samples or one larger coffee of the month for each delivery. Then, select what roast you prefer and the frequency of delivery (weekly through monthly). Overall, the Bean Box subscription is easy to set up and use.
SEE ALSO: Blue Bottle vs Bean Box: Which Coffee Subscription to Choose
---
Price
The pricing for this subscription may be out of some budgets, but overall it's surprisingly affordable given the quality of the coffee. The good news is that you can save 50% on your first order using code SIP50 — making trying this subscription an inexpensive no-brainer! Bean Box also has a discount price for buying six months' worth of the subscription at once, which saves you 20%. Plus, Bean Box offers free shipping, so you don't have to worry about extra fees.
FAQ
Q: Do I get to choose the coffees I receive?
A: Yes, you can. You choose which roast/flavors you like the best, including light/fruity, medium/chocolaty, dark and toasty, rich espresso, or even decaf. Your shipments are based on the preferences you provide.
Q: How do I make changes to my subscription?
A: When you start your subscription, you'll create a log-in. Use this log-in to make any changes on Bean Box's website. The company allows you to pause, stop, or cancel your shipments any time, with no questions asked.
Q: Can I order full-size bags of coffee?
A: Yes! You can choose between sample subscriptions (four 1.8-ounce bags of coffee)and full 12-ounce bag subscriptions. If you find a coffee that you really love, you can buy 12-ounce bags through the Bean Box website.
So What's the Verdict?
After sampling Bean Box's taster subscription and full-size subscription, we can safely say that we were very impressed. Make a few simple choices like roast level and grind size and the company will send you gourmet coffee on your schedule. You don't get to choose every bag, so if you're a big shopper, you may want to look at other subscription services. But if you're interested in trying adventurous, delicious coffee without putting in a lot of time or effort, this is the subscription for you!
Some other subscriptions we have reviewed:

Conclusion
Bean Box chooses the best gourmet coffees for you from its West Coast roasters depending on the preferences you choose. Beyond the excellent flavor and quality of the coffee, there's a great company behind it. Bean Box has great customer service, and even though the price point is a little high, your taste buds will thank you for the investment. If you're looking for a gourmet coffee subscription, Bean Box might be right for you. Now that you've read our Bean Box coffee subscription review, are you ready to try it?
Ready to get started? Save 50% on your first order using special code SIP50!
---
RELATED READ: Bean Box vs Trade: How to Choose the Best Subscription