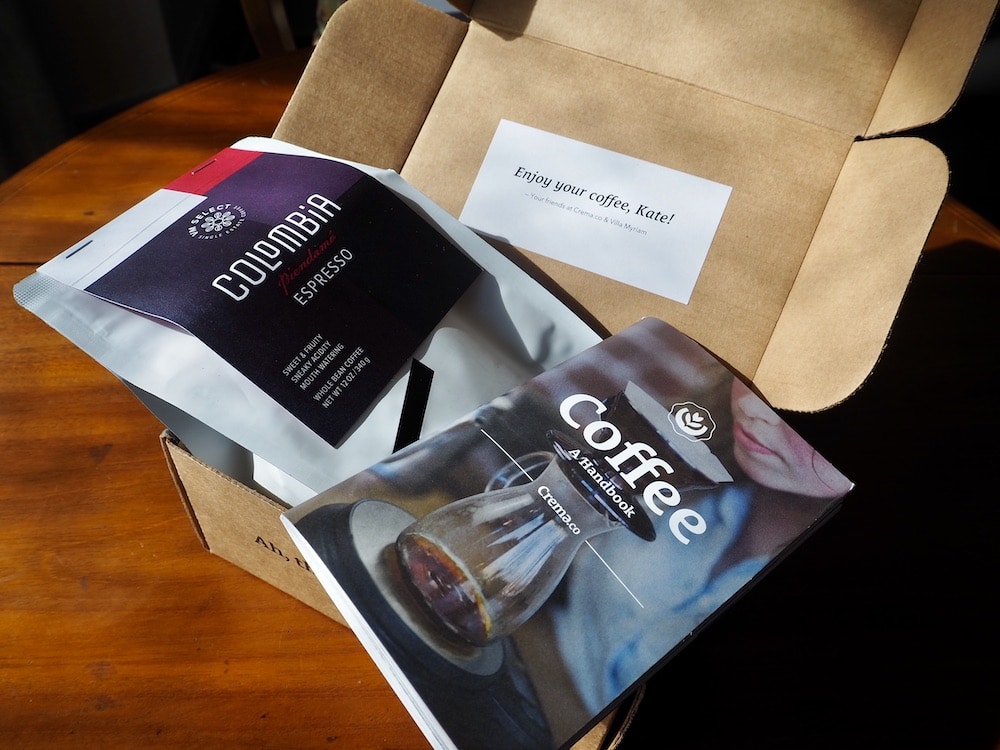 Our Final Verdict
We give the Crema coffee subscription a rating of 4.7 out of 5 stars:
Flavor
Quality
Selection
Resources
Ease of Use
Price
Review Summary
Crema's coffee subscription service lets you feel connected to the process by putting emphasis on the production side of the coffee industry. Each bag of coffee tells you the name of the farmers, instead of just where the farm is, and on the website, you can learn about the individual coffee farmers and roasters. As coffee lovers, it's exciting to see inside the industry that's responsible for growing our favorite caffeine delights.
The quality of these gourmet coffees is exactly as good as you'd expect, and the diverse flavors of the single-origin coffees are interesting as well. The best part of this subscription is making your very own "coffee playlist." You get to choose which Crema coffees you like the best or want to try in the future, and that's what it sends you! Check out the other aspects of the Crema subscription we reviewed below.
Crema Coffee Subscription Quick Look:
Pros
Coffee playlist of preferences
Great flavor, selection, and quality
Highlights coffee farmers and roasters
Free shipping
Fair price
Coffee: Quality, Flavor, and Selection
Crema puts in quite a bit of hard work to source the farms and roasters, which means you'll receive great coffee. Like other great gourmet coffee subscriptions, Crema aims to give you high-quality coffee that's fresh every time. Although nothing is guaranteed, Crema's quality shouldn't disappoint.
We received the Villa Myriam Espresso from Colombia. The beans were fruity and complex, with a bit of bright acidity and an amazing aroma. We especially liked the unusual flavors of lime and chocolate malt.
Working with so many farmers and roasters, it would be surprising if Crema had a limited selection. The coffees you're sent will be various single-origin coffees from a different farmer/roaster combination every time. If this doesn't convince you that you will get a good selection, then the "coffee playlist" should. You get to choose what roasts, flavors, and origins you want to try, and Crema sends them in order. That's as diverse and customizable as a subscription can get.
Resources
Your delivery from Crema comes with a notecard that helps with your coffee experience. It informs you that you can get brew guides or rate the coffees by logging onto the website. It also reminds you to update your playlist by adding your favorite coffees, ensuring that Crema knows what your preferences are. The bag of coffee tells you about where it was grown, how it was processed, the tasting notes, and the roast. Crema's website has more resources, including pages about the coffees, the roasters, the company story, brewing guides for many methods, a magazine, and tips from coffee guides. There's even a place where you can learn about each individual farmer. You'll never feel uninformed since Crema gives you plenty of resources.
---
Ease of Use
The website looks very professional and is well-designed. It boasts many pages with different information, including a page to start a subscription. From there, it's easy to get started. Take a three-question quiz to help choose the coffees you'll like best. This consists of choosing a roast level you like and a flavor profile you prefer and then selecting one to four coffees that appeal to you the most. That coffee is placed on your playlist, and you continue with your subscription selections. You get to pick the frequency of delivery and add more coffee to your playlist, so Crema can send you the next one on the list each month.
---
Price
The price is fair for the quality of gourmet coffee that Crema delivers to your door. It's priced better than other subscriptions that send the same amount of coffee. When you select coffees for your list, the prices vary by about $8, so you can better control what you're paying. Keeping in mind the diverse selection and how complex the flavors are, the price is great. There's also free shipping in the U.S. with this subscription.
FAQ
What size are the bags of coffee?
You'll receive one bag of coffee per month that is, on average, 12 ounces. Some roasters sell their coffee in 16-ounce, 10-ounce, or eight-ounce bags.
Do you get a choice between whole bean and ground?
No, it is only sent as whole bean.
Can you make changes to your subscription?
Yes, when you log into your account you can pause your subscription for as long as you want.
What is the free trial?
You can opt to try three samples for just the cost of shipping and handling. This is how Crema ensures you'll like its products before you sign up for a subscription if that path feels more comfortable for you. Each sample bag tells you the brew proportions and makes about one pot.
---
What Other Subscribers Say
Positive Feedback: Reviews are positive all around from most customers that have subscribed with Crema. They love many things about the subscription. Read for yourself about all the benefits this subscription can offer you.
First and most complimented were the quality and flavors of Crema's coffee. Many customers like the single-origin offerings, and are surprised at how complex they can be. Customers are also happy with the diversity of the coffees they get on their doorstep. Overall this seems to be the biggest benefit of the subscription, since it's all about the coffee, after all.
The coffee playlist easily comes in second, though. The majority of customer reviews say they love being able to choose their preferences and pick from coffees that fit. It's a unique coffee experience that most subscriptions don't offer. If anything sets Crema apart from other gourmet coffee subscriptions, it's this customizable feature that customers adore so much.
The ease of use impressed some of Crema's customers. The well-functioning website received a lot of praise for making the experience easier. Customers had no problems signing up for the subscription or finding other information they were looking for.
Some customers appreciate the emphasis Crema places on the farmers and roasters that provide the coffee. The company highlights both the farmers and the roasters on its website, giving customers a chance to read about where their coffee comes from and the people who make it happen. Some coffee lovers value knowing where their coffee is grown when getting a subscription.
Negative Feedback: Here are a few reviews that include some aspects of the subscription Crema could improve upon.
A few customers were disappointed that they couldn't order pre-ground coffee, because they do not have grinders at home. This makes it slightly inconvenient to subscribe with Crema if you don't also have a way to grind coffee at home.
Crema only ships in the U.S., which is inconvenient for those who live outside the U.S. and want to try the subscription. Crema does say that it's expanding to include international shipping soon.
Some other subscriptions worth considering:

Crema Coffee Subscription: The Verdict
Crema offers you quality gourmet coffee according to your preferences at a fair price. This is plenty to make it a solid subscription option. Then add in Crema's extensive resources, helping you connect to where your coffee comes from. As long as you have a coffee grinder, this could be a good subscription option. Go ahead and start your "coffee playlist" and try the best coffees picked out just for you!
RELATED READ: Should you choose the Crema or MistoBox coffee subscription?