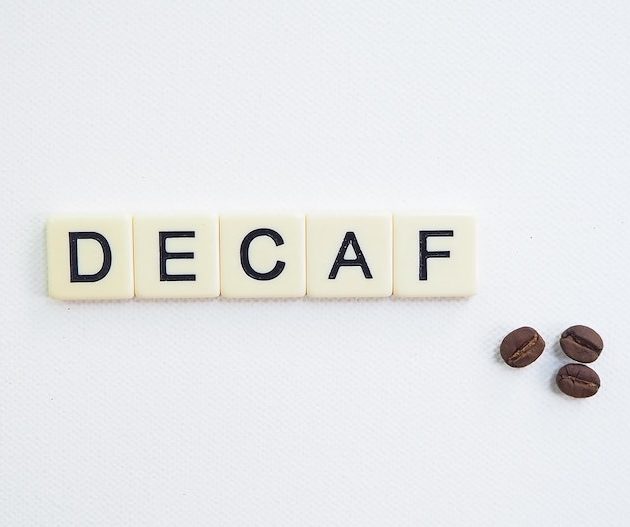 Real coffee lovers know that coffee is about more than simply caffeine. Of course, we all may need a boost in the morning. But you may find yourself craving a delicious cup before bed, or maybe you're just trying to avoid caffeine for health reasons.
If you're looking for the best decaf coffee – and you don't want to sacrifice on flavor or quality – you've come to the right place.
Here are our top picks for this year, including detailed reviews that pay special attention to everything that makes coffee so wonderful. And if you're wondering about the decaffeinating process, take a look at our buyer's guide. Now it's time to start shopping!
---
A Mini Breakdown of our Favorites in 2023
Image
Product
Details

Best Overall

Lifeboost Organic Decaf

Intense flavor
Fair Trade sourced
Chemical-free Swiss Water Process

Best Ground Coffee Pick

Volcanica Sumatra Mandheling

Chemical-free Swiss Water processing
Interesting, richly flavorful
Available in 3 grind sizes

Kicking Horse Swiss Water Process

Swiss Water Processed
Strong flavors
Tasty Coffee

Best Decaf Espresso Beans

Lavazza 'Dek'

Great for espresso
Satisfying level of oil
Roasted beans to peak flavor

Verena Street Swiss-Water-Process

Swiss Water Processed
Available pre-ground
Small-scale roaster
The 10 Best Decaf Coffee Brands
1. Lifeboost Organic Decaf Coffee Beans – Best Overall
Our top pick is from Lifeboost, and we especially love it because of the fact that it's Fair Trade sourced. This means that the relationship between the roaster and the farmers has been certified as being equitable and mutually beneficial. For more information about this designation, take a look at this helpful guide.
When you sip this coffee, you'll notice a pleasing lack of acidity and a big, rich coffee flavor. Expect some hints of fruit and even a hint of bitterness.
This coffee is produced using the Swiss Water method – meaning it's decaffeinated using water, rather than potentially unhealthy chemical solvents. It's also shade-grown and pesticide-free.
For these reasons, Lifeboost's tasty decaf medium roast coffee is our top pick. It's a little pricey (though right now you can save 50%!), but trust us — it's worth it.
Pros
Intense flavor
Fair Trade sourced
Chemical-free Swiss Water Process
---
2. Volcanica Sumatra Mandheling Decaf — Best Ground Coffee Pick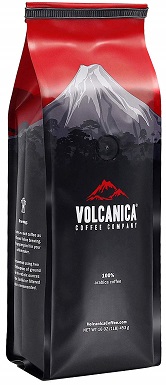 Who says you can't enjoy unique coffee varieties in decaf? Volcanica's Sumatra Mandheling Decaf allows you to taste distinctive earthy, full-bodied Sumatran beans — without the caffeine. And don't worry, you won't have to sacrifice any flavor with these single-origin beans.
Like our top pick, these beans are decaffeinated without chemicals using the Swiss Water Process. This more delicate process helps the beans maintain their powerful, exotic flavor. Plus, they're available in three convenient grind sizes (drip, espresso, and French press), making this coffee our pick for pre-ground beans.
This isn't a budget coffee, but given the unique flavor and high-quality decaffeinating process, Volcanica's Indonesian decaf offers great value for your money.
Pros
Chemical-free Swiss Water processing
Interesting, richly flavorful Sumatra Mandheling beans
Available in three grind sizes
3. Kicking Horse Decaf Swiss Water Process Coffee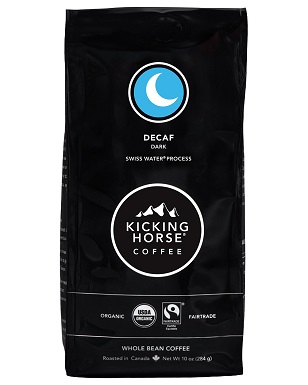 Coming in third, we have the Kicking Horse Decaf, a dark, tasty coffee that is also decaffeinated using the Swiss Water Process.
This is a dark-roast with definite notes of nut and fruit. This means that it's a great option for anyone who's not afraid of something bold, and it's sure to pack a punch. Kicking Horse makes sure to let customers know that this coffee was roasted in the Rocky Mountains – there's no real reason that this should affect the flavor. But it is worth knowing that these beans come from Central and South America.
This coffee will be best brewed in a French press or with the pour-over method.
Pros
Swiss Water Processed
Strong flavors
Cons
May be a little bit too dark for some
---
4. Lavazza 'Dek' – Best Decaf Espresso Beans
If you prefer decaf, you'll want to keep an eye out for the best decaf espresso beans. For a classic Italian flavor, the Lavazza Dek is a great option to explore. These beans are roasted in the traditional Italian style – and this means that they are uniquely dark and rich. They are most well suited for use in an espresso machine – but if you grind them properly, they'll do well with any other brewing method also.
We love that Lavazza has been able to roast these beans to peak flavor, while also ensuring that they do not become too oily. In general, oil is a good feature of well-roasted beans – it helps to produce great crema – but excess oil can be annoying and may clog up your machines. So it's always wonderful to find a bean like this one.
Pros
Great for espresso
Satisfying level of oil
Cons
Few interesting flavor notes
---
5. Verena Street Swiss-Water-Process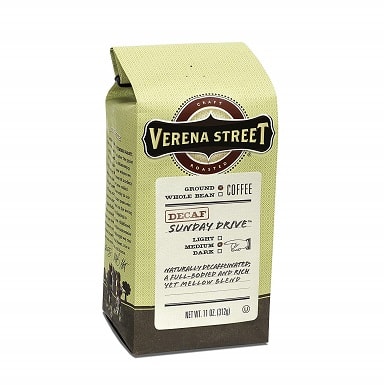 Next up is another pre-ground option. Not only is this Verena Street roast conveniently pre-ground, it is also decaffeinated using the Swiss Water Process – which is one of the most natural and gentle processing methods. There are no complicated solvents used in the production of this bean, and for this reason, we think this is a great choice for anyone who needs the convenience of pre-ground, but doesn't want to sacrifice any careful preparation.
Verena Street is a small roasting company based in Iowa – and this particular roast does well in replicating some Midwestern type of simplicity. Expect some notes of vanilla, but mostly just a good solid cup of coffee.
Considering all of that, if you don't love dark roasts, then this may not be the best choice for yourself. Though advertised as a medium roast, this coffee from Verena Street pours on the darker range.
Pros
Swiss Water Processed
Available pre-ground
Small-scale roaster
---
6. Café Don Pablo Decaf Colombian Coffee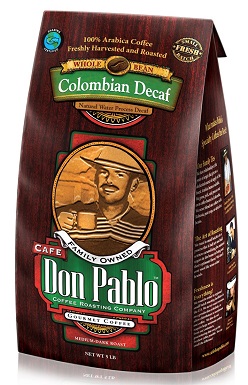 This is another coffee processed using the Swiss Water method. And this means that it too retains some of its most delicate notes. Expect to taste a smooth flavor with some acidity and a little bit of citrus.
We especially love that Don Pablo makes such an effort to roast-to-order. This means that beans aren't roasted on a set schedule and then warehoused – rather, beans are roasted to meet specific orders, and this cuts down on time between roasting and brewing. This attention to detail is wonderful, and the notable freshness shines through in the finished product.
We think this is a great choice for anyone who is looking for an authentic South American roast and who doesn't mind splurging a little bit. You'll enjoy this bright Colombian bean and the wildly fresh roasting.
Pros
Natural processing
Very fresh
Cons
Some customers report some inconsistency bag-to-bag
---
7. San Francisco Bay Coffee Decaf Gourmet Blend
When San Francisco Bay Coffee introduces this roast, they're quick to make jokes about all the wimpy decaf coffee out there – but they may be getting a bit ahead of themselves. While this is supposed to be their answer to this problem, the end result is actually also not particularly strong – even a little bit wimpy itself.
This coffee has definite notes of nuttiness and some darker flavors – but in general, many customers report that there simply is no taste beyond that. In fact, many people complain about a lack of aroma or aftertaste. If these are crucial factors to you when thinking about your coffee, then this may not be the best choice out there.
All that being said though, this is definitely a solid choice. San Francisco Bay Coffee is a reliable company and this will be a nice option to serve guests who all may have varying preferences. It's for this reason that we're still including it as one of our picks.
---
8. Starbucks Decaf Café Verona Ground Coffee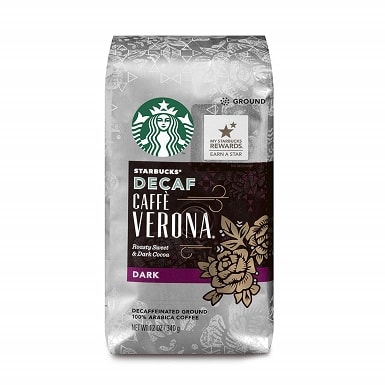 This next choice from Starbucks is a great option for anyone who already has an affinity for the brand. While there's something to be said for exploring more interesting options and finding some unique flavors, there's nothing wrong with going for the trusty option.
Starbucks does a remarkably great job of transforming their classic roasts such as this Café Verona into a decaf equivalent. Unfortunately, they use a process which relies on relatively intense solvents – but the end result is a product which still tastes pretty great and is not overpowered by any chemical effect.
We love the consistency of this choice but we are a little bit less-than-excited about the freshness. Because Starbucks is so large, they roast batches on a certain schedule and then warehouse the beans before filling orders. These does keep costs down, but this also means that you may be getting super fresh beans. It still may be worth trying your luck – but this is a factor to keep in mind.
Pros
Consistent
Classic flavor
Cons
Hit-or-miss when it comes to freshness
---
9. Peet's Coffee K-Cups Decaf House Blend – For Keurig Fans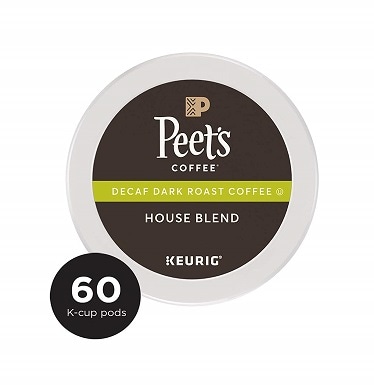 This next option is our top pick for anyone who loves a Keurig machine. It's hard to beat the simplicity of this brewing method – and this can especially come in handy if you're entertaining guests. You may want to make some caffeinated coffee, while also accommodating guests who prefer decaf. This ability to brew one-off cups is quite convenient.
Much like our previous pick from Starbucks, this coffee from Peet's comes along with the great feature of familiarity and consistency. Because they're such a standardized brand, you'll know exactly what you're getting. If this is already a favorite for you, then you can dive in with confidence to this decaf alternative.
This dark roast has definite notes of caramel and wheat, with a hefty amount of bitterness. Overall, this is a great option for anyone looking for simplicity and a good deal.
Pros
Consistent and familiar
Convenient single serving
Cons
Not particularly interesting flavors
---
10. Folgers Decaf Black Silk Ground Coffee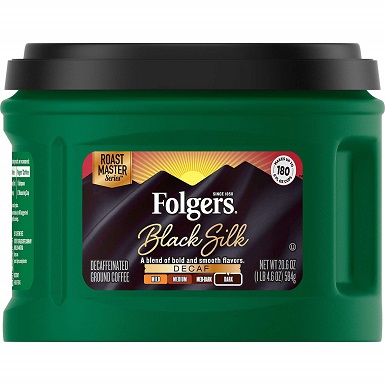 And lastly, we have a crowd pleaser. While many craft coffee lovers may scoff at Folgers brand coffee, this is surprisingly satisfying, and often the best choice for supplying an office, bringing on the go, or just pleasing a large family.
We love such a great deal and we love the Folgers consistency. Don't expect any particular standout flavors, but do take comfort in knowing that every sip of this coffee will be satisfying.
The Black Silk roast is notable for its darker flavor – but also its smooth qualities. Overall, it's a real pleasure to drink.
Cons
Nothing special when it comes to exciting flavors
---
Buyer's Guide: How to Select the Best Decaf Coffee Beans
No matter your reasoning for purchasing decaf, you're likely not looking to sacrifice on flavor. Of course, we all know what we like when it comes to regular coffee, so why not carry those expectations into the decaf world?
What to Look For
The crucial considerations in making your choice should be flavor and processing method. Flavor is personal, and so this is really best left up to you. You will want to look for decaf coffee that maintains strong, complex flavor.
Finding the Best Decaf Espresso Beans
Espresso is a very special type of coffee, so if you want to enjoy all the flavor without the caffeine, you'll need to select high quality decaf espresso beans. Look for brands that use the Swiss Water process and offer on-demand roasting or recent roast dates. Don't forget to buy whole bean and grind just before pulling your espresso shots to make the most of your fresh decaf espresso!
What Are the Best Decaf Processes?
Processing can vary endlessly. This may be the most important factor when it comes to choosing a decaf brand. Keep in mind that no decaf process is perfect — and decaf coffee still has a small amount of caffeine.
The most common processing method involves soaking the beans in water and adding a solvent like methyl chloride. This inexpensive method draws out caffeine compounds – but there are some concerns about health effects.
If your priorities are health and flavor, you may prefer the Swiss Water method. This less-common practice is generally more costly but doesn't involve chemicals and is known to leave better flavors in the beans.
RELATED READ: How is Coffee Decaffeinated? A Look at Four Major Methods

Conclusion
To review, our top pick is the low-acid, sustainably-grown Lifeboost Organic Decaf. If you prefer pre-ground coffee, we recommend Volcanica's Sumatra Mandheling Decaf, an exotic, single-origin option available in three grind sizes. And if you're looking for decaf espresso, take a look at the Lavazza Dek.
If you prefer decaf coffee, we have great news for you: there are quite a few delicious options on the market, so you won't have to sacrifice flavor or put a strain on your wallet. We hope this guide, complete with in-depth reviews and a handy buyer's guide, has been helpful in guiding your choice of decaf coffee.
---
Looking for more decaf options? We've also written about the most popular instant decaf coffee brands and the best decaf K-cups. Or learn about the health benefits of drinking decaf!