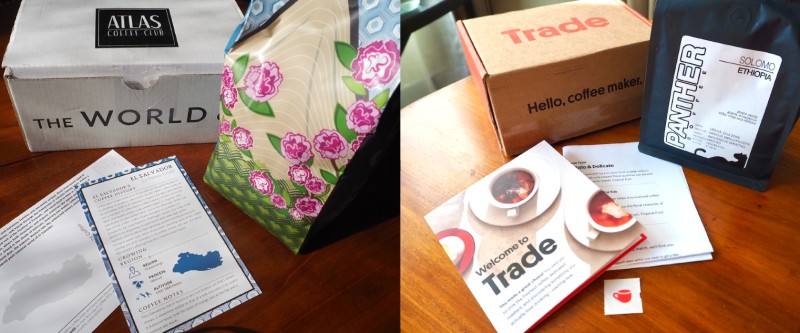 Atlas Coffee Club and Trade are both famous coffee companies offering top-notch subscriptions. So how do you choose between them?
We've tried them both, and we have all the information you need to make the best decision! Scroll down to learn all about Atlas, Trade, and which coffee subscription you'll love the most.

All About the Atlas Coffee Club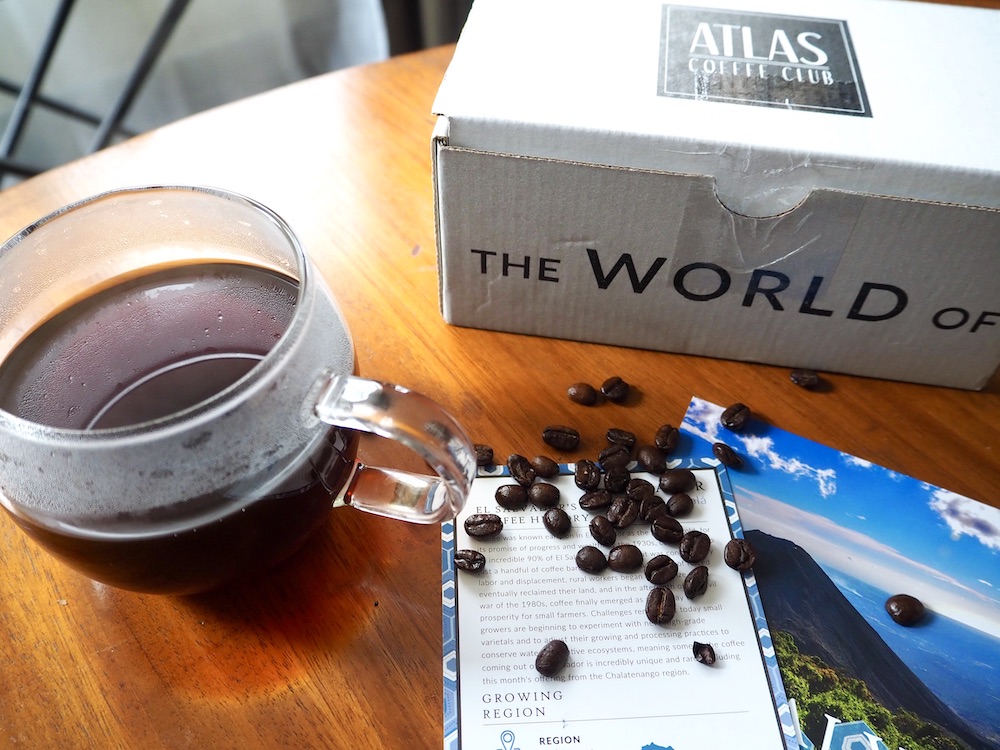 Atlas is a stylish, travel-themed coffee subscription service that offers full curation. You choose your preferred roast level, bag size, and shipping frequency, and Atlas takes care of the rest.
When we tested this subscription, we received tasty dark roast beans from La Palma-Citalá, El Salvador. We were impressed by the beans: they had a strong aroma, produced a powerful bloom, and tasted like chocolate, nuts, and oranges. Included in the box were a postcard and a card with detailed information about the coffee bean origins.
You can choose from a variety of gift subscription options, too — and we think this would be a fun present for any coffee lover. The downsides? Atlas doesn't start with a quiz or tasting kit, and you don't get to choose specific coffees or customize anything beyond the roast. Plus, you have to pay shipping fees.
Pros
Fully curated
All single-origin and ethically-sourced
Impressive, fresh coffee beans
Stylish and travel-themed
Lots of included information
Good gift options
Whole and pre-ground beans available
Cons
Less personalized
No tasting kit or quiz
Can't shop for yourself
Shipping fees
---
All About the Trade Coffee Subscription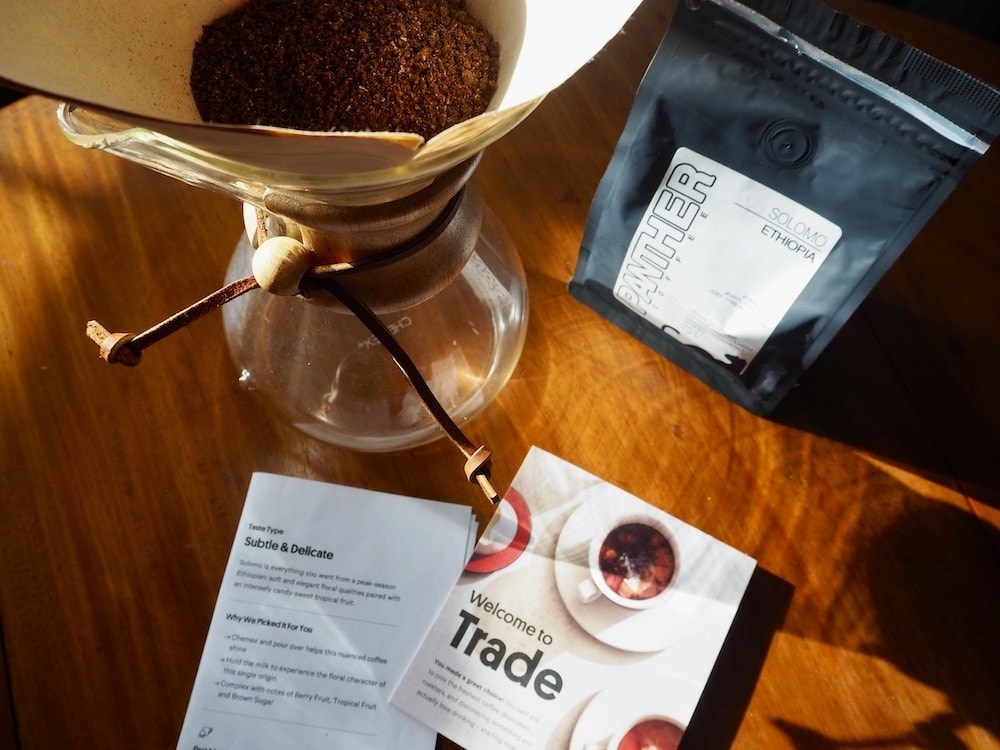 And what about Trade? A Trade subscription could work for you whether you like to pick out your beans or want the company to do it for you! Trade works with dozens of top coffee roasters to offer over 400 gourmet coffees. You can order specific coffee bags or take a flavor-matching quiz and let the algorithm suggest coffee for you.
We enjoyed the intuitive starter quiz and ended up ordering the suggested coffee: Panther Coffee's Ethiopian Solomo. The beans arrived with a tantalizing aroma that opened up when we ground them. The coffee turned out complex and elegant, with surprising notes of guava and grape. And the packaging is fun! Along with information about the beans and how to brew them, Trade sends a sticker and a bingo card. Order enough coffee and you can qualify for free beans!
Trade is less curated than Atlas — which is a pro if you like to shop, but a con if you're short on time. You can follow the company's recommendations, but it's not quite the same as Atlas' human curators. And Trade certainly isn't a cheap option. But it does offer a huge selection and impressive coffee.
Pros
Over 400 gourmet coffee varieties
Flavor-matching quiz or shop for yourself
Fun packaging
Can buy beans a la carte
Complex, delicious beans roasted on demand
Cons
Not budget-friendly
Less curated

Trade vs Atlas Coffee Subscriptions: How to Decide
The good news is that both of these coffee subscription services will deliver amazing coffee beans right to your door. But there are a few key differences that you'll want to pay attention to.
Atlas offers a fully curated coffee selection, meaning that all you get to choose is the roast level. The travel-themed company curates delicious single-origin coffee from all over the world, so we can guarantee you'll never be bored. But if you like to shop for yourself, you'll probably prefer Trade. Trade offers over 400 coffee varieties from dozens of excellent roasters. You can shop a la carte or choose the specific bag in each subscription. Or you can start with the fun tasting quiz and let the algorithm take it from there!
The bottom line? Whichever subscription you choose, you can't go wrong. Prepare your taste buds for truly magnificent beans!
RELATED READS: