If you're looking for a satisfying coffee experience, there's nothing quite like brewing it yourself. It's incredibly satisfying going through the process from start to finish, ending in a perfect cup suiting your exact taste.
The first step is sourcing delicious, freshly roasted coffee beans. Thankfully, there are quite a few places in New York City that sell high-quality whole beans. How do you know which ones are best and where do you find them? We've put together a list of a few key places in NYC favored by the most experienced coffee drinkers. Keep reading to find our six favorites.

The 7 Best Places to Buy Coffee Beans in NYC
1. The Roasting Plant Coffee
The Roasting Plant Coffee, located on the Lower East Side at 81 Orchard Street, is a top-notch roasting shop committed to providing local New Yorkers with freshly dried coffee beans roasted to perfection.
There are over fifteen different kinds of beans from places like Colombia, Ethiopia, Hawaii, and other exotic locations. Most of the beans are grown at high altitudes to ensure deep, rich natural flavors.
One of the top beans, the Bali Blue Moon, is an organic coffee with full-bodied flavor. It has surprising hints of cereal milk and a smooth chocolate undertone.
---
2. Porto Rico Importing Co.
Another store worth checking out is the Porto Rico Importing Co., which sits at 201 Bleecker Street. Porto Rico has been slowly bringing in quality beans from the four corners of the coffee-growing world for over 100 years. It was one of the first companies to introduce coffee beans flavored with unique ingredients like sambuca, clove, dried orange peel, and cinnamon sticks.
The company still uses natural ingredients to flavor its specialty coffee range, but its methods have changed. However, with it being a family business, the traditions have been passed down through the family. Those few who know about the secret of the ancient flavoring method still request coffee beans to be prepared for them, which the company willingly does when asked.
Porto Rico offers flavored coffee beans along with a vast range of unique whole beans from almost every part of the world.
---
3. Sey Coffee
At 18 Grattan Street in Brooklyn, you can find a small shop called Sey Coffee, formally known as Lofted Coffee. This roaster is much more than its small store. Sey provides its customers with fine coffee beans from Ethiopia, Guatemala, Kenya, and more.
One of its best coffees is the Githembe AA from Kenya, which has a fruity character with floral hints. It's a relatively new coffee bean to emerge and is becoming a favorite for many. If you haven't tried it, it's worth considering, as there is significant climate change in the specific growing area, which is bringing out these delightful flavors. Who knows when these flavors might change again?
---
4. Parlor Coffee
If you have some time, take a look at Parlor Coffee, which is located at 11 Vanderbilt Avenue. It's a relatively new company with a strong drive to reveal the depths of the world's richest and finest coffee flavors.
Parlor is particularly dedicated to the experience of drinking coffee. The company focuses on finding the best possible beans – and bringing them to you!
Parlor Coffee has developed a small community of these passionate coffee enthusiasts who are doing remarkable things with their beans in New York City. Our favorite is the Wallabout, which has a dark hazelnut chocolate twist. It can be tried in the tasting room at the retail store, along with several other excellent coffees.
---
5. La Cabra
La Cabra has been a renowned coffee company for many years. In 2019, it planned to open a New York store, but ran into legal issues. While the company is not yet in New York, it may still open a store due to strong demand. Therefore, supporting it through the online store may assist in opening a coffee shop in New York City.
The company is well known for its unique and exquisite range of exotic coffees. It sells beans like the El Crucero, a crisp coffee containing raspberry and peach notes with subtle hints of cacao flavor. The Don Domingo is a lightly roasted bean which reveals a slight caramel and mild pecan nut flavor with an acidy apple undertone.
---
6. Joe Coffee Company
Joe Coffee Company is an organization committed to serving the New York coffee community through excellent coffee, brew gear, and courses. It's based at 131 West 21st Street and is dedicated to enriching your experience with coffee.
Nicaragua Las Delicias: Anaerobic Fermentation, one of its renowned coffee beans, comes from Jinotega, Nicaragua at about 1300 meters above sea level and boasts a sweet fruity taste with a rich, creamy body.
If you're also interested in learning more about coffee beans, grinding techniques, and brewing methods, Joe Coffee Company is worth checking out.
---
7. Online Sellers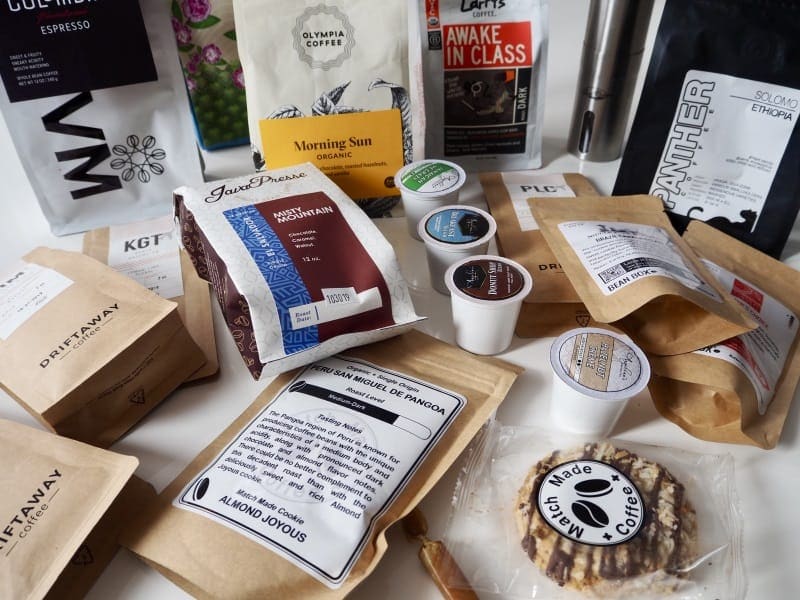 Life can get busy in New York, and sometimes you don't have time to shop in person. Many places sell their locally roasted coffees online. A great way to try new coffee — and never run out of your favorite beans — is to sign up for a coffee subscription!
There are hundreds of online coffee roasters that will roast and ship on demand, and many of them offer convenient subscriptions. Some of our favorite coffee subscription boxes are Angels' Cup, Driftaway, and Atlas Coffee Club. And if you want a regular coffee company that lets you set up a handy subscription, try Volcanica's new subscription option (currently 15% off)!

Conclusion
With such a vast array of coffee beans available to New Yorkers, no one should be missing out on a rich coffee experience. Too busy to stop by a local roaster? You can always find a large range of coffee beans online.
Each store specializes in its own unique way with flavorful and sustainable coffee beans. A notable coffee we recommend is the Wallabout from Parlor Coffee, with its comforting taste of a hazelnut and dark chocolate base infused within the beans.
If you're short on time, try a fun coffee subscription service like Driftaway or Trade!
See also:
---
Featured image credit: Cyril Caiazzo, Pexels