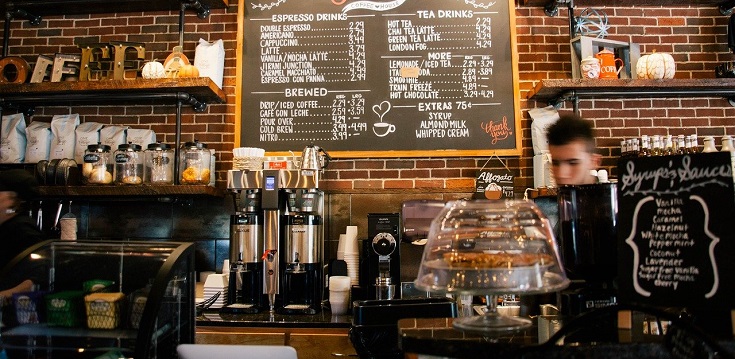 Boston might be known as "Beantown", and we know the nickname doesn't come from coffee beans, but there are so many excellent choices for coffee in Boston, we could see why one might think it does. There is no shortage of high-quality coffee in Boston, so if you're looking for a coffee shop, chances are there's one nearby. So, grab a cup of coffee, sit back, and let us take you on a tour of the best coffee shops in Boston.


Top 10 Best Coffee Shops in Boston:
1.

Gracenote Coffee
Considered one of Boston's "premium" coffee shops, Gracenote Coffee roasts their own beans, and their passion for making coffee is evident in every cup. The espresso is top-notch quality, and the beans are excellent. There are a variety of high-quality, single-origin beans available for purchase and the house blends are delicious.
You can also purchase pastries and other small bakery goods, but you come here for the coffee. The staff is as friendly as they are knowledgeable and will take the time to answer any coffee-related questions you might have. The prices are a little on the high side, but entirely worth it for the quality you get.
---
2.

Ogawa Coffee
Located in Downtown Crossing, this Japanese coffee shop offers all of the standard coffee drinks you could ask for, with a Japanese flair. Where Ogawa differs from the other coffee shops on this list is in the specific coffee they serve. The Kyoto house blend is unique and unlike any other coffee we've had. It's delicious. You can order your coffee to be prepared in a specific way, like Aeropress or Kalita Wave, or choose from their menu of espresso drinks.
There is also a fairly extensive menu with a variety of sandwiches, breakfast offerings, and desserts. The matcha sundae is a must-try. It can get pretty crowded, but the line moves quickly. It is worth the wait.
---
3.

Thinking Cup
Besides having our favorite name on this list, Thinking Cup also makes some great coffee! They serve Stumptown coffee, which is renowned for its world-class quality. Good coffee doesn't make itself, though, and luckily, the baristas are more than capable of crafting an excellent cup. Their menu is full of tried and true staples, and you can't go wrong with any of them.
They also offer a smattering of sandwiches and sweets if you want some food to go with your coffee. The atmosphere is cozy, although it is a little small, so there's a good chance you won't find a seat on a busy morning. However, the 165 Tremont Street location is less than a five-minute walk from Boston Common. A stroll through the park with a fresh cup is a great way to start your day.
---
4.

Render Coffee
This cozy, modern coffee shop hits all the right spots. From the inviting vibe to the wonderful backyard patio, the whole experience is a treat. Render staff is friendly, and the coffee is made with a skillful hand. The cold brew coffee was a standout, but all the coffee here is good.
Render coffee has some of the best food offerings on this list, and the breakfast offerings, in particular, are filling and delicious. The bagels you get here are, hands down, the best bagels you can get in Boston. The prices are competitive – read: cheaper than some of the other shops on our list. A nice touch is the option for delivery. If you find yourself in Back Bay, definitely stop by for a cup and maybe a quick bite.
---
5.

George Howell Coffee
Another shop in Downtown Crossing, George Howell Coffee, is everything you expect when you think "city coffee shop." Mornings here are full of hustle and bustle, and this is a great place to grab a coffee and read some email – if you can get a seat. There is ample seating room, but it can get crowded at times.
If you like to sample coffees from different regions, this is the place for you. They have an impressive range of different roasts at any given time, and the lineup is constantly rotating. If you stop by, be sure to ask about their signature coffee drinks for an experience you can't get anywhere else.
---
6.

Kohi Coffee Company
Located at 125 Summer Street, Kohi Coffee offers high-quality coffee alongside a crisp, clean atmosphere. They get their coffee from Tandem Coffee Roasters, which is premium coffee at a premium price point. We've said this before, but you get what you pay for, and there's no doubt that this coffee is good. Besides the coffee, the food is good, although it's also a bit on the expensive side. If you can grab a spot in the rather small seating area, it's a great place to get some work done in a relaxing environment.
---
7.

The Well Coffee House
The Well Coffee House is a little bit different than the other shops on our list. They're a non-profit whose mission is to help build the communities around their shops. One way The Well does not differ from the other coffee shops on this list is the quality of the coffee they make: it is outstanding! Their State Street location is on The Freedom Trail, located right next to The Old State House. Stop by for some great coffee and to support an even better cause.
---
8.

Flat Black Coffee
Flat Black Coffee is Boston's largest independently owned roaster and retailer of specialty coffee. As the kangaroo in the logo suggests, the name comes from an Australian term for an Americano. The coffee is superb, and the dark roasts are a cut above the rest. The Kenya Tambaya peaberry is a standout in a stacked lineup of stellar roasts.
Flat Black has what we can only describe as the quintessential coffee shop feel to it. There is an inviting quality to the place that makes you want to come in and stay awhile. Of course, it doesn't hurt that the coffee is good, too. Be aware that there is a lack of seating, so it might take a few tries before you can snag a seat. It is absolutely worth a trip to 260 Franklin Street to see what they're all about.
---
9.

Jaho
There is something about Jaho that makes you want to settle in and stay awhile. It could be the delicious coffee, tasty food, friendly staff, classic coffee bar aesthetic, or maybe all of the above. Jaho has a range of single-origin beans at very competitive prices, so if you find one you like, you can pick up a bag on your way out. The helpful and attentive staff provides excellent service.
If you like the overall vibe, you can come back later as it doubles as a wine bar by night. The food is standard fare and meant to compliment the coffee and wine rather than be the focus in its own right.
---
10.

Pavement Coffeehouse
Rounding out our list, we have Pavement Coffeehouse. Their coffee menu is a bit smaller than some other locations but is solid nonetheless. They also serve tea and some light snacks. We found the iced coffee and one of their homemade bagels to be a winning combo.
We enjoyed the classic coffeehouse look, complete with exposed brick and leather-backed booths. It definitely has a unique feel to it that makes it stand out from the standard coffee shop crowd. They have several locations throughout the Boston area, so be sure to stop by one and check them out.

Conclusion
Whether you're a local looking for a new place to grab a morning coffee, new in town, or just visiting, we hope this list helps you find the coffee shop for you. There is no shortage of outstanding coffee in Boston, and while this list is certainly not exhaustive, these shops are a great place to start your search.
Looking for a different city? Try one of these lists:
---
Featured Image: Pexels, Pixabay