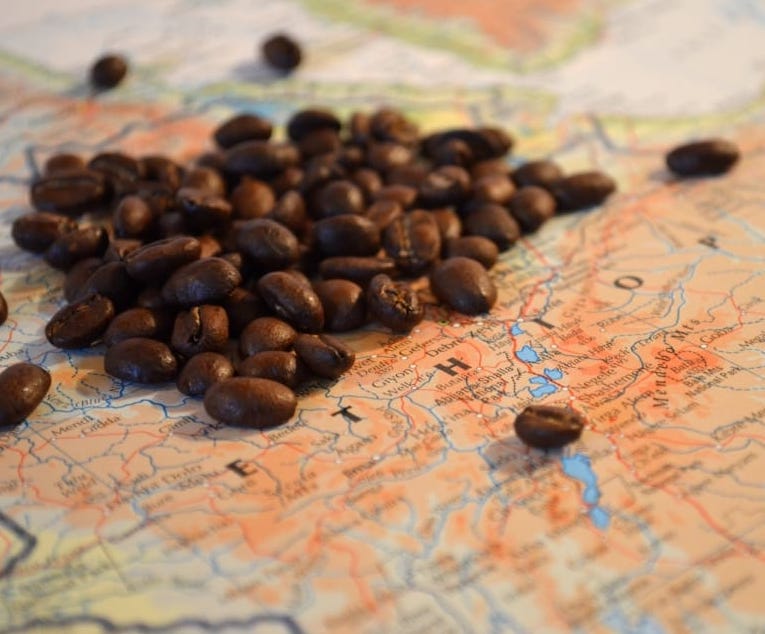 For a true coffee fanatic, just seeing the words "coffee beans" is enough to make you crave a cup, no matter the time of day. We love drinking it, researching it, talking about it, and trying new flavors. Whether it's whole bean, ground, or decaf, every coffee lover has a favorite go-to brand, but sometimes, you want to mix things up a little.
If you're looking for a unique taste, a new roast, or a special treat, read about our top choices for the very best coffee beans. Every self-proclaimed coffee snob will have nothing less than whole coffee beans to start, but for those who want the convenience of pre-ground and those who need a little caffeine in their lives, we've got a little something for you too!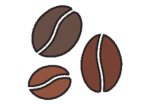 A Quick Comparison of Our Favorites (Updated 2023)
Image
Product
Details

Best Overall

Lifeboost Pacamara

Made from rare, large Pacamara beans
Complex, intense, and slightly sweet
Fair Trade, Organic, Kosher, shade-grown, and pesticide-free

Volcanica Tanzania Peaberry

Mellow delivery
Robust aroma
100% Arabica

Atlas Coffee Club

Fun world-traveling coffee subscription
Single-origin, freshly roasted, and sustainably sourced
Available in whole bean, ground, and coffee pods

Best Value

Koffee Kult Dark Roast

Bold flavor
Low acidity
100% Arabica

Kona Gold Whole Bean

Extra fancy
Smooth and bold
Sweet flavor
The 11 Best Coffee Bean Brands in the World
1. Lifeboost Pacamara Limited Collection Coffee Beans — Best Overall
We start our list of the world's best coffees with this unique bean. Lifeboost's Pacamara Limited Collection — made from some of the largest and rarest coffee beans in the world — is a complex, intense coffee with just a hint of sweetness.
This hard-to-get coffee is incredibly delicious, but it's also sustainably grown. Lifeboost's coffee is Fair Trade, Organic, Kosher, shade-grown, and pesticide-free. Plus, your stomach will appreciate its low acidity.
Of course, all of this comes at a cost. But if you have the budget, we think you'll love this tasty, unusual coffee.
All in all, we think Lifeboost's Pacamara beans are the best coffee beans in the world.
Pros
Made from rare, large Pacamara beans
Complex, intense, and slightly sweet
Fair Trade, Organic, Kosher, shade-grown, and pesticide-free
---
2. Volcanica Tanzania Peaberry Coffee Beans
*Use code AFFECTION12 at checkout
Coming in at a close second is Volcanica's Tanzania Peaberry Whole Bean Coffee, grown on the slopes of the tallest mountain in Africa. The volcanic soil of Mount Kilimanjaro nurtures the coffee plants with minerals that produce richly aromatic coffee beans. The beans are handpicked and exported to Atlanta, Georgia, where they are medium roasted under a gourmet eye.
This pick delivers a smooth cup, a satisfying crema, and an aroma to perk up any time of the time. It's on the pricier side, but maybe worth treating yourself for a pleasing flavor. If you're offended by a dark roast and turn your nose up at the thought, you may be on the fence with this one. Although it's a medium roast, it may hit on the darker side of sensitive taste buds. If you love the occasional dark roast coffee, this pick will come at you from a mellow side without the smoky bite. However, if you're a devoted dark roast coffee drinker, this one will be weak on your palate.
With a smooth body and sweet cocoa undertones, Volcanica's Tanzania Peaberry could be your new favorite bean.
SEE ALSO: Everything You Need to Know About Tanzania Peaberry Coffee
Pros
Mellow delivery
Cocoa notes
Good crema
Robust aroma
100% Arabica
Cons
Pricey
Dark side of medium
---
3. Atlas Coffee Club
If you're looking for variety and consistently amazing coffee, you may want to try Atlas Coffee Club. Each month, this coffee subscription company will send you a premium 12-ounce bag of delicious beans. Atlas sources the coffee from micro-lot farms all over the world, and the beans arrive with fun extras like postcards, tasting notes, and brewing tips.
Atlas is a great option if you want to try different coffee every month. The beans are always freshly roasted, single-origin, and sustainably sourced. We enjoyed the fun packaging and the world-traveling theme, and Atlas also offers a "coffee match guarantee" to make sure you love your beans. You also get to choose between whole beans, ground coffee, and coffee pods! The downside is that you have less control over the exact beans you receive, and you can't just choose one variety to receive every month. But if you're searching for the best coffee in the world, Atlas can help you find it!
Pros
Fun world-traveling coffee subscription
Delicious single-origin beans from all over the world
All freshly roasted and sustainably sourced
Fun packaging and extras
Available in whole bean, ground, and coffee pods
Makes a great gift
Coffee match guarantee
Cons
Less control over your beans
Requires a subscription
---
4. Koffee Kult Dark Roast Coffee Beans – Best Value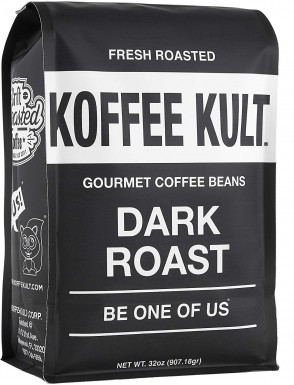 If you're already kicking it with the Kult, Koffee Kult Dark Roast Coffee Beans may be a staple in your life. However, if you're not familiar with the fan following, this brand knows how to mesmerize the dark roast lovers in the coffee world. This pick is a 100% Arabica blend with beans from Guatemala, Colombia, and Sumatra. It's a bold flavor roast with a full body, a cinnamon note, and a dark chocolate finish.
Our runner-up has a high enough price to be considered a fancy coffee. If you're not accustomed to dark roast flavors, you may find this choice bitter. Conversely, if you prefer a French roast, you may find this coffee to be average. But as all coffee lovers well know, taste is subjective.
Pros
Bold flavor
Cinnamon notes
Dark chocolate finish
Low acidity
100% Arabica
Cons
Slightly pricey
Too dark for some
---
5. Kona Gold Whole Bean Coffee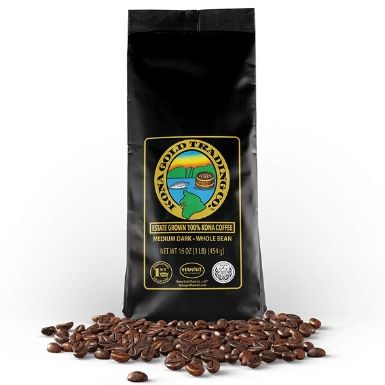 Kona Gold Whole Bean Coffee is another great choice and received the praises of Mark Twain way back in 1866. Hawaii boasts the only commercially grown coffee beans in the United States and has the strictest regulations for coffee quality. Kona is ranked among the best and comprises less than 1% of all coffee sold in the world. Given its rarity, the high price will make you understand the true meaning of extra fancy coffee. So, while it may not be an everyday coffee, it can be a sweet treat from time to time.
This bean has a sweet flavor with fruity undertones and a brown sugar finish. With its full body and flavor, it's a crowd-pleaser. However, if you're not a fan of a darker profile and smoky bite, you may want to hang onto your wallet. While many coffee geeks find this choice exceptional, others don't. If you'd like to decide for yourself, talk to your coffee-loving friends and make it a group-tasting purchase.
Pros
Extra fancy
Smooth and bold
Sweet flavor
Cons
Extra fancy price
Too dark for some
---
6. Kicking Horse Coffee Beans – Best Decaf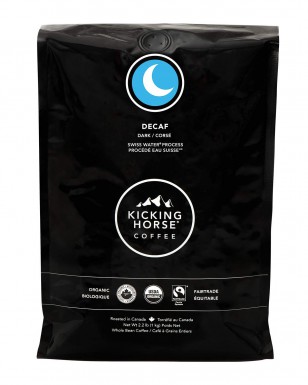 Kicking Horse Decaf Coffee is our pick for the best decaf. Whether you're reducing caffeine in your life or just after 2 p.m., this pick has notes of hazelnuts and chocolate, giving you the flavor without the kick. Since this brand doesn't chemically decaffeinate its coffee, those sweet notes have a chance to shine. For the eco-conscious, it's certified organic, Fair Trade, kosher, and decaffeinated with the Swiss Water Process.
These beans are 100% Arabica, originating in Central and South America. It's a pricey choice but available in a smaller 10-ounce bag if you want to try it before making a 2-pound commitment. Decaffeinated coffee has a reputation for lacking flavor, but this choice may surprise you.
Even if you don't prefer decaf, there are several reasons to like this coffee, and it's our best decaf choice.
Pros
Sweet notes
Eco-conscious
Swiss Water Processed
---
7. Death Wish Coffee – Best Ground Pick
Boasting to be the world's strongest coffee, Death Wish Ground Coffee blends Arabic and Robusta beans to increase the caffeine kick that so many coffee addicts crave. Every coffee snob knows that grinding whole beans right before brewing bears the freshest flavor. However, not everyone wants to deal with grinding beans. Pre-ground coffee may be your preference for convenience and ease.
This dark roast gives an intense flavor with a cherry undertone and a chocolate finish. Robusta coffee delivers a higher caffeine content with low acidity; however, the tradeoff is a more bitter flavor. If you don't like the bitterness of Robusta, you may not like this choice. As a pre-ground coffee, it's a bit too coarse for espresso, so consider grinding your coffee beans to achieve the fine grind that espresso requires to reach its fullest flavor potential.
If you have a high caffeine tolerance, you may not notice the kick that makes this brand popular. However, the intense flavor will probably have you coming back for more, so this is our top pre-ground pick.
Pros
Convenient
Chocolate finish
High caffeine content
Cons
Pricey
Too coarse for espresso
Bitter
---
8. Lavazza Super Crema Whole Bean Coffee Blend
As a more affordable option, Lavazza Super Crema Whole Bean Coffee Blend presents a creamy, darker roast flavor with a nutty undertone. With a velvety crema and a rich taste, this choice is ideal for espresso. It's a blend of 60% Arabica beans and 40% Robusta beans. Although this is an "espresso" roast, it's a medium to dark roast, indicating that its best use is in an espresso brew.
This choice is tasty black and holds up well to cream and sugar. If you refuse to even think about Robusta beans, you'll want to look for 100% Arabica and not a blend. If you prefer a lighter roast or an even-keel medium roast, this coffee isn't for you. For whatever reason, many coffee lovers have noted an issue with rocks in these beans. Just be sure to glance through them before you start grinding, so the experience doesn't have you buying or repairing an expensive coffee grinder.
Pros
Affordable
Good crema
Velvety profile
Not bitter
Cons
Too dark for some
Not for Arabica-only drinkers
Potential for rocks
---
9. Cafe Don Pablo Gourmet Coffee Signature Blend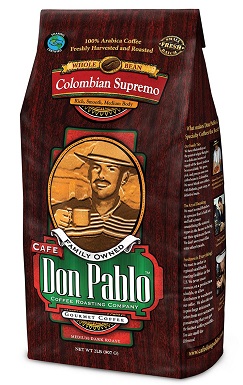 Café Don Pablo Signature Blend offers a blend of 100% Arabica beans originating from Brazil, Guatemala, and Colombia, giving it a complexity not found in single-origin varieties. It's a medium to dark roast at an affordable price, making this choice a staple coffee in many households. While it delivers a full body and smooth profile, the chocolate finish gives it a pleasantly sweet aftertaste.
This brand dedicates itself to fostering good relationships with coffee farmers and manages the production of over a million coffee trees in South America. The beans are slow-roasted in small batches by artisan roasters who use sight, smell, and sound to ensure that roasting skills are perfected and caramelization is tip-top. The roasting facilities are also USDA certified for organic production.
The full-bodied flavor of this blend lies on the darker side and may not suit you if you prefer a lighter roast. The beans are noticeably oily, so proceed with caution when grinding, as it may clog. As an economical blend, it's an average coffee to keep on hand for any given day.
Pros
Inexpensive
Low acidity
Full body
---
10. Tiny Footprint Coffee Organic Nicaragua Coffee Beans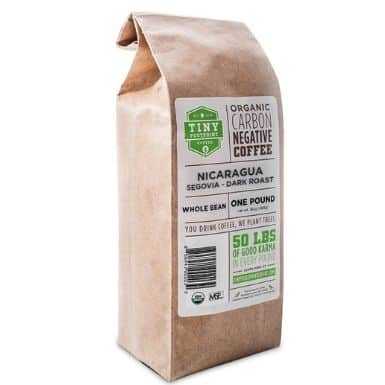 For those looking for an eco-friendly brand, Tiny Footprint Fair Trade Organic Nicaragua Coffee is carbon negative. In a nutshell, the company donates money to fund reforestation in Ecuador for every pound of coffee sold, so it's a purchase you can feel good about making. But how's the coffee?
This pick is a dark roast conveying notes of fruity spice and a chocolate finish. It works well with any brewing method. However, it delivers a strong medium roast flavor with a rich aroma. If you prefer a bold dark roast, this coffee may not satisfy. It's also more acidic than expected, so for those with sensitive stomachs and a proclivity to acid reflux, you may want to look elsewhere. If you want an average, pleasant coffee from a community-minded brand, you may enjoy this choice.
Pros
Eco-friendly practices
Pleasant flavor
Rich aroma
Cons
Slightly pricey
Weak flavor
Smoky aftertaste
Acidic
---
11. JO Organic Colombian Coffee Beans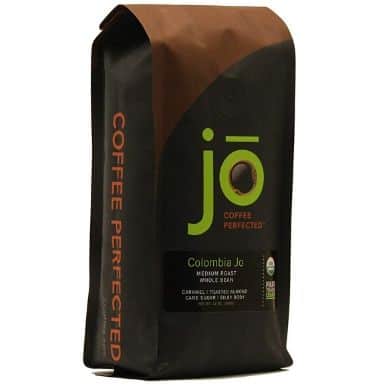 Rounding out our list is JO Organic Whole Bean Colombian Coffee is not just organic, it's also Fair Trade and kosher certified, with a brand desire to honor small coffee growers worldwide. This choice is 100% Arabic coffee with sweet notes of caramel and almond. Delivering a smooth profile in a medium roast, it's sure to please the coffee lovers who enjoy a soothing cup of coffee. If you need a cup with a potent flavor and a supremely robust experience, this isn't your coffee.
Jo Coffee is a brand dedicated to artisan roasting while supporting sustainable practices. Members of the professional Roaster's Guild and the winning team of the 2016 Roaster's Challenge, it purchases only from the top 2% of all certified organic Arabica raw coffee across the planet. With the tagline, "Coffee makes people happy!" we have to agree with Jo.
Overall, this pick is a fine coffee for a premium price.
Pros
Eco-friendly
Sweet notes
Nutty finish
Cons
Slightly pricey
Weak flavor
Bland aroma
---
Buyer's Guide: What Distinguishes the Best Coffee Beans in the World?
When you're looking for the best coffee beans in the world, you may wonder: what's so special about these particular beans? Coffee choices and preferences are a subjective matter. When seeking a new flavor, an extraordinary yumminess, or a fresh kitchen staple, there are a few things to consider, such as cost, roast, and brand.
Cost
Although the best coffee beans don't have to cost a lot, options range from economical to premium. If you're searching for a staple, you'll probably be drawn to coffee that has a low price. It's fun to experiment now and then, however, with a treat that you may purchase a few times a year. Some varieties are cheaper per ounce in larger quantities, and subscribe-and-save is an added convenience for many. When comparing coffee, look at the cost per ounce.
SEE ALSO: Our guide to Kopi Luwak, one of the most expensive & controversial coffees in the world!
Roast
Coffee lovers take their taste preferences in coffee personally, but experimentation can be a fun experience. If you enjoy a punch of flavor in your cup, a dark roast and some medium roasts can deliver. If you tend to lean toward a breakfast coffee with a brighter fix, a light roast will make you smile. Of course, different brewing methods will bring out different tastes from the same coffee, so play around a little and find what you like.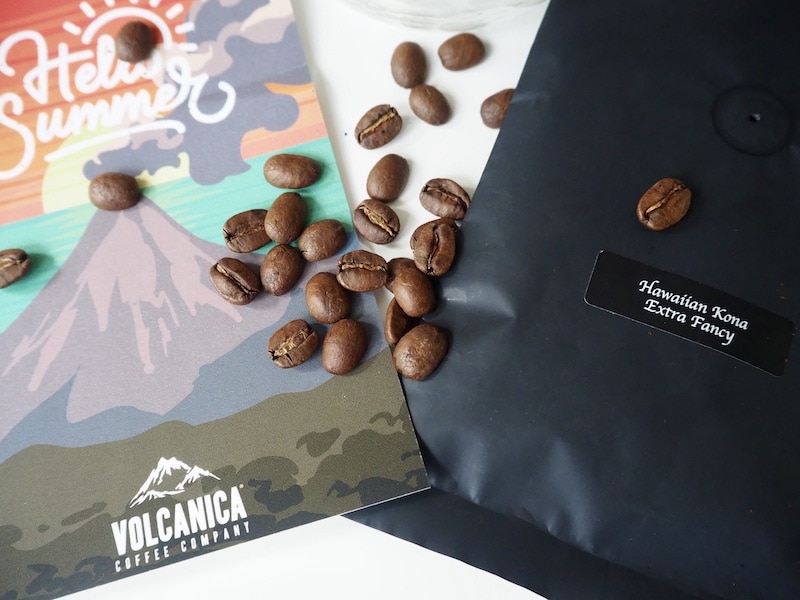 Brand
Environmentally friendly practices are becoming increasingly more important to consumers, and there are many choices available. Do your research and look into the business practices of the brand that earns your attention. You do pay more because the cost of environmentally friendly and organically sourced coffee practices is passed along to the consumer. But you can rest easy knowing that the brand's ethics are congruent with yours.
A note about the decaffeination process: The Swiss Water Process removes caffeine from coffee beans with water and charcoal filtration. The process is more costly, meaning some of that cost will be passed on to the consumer. However, many coffee lovers who consume decaf are willing to pay a little extra for the lack of chemicals.
It's a well-known fact and essential to remember that grinding coffee right before you brew is the crucial component in extracting the best flavor from the best coffee beans. Pre-ground coffee won't be as fresh, but we understand if that's your preference.
Buying coffee at the grocery store is the most convenient option, but purchasing online allows you to check out artisan roasters you may not have known about otherwise. Diving into research may have you try a few new flavors.
One major complaint from online purchasers is that most brands don't label packaging with a roast date. If this is the case, you hopefully receive something relatively fresh, but that's the risk when buying online. However, remember that the original packaging is not ideal for storage. Store your beans in an airtight container for optimal freshness.
Here are some of our other popular guides:

Conclusion
If you haven't chosen your next cup of coffee yet, we hope our reviews have helped you find a few candidates. If you're on the fence, here's a quick recap of our top picks. Taking first place is Lifeboost's Pacamara Limited Collection, an unusual and intense coffee. We also recommend the Volcanica Tanzania Peaberry Whole Bean Coffee, another high-quality option presenting a good crema and impressive flavor.
If you're interested in a coffee subscription, Atlas Coffee Club will bring you a different variety of amazing beans every month, along with fun extras like postcards and tasting notes. Prime up your brewing method, and have a little fun in the kitchen!
Looking for more? See the 7 most expensive coffee beans in the world!