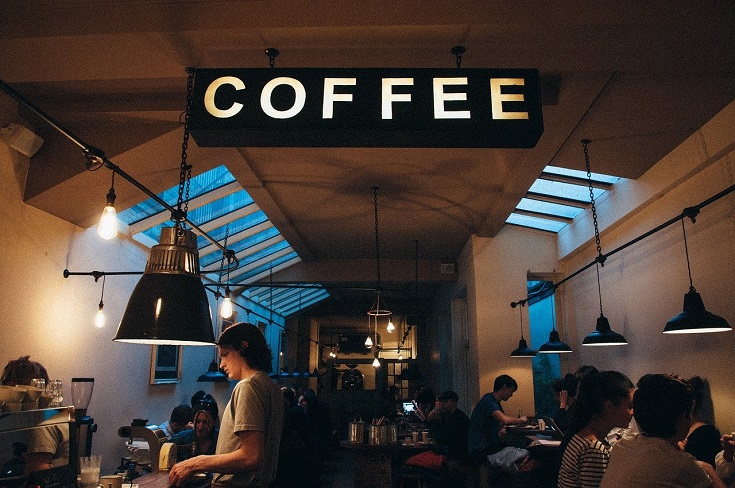 There are very few things we enjoy more than a delicious and full-flavored cup of coffee in a relaxed coffee shop. Coffee is our favorite beverage for a variety of reasons, but we know better than anyone that homemade coffee can taste about the same as any coffee you'd go out for. So, why go to a coffee shop?
There's something ineffable and comfortable about a well-designed coffee shop's atmosphere — it's cozy, familiar, and calming. Of course, the coffee needs to be great, but even more important is that the barista creates an experience for you and not just a cup of hot coffee. These are the things that set a good coffee shop apart from the rest.
For those looking for such an experience in St Louis, we've put together this list of our favorite coffee shops in the city. Get ready for a delicious cup of coffee!

The 12 Best Coffee Shops in St Louis:
1. Sump Coffee
Sump Coffee roasts their own coffee, which gets us pretty excited. Many coffee shops source roasted beans from local roasters, and that's fine, but there's something particularly enticing about a shop that is in control of their coffee from unroasted bean to cup.
You can almost taste the passion that goes into their coffee: it's bold, full-flavored, and has impressive body. They have a variety of offerings with flavor profiles that are bound to appeal to everyone.
When you order a coffee, you can watch the barista make it in front of you, so you know it hasn't been sitting in carafes all morning. It's freshly ground and brewed, and the finished product is nothing short of fantastic.
The atmosphere in the shop is very low key but also energized, somehow. Maybe it's the natural, dark aesthetic they've cultivated with their decor, or the energy and mood of the people working there, who all genuinely seem to be happy to share their passion for coffee with you.
It's a great experience from beginning to end, and we would highly recommend checking them out if you're in the area!
---
2. Cursed Bikes & Coffee
We have a special place in our hearts for all things bike-related, and Cursed Bikes & Coffee, unsurprisingly, delivers a spot where you can enjoy coffee and some bike talk or even shopping in the same place.
This shop began as an idea strictly for a bike shop, but the owner recognized that the winter months would be slow, so he expanded his vision to include a coffee shop. You're probably thinking what we thought at first: a bike shop that also sells coffee? How good could the coffee be?
We're happy to report that Cursed Bikes & Coffee really put a ton of effort into providing the best coffee experience they could for their customers. The coffee side of their business definitely does not feel like an afterthought! They roast their own beans, and their baristas are professional, friendly, and extremely knowledgeable. If we didn't know any better, we'd think this started as a coffee shop that decided to sell bikes.
The atmosphere is relaxed and friendly, and you'll feel like family as soon as you walk in the door. We loved it, and the coffee is out of this world too!
---
3. Fiddlehead Fern Cafe
Fiddlehead Fern Cafe doesn't just have an awesome name — they have a fantastic atmosphere, a relaxed vibe, and a cool, younger crowd of people that often flock to their corner location for some delicious coffee.
They're set up in what was once a gas station, but they've turned the space into a cozy coffee shop with rustic decor that will make you feel comfortable and welcomed. If you happen to go on a Saturday, you'll be greeted by some live music, which definitely helps add to the already calm atmosphere.
They source their roasted coffee from local roasters, and they have a pretty wide selection of specialty coffee available, along with food and baked goods that really hit the spot. We were happy to see that they tend to offer more light and medium roasts, as you usually get a better flavor profile specific to the bean with lighter roasts.
The baristas are professional and super friendly, and their staff and patrons never have that pretentious air about them as some coffee shops do. If you're looking for a great selection of coffee and enjoy acidity and fruitiness from lighter roasts, definitely head over to Fiddlehead Fern!
---
4. Comet Coffee
Comet Coffee is one of those coffee shops that you kind of stumble upon and then never forget. It's right off Route 64, and you might miss it if you aren't explicitly looking for it.
They don't roast their own coffee, but they cultivate a truly unique coffee experience by sourcing beans from all over the world. The coffee selection they have here is anything but local, and some of the coffees you can enjoy here will be once-in-a-lifetime opportunities for some!
This is another shop that focuses on "third wave" coffee, so many of their offerings are light roasts and light-medium — perfect for those looking for some brightness and acidity in their coffee!
The atmosphere is calm and relaxed, so you could enjoy the soothing white noise and get some work done. The baristas are insanely knowledgeable and friendly, and they were happy to help us find the perfect coffee for our taste. They grind fresh, brew right in front of you, and deliver an experience almost as unforgettable as their widely sourced beans.
Throw their address into your GPS whenever you're in St Louis — you may have trouble finding them, but you won't soon forget the experience they deliver.
---
5. Road Crew Coffee & Cycles
If you hadn't guessed by the name or the photo of the inside of this coffee shop, Roadcrew Coffee & Cycles is another cross between a coffee shop and a bike shop. They brew stellar coffee, and they sell and repair bikes.
We'll start with their coffee: they source their beans from the local Blueprint Coffee, which we enjoy at home and a variety of coffee shops in the area. Their baristas are extremely friendly, and while there was a lull in customers, they were happy to talk about coffee and bikes for quite a while with us. They all feel like old friends, and we felt very welcome there from the second we walked in.
They grind and brew everything to order, so while it takes a bit of time to get your coffee, you can see that it's one of the freshest cups you can buy. The coffee is full-flavored, and their pour over technique is on point!
The shop is immaculate and beautiful, and the decor strikes a nice, comfortable balance between rustic and modern. We'll certainly be stopping in again when we're back in the area.
---
6. Blueprint Coffee
Since we're mentioning shops that serve Blueprint coffee, we'd be remiss if we didn't include the source on this list!
Blueprint Coffee is one of the more popular coffee shops in the area, so it can get busy from time to time. They do have limited seating, so you can expect a wait if you go during peak hours. However, busyness usually means quality, and that is something Blueprint Coffee certainly doesn't lack.
Their coffee is out of this world, and they offer a nice mix of light, medium, and even dark roasts. You can tell they care about their coffee's journey from the farms where it's grown, because their staff is all very knowledgeable about coffee, from farming, to processing, to roasting and, of course, brewing.
Their baristas are genuine experts, and a lot of the quality you'll get in your cup comes from their knowledge of their product. They grind and brew fresh right in front of you, and they deliver an experience that rivals the actual coffee in quality!
---
7. Northwest Coffee Roasting Company
Northwest Coffee Roasting Company is one of the smaller coffee shops on our list, but what they lack in size, they make up for in quality and uniqueness.
They roast their own beans, and they use much longer roasting times coupled with lower temperatures than most roasters. Their roasting process takes much longer, but as a result, their coffee has a delicate sweetness that is undeniably delicious.
They focus on lighter roasts like many other specialty coffee shops. Still, we recommend checking them out even if you tend to prefer darker roasts because their process balances sweetness with acidity beautifully.
Their baristas are very friendly and happy to discuss their process and all things coffee. The atmosphere is relaxed and casual, and their outdoor seating area is the perfect place to sip on some delicious coffee.
---
8. Living Room Coffee & Kitchen
Living Room Coffee & Kitchen is fueled by its parent company, ArtHouse Coffees. They began as a specialty coffee roaster and shop that sought to create job opportunities for disabled adults. They soon began growing as they gained support for their fantastic coffee and earnest efforts.
This coffee shop is aptly named because you'll be about as warm and cozy here as you would in your own living room. We felt welcomed and at home because of how friendly and inviting the staff was, and the atmosphere is so relaxed, you might just forget you're out in public while you enjoy your coffee. Their outdoor area is small but equally as comfortable and enjoyable.
They offer single-estate coffee, which means all of the beans going into your cup are from a single coffee farm in the country of origin. Many coffee shops provide single-origin coffee, but these coffees highlight the shop's relationship with the farmers and the quality and unique flavor profile of beans grown in such a localized area.
Their seasonal coffee is also enticing, so be sure to check out their full menu and specials when you visit!
---
9. Maypop Coffee & Garden Shop
You've heard of coffee and bikes, but what about coffee and plants? That's right! Maypop Coffee & Garden Shop combines the two greatest passions of the owner, Tammy: coffee and gardening.
There's something about coffee that makes people passionate, and there is no place more evident of that fact that in this greenhouse cafe. The atmosphere feels very natural and calming because of all the plants, and it feels like a private, hidden nook that you could get lost in for hours. The cafe used to be a residential house, which may explain why we felt so at home there.
The coffee they make there is sourced from Blueprint Coffee, like many other shops in the area, and the baristas are incredibly knowledgeable about coffee and create an experience that you won't soon forget. They're friendly and warm, and they grind and brew everything to order, so you end up with a delicious cup of coffee.
If you're looking for a unique coffee experience, a great atmosphere, and people who love to talk about their passions and yours, you won't want to miss this cafe.
---
10. Winslow's Table
Winslow's Table really feels like someone's home. It has an old-world charm, a warm, rustic atmosphere, and it's usually full of happy people enjoying delicious, full-flavored coffee and a variety of baked goods.
Probably because of the quality and selection of coffee, this coffee shop is often very crowded and can get loud at times. The outdoor seating area offers a nice escape from the hustle and bustle going on inside, but we definitely wouldn't count this place out because of its popularity.
The coffee here is fantastic, and they offer a wide array of roast profiles, origins, and blends, so you're sure to find something here that you love regardless of your taste and preferences.
One of our favorite things about this shop is the community tables. While many shops have small, two- or three-person tables, Winslow's Home has large tables that allow for casual conversation with other coffee lovers. This is truly a unique experience, and we loved getting to know others who shared our passion for coffee.
---
11. Park Avenue Coffee
If you're someone who prefers darker roasts, then Park Avenue Coffee is one of the best places you can go in St Louis. They're best known for their Italian roast, which is super dark, bold, full-flavored, and delicious. They've perfected the art of a long roasting process, and their dark roasts lack a lot of the bitterness we've come to expect from beans that have hit the second crack. "Decadent" was the word we used to describe their coffee.
They do have a pretty extensive menu that spans lots of origins, roast profiles, and flavor profiles, so even if you prefer lighter roasts, you're still in for a treat. Speaking of treats, they also serve fresh baked goods that complement their coffee selections wonderfully.
Their staff is amiable, and they grind and brew your coffee right in front of you. The experience in this smaller space is lovely, and we highly recommend checking them out if ever you're in or near downtown St Louis.
---
12. The Mud House
Last, but certainly not least, we strongly recommend checking out The Mud House if you're looking for a delicious cup and a casual, pleasant coffee experience in St Louis.
Both outside and inside, this shop welcomes you with the warm smell of freshly brewed coffee and an atmosphere that's both urban and relaxed. It's very casual and comfortable, and they have larger tables and smaller tables available, so you can choose to sit alone or get into a conversation with other coffee lovers.
The staff is amicable, and they seem to understand that some people just want their coffee quickly, while others desire a full coffee-shop experience. They offer to-go cups that are ready fast, and they also cater to those who want freshly ground, freshly brewed coffee via pour-over. They're happy to strike up a conversation while they manually brew your coffee, and they made us feel welcomed and appreciated from the very start of our interaction.
They do have limited seating both inside and outside, and it can get a bit crowded at times, but we think the coffee and experience are worth standing in line for a few minutes.

Conclusion
There you have it! Twelve must-visit coffee shops in St Louis. It's tough to rank these in order from most to least favorite because each one offers something unique. Whether they mix other passions with their coffee, deliver an exceptional coffee selection, or provide fantastic conversation with baristas or other patrons, each of these shops will provide a coffee experience you won't soon forget! We hope you enjoy exploring the best coffee shops in St. Louis.
In a different city? Try another guide:
---
Featured Image: Free-Photos, Pixabay