Die-hard coffee lovers fall into two groups: black coffee-only fans and fans who love flavors and toppings.
It's probably fair to say that black coffee drinkers do save money, time, and calories by rejecting additions, and you're typically considered a traditionalist if you prefer your coffee black. So, if you want to try drinking straight coffee, it will give you a different appreciation of your favorite beverage.
Grab your favorite cup of joe and join us as we share our reviews for the best-tasting black coffee brands.

A Glance at Our Favorites (Updated in 2023)
Image
Product
Details

Best Overall

Lifeboost Dark Roast

Very drinkable and aromatic
Low-acid and pesticide-free
Consistent dark roast

Volcanica Kenya AA

Crisp, fruity profile
No bitterness
Money-back guarantee

Koffee Kult Dark Roast

Good aroma and crema
Balanced flavor
Money-back guarantee

Best Decaf

Kicking Horse Decaf

Swiss Water Processed
Mellow, sweet profile
Organic, Fair Trade, and Kosher

Best Ground

Death Wish Valhalla Java

Strong, smooth flavor
Highly caffeinated
Available pre-ground
The 9 Best Black Coffee Brands
1. Lifeboost Dark Roast Coffee – Best Overall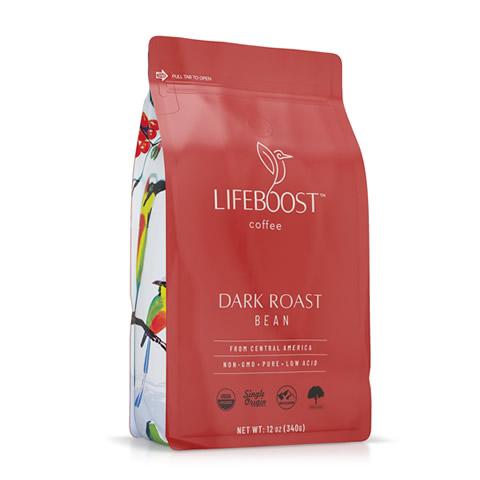 There are many reasons to choose Lifeboost's Dark Roast, but the best reason is this: it tastes (and smells) amazing.
Lifeboost grows its beans in the mountains of Nicaragua without pesticides or chemicals. The company uses a specialized, time-intensive harvesting and processing method. The result? Delicious, well-roasted coffee beans with a stomach-pleasing low level of acidity.
In short, the Lifeboost Dark Roast is highly drinkable and won't have you calling out for cream and sugar. Of course, all of this comes at a price, so scroll down if your budget is tighter.
Overall, we think Lifeboost Dark Roast is the best black coffee money can buy!
Pros
Very drinkable and aromatic
Low-acid and easy on the stomach
Consistent dark roast
Free of pesticides and chemicals
---
2. Volcanica Kenya Black Coffee
Volcanica Kenya AA Whole Bean Coffee is grown in the volcanic soil of East Africa and roasted in Atlanta. AA is a reference to the coffee bean grade and means it's a larger than average bean size. This great choice has a floral aroma and a crisp delivery. There are sweet and fruity undertones and a rich, balanced body without bitterness.
Although this is a medium roast, the flavor delivers on the light and bright side. If you're seeking a bold flavor, this may seem a little weak for your taste. It also comes with a slightly higher price tag, but fortunately, this brand has a 100%-satisfaction policy should you want a refund.
If you enjoy a bright cup of sunshine, we believe this is one of the best-tasting coffees to drink black.
Pros
Crisp profile
Fruity notes and bright flavor
No bitterness
Money-back guarantee
Cons
Gourmet price
Lighter medium roast
---
3. Koffee Kult Black Coffee Beans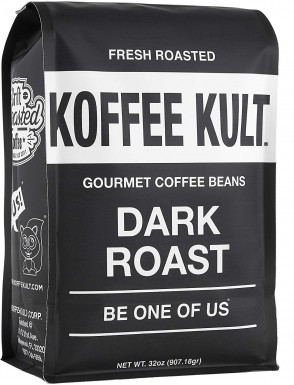 Koffee Kult Dark Roast Coffee Beans is a blend of Arabica beans from Brazil, Colombia, and Sumatra. This brand is a family-owned business that locally roasts in Hollywood, Florida. Many coffee drinkers have indicated that the customer service is top-notch, and a money-back guarantee is offered with every purchase.
Our runner-up is a potent combination: an eccentric profile with low acidity and tinges of sweet chocolate. It has a balanced flavor and won't overwhelm your taste buds. Many Koffee Kult lovers note that this choice creates an excellent crema.
If you're a dark roast beginner, you may notice a bitter finish. If you seek that bold, dark roast flavor, this one may deliver too light and sweet. Such unexpected sweetness keeps this out of the top position.
Pros
Good crema
Balanced flavor
Rich aroma
Money-back guarantee
Cons
Slightly pricey
Bitter finish
---
4. Kicking Horse Black Coffee – Best Decaf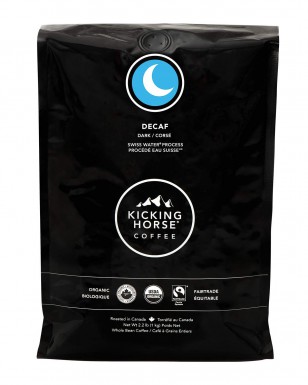 Decaf coffee tends to get a bad rap. However, Kicking Horse Decaf Dark Roast may surprise you with its full flavor. The beans are grown in Central and South America and then roasted high in the Rocky Mountains 3,000 feet above sea level. As a brand committed to sustainable and environmentally conservative practices, decaffeination occurs through the Swiss Water Process, which ensures that when the caffeine is pulled out, the flavor remains. It's also certified organic, fair trade, and kosher.
This dark roast blend has whispers of hazelnut and chocolate with a mellow profile, breaking the myth that decaf has no flavor. Decaf coffee enthusiasts have noted that these beans are perfect for a super-automatic espresso machine. The one drawback is that it's the most expensive black coffee choice on our list.
Pros
Mellow profile
Sweet notes
Full flavor
Swiss Water Process for decaffeination
Organic, fair trade and kosher certified
---
5. Valhalla Java — Best Ground Coffee Pick
If you love coffee the way you love heavy-metal music, Valhalla Java Ground packs a mighty punch when you need it. As a nod to one of the most influential guitar players in the industry, Death Wish Coffee created this blend for Zakk Wylde. This coffee has a melody similar to his guitar riffs: smooth and powerful.
A blend of Arabica and Robusta beans from Indonesia, Central, and South America, this medium roast has a mellow profile, chocolate notes, and a nutty aroma. Fans have indicated that this ground pick is not ideal for espresso, as it's a medium grind. Also, if you're caffeine sensitive and don't like the flavor of Robusta beans, this blend will not be satisfactory. However, if you want to start your day like Zakk Wylde, this may be the most radical choice for you.
Pros
Mellow flavor
Smooth profile
High caffeine
Fairtrade and organic certified
Money-back guarantee
Cons
Pricey
Not ground for espresso
---
6. Death Wish Whole Bean Black Coffee
Death Wish Organic USDA Certified Whole Bean Coffee is well-known for its high-octane content, with double the caffeine of other coffees. This pick is a dark roast blend of Arabica and Robusta beans from India and Peru. It delivers an intensely flavored cup of coffee with a bold flavor, undertones of cherry and chocolate, and a finish with an earthy quality.
If you have a high caffeine tolerance, don't get your hopes up that this coffee will kick you into tomorrow. Also, if you typically don't drink a robust dark roast, the aftertaste may seem smoky, so ease your way into this new arena.
Many coffee lovers have pointed out that this bean is not overly oily and works well with a super-automatic espresso machine. The company also offers a money-back guarantee for this pricey coffee through its website.
Pros
Bold aroma
Intense flavor
Sweet undertones
Money-back guarantee
Cons
Pricey
Smoky aftertaste for beginner
---
7. Coffee Bean Direct Panama Boquete
Coffee Bean Direct Panama Boquete Whole Bean Coffee originates in the volcanic soil of Panama's western highlands. It's a light to medium roast that pours a little sunshine in your cup with its bright profile and sweet, buttery aroma. Conveying a creamy texture and a mild flavor, the blend of Arabica and Robusta beans gives it a medium acidity.
Because of the Robusta, that acidity may be higher than expected if you're a light roast connoisseur. If your preference is a darker roast, the coffee being so bright may not be appealing to you. But if you enjoy a balance of light and dark, this choice is a good value packaged in a five-pound bag at an affordable price.
Pros
Economical
Creamy texture
Sweet aroma
Bright profile
Mild flavor
Cons
Medium acidity
Five-pound bag only
---
8. Onyx Coffee Lab Southern Weather Blend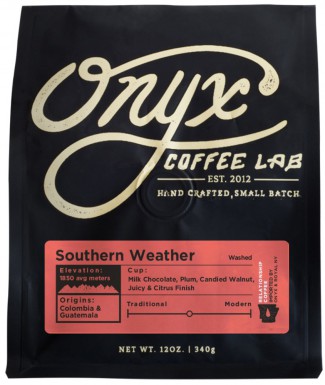 Brought to us by a coffee-loving couple, Onyx Coffee Lab Southern Weather Blend Whole Bean is the original house blend of the brand café in Arkansas. With their dedication to quality and lengthy history of barista experience, they won the 2017 U.S. Roasting Championship.
These beans are grown in Colombia and Guatemala and offer a complex profile with a balance of sweet and citrus with a light chocolate undertone. This may work well if you enjoy a light, fruity blend. However, if you prefer a stronger burst with a deeper flavor, this coffee isn't for you.
Pros
Complex profile
Citrus finish
---
9. Don Tomas Nicaraguan Black Coffee Beans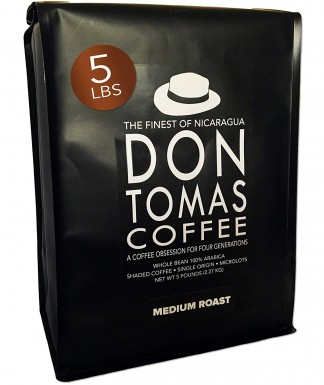 Don Tomas Nicaraguan Whole Bean Coffee comes from a brand with a commitment to the community. It supports housing and nutrition, medical, and educational programs for farmworkers and their families. These Arabica beans are grown at a 4,500-foot elevation under shade trees of a Nicaraguan forest and irrigated with honey water. Shading slows the ripening process, giving the cherries more time to sweeten.
Our final pick is considered a breakfast coffee with its light roast. It has a bright profile, fruity notes, and a nutty aroma. It is affordable, which is good because it's not returnable. If you prefer a fruity light roast, you may enjoy this choice. There are certain indications that this roast is lighter than light, however, with a weak flavor.
Pros
Affordable
Bright profile
Fruity flavor
Cons
Not returnable
Weak flavor
---
Buyer's Guide: How to Find the Best Black Coffee Brands
If you love your coffee purely black or if you just want to try a new adventure of stripping your coffee of added sweeteners, there are several things to keep in mind, such as acidity, freshness, roast, and brewing method.
Acidity
Many coffee lovers don't want to give up their love for coffee if they have sensitive stomachs. So, you have to know your body and be diligent in your research. Seek out a choice with low acidity (like our top pick, the Lifeboost Dark Roast), especially if you're weaning yourself off of sugar. It's a delicate balance, and you'll need to work your way into a new coffee experience slowly. Take it one step at a time and pay attention to how your body reacts, and you may be pleasantly surprised at your new favorite coffee.
Freshness
Not to sound like a broken record, but all coffee lovers know that the freshest brew you can achieve at home comes from whole coffee beans that are ground right before brewing. Still, many prefer the convenience of pre-ground coffee, which is why we included a pre-ground choice in our list.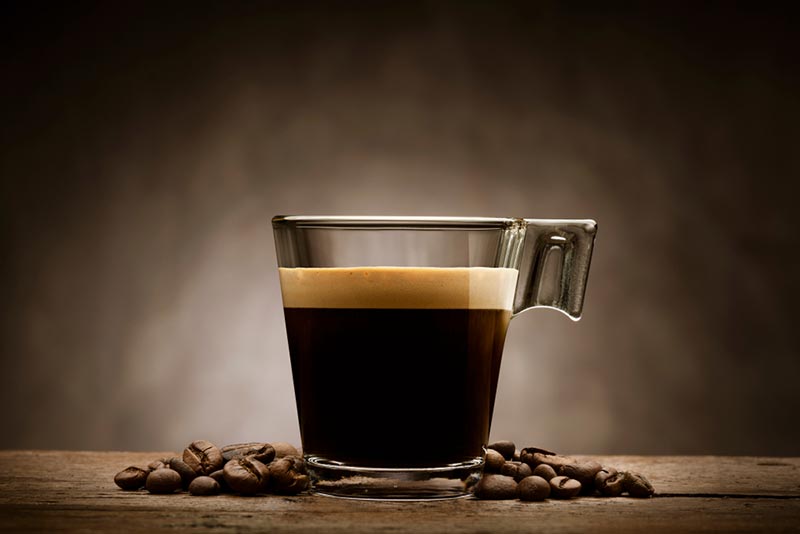 Roast
There are a variety of roast choices out there. A few may deliver a lighter flavor than expected. Whether you want bright and fruity or bold and sweet, options are available.
WORTH READING: What are the best coffee makers made in the USA?
Brewing Method
If you use an automatic espresso machine, the grinder may get clogged if the beans are too oily, which will cause you a cleaning headache later. With a pre-ground coffee, determine if it's ground finely enough for espresso to extract the most flavorful brew. Some brands roast beans for a particular brewing method, from drip coffee to espresso, while others roast to appease any method. Although you have a good chance of getting your selection to work for your preference, you don't want to waste money finding that out. So, it's all about doing the research.

Conclusion
In summary, we listed our top eight choices for the best black coffee brands. Our top pick is Lifeboost Dark Roast, a low-acid, highly drinkable gourmet option. In second place is Volcanica's Kenya AA Whole Coffee Beans, which offers a crispy and fruity delivery without any bitterness.
Koffee Kult Dark Roast Coffee Beans also creates an excellent crema and has a rich aroma. Kicking Horse Decaf Dark Roast Whole Bean is our top choice for the best decaf. It has sweet undertones and the decaffeination process is chemical-free. For convenience lovers, our top ground choice is Valhalla Java Ground, with its rock-and-roll kick and smooth profile.
There is a coffee choice to please everyone, and if you're new to drinking coffee in its authentic state, enjoy the adventure and keep on brewing!
---
Featured image credit: Unsplash