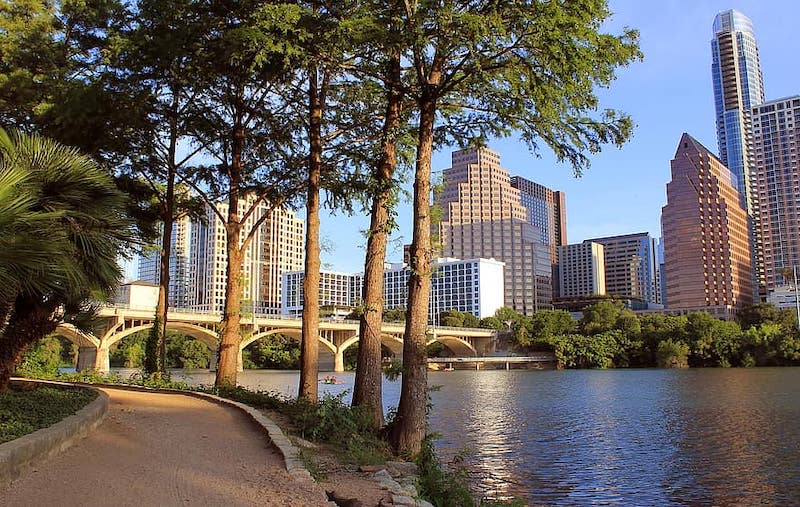 Austin, Texas, has become one of the hottest travel destinations in the United States, home to a plethora of fun and exciting things to see and do. Known as the live music capital of the world, Austin has world-class barbecue and a rich tradition of history and art. Between meandering down the Colorado River, visiting all the top-notch bars and restaurants, and attending the near-constant music festivals, you're going to want some great coffee to keep you going.
Whether you're in town as a tourist or a new resident of this booming city, if you're looking to find your favorite coffee spot, this guide is for you. Join us as we explore the vibrant world of coffee in Austin.

The 10 Best Austin Coffee Shops To Try:
1. Houndstooth Coffee
Located at 4200 N Lamar Boulevard, Houndstooth Coffee is a great first stop on your Austin coffee journey. The welcoming environment and friendly staff make grabbing a cup of coffee an enjoyable experience from start to finish. As one of the most popular shops in Austin, it can get crowded at times despite the large seating area.
Houndstooth sources their coffee from farms around the world that practice sustainable production. Their cappuccinos are excellent, and they also serve some pastries if you're looking for a snack. You can also find tea and even craft beer and wine on their menu.
---
2. Flitch Coffee
For a truly unique experience, head over to 641 Tillery Street and give Flitch Coffee a try. Run out of a retro camper – yes, a camper – Flitch coffee churns out seriously good coffee. They work with both local and national roasters, and the list of available beans features some names you'll recognize, like Onyx Coffee Roasters. The coffee is superb and the surrounding seating area is a beautiful place to take a break from your day.
Their menu also includes some tasty pastries made by local Austin bakeries. You can choose from a bunch of different milk options for your latte or cappuccino, which is a nice touch. Only outdoor seating is available, so plan your visit when the weather is nice.
---
3. Cuveé Coffee Bar
Next up on the list, we have Cuveé Coffee Bar. The folks at Cuveé pride themselves on being coffee experimenters, and their menu reflects a sense of adventure and innovation. You can choose to have your coffee prepared in almost any way you can think of: Pour-over, French press, Moka pot, drip, cold brew, and espresso – and they'll recommend which of their beans goes best with your preferred brewing method.
The atmosphere is very open and the baristas are very friendly. They do serve some baked goods, but the focus is clearly on the coffee. Stop by 2000 East 6th Street to sample and learn about their excellent coffee.
---
4. Epoch Coffee
Epoch Coffee has four convenient locations around Austin, so you'll probably be able to find one that fits into your itinerary for the day. We are big fans of Americanos, and they make a great one. Their menu includes the standard bakery fare found in a coffee shop but also includes pizza from a local pizzeria. Spend the morning sampling their coffee before grabbing a pizza around lunchtime.
The large seating area has a very modern aesthetic that we like a lot. Works from local artists hang from the walls, which gives Epoch a uniquely Austin feel. Overall, it's a cool place to kill a few hours and drink some good coffee.
---
5. Mañana
Mañana's menu features single-origins and blends from Revelator, a local roaster. The coffee is as fresh as it is delicious, and you can't go wrong with any of their offerings. If you're feeling a little hungry, there is a decent number of cookies, cakes, and muffins to choose from (including gluten-free options) as well as a small menu of light bites. If you visit early in the day, you can try one of the breakfast tacos.
Mañana has ample seating indoors and out, so finding a place to sip your latte shouldn't be a problem. Check them out at 1603 South Congress Avenue.
---
6. Bennu Coffee
Bennu Coffee has three locations sprinkled about the Austin area, with the flagship located at 2001 East Martin Luther King Jr. Boulevard. Bennu has a relaxed, comfortable atmosphere, and you'll feel right at home sipping a cappuccino with a good book.
People with a sweet tooth have to try "The Raven," a gourmet mocha that is simply to die for. You can find a variety of snacks and pastries, and also a small grocery store that sells a selection of meats and produce. Bennu is open 24/7, which makes it easy to find time to squeeze it into your busy schedule.
---
7. Figure 8 Coffee Purveyors
Figure 8 Coffee Purveyors is a single-location shop located at 1111 Chicon Street. They have an extensive menu of coffee and espresso drinks crafted from high-quality beans of various origins. The selection of beans will vary, but they have a handy menu with tasting notes to help you pick one.
On the food side of things, the breakfast tacos are quite good, and you'll also be able to choose from a selection of baked goods. There is plenty of seating, both inside and out, and both areas are cozy and welcoming.
---
8. Fleet Coffee Co
Fleet Coffee Co is a quintessential specialty coffee shop. Their menu is stocked with coffee from some big-name roasters like Counter Culture and Olympia Coffee Roasting Co. Fleet's motto is "We make coffee, sometimes people like it." We appreciate the humor and modesty and think that "sometimes" is probably more like "most times." They make a mean pour-over that is a prime example of upscale coffee.
At Fleet, you can find the usual selection of pastries and treats along with friendly staff and a perfectly cozy atmosphere to enjoy a delicious cup of coffee. If you find yourself in the vicinity of 2427 Webberville Road, be sure to stop by and check them out.
---
9. Radio Coffee & Beer
Taking the penultimate spot on our list, we have Radio Coffee & Beer. If you like strong, dark roast coffee, you will love the coffee here. The vibe at Radio is not what you usually think of when you think of your typical coffee shop. Most of the seating available is in the tremendous outdoor patio area, and there are two food trucks offering outrageously delicious sandwiches, tacos, and assorted pub fare.
As you can probably tell from the name, they also serve beer! And wine. The patio is lit at night, and you can often find some live music, making this a really cool spot to visit at any time of day. You can find them at 4204 Manchaca Road.
---
10. Spokesman Coffee
https://www.instagram.com/p/CF22QslFFa7/
One look at that logo and you already know you're in for something different at Spokesman Coffee. Spokesman embraces Austin's artsy side with neon lighting and caricature-style drawings covering the walls. Oh, and did we mention it's in an old warehouse? Yep.
Besides the extraordinary and unique atmosphere, the coffee is good. The menu includes some pastries, an impressive tea list, and some rarer offerings, like a turmeric latte and a cinnamon honey latte. You can't get this kind of experience anywhere else, so be sure to stop by the yard and take it all in at 440 East St Elmo Road A-2.

Conclusion
Austin is one of the most up-and-coming cities in the U.S. While it's known for live music, a thriving art scene, and lively nightlife, the coffee in Austin is also nothing to sneeze at. There are plenty of great shops that provide great coffee in unique, relaxing environments. If you have time between experiencing everything else Austin has to offer, make sure to stop by some of these coffee shops and give them a try.
Looking for a different city?
---
Featured Image Credit: Pikist