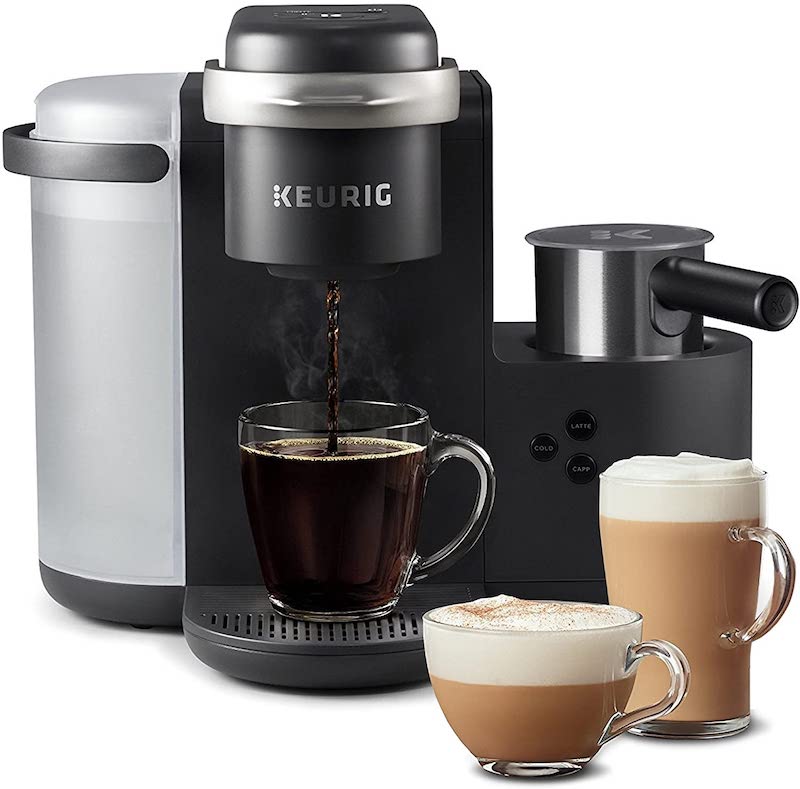 Our Final Verdict
We give the Keurig K-Café a rating of 4.2 out of 5 stars.
Keurig K-Café — At a Glance:
The K-Café is Keurig's specialty drink maker, promising to brew delicious lattes and cappuccinos, along with the usual coffee. It's a feature-heavy premium brewer. But does it do everything it promises, and should you try it for yourself?
The bottom line is that this is an impressive single-serve brewer. The K-Café can brew a range of drinks, works with all K-Cups, and features an easy-to-use, effective milk frother. It has an impressive set of controls, like brew size and strength options, and useful features like descaling and low water alerts.
The negatives? This model has a big footprint, a large water reservoir, and a bulky frother. If you don't have a lot of room in your kitchen, it may be too large. It's also not one of Keurig's cheapest models, so it won't work as well for tight budgets. And if you're interested in fun colors, you'll probably want to look elsewhere — like at the bright Keurig Mini.
A Quick Look
Pros
Brew strength and cup size controls
Built-in milk frother
Several dishwasher-safe parts
Auto-off program and descaling alert
Four cup sizes and "espresso" shots
Compatible with all K-Cups & reusable filter
Cons
Large footprint
Fairly expensive
Somewhat harder to use
No built-in cleaning program
No clock or timer
| | |
| --- | --- |
| Brand: | Keurig |
| Models: | K-Café, K-Café Special Edition |
| Product Type: | Single-serve pod coffee maker |
| Materials: | Plastic, Metal (in Special Edition) |
| Cup Sizes: | 6, 8, 10, and 12 ounces |
| Water Reservoir: | 60 ounces |
| Dishwasher-Safe Parts: | Yes |
| Dimensions: | 12.5 x 15.3 x 11.7 inches |
| Weight: | 10.2 pounds |
| Compatible Pods: | All K-Cup pods and Keurig's reusable K-Cup |

Keurig K-Café: Appearance
The K-Café is a large machine, with a wide footprint and a 10.2-pound weight. It has an unusual asymmetrical design, with the large water reservoir on one side and the milk frother on the other. This model doesn't come in any fun colors, but you can choose between charcoal and premium nickel.
Ease of Use
If you've ever owned a Keurig, you know how simple they are to use. Fill with water, add a coffee pod, and push the brew button. You'll have a hot cup of coffee in mere moments!
The K-Café is slightly more involved than that, but only slightly. It has lots of intuitive controls, including a choice of coffee or latte and cappuccino brewing, four cup sizes, and a strong option. When we tested this model, we found the coffee flavor quite good, and the espresso shots — though not actually espresso — were strong and rich.
The milk frother is incredibly easy to use and works on all kinds of milk and milk alternatives, like soy milk and almond milk. To use it, you add milk to the pitcher and choose between cold, latte, and cappuccino frothing options. The milk doesn't pour automatically into your coffee cup, but the pitcher is well designed for pouring.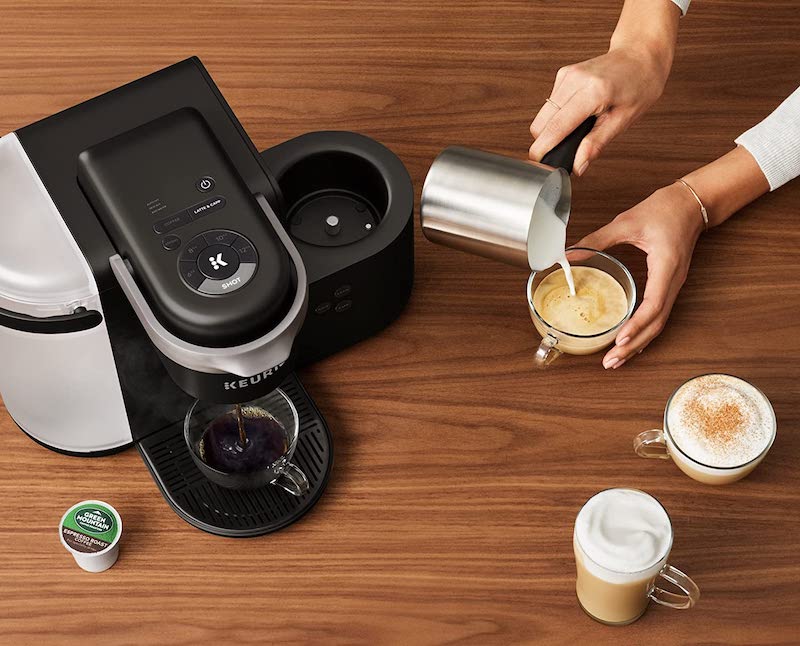 Cleaning
The K-Café has many dishwasher-safe parts, including the milk frother and drip tray. Like all Keurig machines, it requires regular maintenance, and the descaling alert will help you keep track of that schedule. It doesn't have a built-in cleaning cycle, but following the recommended Keurig cleaning process is simple enough.
Extras
With the K-Café, you can brew a shot of coffee, adjust the brew strength, and use travel mugs up to 7.2 inches tall. There's a two-hour auto-off program and a brewer maintenance reminder, so you won't have to keep track of descaling schedules.

Keurig K-Café: Our Verdict
So should you buy the Keurig K-Café? We think you'll enjoy this coffee maker if you're looking for a pod machine that can approximate espresso. The milk frother is a nice addition to the usual Keurig features, and the large water reservoir is handy if you have a large family.
You'll love this pod coffee maker if you often add milk (or a milk alternative) to your drinks. If not, you may find built-in frother bulky, and you could save money by choosing a more streamlined model.
STILL LOOKING? Read our other Keurig reviews: