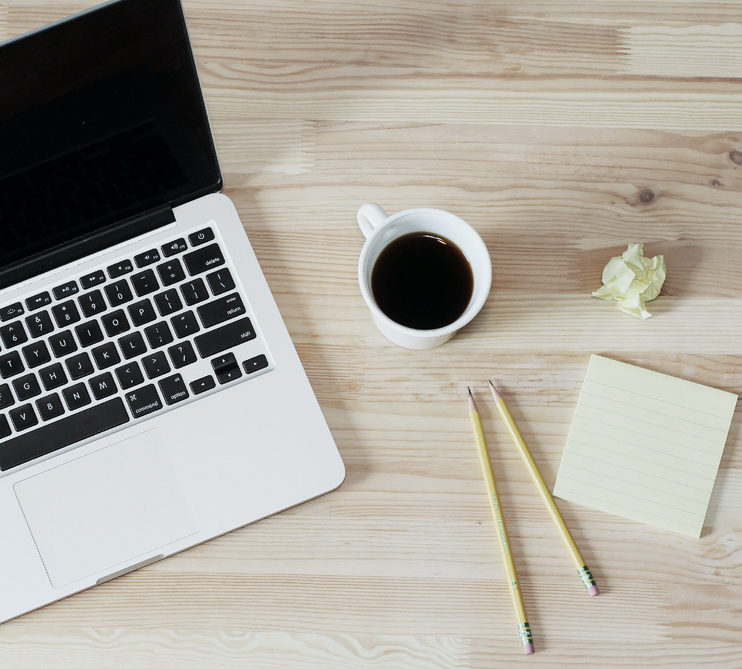 When Keurig machines first came on the market, they revolutionized coffee drinking at the office. Instead of drinking burned, stale pots of flavorless drip coffee, employees could brew fresh, individual cups of their favorite coffees. These days, Keurig machines can be found in offices all around the world, so if you're shopping for a Keurig brewer for your office, you're in good company. But with so many models now available, which will work best for your employees or coworkers?
To help you shop, we have reviewed several of these convenient coffee makers and put together a list of our top four, including the pros and cons of each. If you're looking for buying tips, take a look at our quick guide. Now let's get to those reviews!
---
Our Favorite Products Compared:
Image
Product
Details

Top Pick

Keurig Commercial

Programmable touchscreen
Large water reservoir
Drainable internal hot water tank

Best Keurig for a Small Office

Keurig K-Elite

Quiet
Automatic on/off switch
Large 75-ounce water reservoir

Keurig Single Cup

Four brew sizes
Automatic k-cup pod ejection
Can be directly plumbed to hot water line

Keurig OfficePRO

Brews three cup sizes
48-ounce water reservoir
Less than 60-second brew time
The 4 Best Keurigs for an Office – Reviewed 2023:
1. Keurig K155 Office Pro Commercial – Top Pick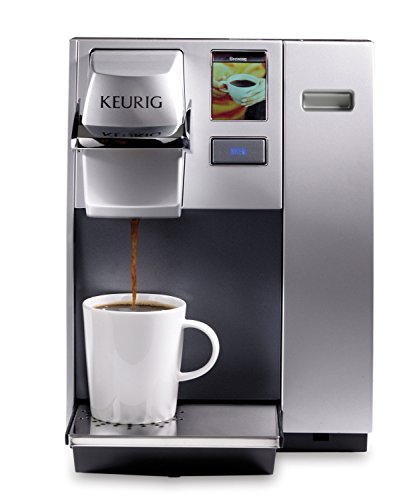 The Keurig K155 Office Pro Commercial is our favorite commercial-grade brewing system for your office. It is a pour-over brewing system with a large 90-ounce water reservoir. It has an easy-to-use, programmable LCD touchscreen display.
The K155 is made to handle several different standard-sized coffee mugs. It also has four brew sizes to choose from. Once you hit the start button, it takes less than 60 seconds for your coffee to be ready to drink. It is also a relatively quiet machine that won't startle you when you use it first thing in the morning. The internal hot water tank can be drained to avoid burns if you need to move this coffeemaker to another room.
However, this machine has no strength control, and you can't hook it up to a direct hot water line.
Overall, we think this is the best Keurig for office use this year. We hope you and your coworkers enjoy it!
Pros
Programmable touchscreen
Large water reservoir
Drainable internal hot water tank
Four brew sizes
Brews in less than 60 seconds
Quiet
Cons
No strength control
Can't be directly connected to the hot water line
---
2. Keurig K-Elite Pod Maker – Best Keurig for a Small Office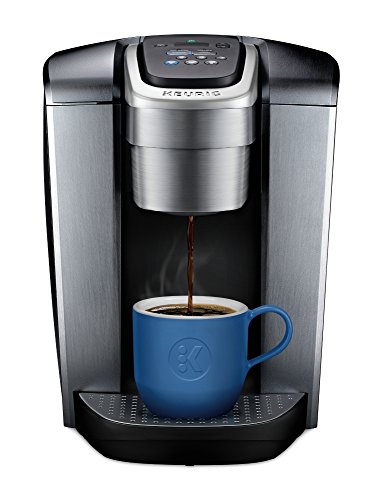 We have chosen the Keurig K-Elite Pod Maker as the best brewing system for a small office because it is really quiet. It won't interrupt the flow of work for your employees.
This particular Keurig machine doesn't have very clear instructions on how to get it set up and programmed correctly. There is no display screen for you to look at and read, so the initial setup of this brewer can be somewhat tricky.
The Elite Pod Maker has a large 75-ounce water reservoir, so you won't have to refill it constantly. Unfortunately, the lid on it isn't hinged so that you can just open and pour. You have to completely remove the top every time you need to add water, and then replace it. It isn't very time-consuming, but it is annoying.
The Keurig K-Elite has an automatic on/off switch and a strong brew button for those that like their coffee with a bolder taste. It has on-demand hot water available to instantly brew any of the five brew sizes that are available to you.
RELATED READ: Our Comprehensive Review of the Keurig K Elite
Pros
Quiet
Automatic on/off switch
Large 75-ounce water reservoir
Strong brew button
On-demand hot water
Five brew sizes
Cons
Difficult to set up initially
No display panel
Top of water reservoir isn't hinged
---
3. Keurig K 3000 Commercial Single Cup Office System
The Keurig K 3000 Commercial Single Cup Office System is a good option for a single cup brewing system for your office. For convenience, this machine can be directly plumbed into your hot water line, so you won't have to refill the water reservoir all of the time.
This Keurig coffee maker is the Energizer Bunny on steroids. It can brew coffee back-to-back all day long without needing time to cool down between each cup. It can brew four different sizes between four- and ten-ounce cups, so everyone can use their favorite cup. Remember, though, that even though this is a good coffee pot for your office, it isn't the best on the market. It tends to make more watered-down coffee.
This brewing system has automatic K-cup pod ejection. The cup is thrown into a built-in waste bin after use. The problem with a built-in garbage can is that the K-cups are wet. Fluid gets into the trash collector and can grow mold very quickly, making it not so sanitary. It also has a lot of nooks and crannies that are difficult to clean.
The biggest issue with this system is that it doesn't come with all the parts that you need to get it set up. The filter kit has to be purchased separately. That means paying for the kit over and above what you have already paid for the machine. You'd think that something that is required for the use of the device would be included in its cost.
Pros
Four brew sizes
Automatic k-cup pod ejection
Can be directly plumbed to hot water line
Back-to-back brewing every minute
Cons
Required filter kit isn't included
Difficult to clean
Grows mold easily
Makes watery coffee
---
4. Keurig K145 OfficePRO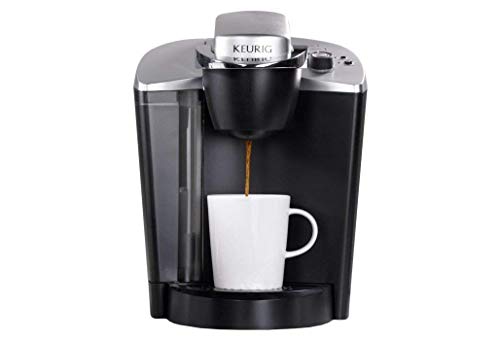 The Keurig K145 OfficePRO is a good brewing machine for a smaller-sized office. Its 48-ounce water reservoir can brew three different sizes: six-ounce, eight-ounce or ten-ounce cups. People can adjust the size of the cup they use according to their energy level. If they need more, they can come back for a second cup. The Keurig K145 brews a cup of coffee in less than 60 seconds.
This brewing system uses K-cups to make your coffee. The issue with that is that one pod is only good for one cup of coffee. That means a lot of trash and a lot of cash. Keurig does have reusable K-cups, but unfortunately, they don't fit this machine. The only cups that will fit are the disposable ones.
Make sure to place this machine away from where people will be talking on the phone or meeting with others. This machine vibrates while it brews and is rather noisy. It could interrupt an important meeting if it is too close.
Since we review many different kinds of coffee pots, we have not used this one for an extended period of time. We have heard several reviews say that this particular model will only last for about a year before it needs to be replaced. Again, this has not been our experience, but it is something important for you to know.
Pros
Brews three cup sizes
48-ounce water reservoir
Less than 60-second brew time
Cons
Can't use reusable K-cups
Only lasts about a year
Noisy
Vibrates
---
Buyer's Guide: Finding the Best Keurig For Your Office
You've seen our four favorite Keurig machines for office use, but have you made your decision? If you're not sure which to choose, keep reading for our buying tips.
Storage
When using your Keurig to serve multiple people, storage drawers for your K-cups can be important. If you are in a large office that will be serving a lot of people, you may want an extra display case to keep enough cups out at one time.
Purpose
Using a coffee maker at the office is different than using one at home. It gets used a lot more. It is essential that you find a good quality product that can stand up to the amount of use will get with the number of people in your office.
Budget
We all have a budget that we need to stay within, but we also want to get a good quality product. When you are shopping for your Keurig, check to see what kind of materials it is made from, and what extra features may be included. Make sure that you get what you paid for.
Strength
In a large office environment, it is crucial that your machine has a strength control setting, so that individuals can choose how strong or weak they would like their coffee to be.
K-cups and Filters
Though Keurig is best known for its single-serving K-cups, it also has machines that can use regular coffee grounds in a standard coffee filter. This can be less expensive and give you more flexibility.
Carafe
If you would like a carafe with your Keurig, you will need to go into the Keurig 2.0 series. If the brewing system that you purchase doesn't include a carafe, it is easy to buy one separately.
Programmability
When using your Keurig for single servings, it isn't as important that your machine is programmable. If you are using a more massive device with a regular coffee filter to make simple black coffee, you can program the machine to brew that pot at a particular time so that it is ready when the first person reaches the office.
Other Features
You may also appreciate extra features like a drip tray, an auto on/off program, and storage for electrical cords. These features may cost a bit more but may also help you keep your coffee area clean and save on energy bills.
How can you get the most out of your Keurig?
Coffee makers are complicated machines that have many parts working together to make your perfect cup of coffee. Here are a few tips and tricks that will help you understand your Keurig better.
1. K-Cup:
Some people like their coffee strong, and one K-cup just can't get it quite strong enough. To overcome that issue, brew two K-cups at a time at the smallest brew size available and then combine them into one cup. This will give your coffee a bolder taste.
2. Bitter Taste
Many people complain that Keurig coffee is bitter-tasting. To get past this issue, try adding a pinch of salt to your cup. The salt neutralizes the acid in the coffee, causing to taste less bitter. Be sure that you just use a pinch, or you will have salty coffee. You might have to play with this a bit to find out how much salt is right for your taste.
Another thing you can do to help temper the bitter taste is to descale your brewer regularly. Descaling will remove any calcium build-up inside your machine that can add to the bitter taste.
3. Reusable K-Cup Filter
Using a different K-cup for every cup of coffee made in your office can be quite costly. You can save a few bucks by purchasing a machine that uses reusable filters. These machines use regular coffee grounds, which are more economical, and allows users to put in the right amount of grounds to match their taste.
4. Know-How
To get the most out of your Keurig, you should understand how all its different features work. Since every machine is different, we recommend that you read your owner's manual to understand your specific device fully.
5. Less Than 60 Seconds
One thing that makes Keurig K-cups so popular is that you pop the cup in, hit a button, and get a hot cup of coffee in less than 60 seconds.
6. Water Quality
Water quality can significantly change the taste of your coffee. As already stated, calcium in your water can cause your coffee to have a bitter taste. On the other hand, having magnesium in your water can enhance its flavor.
NOTE: We've also curated a list of the Keurig models that are best suited for college.

Conclusion
Let's go back to the top four Keurig brewers we have reviewed. Our top pick is the Keurig K155 Office Pro Commercial, and the Keurig K-Elite Pod Maker is our recommendation for a small office.
We have given you some things to look for in your Keurig brewing system, as well as different tips and tricks to get the most out of the one you purchase. Hopefully, we have given you enough information to narrow down the list of brewers that you want to look at. Take your time and make sure the machine you purchase is capable of doing everything you would like it to.
Other Keurig reviews & comparisons on our blog:
---
Featured image credit: Unsplash