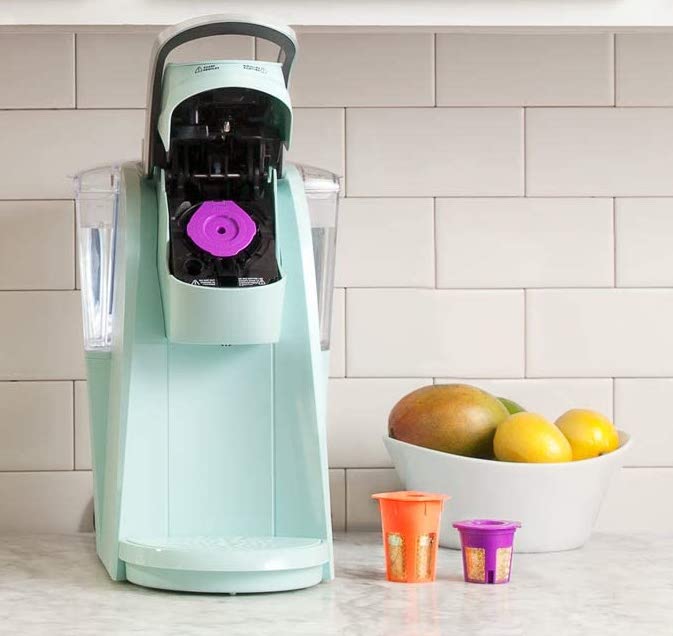 Reusable K-cups ballooned in popularity in response to concerns that spent K-cups were filling landfills and, because of their construction, would take a very long time to break down. They have the great side effect of making your Keurig a much more versatile machine. Rather than being limited to products available in prepackaged cups, a Keurig owner can now use specialty coffees, tea blends, and other hot drinks previously out of reach.
Slogging through everything available can be time-consuming. There is a wide range of functions, sizes, and colors. Of course, there is a range of prices, too.
We're here to help you navigate this, and we wrote reviews of some of the products you're apt to run across while shopping. There's also a buyers' guide that we hope you find helpful in making your selection.
---
Comparison Table (Last updated in 2023):
Image
Product
Details

Best Overall

Keurig Reusable Universal Coffee Filter

Versatile
Great value
Two pour lines

Best Value

iPartsPlusMore

Fantastic value
Dependable
Sturdy and compact

DI ORO MaxBrew GOLD

Well-built
Versatile
Easy to clean

Maxware Refillable

Inexpensive
Bulk buying
Fun color

Blendin

Really affordable
Does well, when it works
Hinged lid
The 5 Best Reusable K-Cups:
1. Keurig Reusable K-Cup Universal Filter – Best Overall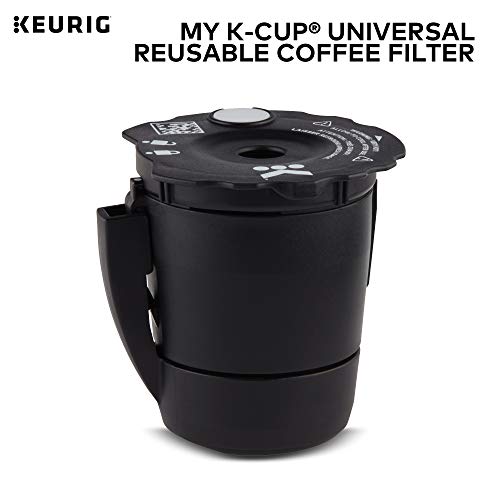 If you're looking for a reusable K-cup, it's hard to beat the one made by the company that makes the coffee makers themselves. The My K-Cup fits all of the company's newer coffee makers, although it might take an adjustment or two depending on the size of the coffee maker. If you've got a couple of different Keurigs, that means you just need to buy this one reusable K-cup.
Because of that, and because of how much it can reduce the cost of running your Keurig, it is also a great value. One thing that aids this is that it's got two different pour lines, one for regular coffee cups and one for travel mugs.
One thing to keep in mind is that it's got a lot of parts compared to other reusable K-cups. It becomes less versatile every time you lose one or one gets damaged. You'll need to take special care to keep it clean and well-maintained.
All in all, we think this is the best reusable K-Cup you can buy in 2021.
---
2. iPartsPlusMore Reusable K-Cup Pods – Best Value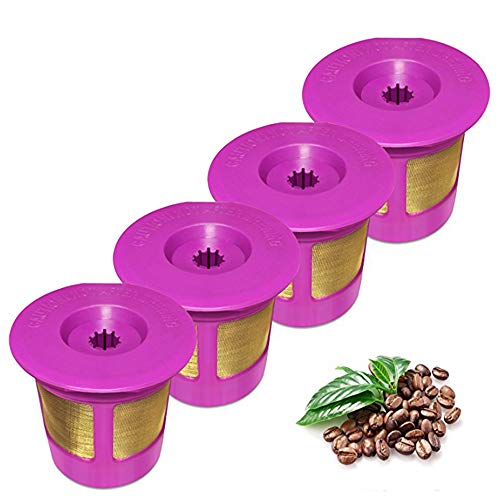 The iPartsPlusMore Reusable Gold-Plated Mesh Coffee Filters are a great value for something designed to cut your coffee-making costs while also cutting your carbon footprint. They are durably built, so while they're very affordable and look like they're semi-disposable, they'll stand up to the beating a coffee maker delivers for a decent amount of time.
They're also built well, so they won't come apart during the brewing process and spew grounds all over the place. Combined with the general durability, that makes them dependable reusable K-cups.
Naturally, they're not compatible with every Keurig machine. They are least likely to fit into bigger machines because they've got a smaller cup capacity.
Pros
Fantastic value
Dependable
Cons
Not compatible with every Keurig
Small capacity
---
3. DI ORO MaxBrew GOLD K-Cup Reusable Filter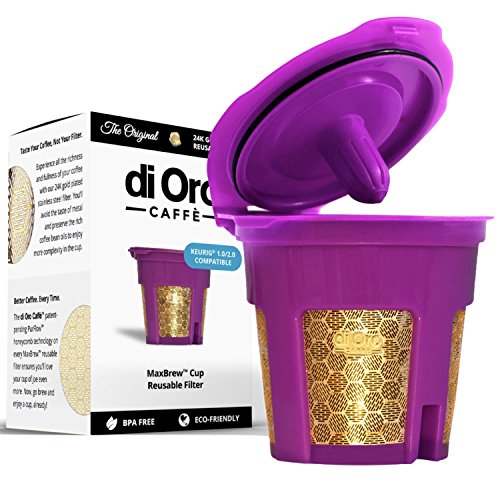 The DI ORO MaxBrew gold reusable filter is on the expensive side of reusable K-cups. It fits just about every Keurig, although the learning curve for getting it set takes some time. Considering the range of drinks it'll let you make in the number of makers it fits, it's a versatile little gadget.
We also like its construction. It's solid. Some reusable K-cups are pretty expensive and also cheaply built. Keep it cleaned out and the MaxBrew should last you through many, many brews.
One drawback is that the screens let an awful lot of coffee grounds through, so you'll definitely want to consider using additional paper filters. That cuts down on the simplicity quite a bit and means an ongoing cost. The filter itself is already pretty expensive, and with this issue, it's even more so.
Cons
Paper filters are a good idea
Expensive
---
4. Maxware 2 Refillable K-Cup Filters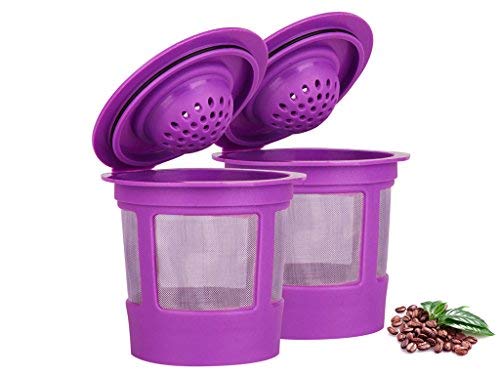 If you're looking for an inexpensive reusable filter, the Maxware 2 fits that bill. Buy several at once, and it's an even better deal. Considering the costs of using disposable K-cups, that potentially means cutting the cost of using your Keurig from as much as 50 cents per cup of coffee to pennies.
There are good reasons why you might want to buy several at once, however, and that's because this reusable K-cup has substantial problems. It isn't always easily recognized by newer Keurigs. You might have to hold the lid down firmly to get it to work. That extra pressure, of course, has a nasty habit of breaking the filter. It also doesn't fit every Keurig. Before purchasing, make sure it's compatible with yours.
It can create a mess by letting grounds flood out the top while brewing coffee. Considering all that, we'd suggest giving this one a miss and getting something a couple of bucks more that's much less of a headache.
Cons
Doesn't fit every coffee maker
Flimsy
Leaks from the top
Keurig 2.0 doesn't always recognize it
---
5. Blendin Reusable Keurig K-Cup Coffee Filters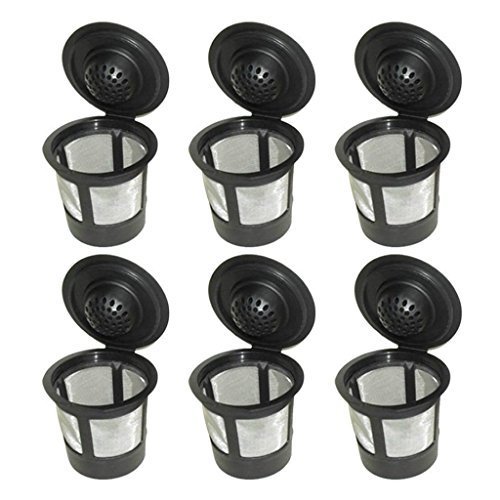 We really wish we could like the Blendin reusable K-cup. It has the potential to be one of the best. It's built for reliable use, with a hinged lid instead of a top that can come up during the coffee-making process. It's super-affordable and allows just enough water through the screen to do the job. On paper, this is an ideal reusable K-cup.
There are a few slight problems, however. The first is that it's not compatible with every Keurig. Make sure before buying that it will work with yours. Even if it is, however, it can be difficult to get it working. Keurigs can be a bit finicky when it comes to accepting reusable K-cups, and this one just has trouble getting noticed. We would have liked to rank it higher, but because it's a pain in the neck, we couldn't.
Pros
Really affordable
Does well, when it works
Cons
Hard to get working
Not compatible with all Keurigs
---
Buyer's Guide: How to Select the Best Reusable K-Cups
The market for reusable K-cups really got a boost based on the environmental concerns over landfills filling with empty plastic pods. They're also pretty handy for letting you drink specialty brews for which there aren't any K-cups available. If you aren't much of a coffee snob, a reusable also cuts down significantly on the running cost of using a coffee machine. We'll go through a few handy tips on how to find the right one for you.
Right size, right capacity
The single most important criterion in choosing the right reusable K-cup is that it's compatible with your coffee machine. If it doesn't fit, it doesn't make any difference if it's the greatest reusable K-cup the universe has ever seen, because you won't be able to use it. If you buy your coffee machine online, it'll often suggest a reusable cup that is compatible. If you're shopping after the fact, first make sure that the one you're looking at can pair with your machine.
SEE ALSO: How to Use a Reusable K-Cup (Guided Steps)
Moving parts
Usually, the fewer parts something has, the less complicated it is, and the easier it is to use. Lots of people buy single-use coffee machines specifically because they are easier and less complicated than traditional drip brew machines. If you're looking for a reusable K-cup, make sure that it doesn't create a lot of irritating complications with a lot of parts you need to keep track of.
Durability
Anything associated with making coffee can take a beating, especially if the operator tends to be clumsy pre-coffee. Make sure that your reusable K-cup is designed to take punishment from dropping, stuff falling on it, exposure to hot and cold liquids, and even the dishwasher. Part of owning a coffee machine is keeping it clean.
Appearance and numbers
A great variety of reusable K-cups are available in a wide range of colors and sets of numbers. Lots of people have carefully crafted décor schemes for where their coffee machine sits. Make sure your reusable cups match that, and that you don't buy more than you actually need.
Price
Ultimately, it comes down to how much you're willing to spend. Reusable K-cups are mostly within everyone's budget. Plus, if you use it frequently, it'll pay for itself in the long run. If you can, save yourself a dollar or two.
RELATED READS: Here are the 5 best Keurig alternatives on the market.

Conclusion
Since you can't use a K-cup twice, reusable K-cups make your Keurig a much more versatile coffee maker and can cut down on the costs of keeping it going. We wrote these reviews to help you pick the right one for you. For your money, you can't do better than the My K-Cup reusable from Keurig as the most versatile one that offers great value. Just keep a close watch on its moving parts. We might like the iPartsPlusMore K-cup more, but it has a smaller cup capacity and doesn't fit in every Keurig. The DI ORO MaxBrew is a solidly built option that fits almost all Keurigs, but it also allows grounds through and is pretty expensive. The Maxware 2 is very affordable. There are reasons for that: it's easy to break, hard to use, and might create a mess. We wish we could like Blendin's reusable K-cup, but because there's so much stress in getting it to work, we just don't.
Some of our Keurig reviews: