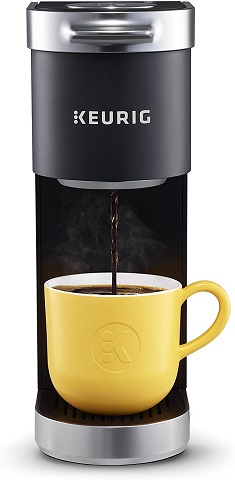 Our Final Verdict
We give Keurig Mini Plus a rating of 4 out of 5 stars:
Convenience
Reliability
Features
Price
Keurig is a brand built on the concept of convenience. Their pod-style brewers revolutionized home coffee and made it easier than ever to brew coffee with the push of a single button. The K-Mini Plus is a compact, single-serve coffee maker designed to make brewing as fast and easy as possible. It is perfect for people who want a quick and easy way to make coffee for themselves but isn't well suited to brewing large batches for a group.
The K-Mini Plus excels at being an everyday machine for people who like plain coffee and don't want to venture into espresso or other specialty coffee drinks. Its simplistic design means it doesn't have many bells and whistles, but also makes it dependable and low-maintenance. The K-Mini Plus fits snugly on any countertop, thanks to its small footprint. If you're looking for a simple, easy to use machine that just makes coffee day in and day out, the K-Mini Plus is a great option.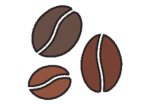 Keurig Mini Plus – A Quick Look
Pros
Extremely easy to use
Fits almost anywhere thanks to its compact design
Low-maintenance
Reliable
Great for making 1-2 cups per day
Removable water reservoir
Cons
Making large batches is time-consuming
Doesn't make specialty drinks
No brew timer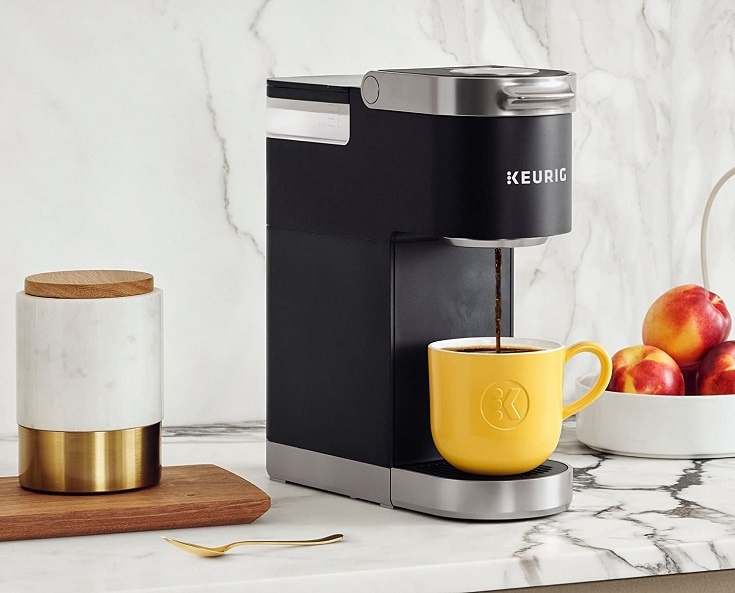 | | |
| --- | --- |
| Brand: | Keurig |
| Product Type: | Single-serve pod brewer |
| Model: | K-Mini Plus |
| Pod storage: | 9 pods |
| Removable water reservoir: | Yes |
| Specialty drink options: | No |
| Strength control: | Yes |
| Travel mug compatible: | Yes |
| Dimensions: | 12.1 inches x 4.5 inches x 11.3 inches |
Fast and Convenient Brewing
The K-Mini Plus couldn't be any simpler to use, and that is its primary strength. All Keurig coffee makers share the pod design, and it makes brewing coffee extremely easy. The K-Mini Plus follows that design philosophy and lets you make coffee in mere minutes. The time from when you decide you want coffee until you're sitting down to take your first sip is less than 5 minutes. It doesn't get any faster than that.
Compactness
Another aspect of the K-Mini Plus we really like is the small footprint. It takes up almost no room on the counter and can squeeze into tight spots leaving you with more counter space to work with. We underestimated how nice it is to have a smaller machine. It is one of the K-Mini Plus' best features.
Travel Mug Compatibility
Some coffee makers aren't compatible with travel mugs because there isn't enough room to fit a tall mug under the drip valve. The K-Mini Plus is tall and slender and can easily accommodate a 12-ounce travel mug. It's not an essential feature but is much more convenient than brewing two smaller batches separately into a normal mug. We've been there before, and it gets old fast.
No brew timer
So far, we've stressed the K-Mini Plus' simplicity and, while we love the easy-minded approach, it has some drawbacks. For us, the most prominent missing feature is a brew timer. We like to prepare our coffee at night and wake up to a freshly brewed cup. The K-Mini Plus doesn't have a brew timer, and we're not sure why. Sure, it's small and simple, but a brew timer doesn't take up space and would be a great addition.

FAQ
Is the K-Mini Plus a Keurig 1.0 or 2.0 compatible machine?
The K-Mini Plus is a 1.0 brewer and is not compatible with 2.0 pods.
What is the brewing capacity?
This is a single-serve machine that makes between 6 and 12 ounces at a time.
Is there an adjustable strength setting?
Yes. You can make a regular strength cup or a more robust cup using the strong setting. The strong setting uses less water.
What is the difference between the K-Mini and the K-Mini Plus?
The K-Mini doesn't come with a strength setting and doesn't have a removable water reservoir.
---
What the Users Say
We scoured the internet to see what people have to say about the K-Mini Plus so you don't have to. Here are the highlights.
Reviews of the K-Mini Plus are largely positive, with a few exceptions. Many users report satisfaction with the K-Mini Plus and describe it as dependable and what they expected. The small size is a major benefit, and most people are happy to accept a smaller capacity in exchange for a freed up counter.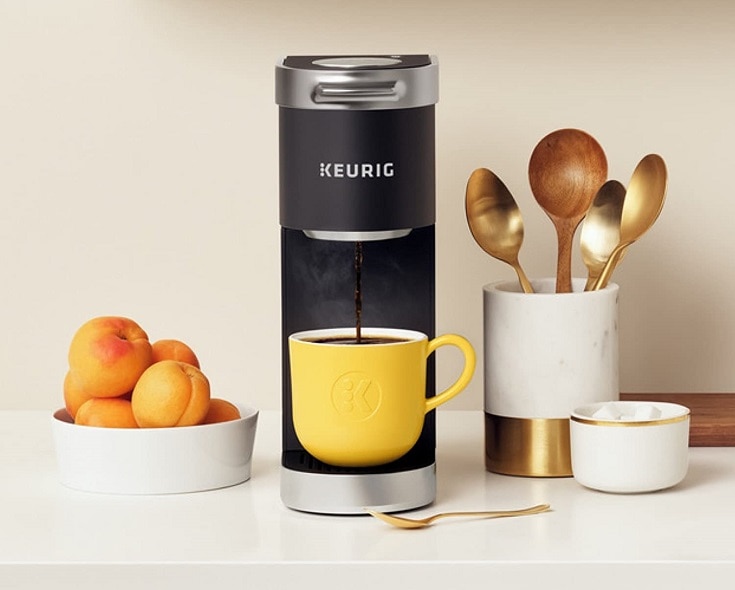 One common complaint people mention is the low temperature of their coffee. Some people get lukewarm cups of coffee, while others say the coffee comes out hot as expected. We suspect that this is either a quality control issue with Keurig or a matter of personal preference. Extremely hot coffee doesn't suit everyone's taste, and those people that prefer slightly cooler coffee might not notice if they get a cooler cup.
Another complaint we saw crop up a few times is the short warranty period. Several reviewers mentioned they experienced small malfunctions that occurred after the warranty period was up. Still, most reviews simply report that their K-Mini Plus works as intended with no problems to report.

Conclusion
The Keurig Mini Plus is perfect for individual use for people that drink one or two cups per day. It has the hallmark simplicity Keurig is known for and will save you time in the morning, thanks to its one-button design. If you think you might like to make larger batches of coffee or would like to branch out and make specialty coffee drinks, the K-Mini wouldn't be a good choice for you.
RELATED READS: