Single-cup brewing machines have dominated the market for years, and we have Keurig to thank for it. It's been making coffee pods since 1992, and now a lot of households have one of Keurig's brewers tucked away on the kitchen counter. But you, the discerning consumer, may not be falling for the Keurig name so easily. You would be right to back up a little before buying one of its machines. Keurig's K-Cup patent expired in 2012, which flooded the market with alternative pod brewers.
Maybe you're a discerning, chin-rubbing kind of buyer, or maybe you don't like Keurig because the name sounds like someone clearing their throat. Whatever the reason, if you're in the market for a good Keurig alternative, you've come to the right place. We've provided some in-depth reviews on our top six picks to help you find the right pod brewer for you.
---
An Overview of our Favorites in 2023
Image
Product
Details

Best Overall

Mueller Ultima

Affordable
Compatible with K-Cup 1.0 and 2.0
Two-year warranty

Nespresso Vertuo

Great design
Five size options
Quick heating time

Sboly Single-Serve

Compact and durable
Works with K-Cups or ground coffee
Self-cleaning

Best Value

BLACK+DECKER Single Serve

Extra-affordable!
Includes travel mug
Easy to use

Hamilton Beach

Brews large cup sizes
Affordable
Great for on-the-go brewing
The 6 Best Keurig Alternatives
1. Mueller Ultima K-Cup Coffee Maker – Best Overall
When Austria heard about Keurig's patent expiring, it swooped in with a rallying cry of "Me too!" and developed the lovely Mueller Ultima machine. It's a stylish, spare little unit with the option of brewing four different cup sizes, and it's fully compatible with K-Cup brand pods, both 1.0 and 2.0.
With its low price and a decent two-year warranty to back it all up, this model is economical, too. It can be a little tricky to clean, but we chose it as our top pick for its ease of use, durability, and compatibility with Keurig K-Cups.
All in all, we think this is the best Keurig alternative available this year.
Pros
Affordable
Compatible with K-Cup 1.0 and 2.0
Easy to use
Two-year warranty
---
2. Nespresso Vertuo Espresso & Coffee Machine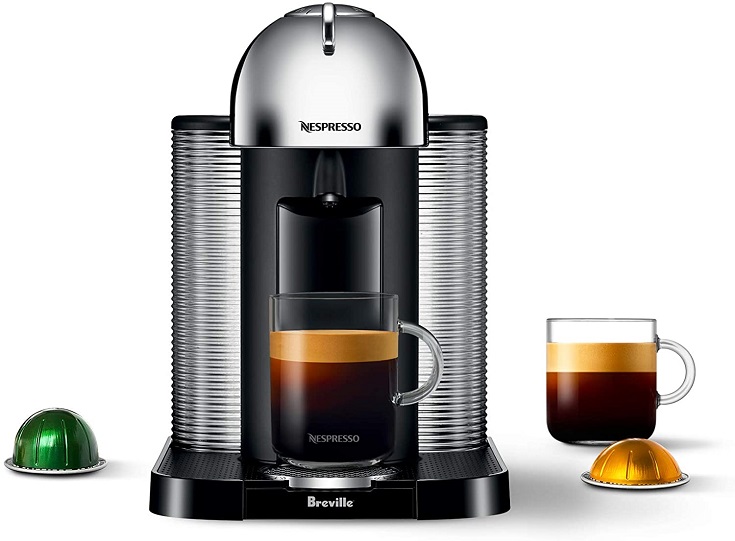 This machine by Breville has an alluring modern design, five size options, an impressive 15-second heating time, and the Aeroccino 3 milk frother for a cappuccino-style finish. It requires a special type of Nespresso pods, which are dome-shaped and spin up to 7,000 times a minute inside the brewer. This creates a delicious crema layer over your finished cup. The package also includes a variety bundle of Nespresso pods, so you can decide which flavors you like best.
While this is a great machine, it didn't make the top spot on our list because of its specialized pods. Some users may not have a problem finding the pods, but they're not as readily available as K-Cups. Nespresso also doesn't offer nearly the flavor variety of Keurig, and this machine may not make coffee hot enough for some people.
Pros
Great design
Five size options
Quick heating time
Milk frother
Cons
Specialized pods may be difficult to find
Fewer flavor varieties
May not make hot enough cup for some
---
3. Sboly Single-Serve K Cup & Ground Coffee Brewer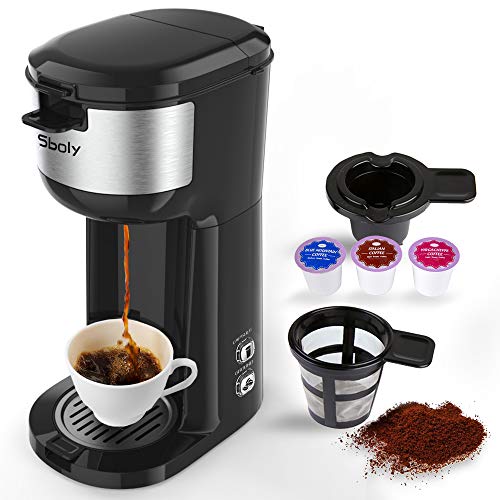 This cute little junior version of a pod brewer should not be judged by its appearance. It's durable, it's compact, and it gets the job done with K-Cups or fresh ground coffee. It even has a self-cleaning feature, which any pod brewer owner will tell you is a godsend.
How can you not love this thing? Well, let's be honest. The water reservoir isn't very big; it only holds 12 ounces. It also has a long three-minute brew time, which pales in comparison to the 15-second brew you get with the Nespresso machine. Altogether, though, this is a solid and affordable purchase.
Pros
Compact and durable
Works with K-Cups or ground coffee
Self-cleaning
Affordable
Cons
Long brew time
Small water reservoir
---
4. BLACK+DECKER Single Serve Coffee Maker – Best Value
Pod coffee brewers can be expensive, and when you tack on the cost of buying all those little K-Cups, you may need to start a GoFundMe page to finance your coffee addiction. Or you could buy a BLACK+DECKER. At its low price, you can launch a new pod brewing habit for less than a tank of gas.
This thoughtful company has engineered a compact model that brews right into the included travel mug. Now that's the ultimate convenience. It may be stripped down, as it only brews one cup size, but you have the option of using pods (not K-Cups) or fresh coffee in its mesh filter. Its limited flexibility keeps it out of the top three.
Pros
Extra-affordable!
Includes travel mug
Easy to use
Cons
Only brews one cup size
Not compatible with K-Cups
---
5. Hamilton Beach Coffee Maker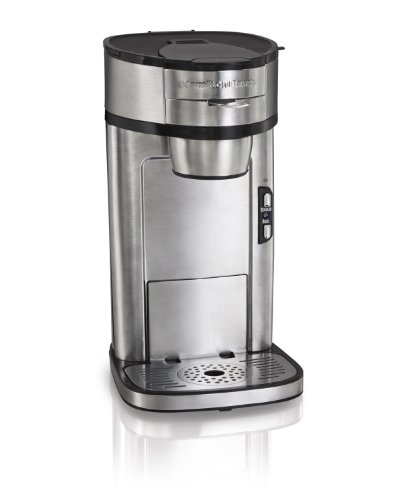 This stainless steel scalawag can brew up to 14 ounces of fresh coffee at once. That's good news for travel mug users and coffee-holics alike. With a single flip of its simple switch, you get a hot brew in minutes. It even has a handy measuring scoop to take the guesswork out of balancing your coffee.
It's a very simple machine. There's no automatic brew volume control, and some users won't be keen on having to measure their coffee rather than inserting a K-Cup. The heat level can also be mediocre.  But for on-the-go coffee lovers, this is a handy machine to have around. You can't beat the price, either.
Pros
Brews large cup sizes
Affordable
Great for on-the-go brewing
Cons
Doesn't take K-Cups or other pods
No automatic brew volume control
Mediocre heat level
Maybe a little too simple
---
6. Chefman Instabrew Single Serve Coffee Maker
This skinny brewer is a great space saver. It'll fit almost anywhere without getting in the way. It accepts both K-Cups and fresh grounds and brews quickly with a simple button push. It's not going to bowl you over unless you're an obsessive minimalist, but for affordability and compact design, it's a good alternative to expensive and bulky Keurig machines. Chefman offers a one-year warranty, too.
Because of its size, though, it has a tiny reservoir that can be annoying to fill. Some users have complaints about the coffee flavor and the lack of automatic brew volume control. It's also on the lower end of the durability field, so it may not hold up to heavy use.
Cons
Tiny water reservoir
Low durability
Users cite issues with flavor
No automatic brew volume control
---
Buyer's Guide – Choosing the Best Keurig Alternative Coffee Maker
If you want a machine to take the place of a Keurig, you can't go wrong with the Mueller or Nespresso models. If you want the function without the expense, the BLACK+DECKER machine is a good fit. Before purchasing a new brewer, take functionality, durability, and affordability into account. You should also consider the following tips:
Compatible Pods
Know what kind of pods your brewer takes. For best accessibility, get one that's compatible with both 1.0 and 2.0 K-Cups. If you buy a brewer that needs special pods, such as the Nespresso, be prepared to hunt for the pods or to purchase them online.
Cup Size
Cup size can be important. It's nice to have a single button size selection for the best brew. It really takes the guesswork out of measuring. If you like more control over brew strength, however, you may want a brewer that takes fresh grounds.
Reservoir Size
Know your reservoir. It's annoying to refill a water reservoir for every single cup of coffee. Keurig machines typically have high-capacity reservoirs, so you only need to fill them once every few days. A model with a small reservoir demands more attention, and if you're in a hurry, it can be the catalyst for much cursing and shaking of fists.
Our popular Keurig posts:
Conclusion
Do some good scouring of the market before choosing a brewer. Just because it has cool lights and a flashy body doesn't mean it's a good brewer. Consider the tips above and compare them to price and warranty before you buy.
If you're in doubt, our top pick for the best Keurig alternative is the Mueller Ultima Single Serve K-Cup Coffee Maker. It's affordable, easy to use, and looks great. If you want the most economical Keurig alternative, you can't go wrong with the BLACK+DECKER Single Serve Coffeemaker. It has a great price point and a bonus travel mug, and it's beautifully compact.
The pod brewer market is busier than a crushed anthill. It can be a little daunting to find the perfect fit. We hope these reviews have helped you navigate the market, so you can pick the brewer of your dreams and start your mornings out a little better.
Did you know that reusable Keurig pods are now a thing? We reviewed the most popular ones here.