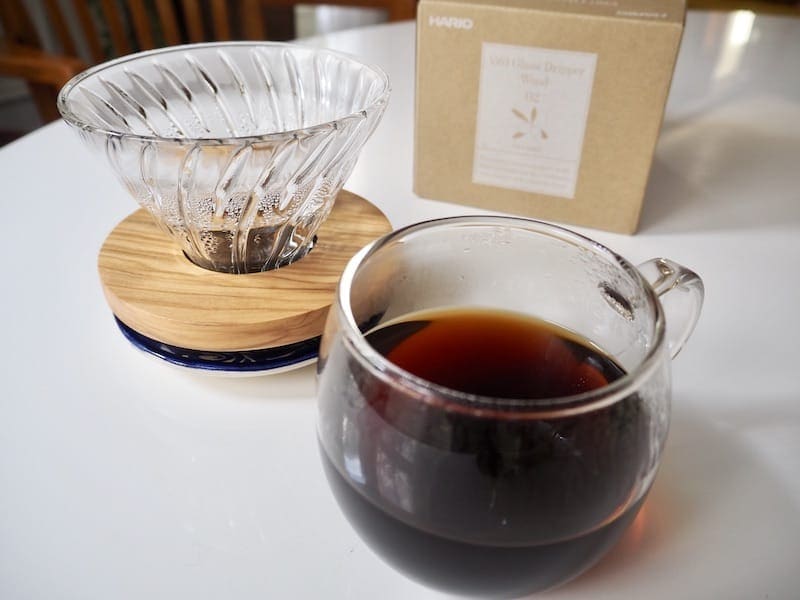 Our Final Verdict
We give the Hario V60 a rating of 4.4 out of 5 stars.
Hario V60 Review — At a Glance:
If you've ever been to a high-end coffee shop, you've probably seen the Hario V60 in action. This Japanese coffee maker is a popular pour-over device. But does it live up to the hype, and should you buy one for yourself? We investigated.
The results of our investigation? The V60 is well-designed and built to last, along with being simple to use and clean. Even better, the coffee you can make with it is delicious, clear, and smooth. Plus, you can choose between five high-quality materials, and the price is very reasonable!
Why wouldn't you want to try this coffee device? The Hario requires specialty paper filters, which you'll need to keep buying. Depending on the materials you choose, not all parts are dishwasher-safe. And perfecting the technique may require some practice — and a gooseneck kettle.
RELATED READ: What did we think of the Hario Buono kettle?
Quick Look:
Pros
Elegant, simple design
Many materials to choose from
Very reasonably-priced
Easy to use and clean
Smooth, tasty coffee
| | |
| --- | --- |
| Brand | Hario |
| Product Type | Specialty pour-over dripper |
| Serving Size | 1-4 cups |
| Materials | Glass, plastic, copper, ceramic, or stainless steel |
| Dishwasher-safe parts | Yes |
| Filters | Hario V60 paper filters |

The Company
Hario is a Japanese coffee company. Founded almost 100 years ago as a heatproof laboratory glassmaker, it ventured into the coffee world in 1948. Nowadays, Hario makes a range of pour-over drippers in many materials, like glass, plastic, and copper, along with other coffee products like grinders, scales, and siphons. Conveniently, you can find their products on Amazon or on their stylish new webshop!
---
Appearance & Durability
Hario makes a range of V60s, so depending on which material you choose, you'll receive a slightly different model. All of them have the same basic shape, though: a cone that holds the paper filter and a base that sits on your cup. Unlike many other pour-overs, the Hario cone has a single large hole in the bottom.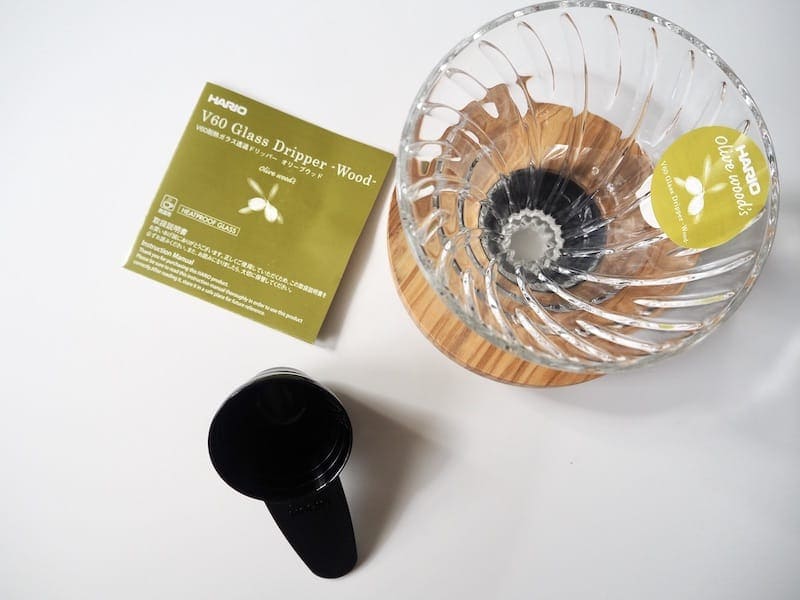 We reviewed the glass and olive wood model, which has a glass cone, a silicone ring, and an olive wood holder. It's a beautiful combination of materials, and the pieces come apart and go back together elegantly. Hario was originally a lab glassmaker, so it knows its way around heat-proof glass, and the other components also feel well-made.
If durability is your focus, you may want to go with the plastic model, which is ideal for travel and camping. Want a single, easy to wash piece? Try the ceramic model. Prefer the look and feel of metal? Consider copper or stainless steel options.
---
The Coffee
Time for a taste test! We tested our glass Hario V60 following the instructions included in the package.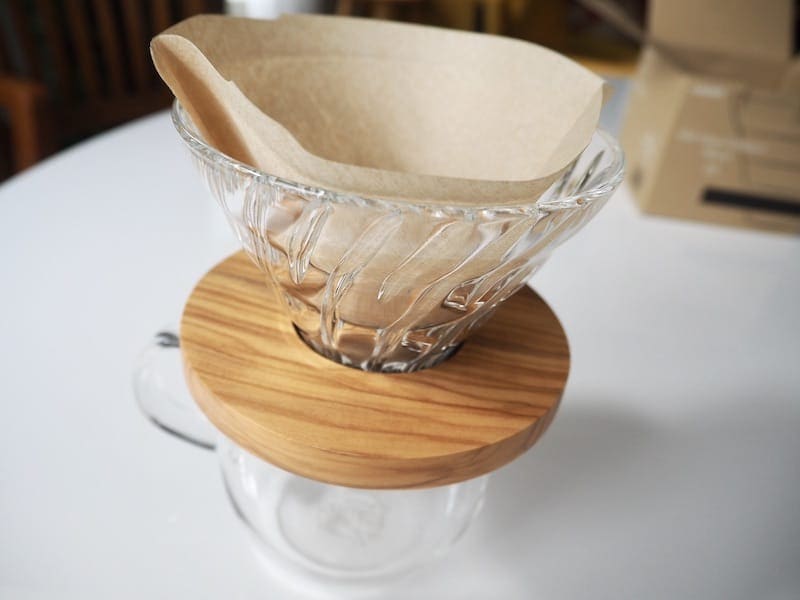 Ease of Use
After washing and drying the device, we laid out a paper filter and folded it along the seam, as directed. This is an extra step, not necessary in a Chemex or other pour-over, but it's simple enough.
Hario recommends 10-12 grams of medium-fine coffee per 4-ounce serving. Four ounces is pretty small for an American cup of coffee (more typical would be 8 or 12), but it does provide a lighter dose of caffeine. You can easily adjust the coffee to water ratio to your own preferences.
The trickiest part of using a Hario V60 is getting the water flow right. You'll probably want a gooseneck kettle to maximize your control over the water, though you can make do with other kettles. Hario recommends that you start in the center and pour lightly in circles toward the edge. Then you wait 30 seconds for the bloom. After that, you continue pouring in careful circles until your coffee is fully brewed, or about 3 minutes.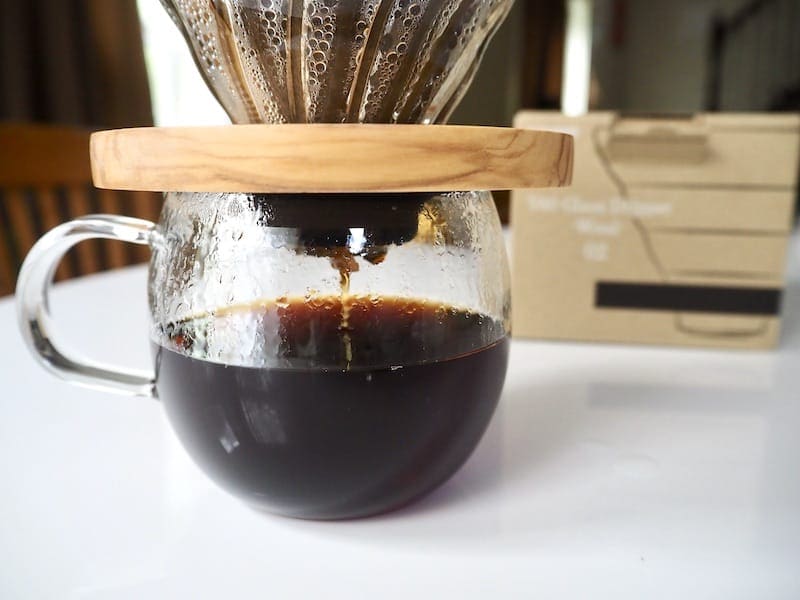 Flavor
So how did our coffee turn out? We thought it was delicious, with an impressive smooth flavor and plenty of body. The paper filters feel thin, but they do a great job of filtering while leaving plenty of complex notes behind. We can certainly recommend the V60's brewed coffee, especially if you're in the habit of buying gourmet coffee beans.
---
Cleaning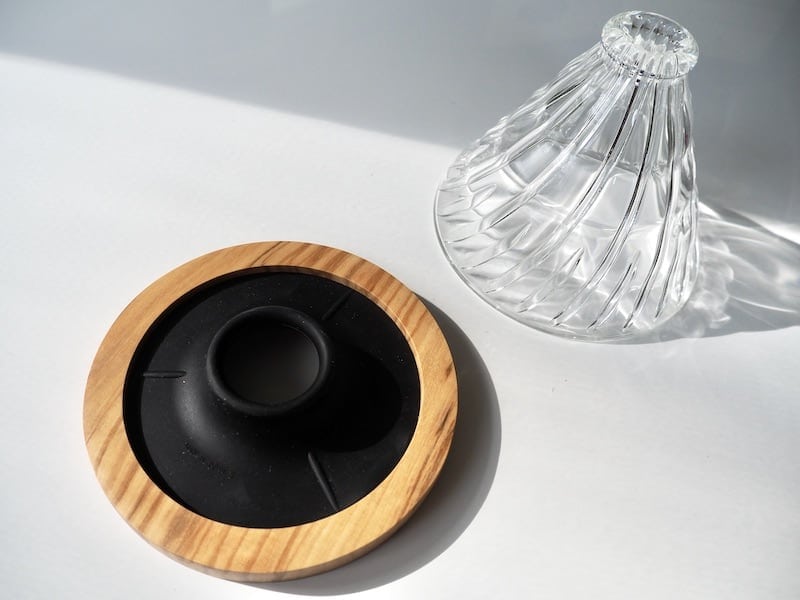 The bottom line is that the Hario V60 is easy to clean. These drippers are simple to rinse or scrub. Plus, some models, like the plastic and ceramic options, are fully dishwasher-safe. What could be simpler than that? Other models, like the glass one we tested, have dishwasher-safe components — the glass and silicone.
---
Extras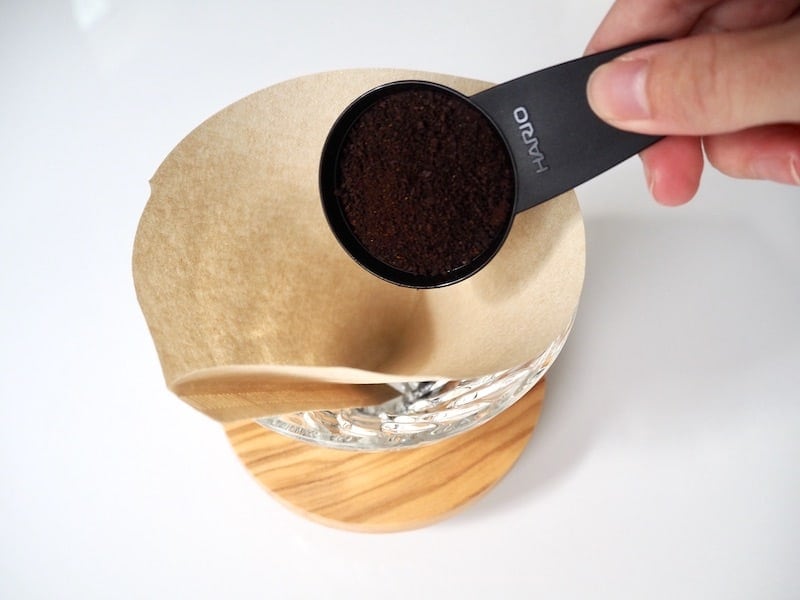 Hario includes a plastic coffee scoop in the box. This simple tool has convenient markings inside indicating 8, 10, and 12 grams — making it easy to hit the recommended 10-12 grams per 4-ounce cup of coffee.
SEE ALSO: Our in-depth comparison of four popular Hario kettles

Hario V60: The Verdict
So what did we think of the Hario V60? This specialty pour-over coffee maker is elegant, simple to use, and produces a very tasty cup of smooth coffee. To get the best possible coffee, you'll want to perfect your technique, but it's easy to use right out of the box.
You may not love having to buy special paper filters, and the single hole in the bottom means you'll need to be careful pouring in water. And if you're used to the rich flavor and mouthfeel of a French press, you may not love this clear coffee. But overall, we're big fans of this beautiful, inexpensive pour-over. Try it for yourself!
Still looking?