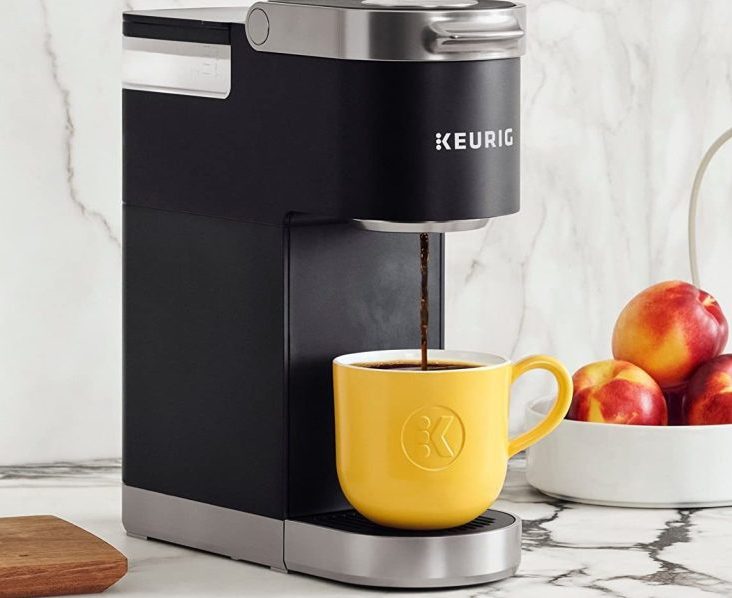 There are lots of good reasons why a college student should have a Keurig coffee maker. They're convenient for all-night paper writing. Compared to buying coffee from a shop, they're more affordable and, because they're always available, more convenient. There's also an array of yummy flavors, which, compared to a traditional brew coffee maker, provides superior quality coffee.
The question is complicated because there are plenty of models on the market. That's where we come in. We looked at some Keurigs we think are good for college dorms and wrote reviews of them. We picked our favorites, the one that represents the best return on investment and a couple that we liked a little less.
For more information, we also included a handy buyer's guide to help you make a better-informed decision. We hope you find it useful and wish you lots of luck in making the right choice. Happy brewing!


A Quick Comparison of Our Favorites (Updated 2023)
Image
Product
Details

Top Pick

Keurig K250

Fast
Large reservoir
Brew strength control

Best for the Money

Keurig K-Classic

Less expensive
Big reservoir
Three cup sizes

Keurig K-Mini Plus

Small enough to fit anywhere
Versatile
Lightweight and portable

Keurig K15

Affordable
Compact
Parts can be replaced easily
The 4 Best Keurigs Suited for College Dorms:
1. Keurig K250 Single Serve Coffee Maker – Top Pick
The K250 is the Cadillac of dorm room-Keurigs, with a lot of versatility, speed, and convenience. Everything you could possibly want in a Keurig for a dorm room comes in this model.
It brews at a range of strengths and different cup sizes. If you're having guests, it even lets you brew a carafe of coffee to share with a crowd. It's compatible with just about every coffee pod on the planet, and that includes ones you fill with your own grounds to reduce the environmental footprint. It's also got a nice, large reservoir, so you can brew several cups before you need to fill it with water.
The drawback: Cadillacs of anything cost a lot of money. That's no exception here. If you're worried about the hard realities of dorm life, you might want to invest in something that won't hurt your wallet quite so much if it goes missing or gets broken.
All in all, though, we think the K250 is the best Keurig you can buy for college.
Pros
Fast
Large reservoir
Brew strength control
Versatile
---
2. Keurig K-Classic Coffee Brewer – Best for the Money
A good alternative with a lot of the K250's features is the K-Classic, Keurig's old-school design. While it's a bit harder to control the brew strength, and it's not compatible with the K-Carafe, it does permit you to choose from three basic cup sizes. That allows you some measure of control over the strength of your brew. It's also a little less expensive, so you don't have to worry about it getting broken during a late-night dance party.
If you like the 40-ounce reservoir of the K250, you'll love the 48-ounce reservoir of the K-Classic. It will allow you to get five eight-ounce cups in between fills. If you like your coffee uncomplicated and in a hurry first thing in the morning, that can be a real lifesaver.
One thing to watch, however, is that it doesn't always deliver the most consistent results.
Pros
Less expensive
Big reservoir
Cons
Not as versatile
Consistency issues
---
3. Keurig K-Mini Plus Single Serve Coffee Maker
The biggest thing the K-Mini Plus brings to the table is its small size. Counter space in a dorm room is truly prime real estate, and you'll want to use it as such. Some of the features of the larger Keurigs are pure luxuries, things that you can't really afford if you don't have the space. The K-Mini is designed for those situations.
We also like its versatility in cup size and pod choices.
If you go this route, be aware that it's going to cost you plenty. Of the small Keurigs, this is one of the most expensive. It's not very durable, so while you might not take up a lot of space with it, a little mishap could spell the end of this coffee maker. It also comes with only a single-serving reservoir. If you like to get up first thing and brew immediately, you'll need to train yourself to do some preparation the night before.
SEE ALSO: Our in-depth review of the K-Mini Plus!
Pros
Small enough to fit anywhere
Versatile
Cons
Not very durable
Single-serving reservoir
Expensive
---
4. Keurig Mini K15 Coffee Machine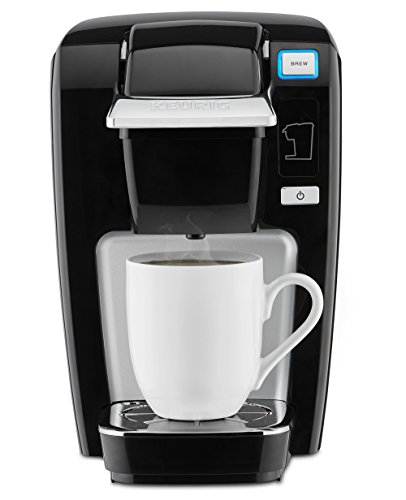 On paper, Keurig's Mini K15 is a perfect coffee maker for a dorm room. It's small, so it won't take up a lot of space. It's affordable, so if it gets smashed, you can replace it easily enough. It's designed and sold for places like dorms and hotel rooms, where space is tight and people are on the go.
We don't like the small reservoir. A single-serving reservoir requires that you either prepare it the night before or wake yourself up with enough time and mental wherewithal to do it that morning. We're not sure that some college students will be able to do that.
We also have issues with the quality of the brew. A coffee maker this small runs the risk of not having enough heating coil space to heat the water to the right temperature. We tend to believe the reports that it doesn't deliver consistently hot coffee.
Cons
Small reservoir
Quality issues
---
Buyer's Guide – Choosing the Best Keurig for College
Buying a Keurig for a college dorm is not all that complicated a decision. You're staying within a single brand name, and the models all perform pretty similarly. The question is less how to shop for them than it is separating out the different Keurig models to figure out which one is best for your dorm room.
Normally in a buyer's guide, we'd suggest starting by identifying what you plan to do with the thing we're evaluating, but in this case, that's pretty much a given. We'll take that as granted and get right into how to evaluate the different models of Keurig.
Size
Dorm space is usually pretty tight. Even if you're not sharing a room with another person, a dorm room is not the same as living somewhere with its own kitchen and ample counter space. That probably means space will be limited. Your chief motivator is going to be finding a Keurig that won't take up more space than it needs to.
Price
Keurigs require a hefty up-front investment, and the individual pods tend to be a lot more expensive than coffee made through traditional drip coffee makers. Compared to constantly getting coffee from a local coffee shop, however, they can be an economical choice for college students. That means placing a premium on how much you spend on the actual maker. Price is an important criterion in choosing the model you want.
Features
One other factor in making the right choice are the features you can get with what you're willing to spend. Timed brewing can make sure that you've got a piping hot cup of coffee ready when you need to run to class. Maybe you're concerned about the environmental footprint of used pods and want a model compatible with a reusable one.
Those are certainly not the only ways to figure out which model is right for you. You might want a certain color scheme, for instance. However, for most people, the best choice will come down to the three things above.
Related: which is our all-time favorite Keurig for office use?

Conclusion:
Just about any Keurig coffee maker will work in a dorm room. They offer a great variety of flavors with the benefit of convenience. Done right, it can also be very economical, and thanks to advances in consumer technology, you can even reduce their environmental footprint.
We reviewed some models you might consider taking to college for either yourself or your kid. We like the Keurig K250 best for its size and convenience. It's the one we'd buy. If value drives your choices, the Keurig K-Classic is our recommendation. We also looked at the K-Mini Single Serve and the Mini K15. Any Keurig will work, but these fall to the bottom of the list of ones we'd suggest.
We hope you found value in our reviews, and if you were looking for a guide, that you paired them with our buyer's guide to make the best choice. Have fun brewing.