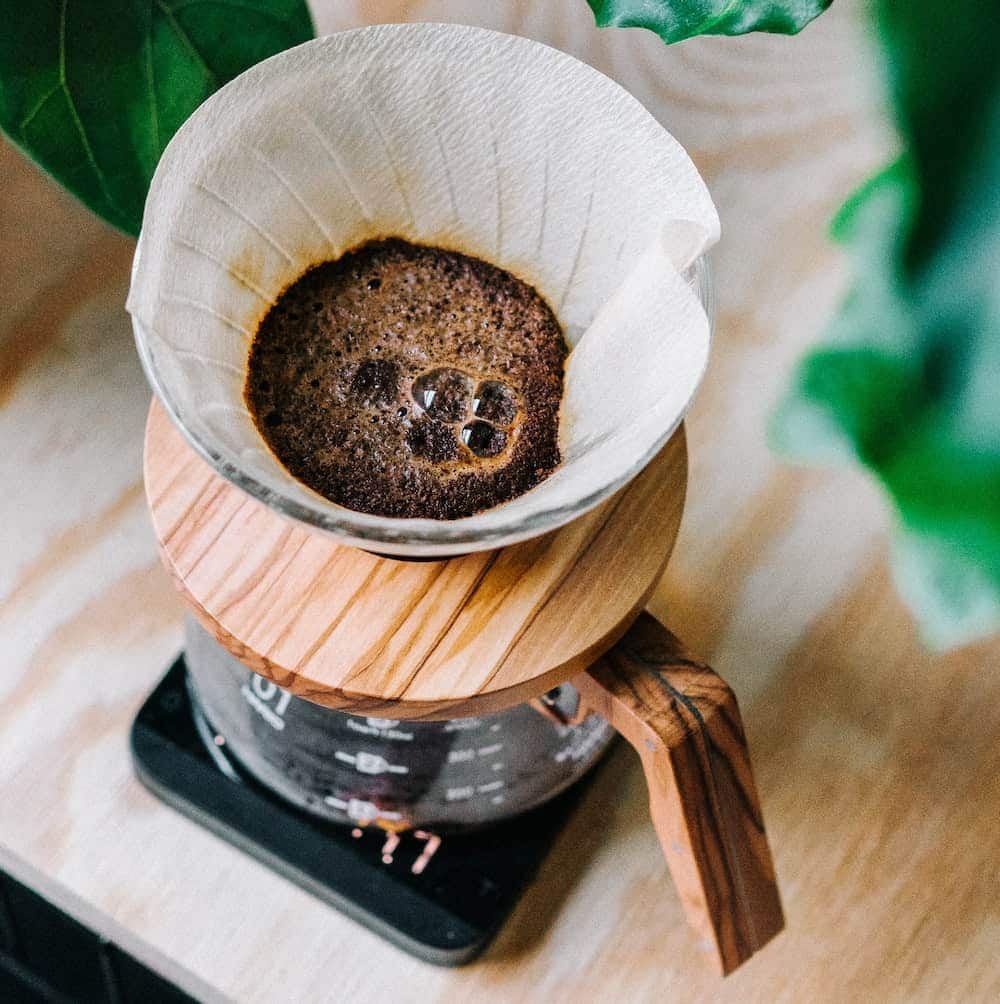 Of all the varied ways to brew coffee, the pour-over method likely offers the most control and the most enthralling experience. It's magical to watch the steam waft up out of fresh grounds, and it's also wonderful to be able to experiment with the whole procedure of your pour.
If you've already mastered the blooming step and the pouring motion, then there's one last major variable to experiment with: the type of bean.
You can make pour-over coffee using any variety of bean, though some flavors will come across better than others. To help you decide, we've picked out the best beans while specifically considering pour-over brewing. Take a look at our top picks and find the perfect bean for your taste.
NOTE: We're reviewing all of these coffees as whole beans, ground to the right coarseness for pour-over. This is because it's especially important to ensure maximal freshness. Make sure to buy your coffee as whole beans and then grind to a medium-fine coarseness.
---
A Quick Glance At Our Favorite Picks of 2023
Image
Product
Details

Best Overall

Trade Coffee Subscription

Huge selection of delicious coffee
Plenty of complex flavor perfect for pour-over brewers
Ships straight to your door on your schedule

Lifeboost Medium Roast

Perfectly medium-roasted
Clean, clear, and aromatic
Organic, Fair Trade, and low-acid

Volcanica Ethiopian Yirgacheffe

Great balance between flavor and texture
Made from freshly-roasted Organic wild coffee beans
Complex flavors of strawberry, lavender, and dark chocolate

Real Good Coffee Co French

Perfect oiliness for pour-over
Great customer service
Reliable flavor

Fresh Roasted Coffee Costa Rica

Interesting honey and chocolate tasting notes
Mellow
Low acidity
The 6 Best Coffee Beans For Pour-Over Coffee
1. Trade Coffee Subscription – Best Overall
If you love great coffee but get bored of the same beans, you'll love the Trade coffee subscription. When you sign up for a subscription, you can take a quick quiz to find customized suggestions, or browse the huge selection of coffees for yourself! Trade has over 450 types of coffee sourced from 50 independent roasters located all over the country.
Here at Coffee Affection, we were lucky enough to sample beans from three different roasters, including the Burundi Ninga from Huckleberry and the Ethiopia Aricha Natural from Dune. All were delicious and full of complex flavors perfect for the pour-over brewing style. They were equally tasty from a Chemex and a Hario V60.
These gourmet beans ship straight to your door on your schedule, which is amazingly convenient. Plus, each bag ships in a fully backyard-compostable bag, so you can reduce your environmental impact without sacrificing your favorite drink.
The downside to all this convenience and flavor is the cost, which won't fit all budgets.  But all in all, we think this is the best coffee option for pour-over coffee this year.
Pros
Huge selection of delicious coffee
Plenty of complex flavor perfect for pour-over brewers
Ships straight to your door on your schedule
Choice of roast level and grind size
Cons
Pricey
Requires a subscription
---
2. Lifeboost Medium Roast Coffee

Our second favorite is Lifeboost's Medium Roast, a clean, complex coffee that lends itself especially well to pour-overs. This coffee is Organic, Fair Trade, and low-acid. Best of all, it's medium-roasted to perfection.
Of course, many third-wave coffee lovers swear by lighter roasts – these tend to be forward with their grapefruit and other fruity notes. But in a similar pattern, darker roasts tend to be much more oily– which adds a huge boost to pour-over.
There's nothing better than letting the first pour wash over your grounds and then seeing delicious oils spill out of the beans. With the pour-over method, you'll get all of the flavor out of the oils – but leave the calories and cholesterol behind. The paper filter absorbs the oil, leaving you with a clean, clear cup of coffee.
This balance – between a lighter roast to bring out flavor and a darker roast to bring out flavorful oils – is critical to crafting the perfect pour-over. For this reason, we're super psyched about Lifeboost's Medium Roast beans, and this balance is the standard by which we will be considering our other top picks. The only drawback here is the price: Lifeboost is a gourmet, sustainable coffee company, and the price reflects that.
Pros
Perfectly medium-roasted
Clean, clear, and aromatic
Organic, Fair Trade, and low-acid
---
3. Volcanica Ethiopian Yirgacheffe Coffee
Our third favorite is this bright Ethiopian bean from Volcanica. We especially love its pleasing acidity and the refreshing aftertaste and mouthfeel. Additionally, we're super excited that Volcanica has managed to find a perfect sweet spot when it comes to the medium roasting level.
This is an unusual coffee because it's made from wild coffee beans — lending the flavor complex notes of strawberry, lavender, and dark chocolate. Plus, it's organic and roasted on-demand, so you can be sure you'll receive a fresh, flavorful bag.
The Yirgacheffe Ethiopian is a floral, fruit-forward coffee, so it's less chocolatey and smoky than you may prefer. If you like darker, more traditional flavors, why not try one of the other coffees on our list?
The bottom line: this is one of the best coffee beans for pour-over that we've ever tried. Check out our detailed review for more!
Pros
Great balance between flavor and texture
Consistent roasting means you're guaranteed peak freshness
Made from freshly-roasted Organic wild coffee beans
Complex flavors of strawberry, lavender, and dark chocolate
Cons
Light on the chocolate/smoky-tasting notes
---
4. Real Good Coffee Co French Coffee
Next up is a dark roast from the Seattle-based, Real Good Coffee. This is a great option for lovers of a good solid dark roast. While this roast does have fewer of the fruity notes that the Volcanica packs in, it's a great example of dark roast done to perfection.
Because of the importance of oils in the pour-over method, it's hard to go wrong with this option. Not only will you reliably produce a strong cup of evenly extracted coffee, you'll also be able to enjoy a richness that hints at a raisin flavor and a slightly sweet aftertaste.
As an added bonus, Real Good Coffee is a solid company that reliably offers great customer service. It's worth taking a chance on this roast and if you end up not loving it, then Real Good Coffee will likely help you swap out for a bag of coffee that's more in line with your tastes.
Pros
Perfect oiliness for pour-over
Great customer service
Cons
Lacks robust fruity and bright flavors
---
5. Fresh Roasted Coffee, Costa Rica
For those who are looking for some interesting flavor – but who also aren't crazy about anything particularly bright and acidic, we love this Costa Rica Tarrazu from Fresh Roasted. It's a great option thanks to unexpected honey notes that complement a more basic chocolate taste.
Because this is a typical medium roast, you can expect a fairly minimal amount of oil. While our top pick strikes the perfect balance between flavor and oils, this option definitely falls more towards the flavor side of the spectrum. It's for this reason that this coffee from Fresh Roasted is not one of our higher picks – but with a little bit of care, you'll still be able to get the perfect pour-over.
Pros
Interesting honey and chocolate tasting notes
---
6. Lavazza Gran Filtro Coffee Blend
This classic medium roast from Lavazza is a good example of a great coffee – it's just not the best choice for pour-over. Lavazza, of course, does a great job ensuring a consistently enjoyable product – it's one of the largest coffee suppliers in the world and an iconic brand name. Because of this, the flavors of the signature medium roast are familiar and loved by many coffee enthusiasts. For this reason, we're including it in our top picks – because if you already know that you love a certain roast, then you may as well make pour-over coffee out of it. But this roast requires some special attention.
Expect this to compare to the coffee from Fresh Roasted. Like our previous pick, this option suffers from a lack of oily compounds. This means that you'll have to take extra care to ensure that your grounds get evenly saturated and extracted.
That being said, this Medium Roast from Lavazza does well when it comes to maximizing flavor. As we mentioned above, everything about this coffee's taste is right down the middle and pretty classic – and this definitely doesn't mean boring!
Pros
Wonderful taste
Reliable and consistent
Cons
Not ideal for pour-over
Large company rather than a small roaster
---
Buyer's Guide: How to Choose the Best Coffee Beans for Pour-Over Coffee
If you're looking for a flavorful, clear cup of coffee, the pour-over method might be your best option. But which varieties of coffee will work best? Keep reading for our tips.
Flavors
What flavors do you look for in coffee? This is largely a matter of personal preference, and pour-overs will bring out the flavors of a wide range of coffees, from creamy dark roasts to complex light roasts.
As many coffee-lovers know, the darker the roast, the more natural oils are drawn out of beans. But on the other hand, darker roasts can often dampen the interesting flavor notes of different coffees. And what's the point of going to the trouble to make pour-over for a boring cup?
If you're interested in complex fruity or floral flavors, try a lighter roast. This minimal roast level will allow the beans' natural flavors to shine.
Keep in mind that pour-over coffee won't have as much mouthfeel as methods like the French press.
Technique
There are many pour-over brewers on the market, from the Hario V60 to the Chemex. Each model uses a slightly different method, but the basic process is the same: grind your beans, put them in the paper filter, and then carefully pour hot water in slow circles, allowing the grounds to bloom. For the best results, use medium-grind coffee and a gooseneck kettle.
The good news is that because pour-over is such a simple process, it sets you up well for experimentation. We recommend experimenting with different amounts of ground coffee and even different water temperatures. Because you'll be brewing such small batches, these kinds of minute changes can have a noticeable impact on flavor.
Good luck experimenting!

Conclusion
To recap: our top pick is the Trade Coffee Subscription, which offers a huge range of complex, freshly roasted beans delivered right to your door. You can browse the collection of over 450 coffees and find the perfect beans for your morning pour-over!
In close second is the delightful, perfectly roasted Lifeboost Medium Roast. And Volcanica Coffee's Ethiopian blend, is another great option, offering a bright, unusual flavor that comes through particularly well in a pour-over.
There's nothing quite like a cup of pour-over coffee, and we hope this guide, complete with comprehensive reviews and a handy buyer's guide, helps you find just the right beans. No matter which brand you choose, you're sure to brew an aromatic, unbelievably flavorful cup of Joe.
It's also worth mentioning that we recently tasted and compared Brazilian coffee brands. See the winners here! And if you still need a great pour-over coffee maker, we recommend the Hario V60.
SEE ALSO: Our Complete Guide to Brewing the Perfect Pour-Over Coffee (With Pictures)