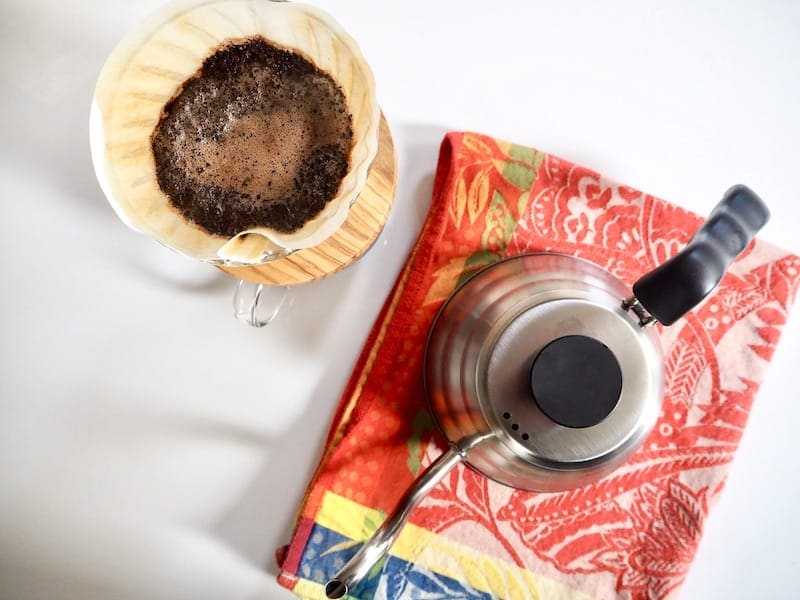 Our Final Verdict
We give the Hario Buono kettle a rating of 4.6 out of 5 stars.
Hario Buono Kettle: At a Glance
The Hario Buono kettle is designed specifically for the V60 pour-over dripper. But it works well for any pour-over, including basic Melitta models and Chemex coffee makers. Is it worth your time? We put it to the test to find out.
What's so special about this stovetop kettle? It has a gooseneck design, meaning that you have a lot more control over your pour. The water comes out in a thin stream, allowing you to pour in the careful circles recommended to produce the best flavor. And it has a beautiful, streamlined design that will shine in any kitchen.
It's more expensive than a basic kettle, and there's no whistle to tell you when the water's boiling. Plus, you'll have to be careful not to melt the plastic components or discolor the shiny silver bottom and sides. Overall, though, we were impressed by this gooseneck kettle. Give it a try and see what you think!
A Quick Look
Pros
Can be used on any stovetop
Excellent water flow control
Ergonomic handle
Elegant design
Lightweight and compact
Reasonably-priced
Cons
On the small side
Plastic pieces
Not dishwasher-safe
Needs special care to stay shiny

The Appearance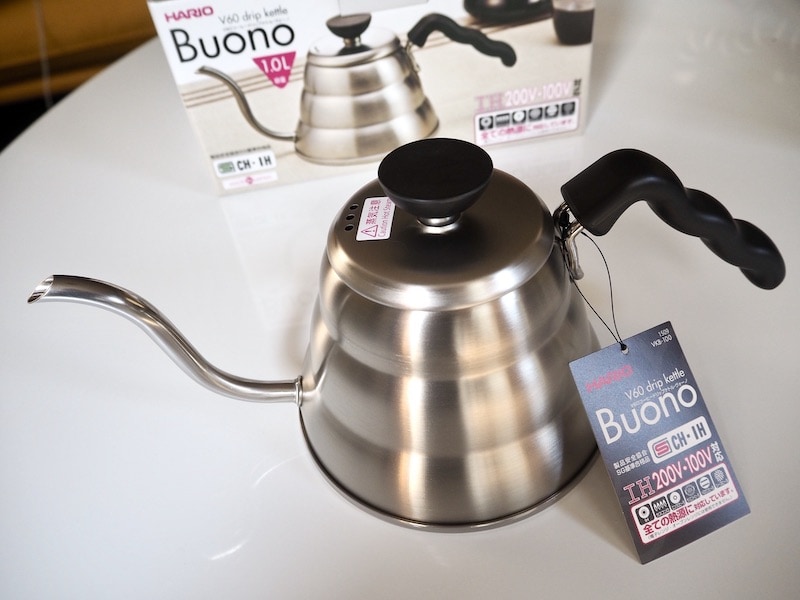 When we received the Buono kettle in the mail, we couldn't wait to take it out and look at it! It's a beautifully designed kitchen tool, with a rippling silver body and a small, ergonomic handle. It's small enough to store easily in a cabinet but elegant enough to leave out as a display piece.
---
The Test: How Easy Is It to Use?
Now the important part: how easy is the Hario Buono kettle to use? To test the Hario kettle, we used the Hario V60 specialty pour-over. We recently tested the pour-over itself (and loved it!). You can read that review here.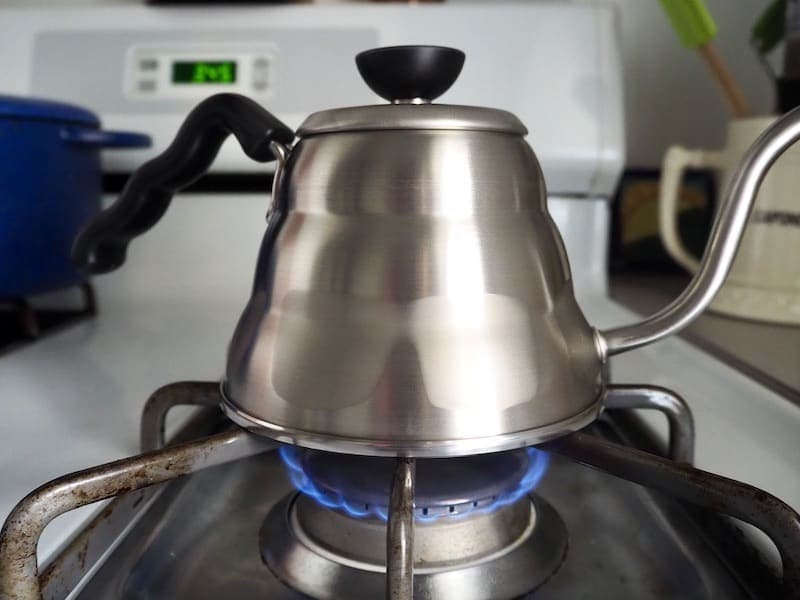 We followed Hario's pre-use cleaning instructions, which involve washing the kettle three times with soap and water and then boiling plain water. Then it was time to get to work!
The Hario Buono's full capacity is one liter (33.8 ounces), but the maximum you should put in is 0.6 liters (20 ounces) of water. Luckily, this is easy to measure — just don't fill the kettle above the first ripple.
The handle was incredibly comfortable to hold and didn't get hot on the stove. Best of all, the kettle boiled quickly and quietly!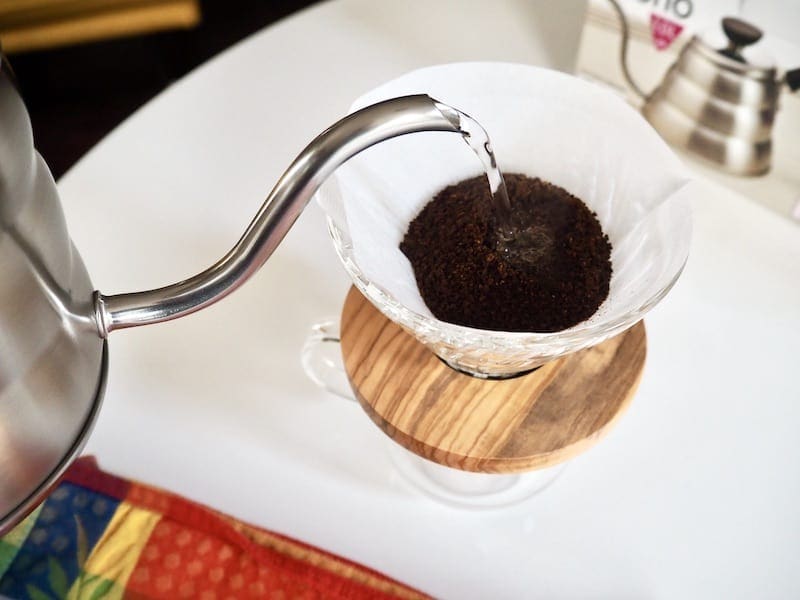 And finally, the real test: pouring hot water onto the coffee grounds. The Buono feels well-balanced and light, even when full of water. You just have to tilt it slightly to start pouring, making it easy to start and stop the water flow. The small stream of water hits exactly where you want it to, producing a perfect pour-over.
---
Other Versions of the Hario Kettle
We tested the Hario Buono stovetop model, but if you're looking for more convenience, there's another option. Hario also makes an electric version of this kettle, called the Hario V60 Power Buono. This is essentially the same kettle, but it features an electric base instead of requiring a stovetop.
Which is better? The stovetop model we reviewed is more versatile since you can use any type of stove or burner. The electric kettle has to be plugged in, making it more convenient on your kitchen counter but less portable. Plus, if the power goes out, you may want a trusty no-electricity option!

Hario Buono Kettle: The Verdict
What's the bottom line? We were impressed by the Hario V60 drip kettle. This is a well-made coffee kettle that feels sturdy without being clunky or difficult to use. The handle is comfortable, the design is elegant, and the water flow control is ideal for pour-overs. If you want a high-quality gooseneck kettle that won't break the bank, the Buono is a great option.
If you're looking for an electric kettle, you'll want to look at the powered version. Need to boil water for a crowd? You may want to look elsewhere. Plus, keeping the metal shiny will take some care. But all in all, this is a great coffee kettle — especially if you're interested in perfecting your pour-over skills.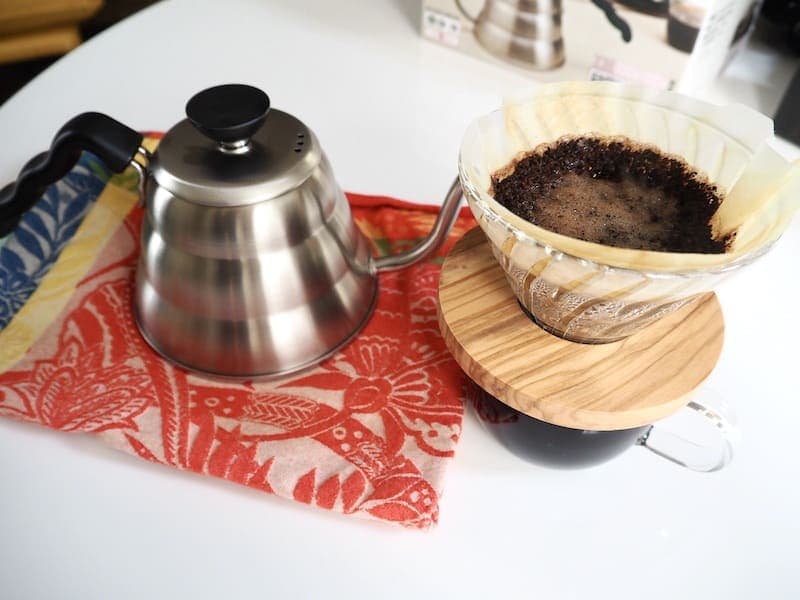 FAQ
Is a gooseneck kettle worth it?
If you're serious about pour-over coffee, the answer is an unqualified yes. To get the best possible flavor out of your pour-over coffee maker, you need a high-quality gooseneck kettle. And the Hario Buono is a great option.
How do I clean my Hario kettle?
The Hario Buono is made of smooth stainless steel, making cleaning exceptionally simple. Hario recommends not leaving any water in the kettle, so boil what you're going to use and pour out any extra when you're done brewing. You can scrub out the inside with a soft sponge or bottle brush, and give it an occasional rinse with vinegar to get rid of any mineral buildup.
What kind of stove can I use?
The Hario Buono kettle works on induction, gas, electric, radiant, halogen, and sheathed stovetops. That covers pretty much every type of stove out there! Keep in mind that you can't use this kettle in the oven or in the microwave because of its plastic and metal components.
SEE ALSO: How Does the Hario Buono Stack Up Against Other Hario Kettles?